What to Know in Washington: Trump's Strongest Signal Yet on 2024
Former President Donald Trump sent the strongest signal yet that he plans to run again in 2024, saying at a pre-election rally in Iowa that he will "very, very, very probably" make another White House bid.
"And now, in order to make our country successful and safe and glorious, I will very, very, very probably do it again," Trump said during the rally on Thursday night, which was billed as an event supporting Republican Senator Chuck Grassley and his other endorsed candidates but was also held in the state that has the first presidential caucuses.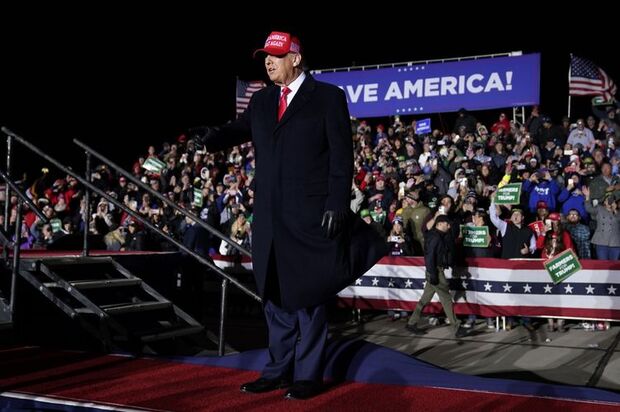 Trump has teased for months that he plans to make another White House run, routinely telling supporters they will "be very happy" with his decision. But he's sending increasingly strong signals he plans to run.
Kellyanne Conway, Trump's former senior counselor, said at an event Thursday morning that she expects the ex-president to announce a widely anticipated comeback bid for the White House "soon" and that she gives him credit for waiting until after next Tuesday's midterm elections.
"I think you can expect him to announce soon," she said. Read more.
2022 Elections
As the fastest growing group in the US, Asian American and Pacific Islander voters are being heavily courted this election season, when control of Congress and statehouses are at stake. In Nevada, the group makes up 10% of voters, a smaller percentage than Hispanics, but big enough to make a difference in the state's multiple competitive races.
Abortion access could change in Arizona and Michigan. Tax cuts could get to governors' desks in Minnesota and Maine. Universal mail-in ballot laws could be upended in Nevada.
Oregon's unusually tight gubernatorial race, which could flip party control for the first time in 36 years, is drawing eyes—and money—to competitive state legislative and congressional races.
Politics & Probes
Republican leaders of a House health panel are pushing the Centers for Disease Control and Prevention for answers on flaws in the agency's initial response to the spread of monkeypox in the US.
Sen. Joe Manchin (D-W.Va.) told a gathering of corporate leaders they're rewarding "bad behavior" by sending campaign checks to politicians based on party or ideology and not asking how they'll benefit.
A Texas nonprofit escaped a lawsuit from one of its donors who demanded his $2.5 million donation back, alleging that it was a conditional gift.
The courtroom drama is over for Rep. Marjorie Taylor Greene (R-Ga.) and her challenge to Georgia's enforcement of a post-Civil War era ban on officeholders who support an insurrection.
Georgia Secretary of State Brad Raffensperger plans to ask the legislature to "tighten up" a provision in a 2021 law that allowed individuals to file tens of thousands of voter registration challenges this year.
Paul Pelosi has been released from a hospital almost a week after he was attacked in the San Francisco home he shares with his wife, Speaker Nancy Pelosi (D-Calif.).
Around the Administration
PRESIDENT'S SCHEDULE
Biden at 11:45 a.m. PT gives a speech in San Diego about the CHIPS and Science Act.
At 7:30 p.m. CT, the president participates in a political reception in Chicago.
The Federal Communications Commission plans to launch a new space bureau as its outdated bureaucracy struggles to respond to the flood of innovation and activity of the booming space industry.
The EPA kicked off a detailed scientific review Thursday of the ways in which lead exposure through drinking water can disproportionately affect disadvantaged populations, a key step toward its plan to propose a more stringent lead and copper drinking water rule next year.
The IRS's Criminal Investigation division is building "hundreds" of crypto cases, and many of them will soon be public, division chief Jim Lee said Thursday.
The FBI field office in Newark said it had received credible information of a "broad threat" to synagogues in New Jersey, which is home to about half a million Jewish people. In a tweet, it asked houses of worship to "take all security precautions to protect your community and facility."
An offhand comment at the end of the US Supreme Court's 2003 decision upholding affirmative action in college admissions could serve as a warning for the justices about making predictions.
Defense & Foreign Affairs
Almost everyone in Washington wants to be a China hawk now, making it a lonely town for some well-placed skeptics.
Most attempts at stealing sensitive or classified US technology and information from the defense industry originated from countries in the East Asia and Pacific region or the Near East region, according to the Pentagon. Read more.
The US and Taiwan will hold in-person trade talks in New York next week as they deepen ties despite opposition from China, which claims the island. Read more.
Secretary of Commerce Gina Raimondo had a sobering message for US makers of chipmaking equipment this week: you'll need to wait as long as nine months before Washington can reach an accord with US allies over strict new rules aimed at restricting China's access to certain technologies. Read more.
The US and South Korea jointly warned North Korea that using a nuclear weapon against allied nations would "result in the end of the Kim regime," sharpening their rhetoric in a bid to deter Pyongyang from further military escalation after a series of missile launches.
North Korea's unprecedented barrage of missiles is underscoring the costs of Washington's tensions with Beijing, since China has shown little appetite for additional sanctions over the country's nuclear program. Read more.
The Army is rapidly pushing several electric vehicle projects through testing and development, part of its plan to reduce fuel use across the battlefield, a Defense Department official said Thursday.
Venezuela's government and opposition parties are poised to restart political negotiations after the US midterm elections next week, a move that could lead the US to start easing some sanctions on the country's oil industry, according to people familiar with the process.
The US and its partners have agreed to set a price cap on Russian crude oil at a fixed level, rather than a floating one that moves with benchmark crude prices, officials familiar with the matter said.
To contact the reporter on this story: Michaela Ross in Washington at mross@bgov.com
To contact the editor responsible for this story: Katrice Eborn at keborn@bgov.com