What to Know in Washington: Trump's Role Persists With Vance Win
Trump-backed Vance to face Rep. Ryan for Ohio Senate seat
Vice President Harris calls Roe draft ruling an attack on freedom
Venture capitalist JD Vance's come-from-behind victory in a crowded Republican primary for a U.S. Senate seat in Ohio produced another winner—former President Donald Trump and his efforts to tighten his grip on the GOP during midterm elections that will decide control of Congress.
Vance, making his first bid for public office, defeated six other candidates in Tuesday's Republican primary contest defined by all but one of the leading contenders casting themselves as standard bearers of Trump's "America First Movement."
Still, analysts cautioned against reading too deeply into the outcome of one race. Trump's endorsements will be tested in coming weeks with GOP primaries in states including Pennsylvania, North Carolina and Georgia. He has sought to use the election cycle as a way to bolster his status as Republican kingmaker while teasing a possible 2024 White House run.
Yet Trump showed in the Ohio primary that his endorsement could elevate Vance—who had called Trump unfit and "noxious" in 2016 and now fully embraces him and his views—from third place in the polls to victory. His influence has been on display during the primary season with candidates mimicking his style and staking claim to his legacy.
Republican strategist Mike DuHaime said Vance fought a good, smart campaign that was appealing to many of Trump's constituencies. "They ran a campaign that put themselves in the right position to capitalize on Trump's endorsement when it came, and therefore Trump's endorsement had a great impact and probably did put him over," DuHaime said.
The primary race was one of the most expensive in the country, with candidates and the committees supporting them spending more than $72 million—mostly to attack each other, according to the media-tracking firm AdImpact.
Vance, 37, now faces Rep. Tim Ryan (D-Ohio), who easily won the Democratic Senate primary on Tuesday and is running a campaign focused on economic issues affecting working-class voters who left the party under Trump. The November general election is to replace retiring Sen. Rob Portman (R-Ohio). Read more from Mark Niquette.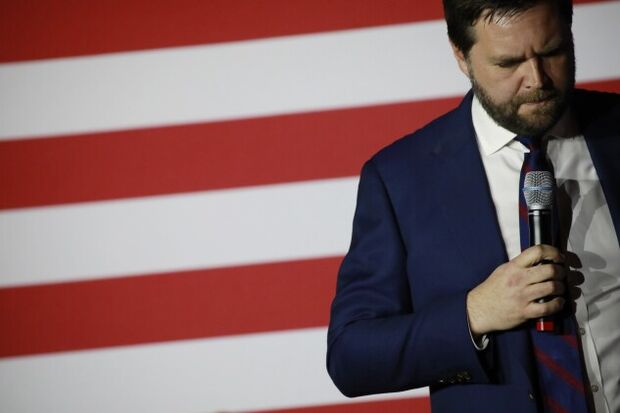 Incumbent Shontel Brown on Tuesday again defeated progressive activist Nina Turner in the Democratic primary for a U.S. House seat in Ohio. Brown won by 63.5% to 36.5%, the Associated Press reported. The Democratic contest for Ohio's 11th District, the second in less than a year between the two, was seen as a clash between the establishment and progressives who have been trying to expand their influence. Brown and Turner faced off last August in a special election for the seat after it was vacated by Marcia Fudge when she became Housing and Urban Development secretary. Jarrell Dillard has more.
More Ohio primary results:
Madison Gesiotto Gilbert, a lawyer endorsed by former Trump, won the Republican primary for Ohio's 13th Congressional District, the AP reported. Gilbert will face Ohio State Rep. Emilia Sykes, who ran unopposed in the Democratic primary, Se Young Lee reports.
Air Force Veteran J.R. Majewski won the GOP primary for the 9th district, AP says. Majewski will face Democratic incumbent

Marcy Kaptur

, a senior Appropriations Committee member whose 40-year House tenure is the longest ever by a woman, Se Young Lee reports.
Former Trump aide Max Miller won the Republican primary for the Ohio seat being vacated by retiring Rep.

Bob Gibbs

, the Associated Press said. Gibbs, a Republican, chose not to seek re-election over what he called a redistricting "circus" that pitted him against Miller; Trump endorsed Miller for the race, Se Young Lee reports.
Harris Says Women's Rights Are Under Attack by Republicans
Vice President Kamala Harris, in a fiery speech Tuesday night, accused Republicans of attacking women's rights and called for Americans who support "self-determination" to stand with Democrats, following news that the Supreme Court is poised to strike down Roe v. Wade.
In her address, which was just over nine minutes long, Harris argued that a court decision to end the national right to abortion would open the door to the justices stripping away other rights, including same-sex marriage. She drew sharp contrasts with Republicans, who she said sought to limit the freedom of women and other Americans.
"If the court overturns Roe v. Wade, it will be a direct assault on freedom, on the fundamental rights of self-determination to which all Americans are entitled," she said. "How dare they tell a woman what she can do and cannot do with her own body? How dare they? How dare they try to stop her from determining her own future? How dare they try to deny women their rights and their freedoms?"
She linked the causes of women who seek abortion, gay couples who want to be married, and heterosexual couples who want to use contraception, suggesting long-decided legal fights on all three issues could be re-opened.
Sen. Maggie Hassan (D-N.H.), who Republicans are targeting for defeat in November, called the midterms "the most important election of our lifetimes" in her own speech Tuesday to the Emily's List conference. "On the ballot will be a woman's fundamental right to be a full and equal citizen in our democracy," Hassan said, according to prepared remarks. "The Republican men—and yes, they are all men—running against me are all pushing an extreme, anti-choice agenda. If elected to the Senate, they would ban abortion with no exceptions for rape or incest." Read more from Josh Wingrove and Emma Kinery.
Suburban women could now tip the balance in the midterm elections that will decide control of Congress after a leaked draft opinion indicated the Supreme Court was poised to overturn Roe v. Wade. Their votes helped determine the winner in the last two presidential contests. With Republicans in position to seize the House and Senate, the race is on to shock into action those with the most at stake on an issue that has become a fiercely contested partisan issue. The fight to win them over and get them to the ballot box will be most heated in the 24 states where bans would take immediate effect. Ryan Teague Beckwith and Gregory Korte have more.
Political donations are poised to surge in key state races where the issue of abortion access will be decided if the half-century-old Roe v. Wade precedent is overturned, according to political operatives and campaign finance experts. That's because overturning the 1973 decision, as laid out in a draft Supreme Court decision leaked Monday night, would return to states the power to regulate or ban abortions. Single-issue groups battling over abortion have spent almost $300 million on federal elections over the last two decades according to OpenSecrets, with most of that money backing the side that supports abortion rights. Read more from Bill Allison.
States would be free to enact virtually any legislation limiting access and criminalizing abortion if the reasoning in a draft Supreme Court opinion aiming to overturn Roe v. Wade is adopted. But Rachel Rebouché, interim dean of Temple University Beasley School of Law in Philadelphia, said she disagreed with what she views as the draft's assumption that litigation will stop when the issue is returned to the states. Read more from Madison Alder and Lydia Wheeler.
What's also not clear is whether states can enforce their laws beyond their own borders—in particular, by trying to stop their residents from traveling across state lines to terminate a pregnancy. Trying to impose their abortion policies upon other states is what one legal expert calls "the next frontier in anti-abortion legislation." Read more from Lydia Wheeler.
If the high court strikes down a person's right to an abortion, pregnant individuals would still be able to access the pill mifepristone in states that don't restrict it. The FDA's regulation of the pill wouldn't change, but a patchwork of abortion laws could raise questions over states' authority to impose restrictions that go beyond what the agency recommends. Read more from Celine Castronuovo.
Meanwhile, lawmakers and civil rights advocates announced Tuesday a 19-state coalition to create "a rainbow wall" of transgender refuges and pass laws to provide safe havens for trans youth and their families. Bills advancing in California, New York, and Minnesota and being introduced in 16 other states are part of a national legislative campaign to protect trans youth and their families seeking gender-affirming care in response to laws passed in Texas and elsewhere. The bills, if enacted, would prevent enforcement of out-of-state orders restricting parental rights based on the parent approving care such as surgeries or drugs used to help individuals transition from their gender assigned at birth. Read more from Joyce E. Cutler.
More Headlines:
Happening on the Hill
CONGRESSIONAL SCHEDULE:
The Senate meets today at 10 a.m. to continue debate and begin votes on a list of motions to instruct conferees on the competitiveness legislation (H.R. 4521). No votes are scheduled yet, but there could be more than two dozen nonbinding motions voted on.
The House is not in session this week.
President Joe Biden on Tuesday accused the Chinese government of trying to interfere in negotiations over a broad China competition bill (H.R. 4521) that would bolster domestic semiconductor manufacturing. "Fundamentally, this is a national security issue. This is one of the reasons why the Chinese Communist Party is lobbying folks to oppose this bill," the president said Tuesday in Troy, Alabama. "And it's an issue that unites Democrats and Republicans. So, let's get it done."
The Chinese Embassy in Washington has been seeking meetings with administration officials, congressional offices, think tanks and companies to gather information about the status of the bill and what provisions are likely to make it to the president's desk, people familiar with the meeting requests said. Administration officials have all declined the requests, as have many of the congressional offices, according to the people. Read more from Jenny Leonard.
IRS Commissioner Chuck Rettig asked Congress to help curb syndicated conservation easements, tax-advantaged transactions which the agency has considered for years to be abusive. The transactions involve a group of investors who buy interests in land, donate the development rights, then receive charitable deductions intended to incentivize land conservation. The agency has said the promoted transactions often rely on appraisals that significantly inflate the value of the property—resulting in deductions worth several times more than the amount investors put into the deal, Naomi Jagoda reports.
Around the Administration
BIDEN'S AGENDA:
At 11:30 a.m. Biden and the First Lady are scheduled to welcome Team USA to celebrate their participation in the Tokyo 2020 Summer Olympic and Paralympic Games and Beijing 2022 Winter Olympic and Paralympic Games.
At 2 p.m. Biden is set to give remarks on the economy, jobs and deficit reduction.
Organizers of union drives at Amazon and Starbucks will visit the White House on Thursday, a show of support by the Biden administration for the movement to unionize workforces at the companies. Vice President Kamala Harris and Labor Secretary Marty Walsh will host Christian Smalls of the Amazon Labor Union as well as officials from unions organizing workers at Starbucks, outdoor retailer REI and the video game publishing company Paizo among others, according to a White House official.
Harris and Walsh will talk to union officials about their efforts to organize their workplaces and how they can inspire other workers to join or form their own unions, according to the official. Read more from Jordan Fabian and Matt Day.
About four in 10 employers have some type of Covid-19 vaccine mandate for their workers, according to a survey by Littler Mendelson P.C., marking a huge increase from the last time the management-side law firm polled companies on the issue. Read more from Robert Iafolla.
The Taliban takeover of Afghanistan and the resulting cut in international aid has led to a worsening humanitarian crisis, according to the latest report by a Pentagon watchdog that has spent more than a decade tracking conditions in the war-torn nation. More than 24 million people are now in need of humanitarian assistance in Afghanistan, up from about 18.4 million last year, the U.S. Special Inspector General for Afghanistan Reconstruction said in a report. Read more from David Wainer.
Nearly 10 weeks into the war and with its troops making only marginal gains in Ukraine's east, Russia is focused on cementing both military and political control over the territory it has taken so far. The Kremlin is installing occupation governments, ordering locals to use rubles for transactions and, according to three people involved in the efforts, planning hastily organized referendums in some areas to open the way for full annexation. The people spoke on condition of anonymity given the risk of retribution discussing sensitive information. Read more from Bloomberg News.
Secretary of State Antony Blinken will outline the Biden administration's policy toward China at 11 a.m. Thursday in D.C. at George Washington University, according to a statement, Catherine Dodge reports.
The Department of Defense temporarily halted its incineration of firefighting foam and other materials containing PFAS, pledging it will soon issue disposal guidance that Congress required two years ago. Read more from Pat Rizzuto.
The SEC is investigating Didi Global chaotic 2021 debut in New York, when the ride-hailing giant raised $4.4 billion days before revelations of a Chinese probe into data security tanked the stock. The Chinese company said it's cooperating with the probe, without providing further details. Read more from Lydia Beyoud and Coco Liu.
Industry lawyers are warning that the climate change provisions of the Biden administration's new environmental permitting rules will throw more proposed projects into the courts—potentially jeopardizing the very projects the White House wants to promote. Wind farms, solar arrays, and renewable energy transmission lines—all parts of the White House's bid to cut domestic greenhouse gas emissions in half by 2030—could be affected, according to attorneys. Read more from Stephen Lee.
North Korea launched what appeared to be a medium-range ballistic missile Wednesday, as Kim Jong Un ramps up his nuclear program ahead of Biden's first visit to Seoul. The regime fired off a ballistic missile just after noon local time on Wednesday from an area near Pyongyang Sunan International Airport, according to South Korea's Joint Chiefs of Staff. Jeong-Ho Lee has more.
To contact the reporters on this story: Giuseppe Macri in Washington at gmacri@bgov.com; Michaela Ross in Washington at mross@bgov.com
To contact the editors responsible for this story: Loren Duggan at lduggan@bgov.com; Brandon Lee at blee@bgov.com