What to Know in Washington: Trump's Plan Threatens GOP in 2022
Donald Trump could hurt Republicans' chances of regaining control of Congress in the 2022 midterms, just by endorsing the candidates working so hard to win his backing.
The former president is studying races and plans to bestow his superlative-laden endorsements around the country in many 2022 primary or general election contests for the U.S. House, Senate and governorships, according to a person familiar with his thinking.
While those nods can still be the golden ticket in a Republican primary and solidly GOP districts, they also can energize independents and Democrats who don't like Trump in competitive districts — risking defeat for Republican candidates in the general election and with it possible control of the House, according to studies of the 2018 and 2020 campaigns.
History is on the Republicans' side. Midterm elections generally favor the party out of power and redistricting is expected to change district lines in a way that gives the GOP an advantage.
Republican leaders in the House obeyed Trump's wishes by ousting their No. 3 leader, Rep. Liz Cheney (R-Wyo.), yesterday for repudiating his false claims of a stolen election. His anti-endorsement of Cheney means he is looking for a primary candidate to wreck her 2022 re-election bid. "Almost everyone in the Republican Party, including 90% of Wyoming, looks forward to her ouster — and that includes me!" he said in a statement yesterday.
Five incumbent Democrats are leaving the House, which the party holds by fewer than a half-dozen seats, and only one U.S. Senate seat needs to change hands for Minority Leader Mitch McConnell (R-Ky.) to be back in charge of the upper chamber. Read more from Mark Niquette.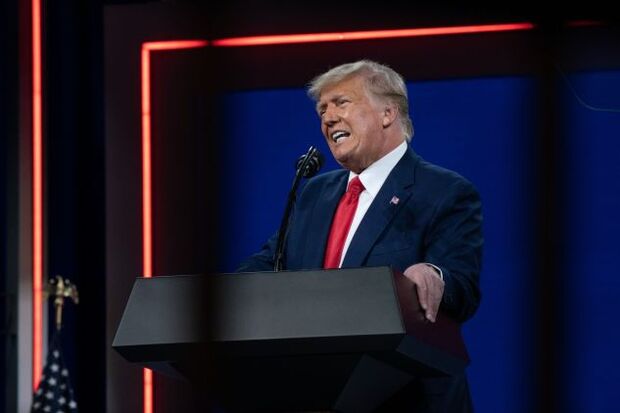 Happening on the Hill
Today's Agenda:
Biden plans to meet at the White House at 1:30 p.m. with Republican senators

Shelley Moore Capito

(W.Va.),

John Barrasso

(Wyo.),

Roy Blunt

(Mo.),

Pat Toomey

(Pa.),

Mike Crapo

(Idaho) and

Roger Wicker

(Miss.) to discuss his infrastructure proposal. Vice President Kamala Harris, Commerce Secretary Gina Raimondo, and Transportation Secretary Pete Buttigieg will join the meeting, according to the White House schedule.
The House is scheduled to consider legislation that would subject private debt collectors to additional restrictions when collecting money from medical patients, small businesses, private student loan borrowers, homeowners, service members, and other consumers.
The House Oversight and Reform Committee plans to consider legislation to revamp the U.S. Postal Service. Click here for a complete list of today's hearings and markups.
Appropriators Draw Thousands of Earmark Requests: Among the thousands of earmark requests sent to House appropriators are various legislative priorities long left on the backburner after a decade-long ban on earmarks. More than 300 House members took advantage of Democrats' decision to allow local project funding proposals for fiscal 2022, sending 2,887 requests totaling nearly $5.9 billion, according to a list released by the House Appropriations Committee. Requests from 221 Democrats totaled $3.3 billion, while 106 Republicans asked for a combined $2.6 billion in earmarked funds, though those figures include some duplicates.
The requested total is less than the amount of money House appropriators are willing to set aside for earmarks. Appropriators set a limit of 1% of discretionary spending, which will likely be about $15 billion for fiscal 2022 for the House and Senate combined. Jack Fitzpatrick shares the key takeaways from the submitted requests.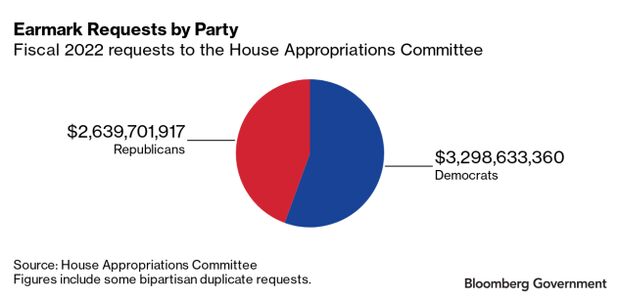 Panel Advances China Competition Bill: The Senate Commerce, Science and Transportation Committee advanced a bill to ramp up federal support for U.S. research and development in the aim of better competing with China. The package of legislation the committee sent to the full Senate on a 24-4 vote is framed around a $100 billion, five-year injection to American universities to help bolster domestic research and development. It includes $10 billion for regional tech hubs as well. Read more from Daniel Flatley.
Trio of Biden Labor Agency Nominees Advance: Three of Biden's labor and employment nominees—including picks for top attorney at the National Labor Relations Board and U.S. Labor Department—can be considered by the full Senate following votes by the chamber's labor panel yesterday, the committee said. The name that drew the most disagreement, Jennifer Abruzzo for NLRB general counsel, will be eligible for a vote by the chamber after an 11-11 draw in committee that broke down along party lines. Read more from Ben Penn.
Bill to Restore FDA Diagnostic Oversight on Horizon: Lawmakers plan to reintroduce a bill in the coming weeks that would restore some of the FDA's powers to oversee lab-developed diagnostic tests, which the Trump administration stripped last summer. Reps. Larry Bucshon (R-Ind.) and Diana DeGette (D-Colo.) are tweaking a measure introduced last year called the VALID Act, a House aide told Bloomberg Law. Jeannie Baumann has more.
What Else to Know Today
Biden Signs Order to Boost Cybersecurity: Biden yesterday signed an executive order intended to strengthen U.S. cybersecurity by improving information sharing about attacks with the private sector and adopting better safety practices throughout the government. It also seeks to improve the government's response to major cyber-attacks.
The order has been in the works for months but was released less than a week after a ransomware attack on Colonial Pipeline forced the company to cut off the flow of fuel to much of the U.S. East Coast, leading to gasoline shortages and filling stations running out. Read more from Jennifer Jacobs and Alyza Sebenius.
Biden plans to deliver remarks on the pipeline attack from the White House today at 11:50 a.m.
The pipeline is returning to service following the cyberattack, offering hope that fuel shortages in several states will soon come to an end. Colonial said it began to resume shipments around 5 p.m. Eastern time yesterday. Read more from Jill R. Shah and Sheela Tobben.
A bipartisan group of House lawmakers offered a $500 million Homeland Security Department grant program to tackle cybersecurity vulnerabilities of state and local government networks. The grants would float incentives for state and local governments to spend more on cybersecurity measures. The bill responds to increasingly common attacks on smaller government networks, according to the lawmakers, Shaun Courtney reports.
The Biden administration temporarily eased century-old U.S. shipping requirements to allow foreign tankers to transport gasoline and diesel to fuel-starved areas of the country following the Colonial Pipeline outage. A waiver has been issued for a single company to the 101-year-old Jones Act, which stipulates goods transported between U.S. ports be carried on ships built in the U.S. and crewed by American workers, Homeland Security Secretary Alejandro Mayorkas said in a statement today. Read more from Jennifer A. Dlouhy and Jordan Fabian.
Biden's Trillions Test Economists: Biden's attempt to expand the definition of infrastructure has sent economists to the drawing boards to measure the impact of his spending plans. Infrastructure has traditionally been thought of as physical things—roads, train tracks or airports—and federal investment in these in the past has transformed the U.S. economy, helping drive growth and productivity. Yet the pandemic has had a disproportionate effect on mothers and minority workers, prompting some policy makers to call for building a more robust "care economy" through spending on what's now being called "soft infrastructure." Read more from Catarina Saraiva.
Pentagon to Seek 85 F-35 Jets in 2022 Budget: The Biden administration will seek $11 billion to buy 85 Lockheed Martin F-35 jets in the coming fiscal year, tracking a plan outlined last year by the Trump administration, according to a U.S. official. With a $715 billion budget request for fiscal year 2022, the Pentagon had considered increasing the quantity of next-generation fighters it planned to buy but decided to instead focus on using additional funding to upgrade the F-35 with new capabilities every six months, the official said. Read more from Tony Capaccio.
Israel-Gaza Drags Biden Into Crisis He Tried to Avoid: Biden took office seeking to avoid a messy entanglement in the Israeli-Palestinian conflict, instead trying to pivot America's new foreign policy to China, revive the Iran nuclear deal and wind down America's "forever wars." This week's flare-up in the Middle East is showing how that plan never really stood a chance. Hostilities between Israeli forces and Palestinians in contested East Jerusalem has escalated into a near full blown war, dragging the U.S. back into the center of diplomatic efforts. Read more from David Wainer.
To contact the reporters on this story: Zachary Sherwood in Washington at zsherwood@bgov.com; Brandon Lee in Washington at blee@bgov.com
To contact the editors responsible for this story: Giuseppe Macri at gmacri@bgov.com; Loren Duggan at lduggan@bgov.com; Michaela Ross at mross@bgov.com