What to Know in Washington: Trump's Legal Fate Haunts DOJ After
Bloomberg Government subscribers get the stories like this first. Act now and gain unlimited access to everything you need to know. Learn more.
The anniversary of the Jan. 6 insurrection spotlights upcoming politically-fraught decisions for U.S. Attorney General Merrick Garland, who's probing the storming of the U.S. Capitol and could pursue charges against former President Donald Trump and his allies. Meanwhile, the Biden administration is gearing up to surge hiring and launch new programs as they press agencies to carry out the newly enacted bipartisan infrastructure law.
Here's what Bloomberg Government is tracking for Tuesday.
Congressional Agenda:
The Senate meets at 10 a.m., with plans to vote on Biden's pick for Ninth Circuit Court of Appeals.
The House isn't in session and there are no hearings planned.
Biden's Agenda:
Biden and Vice President Kamala Harris will meet at 2 p.m. with the White House Covid-19 response team to discuss the omicron variant.
White House Press Secretary Jen Psaki will hold a briefing at 2:30 p.m.
Trump's Legal Fate Haunts Garland's DOJ a Year After Jan. 6 Riot
A year after supporters of Donald Trump stormed the U.S. Capitol, Attorney General Merrick Garland faces critical decisions about whether to indict the former president or his top advisers as the Justice Department continues to fend off charges of politicization.
The department has been using a federal grand jury for an investigation into the Jan. 6 Capitol attack and the events that led up to it, and it could be used to pursue charges against Trump and his allies, according to officials who asked to remain anonymous speaking about the sensitive matter. They said any decision on charges would be driven by the facts and evidence.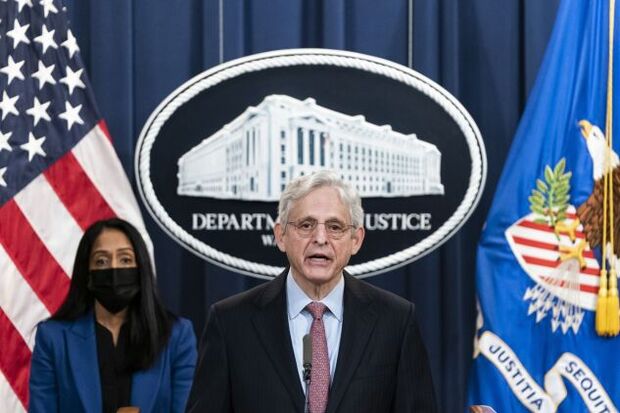 The department's investigation and a separate probe in the House of Representatives are expected to force Garland to make politically fraught choices in the coming months. Charges against Trump and associates could range from criminal obstruction of Congress to conspiring to interfere in a federal election, officials said.
Since taking office last year, Garland has repeatedly sought to contrast his DOJ with that of the Trump era, insisting decisions on prosecutions are made without White House involvement or interference. But the attorney general is finding it impossible to avoid being drawn into the nation's polarizing political debates from the left and the right.
Far from easing over time, the fallout from the Jan. 6 attack and Trump's insistence—without evidence—that the 2020 election was "stolen" continue to overshadow Garland's other priorities, fueling bitter disputes in Congress, driving partisan election changes in Republican-controlled states and even affecting the U.S.'s relations with foreign allies.
"Too many people in America are not clearly seeing the threats to our democracy," said Mary McCord, who spent more than 20 years at the Justice Department and is now executive director of the Institute for Constitutional Advocacy and Protection at Georgetown University Law Center. "For an unfortunately large percent of the population, there's an actual belief that the last election was stolen." Read more from Chris Strohm.
Around the Administration
$1 Trillion Windfall Jolts Federal Agencies: With the passage of the infrastructure package, Biden is asking the U.S. government to set up a suite of new programs, spend more on infrastructure, and hire enough workers to do it all—quick. To get there, the Department of Transportation and other federal agencies must find swift and accurate ways to get billions out the door—far more money than they're used to having on hand. And the White House will need to stand up a team that will shepherd it all, plus work with the localities that operate infrastructure nationwide. Read more from Courtney Rozen.
AT&T and Verizon have agreed to a two-week delay in rolling out a new 5G service that airlines said might interfere with aircraft electronics and pose a safety hazard. The companies issued separate statements last night, two days before their planned Jan. 5 launch, and one day after rebuffing a request for delay from U.S. transportation officials. The action came after a flurry of calls directed at the industry and the White House from aviation groups seeking a delay, and as airlines were threatening legal action. Read more from Todd Shields and Alan Levin.
House Transportation and Infrastructure Chair

Peter DeFazio

(D-Ore.) also weighed in yesterday, pushing the FCC to delay "deployment until the concerns expressed by the Department of Transportation, the Federal Aviation Administration, and aviation industry stakeholders have been adequately addressed," he said in a letter yesterday to Chairwoman Jessica Rosenworcel. Read the letter here.
The White House is likely to nominate economist Philip Jefferson for a seat on the Fed board of governors, people familiar said, an appointment that would make him the fourth Black man to hold the position in the central bank's more than 100-year history. With a doctorate in economics from the University of Virginia, Jefferson is the vice president for academic affairs, dean of faculty and an economics professor at Davidson College in North Carolina. He has worked at the Federal Reserve twice before, serving as an economist in the board's monetary affairs division. Read more from Katia Dmitrieva and Jennifer Jacobs.
Covid-19 is a societal health problem and not a workplace hazard that the Occupational Safety and Health Administration can regulate with its vaccine-or-test rule for big employers, a coalition of states and an alliance of business groups told the Supreme Court. The Republican-led states and industry organizations filed their final briefs yesterday in advance of Friday's arguments at the high court. The justices will weigh the states' and business groups' bids for an order blocking OSHA's emergency rule, a key part of Biden's efforts to vaccinate the country out of the two-year-long coronavirus pandemic. Read more from Robert Iafolla.
Dozens of migrants sent back to Mexico under a revived Trump-era border policy appeared for immigration court hearings as the Biden administration carries out a program it considers fundamentally flawed. Senior administration officials highlighted steps they're taking to make sure that migrants are treated humanely under the Remain in Mexico policy in a status update. The Homeland Security Department terminated the program—which required migrants to wait in Mexico for months as U.S. officials review their cases for entry—after Biden took office but later reinstated it in response to a court order. Ellen M. Gilmer has more.
New York and three other states took their challenge against a $10,000 cap on federal tax deductions for taxes paid to state and local governments to the U.S. Supreme Court yesterday. The states—New York, Connecticut, Maryland, and New Jersey—are appealing an October ruling from the U.S. Court of Appeals for the Second Circuit, which affirmed a 2019 federal district court decision. The ruling upheld the $10,000 cap that Congress enacted in 2017 despite the states' claims that all or much of the deduction was mandated by the U.S. Constitution. Aysha Bagchi has more.
IRS customer service struggled to meet demands last year, exacerbated by pandemic-era staff shortages and an increase in call volumes due to Congress-passed stimulus plans and child tax credits. IRS representatives answered fewer than 1 in 10 phone calls during the 2021 tax-filing season, according to National Taxpayer Advocate Erin Collins. Years of budget cuts have pushed the agency to the limit, and its customer service workforce has shrunk more than 40% since 2010. Read more from David Hood, Allyson Versprille and Kaustuv Basu.
MORE HEADLINES:
Rep. Bobby Rush (D-Ill.), a pastor, Army veteran, and former Black Panther leader, won't seek another term, the Chicago Times reported.

Rush

was elected to Congress in 1992 after challenging a five-term Democratic incumbent and defeated then-state Sen. Barack Obama in a 2000 Democratic primary. Since then, Rush has easily defended his solidly blue seat from both Democrats and Republicans, Megan Howard reports.
To contact the reporters on this story: Michaela Ross in Washington at mross@bgov.com; Brandon Lee in Washington at blee@bgov.com
To contact the editors responsible for this story: Giuseppe Macri at gmacri@bgov.com; Zachary Sherwood at zsherwood@bgov.com
Stay informed with more news like this – from the largest team of reporters on Capitol Hill – subscribe to Bloomberg Government today. Learn more.