What to Know in Washington: Trump's Last Chance to Spur Economy
President Donald Trump and Republicans in Congress are facing a last chance to keep the economic rout sparked by the resurgent coronavirus from deepening before the November election.
Amid a steady stream of bad economic news, Senate Majority Leader Mitch McConnell (R-Ky.), Treasury Secretary Steven Mnuchin and other GOP leaders will begin on Monday hammering out the details of a roughly $1 trillion Republican plan for a new round of virus relief for individuals and businesses.
That will be the their opening bid as they begin negotiations with Democrats, who've already put out an expansive, $3.5 trillion proposal. Beside the dollars involved, the sides remain far apart on many of the particulars, including McConnell's determination to include liability limits for businesses, schools and other organizations.
And there are more complications. The administration is already balking at $25 billion in new funding favored by Republican lawmakers in the bill to help states with testing and contact tracing, according a person familiar with the talks. Trump's team also opposes a plan to allocate billions for the Centers for Disease Control and Prevention.
Trump is also insisting on a payroll tax holiday, an idea that's gotten a cool reception from both parties. Trump, in a "Fox News Sunday" interview, suggested he might not sign legislation without the payroll tax cut.
All that will have to be reconciled in the three weeks before the Senate leaves Washington for a scheduled August break, and election campaigns move into high gear. At the same time, the $2.9 trillion flood of federal money that's been supporting the economy through the pandemic is about to dry up, just as Covid-19 infections are breaking records and forcing some states to reverse reopening plans.
As the economy falters, so does a key pillar of the re-election strategy for Trump and Republicans who've staked their fates to his. Though both parties have high stakes in coming up with a relief proposal, the biggest political burden is on the president. He has repeatedly promised the economy would come "roaring back" in the third quarter, right before the election. It's a prediction that's looking less and less certain.
Trump and his allies are besieged on all sides.
The pandemic is worsening in states the president needs to win for re-election such as Arizona, Texas and Florida, where Republican governors are in charge. Trump is now 6 percentage points behind rival Joe Biden in Florida, tied in Arizona and only 1 percentage point ahead in Texas, where no Democrat running for president has won since 1976, according to a July 7-10 CBS survey.
House and Senate Republicans have also seen their fortunes dwindle. They trail Democrats in generic congressional ballot surveys, threatening their majority in the Senate and potentially dashing any hopes of retaking the House. Read more from Mike Dorning and Christopher Condon.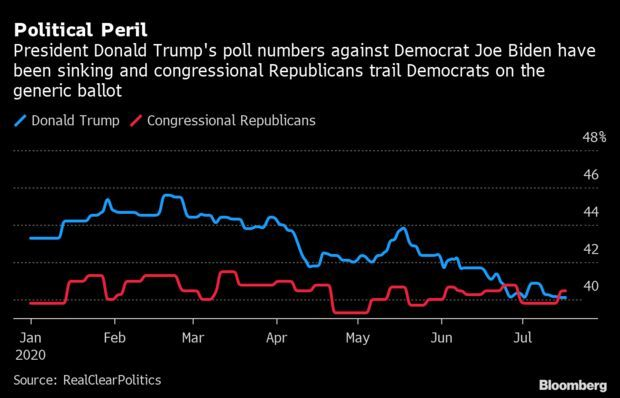 Economy Makes Voters Shrug at Stocks Rebound: Trump rarely passes up an opportunity to tout the stock market. In the last week alone, the president has remarked on the market's recent resurgence in a conference call with supporters in Wisconsin, a White House law-enforcement event, during a visit to U.S. Southern Command in Doral, Florida, in an interview with Fox News, and on Facebook Live rallies with his supporters. "I will tell you, if Biden got in, this economy would be destroyed," he said on July 13 of his Democratic opponent in November.
But with an extra million-plus Americans joining jobless rolls every week, and unemployment still higher than seen in any previous postwar recession, equity gains don't equate to credit for economic success. Half of voters surveyed in a Quinnipiac poll released on July 15 said they trusted Biden as a better steward of the economy, while 45% sided with Trump — the first time he's trailed on that issue. Read more from Justin Sink and Olivia Rockeman.
The Coronavirus Pandemic
Trump Plays Down Spike in Virus Cases: Trump played down rising cases of Covid-19 in the U.S., saying many experience nothing more than "sniffles," that positive tests are only up due to broader testing, and that the U.S. response is the "envy of the world." Trump also said Anthony Fauci, the U.S. government's top infectious diseases specialist, is a "little bit of an alarmist," but that the two men have a "great relationship." He made the comments in a lengthy interview on Fox News Sunday that was recorded Friday. Read more from Mario Parker.
Pooled Testing Approved to Boost Detection: The FDA has authorized "pool testing" for Covid-19, a move aimed at widening checks for the virus and using fewer testing resources. Quest Diagnostics will be able to test samples with as many as four individual swab specimens, the agency said over the weekend in an emergency-use authorization.
The samples collected would then get tested in a "batch" using one test, instead of running each individual sample through its own test. If the pool is positive, it means one or more of the individuals tested may be infected, so each of those samples in the pool is then tested again, individually. Chinese officials used the "pool" tactic to quickly test vast numbers of people in Beijing and Wuhan earlier this year. Read more from Jim Silver and Ros Krasny.
Disabled Workers Hit Hard by Pandemic: The global pandemic is worsening a labor market that already presents many obstacles for workers with disabilities. For America's nearly 30 million working-age disabled citizens—who have to deal with challenges including seeing and hearing, as well as transportation—a large majority of job opportunities lie in food service, hospitality and retail. But when lockdowns brought those sectors to a standstill, those with disabilities saw their jobs vanish. Olivia Rockeman and Catarina Saraiva have more.
Shalala Says Florida Lockdown Needed: Rep. Donna Shalala (D-Fla.) said the coronavirus outbreak in Florida is "totally out of control" and called for a lockdown of the third most-populous state. Talking about opening up schools is "ridiculous," Shalala, whose district sits in Miami-Dade County, said yesterday on ABC's This Week. Shalala was secretary of the Health and Human Services Department under the Clinton administration. Read more from Tony Czuczka.
Race Relations in America
Lewis Spurred Black Activists to Seek Office: Five years ago, President Barack Obama clasped Rep. John Lewis's (D-Ga.) hand and walked across the Edmund Pettus Bridge in Selma, Ala., in remembrance of the bloody civil rights battle that the congressman had waged five decades before. Lewis told Obama about the state troopers who assaulted him and other nonviolent protesters on the same bridge in 1965 as they sought expanded voting rights for Black people. Obama said men like Lewis helped create a more "just America."
"It is a rare honor in this life to follow one of your heroes," the former president told a crowd of onlookers. "And John Lewis is one of my heroes."
The historic moment from March 7, 2015, is emblematic of the generational and tactical shifts taking place among Black politicians. The death of Lewis, who had helped organize the 1963 March on Washington, means that the ranks of Black leaders propelled into office by the Civil Rights movement of the 1950s and 60s continues to thin.
The old guard still wields influence. House Majority Whip Jim Clyburn (D-S.C.), the highest-ranking Black member of Congress, is credited with turning around Joe Biden's embattled presidential bid in February, putting Biden on the road to the Democratic nomination.
But now, Black lawmakers are increasingly adopting the policies and language of a surging Black Lives Matter movement as more Americans express outrage over racial inequities. And a new breed of organizers is following a path Lewis helped invent—from a civil rights activist to a political office holder. Read more from Naomi Nix and Karen Toulon.
Democrats Seek Probe on Police Action in Portland: House Democrats have asked for internal investigations into the use of federal police by Attorney General William Barr and acting secretary of the Homeland Security Department, Chad Wolf, to crack down on protesters in Portland, Oregon, and Washington, D.C. "The legal basis for this use of force has never been explained — and, frankly, it is not at all clear that the Attorney General and the Acting Secretary are authorized to deploy federal law enforcement officers in this manner," the lawmakers wrote in a letter yesterday to the inspectors general of the Justice Department and Homeland Security Department.
"Citizens are concerned that the administration has deployed a secret police force, not to investigate crimes but to intimidate individuals it views as political adversaries, and that the use of these tactics will proliferate throughout the country," according to the letter from Judiciary Chairman Jerrold Nadler (D-N.Y.), Homeland Security Chairman Bennie Thompson (D-Miss.), and Oversight and Reform Chairwoman Carolyn Maloney (D-N.Y.). Read more from Chris Strohm and Billy House.
Trump Rejects Renaming Bases: Trump pushed back on pressure to rebrand U.S. military bases that carry the names of Confederate generals, but hedged on whether he'd veto the annual defense policy bill over the issue. Democrats and some Republicans in Congress joined in rare bipartisan support to add language to the defense bill that would rename the bases, and the Pentagon supports the move. "I don't care what the military says," Trump said. "I'm supposed to make the decision." Read more from Chris Strohm.
Elections & Politics
Biden's Lead Over Trump Widens: Biden has a 15 percentage point lead over Trump and is up by 10 points among likely voters, in a ABC News/Washington Post poll unveiled yesterday. Trump's handling of the pandemic remains a key issue for voters. Biden had support of 55% among registered voters to Trump's 40% in the survey conducted July 12 to 15. Read more from Eduard Gismatullin.
Biden Begins Receiving Intelligence Briefs: Democratic presidential nominee Joe Biden said he is receiving intelligence briefings and warned on Friday about Russian interference ahead of November's election. "We know from before, and I guarantee you I know now because now I get briefings again, the Russians are still engaged in trying to delegitimize our electoral process. Fact," he said during a fundraiser organized by lawyers that included general counsels from roughly 100 companies. Read more from Jennifer Epstein.
Florida's Vote-by-Mail System Up for Review: Florida's limits on voting by mail are being challenged in a federal lawsuit that goes to trial today. The court is being asked to order the state to relax some of its rules to accommodate voters who don't want to go to a polling station during the coronavirus pandemic. Groups suing the state argue that elderly, low-income, and student voters are burdened by a requirement that ballots arrive by 7 p.m. on Election Day, by a ban on paid organizers helping voters return their ballots by mail, and by having to supply their own stamps. Read more from Jennifer Kay.
2020 Election To Be the Most Litigated: The 2020 election between Trump and Biden is shaping up to be the most litigated in U.S. history, as changes to balloting prompted by the coronavirus pandemic spur lawsuits that could leave the outcome in suspense for days or even weeks. A recent count by Loyola Marymount University law professor Justin Levitt found 154 cases already filed across 41 states and the District of Columbia. Many more are expected in the months ahead as Republicans, Democrats and advocacy groups battle over how to vote during a pandemic. "Everybody is suing about everything," Levitt said. Read more from Ryan Teague Beckwith and Erik Larson.
AOC's Clout Shows in Progressive Wins: The Democratic Party's progressive wing has broadened its foothold in New York with primary wins by two Black House candidates—positioning them to join Rep. Alexandria Ocasio-Cortez (D-N.Y.) in challenging the centrist wing that delivered Nancy Pelosi (D-Calif.) a majority. Victories by Jamaal Bowman over Eliot Engel in a Bronx-Westchester County district, and Mondaire Jones in the city's northern neighborhoods to succeed retiring Nita Lowey, reflect a changing of the guard, at least generationally. Read more from Billy House.
Twitter Says Some Staff Were Manipulated By Hackers: Twitter said several employees were manipulated by hackers into providing credentials for internal systems, and 130 Twitter accounts were targeted including those of Biden, Elon Musk and Jeff Bezos. Hackers were able to reset passwords for 45 users, while eight had data, including private messages, downloaded entirely, Twitter wrote in a blog post Friday. Read more from Sara Frier.
Trump Campaign Urges Supporters to Back TikTok Ban: Trump's presidential campaign is paying for ads on Facebook urging his supporters to sign a petition banning TikTok, as the White House ramps up rhetoric to restrict the video app in the U.S. "TikTok has been caught red handed by monitoring what is on your phone's Clipboard," read the ads that are running on Facebook and Instagram. Viewers are encouraged to "sign the petition now to ban TikTok," according to the ads. Read more from Kari Lindberg.
Texas GOP Barred From Convention Hall: After a last-minute legal victory last week in a battle with Houston's Democratic mayor, the GOP was ready to move thousands of delegates into the city's convention halls for a weekend gathering to choose its presidential electors, even as the coronavirus surges in the state. Now, with a bar on the move from a federal appeals court posted shortly after midnight, the Republicans are stuck holding an online convention that has been beset by technical problems. Read more from Laurel Brubaker Calkins.
What Else to Know Today
Trump Pardon Power a Focus of Markup: The House Judiciary Committee will hold a markup on Thursday to consider legislation in the wake of Trump's highly criticized commutation of the prison sentence of Republican political operative Roger Stone. "Trump made sure that Stone will never spend a day in prison. This quid pro quo is unacceptable. Congress must act," Nadler said in a statement. The panel will consider a measure aimed at boosting the transparency of a president's power to pardon federal crimes and commute sentences. Read more from Kim Chipman.
U.S., China Spar Online Over Myanmar: An op-ed by a U.S. diplomat accusing China of eroding Myanmar's sovereignty has led to the two powers sparring on the internet over who had the Southeast Asian country's best interests in mind. China is exploiting its smaller neighbor's commodity industries and labor force, George N. Sibley, deputy chief of mission at the U.S. embassy in Myanmar, said Saturday. The Chinese embassy there responded in a statement nearly twice as long, saying U.S. efforts to stigmatize the relationship between it and Myanmar are doomed to fail. Read more from Khine Lin Kyaw.
German Officials Ask Lawmakers to Continue Troops: Four German state leaders whose regions host most U.S. troops based in the country asked lawmakers in Washington to stymie Trump's plan to withdraw about 9,500 service members, a newspaper reported. The letter was sent Friday to 13 members of the Senate and the House of Representatives on defense and security-related committees, or who have expressed opposition to Trump's decision, Sueddeutsche Zeitung reported. Read more from Tim Loh.
Ex-Trump Partner Files Lawsuit That May Unveil Dirt: A New York real estate family that once did business with Trump is now trading allegations of theft and betrayal, and filed a suit that could dredge up more details about the president's onetime partners in an ill-fated Manhattan hotel project. Alex Sapir, whose firm teamed with Trump over a decade ago, sued real estate executive Rotem Rosen, who is Sapir's brother-in-law and former business partner, on Friday. Read more from Caleb Melby.
Son of US District Judge Salas Killed: A gunman shot and killed the 20-year-old son of a federal judge in New Jersey and shot and injured her husband yesterday at the family home, the state's chief district judge said, the Associated Press reports. The shootings occurred at the North Brunswick home of U.S. District Judge Esther Salas, and killed her son, Daniel, Chief District Judge Freda Wolfson told The Associated Press. Her husband, defense lawyer Mark Anderl, was injured, Wolfson said. Salas was in the basement at the time and wasn't injured.
Third Federal Inmate Executed in One Week: The Justice Department carried out its third execution in a week on Friday, matching the total number of federal prisoners previously put to death this century. Dustin Honken, convicted of five homicides, including two young children, was executed by lethal injection at the U.S. penitentiary in Terre Haute, Ind., where Daniel Lee and Wesley Purkey were also executed earlier this week. Read more from Jordan S. Rubin.
To contact the reporters on this story: Zachary Sherwood in Washington at zsherwood@bgov.com; Brandon Lee in Washington at blee@bgov.com
To contact the editors responsible for this story: Giuseppe Macri at gmacri@bgov.com; Loren Duggan at lduggan@bgov.com; Michaela Ross at mross@bgov.com