What to Know in Washington: Trump's Impeachment Trial a Day Away
The Senate is a day away from starting former President Donald Trump's second impeachment trial with many of the details still to be ironed out even as the outcome — an acquittal — is all but assured.
"We have no agenda, we have no rules, we've been waiting, waiting, waiting," said David Schoen, one of the lawyers representing Trump in the trial. "We're planning as well as we can based on the briefs in the case, but we don't know how it's going to proceed at all."
Trump's defense team, led by Schoen and Bruce L. Castor Jr. is due to file its trial brief today. They previewed their case in an initial response to the Jan. 13 House impeachment that argued the trial is unconstitutional because Trump is no longer in office, and said his fiery Jan. 6 speech to a crowd of supporters near the White House didn't incite the violence and is protected by the First Amendment.
Party leaders in the Senate are still working out rules for the trial, including how much time each side will get to present its case, and whether witnesses will be called. Trump's lawyers have already rejected a demand from the House prosecutors for the former president to testify under oath. Read more from Jarrell Dillard.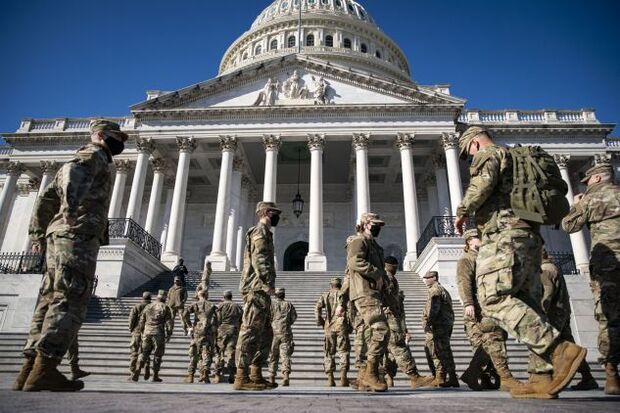 Trump Trial Brings Reckoning Even If Acquittal Likely: Trump's trial is almost certain to end in an acquittal, yet it will deliver a public reckoning for his presidency and influence whether his populist base continue to dominate the Republican Party. The nine House managers prosecuting Trump, arguing their case as much to the American public as to the senators who'll serve as jurors, will focus on the most searing moments of the nationally televised Jan. 6 attack on the U.S. Capitol. Read more from Mike Dorning, Mark Niquette, Billy House, and Steven T. Dennis.
Signs of Siege All Around: Trump's Senate trial will be enveloped by a thick security cordon of razor-wire-topped fencing, National Guard troops and armed police officers protecting lawmakers — a stark reminder of the assault on the Capitol. Walkways and green spaces around the Capitol and adjacent congressional office buildings that are normally plied by tourists and joggers have been off limits since the riot. Instead, there are rifle-toting National Guard troops stationed with Capitol police at a checkpoints for entry to the grounds. Daniel Flatley has more on the security situation at the Capitol.
Biden Says Trump Should Not Receive Briefings: President Joe Biden said his predecessor should not get the intelligence briefings that are normally given to former presidents because of his "erratic behavior." Biden, when asked in an interview with CBS News whether Trump should still be briefed, said "I think not." White House Press Secretary Jen Psaki said earlier this week the matter was "under review." Read more from Jordan Fabian.
Cheney Says She Won't Resign Post-Censure: Rep. Liz Cheney (R-Wyo.), the third-ranked House Republican, said she won't step down after the GOP in her home state voted to formally censure her after voting to impeach Trump. "The oath that I took to the Constitution compelled me to vote for impeachment and it doesn't bend to partisanship, it doesn't bend to political pressure," Cheney said on Fox News Sunday, Jarrell Dillard and Laura Davison report.
What's Next for the Stimulus Plan
Congressional committees are set to start crafting legislation this week on specific components of Biden's Covid-19 relief plan after votes in the House and Senate Friday on a budget resolution for 2021. House committees are planning public sessions to work on the text of the proposal, Erik Wasson reports.
The House Ways and Means Committee will likely take three days to process amendments from both parties on its portion of the bill. The House Financial Services Committee will meet Wednesday to mark up its portion of the relief measure. The Education and Labor Committee also meets tomorrow for its portion. By Feb. 16, the 12 House committees and 11 Senate committees that share jurisdiction over components of the stimulus bill must deliver their portions to the House and Senate budget committees.
Biden said he didn't think his proposed increase in the federal minimum wage to $15 per hour will survive congressional negotiations to pass his broader coronavirus-relief bill — comments that could doom prospects for the measure in the final legislative package. "My guess is it will not be in it," Biden said in an interview with CBS News that was broadcast on Friday night. He called for a standalone boost to the minimum wage instead, phased in to his $15 target. "It doesn't have to be 'boom.' And all the economics show, if you do that, the whole economy rises." Read more from Justin Sink.
Meanwhile, Treasury Secretary Janet Yellen said the U.S. can return to full employment in 2022 if it enacts a robust enough coronavirus stimulus package, but otherwise risks a slower rebound in jobs and the economy. "I'm afraid that the job market is stalling," she said on CBS's "Face the Nation," in one of two Sunday-morning interviews. Yellen said that low-wage earners, minorities and women are suffering the most and could face "permanent" damage from a prolonged slowdown. Read more from Saleha Mohsin.
How to Design 100,000 New Health Jobs: Democrats are looking at creating a massive public health workforce to bolster Biden's pandemic response, and must balance competing visions for where health workers are needed most. Biden has said he wants 100,000 new workers to expand the country's public health infrastructure to aid contact tracing, vaccine outreach, and other efforts. The cost could run $7 billion or more and is slated to be part of the relief package. The added funding will aim to get health services into underserved communities, typically Black and Latino neighborhoods, to "perform vital tasks like vaccine outreach and contact tracing," Frank Pallone (D-N.J.), chair of the House Energy and Commerce Committee, said recently. Read more from Alex Ruoff.
Bill to Give $30 Billion Relief to Gyms: House lawmakers introduced a bill that would provide $30 billion to the U.S. Small Business Administration to disburse to eligible fitness businesses struggling as a result of the coronavirus. The GYMS Act was introduced by Rep. Mike Quigley (D-Ill.) and Rep. Brian Fitzpatrick (R-Pa.). Teaganne Finn has more.
From the White House
Biden Says Immunity Unlikely Before End of Summer: Biden said it's unlikely the U.S. will reach herd immunity for the coronavirus before the end of the summer due to a shortfall in vaccine availability. "The idea that this can be done and we can get to herd immunity much before the end of this summer is very difficult," Biden said in an interview with CBS. "It was one thing if we had enough vaccine, which we don't," Biden said. Jenny Leonard has more.
Biden today will take a virtual tour of a vaccination center at State Farm Stadium in Glendale, Ariz., as his administration works to boost the vaccine rollout.
Adding to vaccination struggles, vaccine developers said they are working on a new shot to combat the South African coronavirus strain after early data suggested AstraZeneca's product has limited efficacy against mild disease caused by the variant. Tim Ross reports.
Border Agents Release Migrants Into U.S.: Some migrant families with children who have crossed illegally into the U.S. are being released in Texas by border patrol officials, a reversal of Trump-era policies to immediately send them back to Mexico, migrants' rights advocates said. It was unclear how widespread the shift was along the border, where it was protocol to immediately expel them due to the pandemic, Michael O'Boyle and Maya Averbuch report.
Senate to Vote on VA Chief: The Senate is scheduled today to consider the nomination of Denis McDonough to be secretary of the Veterans Affairs Department.
Biden Assembles Trade Team: The Biden administration made a number of key appointments at the office of the U.S. Trade Representative, among them Obama-era Treasury Deputy Assistant Secretary Brad Setser as counselor to the nominee for the top job, Katherine Tai. Setser, who most recently was a senior fellow for international economics at the Council on Foreign Relations, has a history of aggressive comments on some overseas central banks, criticizing some for foreign-exchange purchases he called intervention. He will be "providing advice on a broad range of trade and economic policy matters," the USTR said in a statement today. Read more on the team from Ana Monteiro.
Biden Taps National Security Deputy: Biden will name New York Federal Reserve markets chief Daleep Singh to serve as his deputy national security adviser, a move the White House says reflects commitment to prioritizing American workers in foreign policy. Singh oversaw implementation of the New York Fed's emergency facilities amid the coronavirus pandemic. Read more from Josh Eidelson.
Biden Picks White House Labor Adviser: Biden has named Pronita Gupta, a former Obama-era official at the Labor Department, to be a senior White House adviser on labor policy, three people familiar with the move said. Gupta serves as special assistant to the president for labor and workers, the sources said. Read more from Ian Kullgren and Ben Penn.
Biden Begins Foreign Policy Changes
U.S. to Revoke Houthis' Terrorist Designations: The U.S. plans to revoke terrorist designations on Yemen's Houthi rebels put in place near the end of the Trump administration, according to the State Department. Biden has been reversing and halting many of the foreign policy initiatives of Trump. With the United Nations citing a risk of famine in Yemen, the State Department said the terrorist designations were being revoked for humanitarian reasons. Secretary of State Antony Blinken told Saudi Arabian Foreign Minister Faisal bin Farhan Al Saud on Friday that "elevating human rights issues" and ending the war in Yemen are administration priorities, State Department spokesman Ned Price said. Read more from Nick Wadhams.
Biden Weighs Helping Iran Without Sanctions Move: The Biden administration is weighing ways to ease Iran's financial pain without lifting crushing economic sanctions, including on oil sales, as a step toward reviving the 2015 nuclear deal abandoned by Trump. Some options the U.S. is debating include providing backing for International Monetary Fund lending to Tehran for coronavirus relief, people familiar with the administration's thinking said. Read more from Nick Wadhams, Golnar Motevalli, and Jonathan Tirone.
Meanwhile, the United Nations' chief Yemen envoy embarked on his first peacekeeping mission to Iran since Biden withdrew U.S. support for a Saudi Arabian-led military effort against Yemeni rebels. Read more from Mohammed Hatem and Zainab Fattah.
Biden Says No Occasion to Call Xi: Biden said there was no particular reason why he hadn't yet spoken with Chinese President Xi Jinping, while also vowing a different kind of relationship with Beijing from his predecessor. "Well, we haven't had occasion to talk to one another yet," Biden said. "There's no reason not to call him." Read more from Jarrell Dillard and Yueqi Yang.
Meanwhile, the U.S. and China's top diplomats sparred on democracy and human rights in a phone conversation which was the highest level of communications between the two countries since the Biden administration began. Blinken "stressed" to Yang Jiechi, who sits on the Communist Party's 25-member Politburo, that the U.S. will keep standing up for human rights and democratic values including in Xinjiang, Tibet and Hong Kong, the State Department said. Yang told Blinken the three regions are China's internal affairs, and foreign forces shouldn't interfere, according to a statement from the Chinese foreign ministry. Read more.
Shultz, Who Led U.S. Cold-War Diplomacy, Dies: George Shultz, who oversaw the decoupling of the U.S. dollar from the gold standard in the early 1970s and kept the gears of diplomacy running under the din of Cold War rhetoric as Ronald Reagan's secretary of state a decade later, has died at 100. Shultz died Feb. 6 at his home on the Stanford University campus, Stanford's Hoover Institution announced. Shultz was the Thomas W. and Susan B. Ford Distinguished Fellow at Hoover after leaving office. "He negotiated landmark arms control agreements with the Soviet Union and, after leaving office, continued to fight for a world free of nuclear weapon," Blinken said in a statement. Read more from Laurence Arnold.
To contact the reporters on this story: Zachary Sherwood in Washington at zsherwood@bgov.com; Brandon Lee in Washington at blee@bgov.com
To contact the editors responsible for this story: Giuseppe Macri at gmacri@bgov.com; Loren Duggan at lduggan@bgov.com; Michaela Ross at mross@bgov.com