What to Know in Washington: Trump's Ford Visit Brings Tension
When Donald Trump tours Ford's ventilator facility today, there are more than a few ways the visit could get awkward.
Will he adhere to the automaker's requirement that everyone wear a mask at its facilities at all times? Will he keep up his feuds with Michigan's governor? And might he even give a bit of grief to the American carmaker, as he has so often since 2016?
Trump has been non-committal on the first question, saying earlier this week he may wear a mask depending on the situation and his surroundings. His tweets suggest there's a distinct possibility Gov. Gretchen Whitmer — who is on the short list to be Joe Biden's running mate — may come under fresh attack. And Ford has issued a series of statements suggesting it's ready for the 2020 campaign to be over already.
The second-biggest U.S. automaker has plenty of reasons to feel political fatigue. Ford was a frequent target of Trump's four years ago, when it was planning to build a car factory in Mexico. Soon after winning plaudits by ceasing construction, the company was the first in Detroit to distance itself from the administration's 2017 order that sought to ban immigrants from majority-Muslim countries.
More recently, Ford was among the automakers the Justice Department probed over a fuel economy pact with California. Trump, who has softened federal rules and sought to revoke that state's authority to set its own standards, called executives who oppose his efforts "foolish." The Justice Department closed its investigation.
Even the coronavirus relief effort has been an erratic experience. Ford and General Motors Co. had already committed to building ventilators when Trump lashed out GM CEO Mary Barra over federal contract negotiations and demanded that the two companies make the devices "FAST!!!!!!" He and members of his administration have praised the carmakers since then. Keith Naughton previews Trump's trip.
Happening on the Hill
GOP Escalating Probes of Bidens, Obama: Trump's allies in the House and Senate are ramping up investigations aimed at Biden and some of his former Obama administration colleagues that are likely to reach a crescendo in the middle of the election campaign.
Senate Judiciary Chairman Lindsey Graham (R-S.C.) today is set to ask the panel for authority to subpoena numerous former Obama-era officials, including former CIA Director John Brennan, former Director of National Intelligence James Clapper and former Attorney General Loretta Lynch as well as ex-FBI director James Comey as part of his panel's review of the origins of the investigation into Russian election interference and the Trump campaign's role.
Graham's request for the subpoenas likely won't get a vote until after the Senate returns from a Memorial Day recess in June, but the line of inquiry is fully embraced by Senate Majority Leader Mitch McConnell (R-Ky.), who is in the middle of a battle to save his Republican majority in the November election. Read more from Steven T. Dennis.
Portman Proposes Back-to-Work Bonus: Sen. Rob Portman (R-Ohio) is proposing a back-to-work bonus of $450 a week for those who return to their jobs before the expiration of a temporary increase in unemployment insurance. The boost in unemployment insurance was granted under a relief package in March. Portman, a negotiator of that bill, said on the Senate floor that he's drafting a measure to redirect federal subsidies for unemployment insurance toward a temporary work incentive for employees who can return to their jobs before the end of July. Read more from Colin Wilhelm.
Labor Nominees to Get Committee Vote: Nominees for the National Labor Relations Board and the Equal Employment Opportunity Commission will be voted on by a Senate panel early next month, a move that could end a delay in efforts to advance the nominations. The Senate Health, Education, Labor, and Pensions Committee on June 3 will consider the two NLRB nominees—former Commissioner Lauren McFerran (D) and current member Marvin Kaplan (R)—and three EEOC picks, Jocelyn Samuels, Andrea Lucas and Keith Sonderling. Read more from Jaclyn Diaz.
Peters Asks Trump Not to Deny National Guard Benefits: Former Navy Reserve Lt. Commander and Senate Homeland Security and Governmental Affairs ranking member Gary Peters (D-Mich.) asked the Trump administration not to end deployments of National Guard members one day before they'd become eligible for several federal benefits. The National Guard has been called on to assist in the coronavirus pandemic response, but yesterday the administration announced an end to deployment on June 24, one day before the 90 day threshold for benefits for active duty service to kick in, Peters said. Read the letter here.
Reopening Efforts
Reopen Push Repels Some GOP Supporters: Trump has acknowledged his push to reopen the U.S. economy before the coronavirus outbreak abates may cost more American lives. It may also cost him votes. Republicans are split almost down the middle on reopening, according to recent polls. About three-quarters of Americans want the government to aggressively seek to slow the virus even if it means keeping businesses closed, according to a Washington Post-Ipsos poll released last week.
Only 25% of voters surveyed — and half of Republicans — supported reopening businesses to "get the economy going again, even if that means more people would get the coronavirus," the approach backed by the president. Read more from Mario Parker and Vincent Del Giudice.
Minnesota Governor Calls Pence on Diverted Diagnostic Machines: The federal government took Hologic Inc. diagnostic machines that were scheduled to be shipped to Minnesota, leading to a 20-minute telephone call between Gov. Tim Walz and Vice President Mike Pence. Walz, a Democrat who has been reluctant to criticize the Trump administration's response to the pandemic, told reporters at a press conference yesterday that the federal government has no national strategy regarding medical supplies that states need to combat the coronavirus. Read more from Stephen Joyce.
Apple, Google Release Covid-19 Tool: Apple and Google released their Covid-19 exposure-notification tools yesterday, along with changes that will help public health authorities gather more information on who has the virus. The system—called Exposure Notification—helps authorities develop apps that notify users if they have come into contact with a person who has tested positive. Users who've downloaded the app for their region will be able to update their status if they test positive. The system will then anonymously notify other users who have come into contact with that person. Read more from Mark Gurman and Gerrit De Vynck.
Employment Income Expectations Improve in 35 States: Americans' views about whether the Covid-19 outbreak is expected to zap employment income are diverging among states. The Census Bureau yesterday released the first results of its experimental weekly Household Pulse Survey, which compared responses made May 7 through May 12 against those in the April 23-May 5 period. The poll is intended to shed light on a wide range of topics including employment, spending, housing and health.
An analysis of state data showed the biggest one-week increase in the share expecting a loss of employment income occurred in Virginia. Just over 38% of respondents in the state expected a loss of wages, up 6.1 percentage points from the first week of the poll. But in the nation's capital, wage expectations improved 10 percentage points, the biggest gain in the country, with 22.7% anticipating lost employment income over the next month. Read more from Alex Tanzi.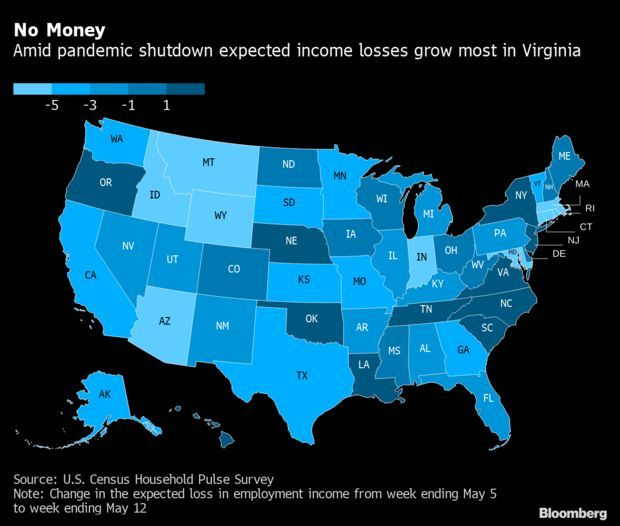 Disney, Universal to Submit Their Florida Reopening Plans: Disney, Comcast's Universal Studios and SeaWorld are taking another step toward reopening their massive theme parks in Orlando, Florida. The operators will begin submitting their plans to a reopening task force today, a spokesperson for Florida's Orange County said in an email. Florida Gov. Ron DeSantis (R) said last week that theme-park operators could begin reopening once they submit plans and win approval from local authorities. Read more from Christopher Palmeri.
Elections, Politics & Probes
Supreme Court Keeps Mueller Info From House for Now: The Supreme Court blocked House Democrats for now from getting access to confidential materials from Special Counsel Robert Mueller's Russia probe, granting a request from Trump's administration. The decision, which came yesterday without noted dissent, raises new doubts over whether Democrats will see the information anytime soon, if at all. The order applies until justices act on an appeal the administration has promised to file.
The high court gave the Trump administration until June 1 to file the appeal, putting the case on a fast track that will let justices say by July whether they will take up the case. The earliest arguments would likely occur in October, so any ruling would come too late to help Democrats in the November election. Greg Stohr has more.
Groups Pressure Biden on Fossil Fuel Stimulus: A coalition of left-leaning groups is pressuring Joe Biden to undo tax breaks for oil and gas companies in the coronavirus stimulus bill. In a letter to Biden released yesterday, 21 environmental and social justice groups called on Biden to develop a plan to block or reverse loans and grants in the Paycheck Protection Program to fossil fuel companies and other direct relief. Ryan Teague Beckwith reports.
Biden Focuses on Wisconsin: Joe Biden wants to win Wisconsin to get to the White House. And to do so, he needs to campaign there. So yesterday, he did—from Delaware. The former vice president spent yesterday campaigning from afar in the key battleground that Hillary Clinton lost by under 23,000 of the nearly 3 million votes cast for president there. Jennifer Epstein has more.
Biden, DNC Raise $58.9 Million in April: Biden and the Democratic National Committee combined to raise $58.9 million in April as they stockpiled cash during the pandemic-induced virtual campaign, their latest filings with the Federal Election Commission show. The haul was only slightly smaller than the $61.7 million raised by President Donald Trump's combined re-election effort in April. Read more from Bill Allison.
U.S. Rebukes China Over Trade, Military
The White House issued a broad critique of China's economic and military policies in a report to Congress as the two nations face off over issues ranging from trade to the coronavirus pandemic. The document, which was obtained by Bloomberg News ahead of its release, outlines a range of familiar criticisms of Beijing, including intellectual property theft and economic protectionism, but it doesn't detail specific actions the U.S. will take in response. Read more from Jennifer Jacobs and Tony Capaccio.
Meanwhile, China denounced a rare message from Secretary of State Mike Pompeo to Taiwan's president as "wrong and very dangerous," as tensions between the two nations flared anew over U.S. overtures toward the democratically ruled island. Beijing's Ministry of National Defense said in a statement that the military would "take all necessary measures to firmly safeguard" China's sovereignty, while the country's foreign ministry separately threatened retaliation.
The warnings came after Pompeo broke with past U.S. practice on Tuesday and issued a statement congratulating Tsai Ing-wen ahead of her inauguration to a second term as Taiwan's president. Read more from Lucille Liu and Dandan Li.
Also last night, Trump escalated his rhetoric against China, suggesting that the country's leader, Xi Jinping, is behind a "disinformation and propaganda attack on the United States and Europe."
"It all comes from the top," Trump said in a series of tweets. He added that China was "desperate" to have former Vice President Joe Biden win the presidential race.
While Trump has often blamed China for failing to prevent a pandemic now ravaging the global economy, he has been careful to maintain that his relationship with Xi remains strong. China's foreign ministry has regularly fired back with similar charges, saying the Trump administration was looking to obscure the facts around the virus to deflect from its own shortcomings. Read more from Daniel Ten Kate.
The WHO Is Caught in a Dangerous Place Between Trump and China: The World Health Organization is fighting the worst pandemic in a century — and facing an unprecedented political challenge. The Trump administration ramped up its attack on the organization this week, threatening to permanently cut its funding and reconsider U.S. membership if the WHO doesn't enact a sweeping overhaul. But the White House isn't alone in raising concerns: Australia and Canada also called for inquiries into the origins of the pandemic and the WHO's response to it. Read more from Matthew Campbell, Jason Gale, John Lauerman and James Paton.
What Else to Know
Pompeo Defends Watchdog Firing: Michael Pompeo is defending the firing of the State Department's inspector general but refuses to give any details, fueling questions about probes the watchdog was conducting and demonstrating anew the secretary of state's distaste for explaining controversial decisions publicly. Read more from Nick Wadhams.
Navy Aircraft Carrier Returns to Sea: A U.S. aircraft carrier has set sail from Guam nearly two months after a deadly coronavirus outbreak began spreading through the ship, leading to the replacement of its captain by the acting Navy secretary, who then resigned in the uproar that followed. The Navy said last night the U.S.S. Theodore Roosevelt headed into the Philippine Sea. Read more from John Harney.
Fannie-Freddie Capital Plan Seeks Buffers: Fannie Mae and Freddie Mac's regulator is proposing that the mortgage giants be required to hold hundreds of billions of dollars in capital to guard against losses, a step that could have an impact on mortgage interest rates and on the Trump administration's efforts to free the companies from U.S. control, Joe Light reports.
Trump Appoints Domestic Policy Chief: Trump last night announced the appointment of Brooke Rollins to be assistant to the president and acting director of the Domestic Policy Council. He also announced Derek Lyons will serve as assistant to the president and counselor to the president, reports Chelsea Mes.
To contact the reporters on this story: Zachary Sherwood in Washington at zsherwood@bgov.com; Brandon Lee in Washington at blee@bgov.com
To contact the editors responsible for this story: Giuseppe Macri at gmacri@bgov.com; Loren Duggan at lduggan@bgov.com; Michaela Ross at mross@bgov.com