What to Know in Washington: Trump's Demand Imperils Virus Bill
President Donald Trump's surprise attack last night on Congress's historic coronavirus relief package left aid for millions of Americans hanging in the balance as the pandemic continues to batter the nation.
The famously unpredictable president slammed the $2.3 trillion bill as a "disgrace" less than 24 hours after Congress approved the legislation with overwhelmingly bipartisan votes. Trump demanded larger stimulus payments for individuals and called for eliminating "wasteful and unnecessary items," but he didn't say whether he would veto it.
Trump's last-minute demands nonetheless sent shockwaves through Washington. In addition to $900 billion in pandemic-related measures, the package includes $1.4 trillion to fund government operations through next September. If the president doesn't sign the legislation by Dec. 28, government funding would lapse after midnight that day, triggering a partial shutdown.
The angst might run deepest among the president's fellow Republicans, who preferred a smaller pandemic relief package closer to $500 billion. They agreed to a $900 billion effort in the end, pressured by the political costs of holding up the relief package just weeks before a crucial runoff election for Georgia's two Senate seats, which will determine control of that chamber.
Speaker Nancy Pelosi (D-Calif.) quickly seized on Trump's call for $2,000 in individual stimulus payments — well above the $600 included in the relief bill — and said the House would try to pass this additional measure during a pro forma session on Thursday, a move that could be blocked by a single member of Congress. That bill would be a standalone measure to strike all references of $600 in the current legislation, to be replaced with $2,000, according to two people familiar with the plan.
Trump departs the White House at 4 p.m. today to travel to his Palm Beach resort, Mar-a-Lago, which serves as his usual holiday destination. Read more from Jordan Fabian.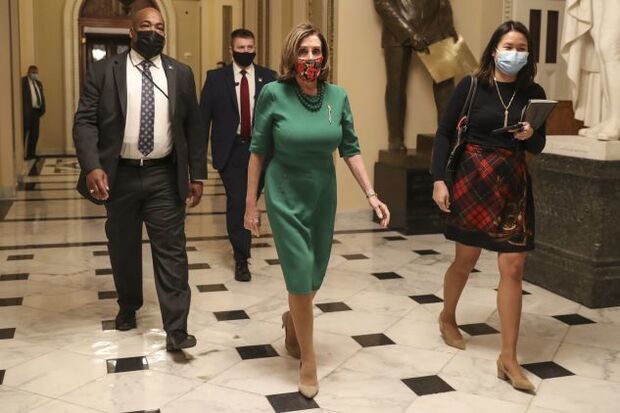 Happening on the Hill
How Lawmakers, Groups Scored Major Climate Win: A coalition of environmentalists, industry groups, and lawmakers quietly worked across the aisle for years to enact a historic phasedown of greenhouse gas emissions that supporters believe is the most important climate change policy to emerge from the 116th Congress. The year-end spending package includes language that would direct the EPA to implement an 85% phasedown of hydrofluorocarbon production and consumption over the next 15 years. "It is a big accomplishment," said David Doniger, senior strategic director of the climate and clean energy programs at the Natural Resources Defense Council, who has worked on the issue for more than 30 years. "It's the biggest step this Congress will have taken on climate change." Read more from Kellie Lunney.
Rubio, McCaul Question Trump Chinese Chip Effort: In a letter to Commerce Secretary Wilbur Ross yesterday, Sen. Marco Rubio (R-Fla.) and Rep. Michael McCaul (R-Texas) warned the Trump administration's latest action against China's semiconductor industry was "utterly ineffective" and fell short of crippling Beijing's drive into the next-generation of the technology. The U.S. is blacklisting Semiconductor Manufacturing International Corp. along with more than 60 of its peers deemed a threat to national security, depriving them of the American inputs from software to chemicals required to make their products. Read more.
Copyright Proposal's Reception Shows Difficult Road: Reactions to proposed legislation to boost online copyright enforcement yesterday demonstrated a stark divide and validated expectations of a long fight—particularly from tech and consumer groups. Sen. Thom Tillis (R-N.C.) held hearings throughout 2020 meant to inform the draft bill released yesterday that he's called "once in a generation legislation." After he released his "discussion draft" to update the Digital Millennium Copyright Act, consumer and tech groups blasted the proposal. Dozens of varied content groups welcomed it as a great first step. Read more from Kyle Jahner.
Health Insurers Fret Over Losing Federal Antitrust Exemption: Legislation that would subject health insurance companies to federal antitrust laws is headed to Trump's desk despite insurers' claims that it would reduce competition and make coverage less affordable. The bipartisan bill, which the Senate passed yesterday by unanimous consent, would amend the McCarran-Ferguson Act, a 1945 law that exempted insurance companies from federal antitrust laws and gave states regulatory authority over them. Trump is expected to sign the bill into law, according to a spokeswoman for Sen. Steve Daines (R-Mont.), a cosponsor of the measure. Read more from Sara Hansard.
Nuclear Sub Facing Cost Overruns, Delays: The U.S. Navy's plan to deliver the first vessel in its $128 billion next-generation submarine program on time is at risk by a dependence on inexperienced contractors with spotty quality control track records, according to a congressional watchdog. Read more from Tony Capaccio.
The Presidential Transition
Biden Announces Cardona for Education: President-elect Joe Biden has chosen Miguel Cardona, the Connecticut schools chief who has advocated for reopening schools amid the coronavirus crisis, as his choice for education secretary, the transition team announced last night. As a Latino, Cardona helps Biden fulfill a pledge to ensure that his cabinet is diverse. If Cardona is confirmed, he will face big decisions on how to handle the $1.5 trillion federal student loan portfolio. Progressives and Democratic lawmakers are calling on the Biden administration to use executive authority to cancel student debt across the board. Read more from Jennifer Epstein and Andrew Kreighbaum.
'Skinny' Health Plans Bid to Face Obstacles: The Trump administration's efforts to boost cheaper, less comprehensive health plans as an alternative to Obamacare may be difficult for Biden to fully unwind. Health policy experts say Biden could face political and legal backlash if he pushes Americans off the short-term limited duration plans—often dubbed "skinny" plans—unless he can also take steps to bring down the price of Obamacare. Read more from Sara Hansard.
Kerry's Climate Task Is to Reestablish U.S. Credibility: John Kerry's appointment as special presidential envoy on climate change marks the first time an official dedicated to the issue will have a seat on the National Security Council, putting the environment, in principle, at the center of every foreign policy decision. The new role could prove challenging to navigate politically because its powers are so far vague, and Kerry will have to coordinate with multiple agencies across the administration. For Kerry to bring skeptical countries along on future climate negotiations, the U.S. will first need to show it's serious in reversing the damage wrought over the past four years, diplomats and experts say. Read more from David Wainer and Ari Natter.
Russia Sees Nothing Good Under Biden: Russia expects nothing good in relations with a "deeply hostile" U.S. under the incoming administration and has no plans to make unilateral concessions to improve ties, Deputy Foreign Minister Sergei Ryabkov said. "We are heading from bad to worse," Ryabkov said in an interview with the Interfax news service published today, which he later confirmed in a message. "The next U.S. president has been left with a bad legacy and it will take a long time for him to sort this out." Read more from Ilya Arkhipov and Stepan Kravchenko.
Biden to Face Internet Freedom Battle: In a 2011 speech, Biden warned other countries that they wouldn't be able to reap the internet's economic benefits if they undermined its openness by imposing national-level censorship rules and other technical roadblocks. Now he will confront the reality that some key nations haven't heeded his warning. National policies in various countries have reduced the range of globally shared websites and platforms while adding obstacles to online communication and commerce. Officials who served with Biden in the Obama administration expect that he will push the vision he laid out then, but some experts who track the internet believe it may already be too late. Read more from Alyza Sebenius.
Probes & Politics
Trump Pardons Former Aide, GOP Lawmakers: Trump issued a slew of pardons last night, including for two people convicted as part of former Special Counsel Robert Mueller's Russia probe and several former Republican congressmen convicted of a range of financial crimes.
The actions prompted renewed criticism that Trump has used his pardon power to protect political allies, and could generate concern that the president is undermining efforts at the Justice Department and the Pentagon to ensure cooperation with criminal investigations.
The former congressmen pardoned include Duncan Hunter (R), the California lawmaker who pleaded guilty to misusing campaign funds, and Chris Collins (R), a representative from New York who pleaded guilty to charges of conspiring to commit securities fraud. The president also commuted the remaining prison sentence of Steve Stockman (R), a former congressman from Texas who was convicted of misusing charitable funds.
From the Mueller investigation, Trump pardoned former campaign aide George Papadopoulos, who was convicted of lying to the FBI, and Alex van der Zwaan, a lawyer who was also convicted of making false statements during the Russia probe. He also pardoned four men who worked as security guards for Blackwater and had been convicted in relation to the 2007 killing of Iraqi civilians. Read more from Justin Sink.
Trump Could Finally Testify Under Oath in Lawsuit-Filled 2021: E. Jean Carroll's defamation suit against him is one of several legal cases Trump faces in 2021 as his time as president ends, along with the protections that came with the office. Carroll, who sued Trump last year after he said she was lying about being raped by him in a Manhattan department store dressing room two decades ago, said she wants to be "face to face" with him when he gives his sworn deposition in the case. "He was in the dressing room, he was there," Carroll, a New York advice columnist, said in an interview. "He knows it happened." Read more from Erik Larson.
Giuliani Associate Parnas Seeks Dismissal of Charges: Lawyers for Rudy Giuliani associate Lev Parnas filed papers seeking to dismiss charges of making illegal campaign contributions, saying he was singled out for prosecution as a means of thwarting potential testimony in the congressional impeachment inquiry of Trump. Read more from Christian Berthelsen.
Judge Dismisses Bannon Ask to Delay FTC Testimony: A federal judge ordered Steve Bannon, a former top aide to Trump, to appear before the Federal Trade Commission for questioning in an investigation into Bannon's role in the Cambridge Analytica data-harvesting scandal and dismissed Bannon's request for a delay. Read more from David McLaughlin.
The Coronavirus Pandemic
Pfizer Nears Pact With Trump for More Vaccine Doses: Pfizer could provide tens of millions more Covid-19 vaccine doses in exchange for a U.S. government order giving it further access to manufacturing supplies, The New York Times reported yesterday. The agreement could be announced as early as today. It would call for the Trump administration to invoke the Defense Production Act to give Pfizer better access to specialized products it needs to make the Covid-19 vaccine, The New York Times reports.
Vaccine Makers Preparing for Mutant Coronavirus Strains: Drugmakers who designed the first Covid-19 vaccine to gain clearance from Western regulators say they could reset the shot to counter a new strain within just six weeks, if needed. BioNTech CEO Ugur Sahin said he's confident that the inoculation his company developed with Pfizer will work just fine against the fast-spreading coronavirus variant that's raising alarms in the U.K. and beyond. Read more from Tim Loh.
How a Loathed Industry Made a Vaccine in Record Time: At the end of 2019, before the coronavirus pandemic started, the two best-known faces of the pharmaceutical business were the imprisoned Martin Shkreli and the lawsuit-laden opioid makers at Purdue Pharma. The rest of the industry was perhaps best known for the skyrocketing prices of its medicines. In a Gallup Poll of the public's view of various business sectors, pharma was ranked at the bottom, behind the oil industry, advertising and public relations, and lawyers. Who'd have guessed that a year later pharma would be getting credit for saving the world? Drew Armstrong takes a look at pharma's year and the race for a vaccine.
What Else to Know Today
DHS Warns US Firms on Chinese Data Companies: The Department of Homeland Security warned U.S. firms against using data services and equipment from firms linked to China because of cyber security and other risks. The advisory was issued as the Trump administration, in its last weeks, has imposed further penalties on Chinese companies amid continuing deterioration in relations between the two countries. It also comes as U.S. government agencies and companies are still trying to assess the damage from a massive hacking operation that top American officials have blamed on Russia, while Trump has suggested China might have been behind it. Read more from John Harney.
Cyber Threats to Banks Targeted in Proposal: A federal proposal requiring banks to report a range of cybersecurity incidents could alert authorities to broad threats to financial stability. The rule proposed Friday would require banks to promptly tell U.S. financial regulators about cyber incidents that may impact their business or the banking system, Andrea Vittorio reports.
FBI Says White Supremacists Planned Grid Attack: A group of white supremacists sought to target power stations in the southeastern U.S., the Associated Press reported yesterday, citing FBI allegations in an affidavit that was mistakenly unveiled. The plot involved creating a power outage by shooting at power stations next summer, the affidavit claims. Read more from the AP.
Smaller Companies Worry Over Facebook's Liability Push: Facebook says it's time to rethink the legal immunity that protects it from lawsuits over what users post online, a position that's leaving smaller websites concerned about the cost of accepting more responsibility for what appears on their platforms. The social-media giant has been prominent in the debate in Washington over the liability shield contained in Section 230 of the Communications Decency Act, which may be the subject of a proposal by the Federal Communications Commission as soon as today. That's leaving small and mid-sized companies such as Etsy and Tripadvisor nervous. Read more from Todd Shields and Ben Brody.
States Sue to Block 'First Fintech Charter' Bank Application: State bank supervisors are suing to block a federal regulator from granting a national bank charter to Figure Technologies, a blockchain-based financial services provider. The Office of the Comptroller of the Currency would be preempting state authority to regulate non-banks if the application is approved, the Conference of State Bank Supervisors argued in a complaint filed yesterday in the U.S. District Court for the District of Columbia. Read more from Lydia Beyoud.
Uber's Battle With California Won't End: The California Public Utilities Commission's threat to suspend Uber's operating license shows that the state isn't about to let go of oversight even after voters approved a hands-off approach to regulating gig employers' business models. Both sides are digging in for a fight over the commission's order that Uber turn over information on witnesses to alleged incidents of sexual harassment and assault, and disclose who wrote the ride-hailing company's industry-first, and only, safety report. Read more from Joyce E. Cutler.
With assistance from Brandon Lee
To contact the reporter on this story: Zachary Sherwood in Washington at zsherwood@bgov.com
To contact the editors responsible for this story: Giuseppe Macri at gmacri@bgov.com; Loren Duggan at lduggan@bgov.com; Michaela Ross at mross@bgov.com