What to Know in Washington: Trump's Defense Rests on Narrow Gap
Donald Trump's impeachment defense hangs by a thread after two weeks of hearings, as a parade of witnesses described how his efforts to pressure Ukraine to investigate Democratic rival Joe Biden extended well beyond the two leaders' July 25 telephone call.
Lieutenant Colonel Alexander Vindman, a decorated Army officer and Ukraine expert, recalled raising concerns to the top lawyer at the National Security Council over what he viewed as Trump's inappropriate political demand on that call for a Biden probe.
Vindman's former boss, Fiona Hill, testified she came to understand that Gordon Sondland, the U.S. ambassador to the European Union, had been tasked by Trump with a "political errand" in Ukraine outside of regular U.S. foreign policy. And Sondland, a Trump donor, told lawmakers that the president, through his personal lawyer Rudy Giuliani, ordered him to carry out a "quid pro quo."
Witnesses warned in grave terms that the pursuit of dirt on Biden was wrong, undermined U.S. foreign policy efforts, and wasn't rooted in a sincere effort to crack down on corruption or criminal activity in Ukraine. And they criticized the president's Republican allies for trying to justify his behavior by promoting debunked conspiracy theories they said had no grounding in fact.
And yet one key piece of Trump's defense remains intact: None of the witnesses, including Sondland, testified that the president himself directly ordered them to make explicit to the Ukrainians that American military aid and a meeting with Trump depended on their president announcing investigations. Indeed, when Sondland confronted Trump on Sept. 9 — after the administration learned a whistle-blower complaint had been filed — the president denied wanting anything from Ukraine.
He has forbidden witnesses who might have first-hand knowledge of his Ukraine intentions from testifying. "I think they have to end it now," Trump said yesterday, quoting his own words to Sondland that he wanted "nothing" from Ukraine. Read more from Steven T. Dennis and Justin Sink.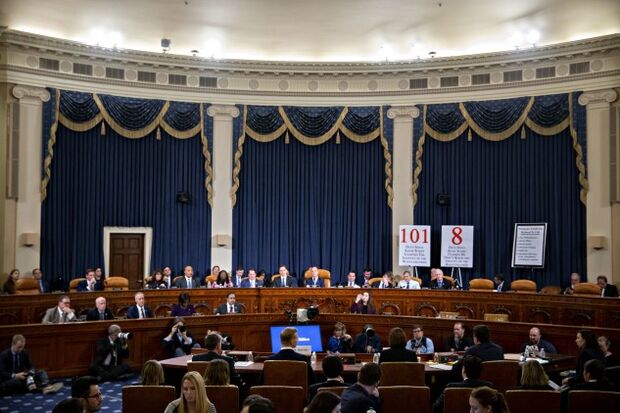 Trump Seeks Fairness in Senate, Aide Says: A White House spokesman said that a Senate trial is "clearly the only chamber where he can expect fairness and receive due process under the Constitution." The spokesman, Hogan Gidley, released a statement last night, hours after the testimony of Hill and Holmes before the House Intelligence Committee had concluded. "There's no basis for these disgraceful proceedings and the Democrats should stop these illegitimate sham hearings immediately," Gidley said, adding that "if they don't, President Trump wants to have a trial in the Senate," which is in the hands of Trump's Republican Party.
Gidley said that witnesses before the Senate should include the "so-called whistle-blower" who filed the complaint over Trump's July 25 phone conversation with Ukraine's president, as well as Biden and his son Hunter, and House Intelligence Chairman Adam Schiff (D-Calif.), Justin Sink reports.
Deciding on Next Steps: Now that House Democrats have wrapped their last scheduled public hearing they have to decide whether to schedule more, or move to the next step toward impeaching Trump. "In the coming days, Congress will determine what response is appropriate," Schiff said yesterday. The Democrats head into a recess week trying to figure out if they can meet their tentative target of holding any impeachment vote before the end of the year. Billy House explains some of the decisions ahead.
Witnesses Cling to Sense of Duty: About a dozen witnesses appeared before the House Intelligence Committee in public impeachment hearings over the last two weeks. Most of those summoned were career Foreign Service officers and civil servants, and several spoke out to defend the honor of government professionals Trump derides as members of the "deep state." Nick Wadhams takes a look at the witnesses who endured the impeachment hearings over a sense of duty to the country.
Happening on the Hill
Trump Signs Short-Term Spending Measure: Trump signed a four-week spending bill yesterday, putting off a possible government shutdown until Dec. 20. The Senate cleared the measure earlier in the day in a 74-20 vote, after it passed the House on a 231-192 vote Tuesday. The stopgap measure is necessary because Congress — as has become the norm in the past decade — failed to complete action on the 12 annual spending bills needed to keep agencies operating by the Oct. 1 start of the fiscal year. The government has been funded on a short-term measure that runs out this week. Read more from Erik Wasson.
Afghan Peace Talks: Two senators introduced legislation to increase Congress's role overseeing Afghanistan peace negotiations, the latest attempt by bipartisan lawmakers to exert greater control over Trump's foreign policy. Senate Foreign Relations ranking member Bob Menendez (D-N.J.) and Todd Young (R-Ind.) introduced a bill to require the Trump administration to consult Congress on troop levels in Afghanistan and any final deal with the Taliban. The measure comes roughly two months after Trump canceled a secret Camp David meeting with Taliban leaders and the president of Afghanistan. Read more from Daniel Flatley and Eltaf Najafizada.
Health-Worker Violence Bill: Health-care and social service workers gained bipartisan support for getting protection from violent attacks as the House passed legislation requiring the Labor Department to put rules in place to prevent such incidents. The "outrageous" rates of violence health-care workers face is a problem that "crosses party lines, crosses regions" and affects all health-care facilities, said bill sponsor Rep. Joe Courtney (D-Conn.). More than two dozen Republicans crossed party lines to support the bill in a 251-158 House vote yesterday, brushing aside a White House threat to veto the measure. Read more from Jaclyn Diaz.
Elections, Politics & Policy
AOC Skeptical Wealth Tax Could Pass: Even Rep. Alexandria Ocasio-Cortez (D-N.Y.) is skeptical about the viability of Sen. Elizabeth Warren's (D-Mass.) wealth tax to pay for trillions of dollars in government programs and address income inequality. "It's not something that's discussed a lot" in Congress, Ocasio-Cortez said. "I think there is a political will for it in the electorate, so it's a matter of, will the more corporate-friendly wing of the party be down for it?" Warren and Bernie Sanders (I-Vt.) have campaigned on the idea that a wealth tax—rather than higher income taxes—is the best way to raise trillions in revenue. Read more from Laura Davison.
Warren Reaches Out to Black Women: Warren, trying to diversify her support, told an audience at a historically black university in Atlanta about the travails of black women fighting for equality since the Civil War and how her policies would address the scars of that past. Warren took the stage at Clark Atlanta University beside Rep. Ayanna Pressley (D-Mass.), an African American from Warren's home state, who she introduced as her "sister warrior." Members of the audience were waving "Black Women with Warren" placards that had been handed out by the campaign. Read more from Misyrlena Egkolfopoulou.
Obama Tells Democrats to 'Chill Out': Former President Barack Obama yesterday appealed to Democrats to "chill out" about their differences during the presidential nomination race and focus instead on beating Trump. "There will be differences," he said, but they are minor compared with "the ultimate goal, which is to defeat a president and a party that has, I think, taken a sharp turn away from a lot of the core traditions and values and institutional commitments that built this country." Speaking a day after Democratic candidates met in Atlanta for their fifth debate, he added: "Everybody needs to chill out, but gin up about the prospect of rallying behind whoever emerges from this process." Read more from Sophie Alexander.
Foreign Affairs
U.S. Seeks To Stem Islamic State Networks: The U.S. is moving to contain the Islamic State's regional networks in parts of Afghanistan and Africa, following the death of the group's leader Abu Bakr al-Baghdadi, a State Department official said. Islamic State affiliates in West Africa, Greater Sahara and Khorasan province in Afghanistan remain "serious threats" that have to be "capped from metastasizing further," said Ambassador Nathan Sales, the State Department's counter-terrorism coordinator. Read more from Andreo Calonzo.
Trump Meets Families of Soldiers Killed in Afghanistan: Trump traveled yesterday to Dover Air Force Base in Delaware, for the arrival of the remains of two American soldiers who died in Afghanistan earlier this week. Chief Warrant Officer David Knadle, 33, of Texas and Chief Warrant Officer Kirk Fuchigami, 25 of Hawaii — were killed Wednesday in Logar Province when their helicopter crashed, the Pentagon said in a statement yesterday. The crash is under investigation. Trump spoke earlier in the day to Afghanistan's President Ashraf Ghani, and expressed appreciation for the country's efforts in freeing Taliban hostages Kevin King and Timothy Weeks, the White House said. Read more from Josh Wingrove.
Japan, South Korea Rescue Intel Pact: Japan and South Korea struck a last-minute deal to rescue their expiring intelligence-sharing pact, after a high-powered push from the Trump administration averted a blow to U.S. efforts to strengthen its Asian alliance network. South Korea will suspend its plans to pull out of the General Security of Military Information Agreement and temporarily withdraw a complaint it made against Japan at the World Trade Organization, Kim You-geun, South Korea's national security first vice adviser, said in a news briefing Friday, about six hours before the pact was due to expire. Read more from Kanga Kong and Isabel Reynolds.
Around the Administration
Disasters Don't Deter Trump in His Drive to Deregulate: The Trump administration's move to relax an Obama-era chemical safety regulation put in place after an explosion at a fertilizer plant is the latest example of the White House easing rules established in the wake of disasters. Trump's professed goal of rolling back "job-killing" regulations has led to weakening mandates proposed or enacted after three of the worst industrial accidents of the last decade: The 2010 Deepwater Horizon oil spill in the Gulf of Mexico, the 2011 Fukushima nuclear plant meltdown in Japan and 2013 derailment and explosion of an oil train in Canada. Read more from Ari Natter and Jennifer A. Dlouhy.
FCC Member Slams 5G Security Readiness: The U.S. lacks a national strategy for telecommunications security, a member of the Federal Communications Commission said as the agency prepared to ban some federal spending on Huawei equipment, which U.S. authorities have deemed a security threat. "We don't have a comprehensive effort. We need one," Jessica Rosenworcel, one of five FCC commissioners, said in a meeting yesterday. The FCC is scheduled to vote today on preventing federal subsidy funds from being spent on Huawei gear. But that follows the Commerce Department approving some suppliers' applications for licenses to do business with the Chinese gearmaker. Read more from Todd Shields and Alyza Sebenius.
Fed Pick Casts Doubt on Independence: Judy Shelton, one of Trump's most recent picks for the Federal Reserve board, challenged an article of faith regarding the U.S. central bank in private comments to a bank executive last month: that it should operate free of political influence. Shelton shared her views on monetary policy and the Fed with Beat Siegenthaler, global macro adviser for UBS Group AG, after speaking at an event on Oct. 18 in Washington on the sidelines of the International Monetary Fund annual meetings. Read more from Saleha Mohsin.
Uphill Fight for Amazon in Suit Against Pentagon: Amazon will likely argue that meddling by Trump cost the company a cloud-computing contract worth as much as $10 billion as it seeks to overturn a Pentagon decision to award the work to arch-rival Microsoft. Yet Amazon faces an uphill climb in basing its challenge on those grounds, as legal requirements to successfully appeal a contract award on claims of political interference are high. To prevail, losing bidders must show the agency made its decision as a result of bias — rather than on the merits of the companies' proposals, according to procurement experts. Read more from Naomi Nix.
DeVos Meets With Loan Servicers: Education Secretary Betsy DeVos met with student loan servicers in Washington in an inaugural summit over quality assurance and performance. The Education Department plans to hold quarterly meetings with the companies, which contract with the federal government to handle and process payments on federal student loans. Mark Brown, the chief operating officer at the Office of Federal Student Aid, also spoke at the meeting yesterday.
Department officials said discussions at the meeting would address how to reduce default and delinquency rates on federal student loans and assisting borrowers with requirements of the Public Service Loan Forgiveness program. DeVos has faced criticism from consumer advocates and congressional Democrats like Sen. Warren over performance of loan servicers in assisting student borrowers, Andrew Kreighbaum reports.
High Court Urged to Allow Access to Trump Records: The House and a New York prosecutor urged the U.S. Supreme Court to allow access to Trump's financial records in clashes that are testing the court's willingness to insulate the president from investigations.
The House yesterday asked the court to allow immediate enforcement of a subpoena, saying lawmakers have broad authority to investigate presidential misconduct. Chief Justice John Roberts this week temporarily blocked the subpoena in an administrative order. In a separate case, Manhattan District Attorney Cyrus Vance yesterday asked the court to reject Trump's appeal of a ruling that would allow his tax returns to be turned over to a grand jury. In both cases, subpoenas went to Mazars USA, Trump's accounting firm, which isn't contesting the demands. Read more from Greg Stohr.
Movers & Shakeups
Election Security Official Resigns: A lead architect of the U.S. government's election security efforts after Russian interference in 2016 has resigned from the Cybersecurity and Infrastructure Security Agency. Assistant Director for Cybersecurity Jeanette Manfra, who had served at the Homeland Security Department since the George W. Bush administration, received bipartisan praise for her service, including from House Homeland Security Chairman Bennie Thompson (D-Miss.). Manfra leaves days after Homeland's internal watchdog said senior leadership turnover at the department is impacting election security efforts, Michaela Ross reports.
Homeland Official Heads to Drone Company: Former top legal counsel for the Homeland Security Department and Raytheon Company executive John Mitnick has joined Canadian drone company Draganfly Inc. as a consultant on government and private business opportunities, according to a press release from the company. The move comes amid increasing scrutiny of Chinese-made drones and parts by the U.S. government. Mitnick was forced out by the Trump administration in September as part of a broader leadership shakeup at DHS by Trump. Read a statement here.
To contact the reporters on this story: Zachary Sherwood in Washington at zsherwood@bgov.com; Brandon Lee in Washington at blee@bgov.com
To contact the editors responsible for this story: Giuseppe Macri at gmacri@bgov.com; Loren Duggan at lduggan@bgov.com