What to Know in Washington: Trump Woos Base With WHO Threat
Bloomberg Government subscribers get the stories like this first. Act now and gain unlimited access to everything you need to know. Learn more.
President Donald Trump delivered a pair of personal and political gestures this week that seized on his core voters' mistrust of international institutions and skepticism of science, heightened amid the coronavirus pandemic.
Late Monday, the president threatened to withdraw from the World Health Organization, escalating his accusation it's beholden to China. The move came hours after he revealed he was taking an anti-malaria drug, hydroxychloroquine, to protect himself from coronavirus — an unproven therapy the president has promoted despite outcry from the medical community.
While Trump said he's taking the drug out of concern he may be exposed to people infected by the virus in his job, both gestures were in line with sentiment among Republicans. As the pandemic ravages the economy, the president has increasingly resorted to brazen appeals to the slice of voters who represent his most avid supporters.
He has sought to define his presidency not by his handling of the U.S. coronavirus outbreak, which surpassed 1.5 million cases yesterday, but in comparison with familiar right-wing bogeymen including China, Barack Obama and even Trump's own public health advisers, who pushed tough stay-at-home measures despite the risk of an economic slowdown.
As is common with the Trump White House, his remarks have echoed weeks of commentary in right-wing media.
The danger for Trump is that his pronouncements risk evoking an air of desperation. Surveys show Americans growing less confident in his leadership as the nation's death toll from the virus marches past 90,000, unemployment figures skyrocket from the economic collapse precipitated by the outbreak and the virus intrudes even into the halls of the White House. Read more from Justin Sink.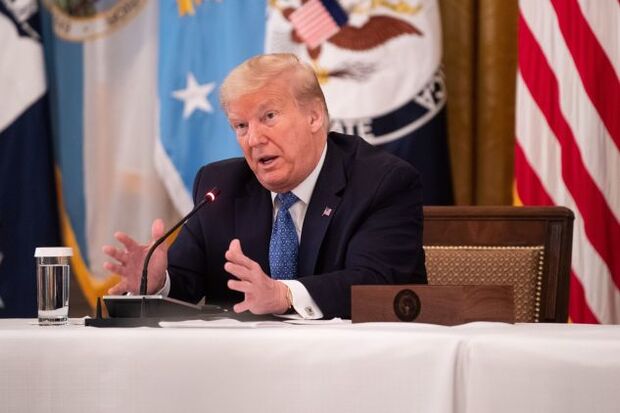 Happening on the Hill
Republicans Demand Testimony of WHO Director: Republicans on the House coronavirus oversight subcommittee yesterday called on the panel's Democrats to pursue the testimony of WHO Director-General Tedros Adhanom Ghebreyesus and Chinese Ambassador to the U.S. Cui Tiankai. Following Trump's lead, Republicans in Congress are attempting to focus on the roles of China and the global public health organization in the pandemic at the same time Democrats are criticizing the White House's handling of the outbreak.
In a letter to Chairman Jim Clyburn (R-S.C.), the Republicans wrote the new panel should investigate "China's obfuscation of the origin of Covid-19" and "manipulation of the WHO to cover up the severity of the outbreak." Republican Whip Steve Scalise (La.) and Rep. Jim Jordan (R-Ohio), both members of the panel, are also pushing to probe claims that Beijing is stealing U.S. research and disrupting the medical supply chain. Billy House has more.
Seat on Fifth Circuit Tough for Trump to Fill: Trump has made good on his promise to reshape the federal judiciary with conservatives, but filling one seat on arguably the most conservative U.S. appellate court has been one of the hardest to get done. The Senate Judiciary Committee today will hear from Cory Wilson, a Mississippi state court judge with a penchant for Twitter who's the president's second nominee to fill a longstanding vacancy on the U.S. Court of Appeals for the Fifth Circuit.
Ozerden was tapped nearly a year ago and twisted in the wind until March when he was replaced by Wilson, who was at the time being considered for a district court vacancy. The seat has been unfilled for most of Trump's presidency. Read more from Madison Alder.
Senate Homeland Oversight Hearings: Senate Homeland Security and Governmental Affairs Chairman Ron Johnson (R-Wis.) defended his panel's role in coronavirus oversight yesterday in response to a push from Democrats to bring agency leaders before the committee for questioning. Johnson said he believes a review of the government's response efforts is needed. "That is why I have held three hearings or roundtables on these issues to date with a fourth planned for early next month," he said in a letter.
The committee today will hold a hearing to consider subpoenaing a Democratic political firm in connection with its investigation of Hunter Biden. That hearing "does nothing to enhance our pandemic response," a staffer for ranking member Gary Peters (D-Mich.) said, Shaun Courtney reports.
SEC Requested to Act on Workforce Disclosures: The Securities and Exchange Commission should push firms to unveil details of their workforce management practices in the wake of the pandemic, Sen. Mark Warner (D-Va.) and Rep. Cindy Axne (D-Iowa) said. The two, in a letter sent yesterday to SEC Chairman Jay Clayton, urged the agency to issue guidance on the "critical" human capital information companies should disclose to investors and public. Read more from Jacob Rund.
Transportation Watchdog Urged to Resign: Howard Elliott, the chief of the federal pipeline safety agency who is concurrently serving as acting inspector general for the Transportation Department, should resign from his watchdog position, leaders of the House Oversight and Transportation committees said yesterday. Elliott is the administrator of the Pipeline and Hazardous Materials Safety Administration, and the White House also named him acting inspector general of the Transportation Department, which oversees PHMSA, on Friday. Read more from Sylvia Carignan.
More on Reopening Efforts
Trump Views Cases as 'Tribute' to Testing: Trump said it is "a badge to honor" that the U.S. has more than 1.5 million cases of coronavirus, saying the total is a result of the country testing millions of people for infection. "I view it as a badge of honor," Trump told reporters at a Cabinet meeting at the White House. "It's a great tribute to the testing." At least 91,000 Americans have died from Covid-19, the disease caused by the virus, since February. The U.S. has now conducted at least 11.8 million tests for infection by the virus, according to the Covid Tracking Project, after the government experienced delays in getting tests manufactured. Read more from Jordan Fabian and Josh Wingrove.
Lockheed Slowing F-35 Production Amid Parts Delays: Lockheed Martin said it will temporarily slow production of the F-35, the Pentagon's costliest weapons system, because of subcontractor parts delays stemming from the coronavirus pandemic. Starting Saturday and possibly continuing through August, Lockheed said it'll divide around 2,500 union workers at its plant in Fort Worth, Texas, into three teams, each working shifts of two weeks and one week off to avert layoffs. Read more from Tony Capaccio.
IRS to Order Some Staff to Return: The IRS expects to tell certain employees in Kentucky, Texas, and Utah to return to their worksites starting June 1. The action moves beyond the agency's previous call for volunteers to staff offices amid the pandemic. The agency previously offered incentive pay to employees who were willing to voluntarily return to their office to perform tasks such as opening mail, processing paper tax returns, and taking phone calls, Allyson Versprille reports.
Trump Weighing Travel Ban on Brazil: Trump said he's considering a ban on Brazilians traveling to the U.S. as the Latin American country takes over third place globally in number of Covid-19 cases. "Brazil is having some trouble, no question about it," Trump said yesterday. "I don't want people coming in here and infecting our people." Brazil in the past few days has overtaken Spain and Italy in confirmed infections. Jordan Fabian and Eric Martin have more.
Mexico-U.S. Border Closure Extended: Non-essential travel restrictions will be extended another month along the U.S.-Mexico border in an effort to contain coronavirus outbreaks, the Department of Homeland Security acting Secretary Chad Wolf said in a statement. Federal Register notices unveiled yesterday show restrictions for both Canada and Mexico will run through June 22. "Non-essential travel will not be permitted until this administration is convinced that doing so is safe and secure," Wolf said.
NYC Misses Virus Goals: New York City is struggling to meet state standards for opening back up—and is moving in the wrong direction on some of its own metrics, including hospital admissions. While the crushing influx of critically ill has eased, yesterday's data showed virus admissions to hospitals and intensive-care units were increasing as of May 16, Henry Goldman reports.
Elections, Politics & Probes
GOP Sends Invitations for In-Person Convention: The Republican National Committee is sending its big donors invites for the Aug. 24 to 27 nominating convention, where Trump will receive his party's presidential nod. The invites ask attendees to RSVP to receive more details. North Carolina's stay-at-home order remains in place, though on May 8, Gov. Roy Cooper (D) relaxed certain restrictions. Read more from Bill Allison.
Joe Biden Wins the Oregon Primary: Presumptive Democratic nominee Joe Biden won the presidential primary in Oregon yesterday, according to the Associated Press. Biden is the only candidate actively seeking the Democratic presidential nomination, but Sens. Bernie Sanders (I-Vt.) and Elizabeth Warren (D-Mass.) as well as Rep. Tulsi Gabbard (D-Hawaii) were also on the ballot, Emma Kinery reports.
Biden on Israel: Biden would work to enhance the bipartisan consensus around Israel that Trump has undermined, he said yesterday. "We have to keep bipartisan support for Israel in the United States," Biden said during an event billed as a virtual fireside chat with the American-Jewish community. The event, a fundraiser, drew 550 guests, his campaign said. Read more from Jennifer Epstein.
Election Commission Faces Case Backlog: The Federal Election Commission is finally back in business, with hundreds of unresolved cases of alleged campaign finance violations awaiting scrutiny and potential enforcement action with less than six months until the elections. Senators voted 49-43 yesterday to confirm Republican election lawyer Trey Trainor to the panel, restoring a four-member quorum needed to vote on enforcement complaints, advisories and other legal rulings. Read more from Kenneth P. Doyle.
Flynn Asks Appeals Court to Order Case Dismissal: Former National Security Adviser Michael Flynn asked an appeals court to let the Justice Department drop a criminal case against him for lying to the FBI rather than wait for a lower-court judge to decide. In an emergency petition, Flynn asked the U.S. Court of Appeals in Washington to order the dismissal of the case and to reassign the matter to a different judge for any additional issues that may arise. Erik Larson has more.
All Texans Can Vote By Mail During Virus Crisis: Texas must give any voter afraid of catching Covid-19 at the polls a mail-in ballot for as long as the pandemic threat continues, a federal judge ruled. The ruling conflicts with the Texas Supreme Court's temporary suspension of a state judge's order to do the same thing, while the Texas high court examines the issue further. Read more from Laurel Brubaker Calkins.
What Else to Know
Trump Signs Order Easing Regulatory Enforcement: Trump signed an executive order yesterday directing federal agencies to ease up on businesses that make good-faith attempts to follow agency guidance and regulations during the coronavirus pandemic. The extent to which the order would provide protection for businesses against pandemic-related liability would be limited—legislation would be needed to guard against lawsuits—but supporters say it would shield companies from fines for civil regulatory violations, reports Cheryl Bolen.
Key NASA Official Exits Before Crewed Flight: NASA's head of human space flight is leaving his job just as Elon Musk's SpaceX is poised to launch its first crew into orbit. Doug Loverro has stepped down as associate administrator for human exploration and operations, the National Aeronautics and Space Administration said yesterday. Ken Bowersox, the deputy chief of human space flight, will replace Loverro in an acting role, effective immediately. Read more from Brendan Case.
Biofuel Quotas to Get Small Lift Under Draft Plan: The EPA has drafted a plan to slightly lift biofuel-blending targets next year, while so far skirting potentially controversial decisions about exempting refineries from U.S. mandates to use plant-based fuels, according to three people familiar with the matter. Under a proposed rule now undergoing White House review, the EPA would require refiners to use 5.17 billion gallons of advanced biofuels in 2021, up from 5.09 billion gallons this year, according to two of the people. Read more from Jennifer A. Dlouhy.
Trump's Preferred Construction Firm Lands $1.3 Billion Border Wall Contract: North Dakota construction company Fisher Sand and Gravel won a $1.3 billion contract to build 42 miles of border wall in Southern Arizona, the Washington Post reports, citing a U.S. Army Corps of Engineers spokesperson. The report said the company has been repeatedly praised by Trump in meetings with officials and military commanders, adding that CEO Tommy Fisher has made entreaties to Trump via cable news and donated to GOP allies.
Dow Shutters Operations in Michigan After Dams Break: Dow has activated its local emergency center in Michigan and "is implementing its flood preparedness plan which includes the safe shutdown of operating units on site," the company said after two dams failed upstream of its Midland, Mich., headquarters. Read more from Derek Wallbank and David Welch.
To contact the reporters on this story: Zachary Sherwood in Washington at zsherwood@bgov.com; Brandon Lee in Washington at blee@bgov.com
To contact the editors responsible for this story: Giuseppe Macri at gmacri@bgov.com; Loren Duggan at lduggan@bgov.com; Michaela Ross at mross@bgov.com
Stay informed with more news like this – from the largest team of reporters on Capitol Hill – subscribe to Bloomberg Government today. Learn more.