What to Know in Washington: Trump Visits Georgia as Voters Shift
Bloomberg Government subscribers get the stories like this first. Act now and gain unlimited access to everything you need to know. Learn more.
President Donald Trump is pushing to keep Georgia in his column with a trip today to the reliably Republican state, where Democrat Joe Biden has yet to push hard for votes that some Democrats believe are ripe for the taking.
As Trump and Republicans invest heavily in the state, Democrats say they hope the Biden campaign and the national party will seize the opportunity to not only capture the state's 16 electoral votes but also win two U.S. Senate seats, which could prove critical to winning the majority.
On the eve of his visit, Trump held a Rose Garden news conference where he spent a little more than an hour criticizing Biden for a wide variety of positions, including on China and for his clean-energy plan released yesterday.
But while Trump is staffed up in Georgia and is spending more on advertising in the Peach State this week than in several other battleground states, Biden is focused on the industrial Midwest, where Hillary Clinton narrowly lost in 2016.
"Georgia is the map," said Nikema Williams, chairwoman of the Georgia Democratic Party and a state senator. "Georgia is a part of the map to victory."
Trump is scheduled to visit the UPS Hapeville Airport Hub in Atlanta to highlight an executive order that aims to speed infrastructure projects in the region. But the trip — the latest presidential visit to a key election state — also signals increasing Republican anxiety about Georgia.
In Georgia, Trump leads Biden by an average of 3 percentage points, according to an analysis of polling data by RealClearPolitics. He won the state by 5.1 percentage points in the 2016 election, but the nonpartisan Cook Political Report last week placed the state in its toss-up category, along with Florida, Arizona and North Carolina. Read more from Mario Parker and Tyler Pager.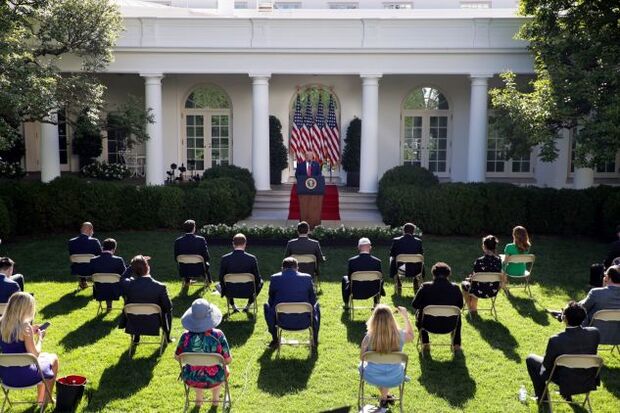 What to Watch Today
Appropriations Markups: The House Appropriations Committee is scheduled to mark up the fiscal 2021 Homeland Security and Financial Services and General Government appropriations bills.
Water Resources Markup: The House Transportation and Infrastructure Committee plans to mark up the Water Resources Development Act (H.R. 7575).
Energy and Commerce Markup: The House Energy and Commerce Committee is scheduled to virtually mark up 30 bills including:
Today's Hearings:
Also Happening on the Hill
Panel Advances Bill Pushing for Chokehold Bans: The House Appropriations Committee advanced a fiscal 2021 spending bill that would provide grants for policing oversight and make some grants contingent on a ban on choke-holds. The panel approved the Commerce-Justice-Science bill by a 30-22 vote. It would provide $33.2 billion for the Justice Department, a $972.5 million increase over fiscal 2020. It also includes $400 million in grants for police initiatives, including to implement statutes for independent investigations of law enforcement.
The Commerce Department would receive $9.5 billion, a $5.7 billion cut due to lowered costs associated with the end of the 2020 U.S. Census survey. NASA would receive $22.6 billion, equal to the fiscal 2020 level, Jack Fitzpatrick reports.
Airline, Amtrak Mask Requirements in T-HUD Spending Bill: The House Appropriations Committee last night by a 30-22 vote also approved its Transportation-HUD spending bill that would force airlines and Amtrak to require passengers and employees to wear face coverings, as well as provide employees with masks, gloves and hand sanitizer, Jack Fitzpatrick reports.
The Coronavirus Pandemic
Moderna's Vaccine Sparks Cautious Optimism: Moderna's Covid-19 vaccine candidate produced antibodies in all patients tested in an initial safety clinical trial, federal researchers said. The neutralizing antibody levels produced were equivalent to the upper half of what's seen in those who get infected with the virus and recover, according to results published in the New England Journal of Medicine. The Moderna vaccine is one of the farthest along in development.
While stimulating production of neutralizing antibodies doesn't prove a vaccine will be effective, it's viewed as a crucial early step in testing. Meanwhile, the side effects reported were not severe enough in the majority of patients to preclude further testing, according to the report by researchers at the National Institute of Allergy and Infectious Diseases published yesterday.
Over half of those who got the middle of three doses suffered mild to moderate fatigue, chills, headache and muscle pain. Also, 40% of those in the middle-dose group experienced a fever after the second vaccine. Three of 14 patients given the highest dose of the vaccine experienced severe side effects, but that dose is not being used in larger trials. Robert Langreth has more.
Fauci Says Young People Are 'Inadvertently' Spreading Virus: Anthony Fauci, the top infectious disease expert in the U.S., warned young people who gamble they can go out to bars and socialize thinking even if they get sick, it won't be a severe case of Covid-19, are "inadvertently propagating the pandemic." While he expects deaths will increase given the recent spikes in cases and hospitalizations, Fauci said he doubts the death rate will return to the levels seen in April, largely because so many of the sick now are younger and less vulnerable. Read more from Olivia Raimonde.
Coronavirus & the Economy
Markets Walk Tightrope Before Stimulus Expires: The remarkable rebound in U.S. equities from the depths of the Covid-19 crisis in March faces a fresh test in coming weeks, with the American economy set for a withdrawal of a key stimulus support. The average unemployment benefit for Americans put out of work will tumble by more than 60% at the end of July, hobbling the incomes of millions of laid off workers — many of whom may not be able to return to their jobs given the renewed shutdowns now affecting swathes of the economy from California to Florida. Read more from Vivien Lou Chen, Matthew Boesler and Erik Wasson.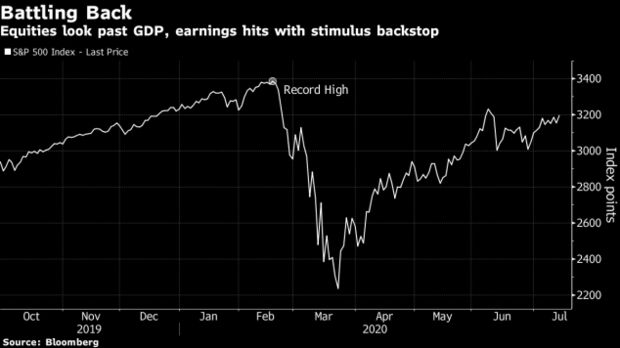 Congress Struggles to Find Bailout Watchdog: A watchdog panel overseeing a half-trillion dollars in pandemic relief spending is struggling to get fully staffed and running almost four months after it was created, as the two top leaders in Congress have so far failed to name a chairman. It's unclear whether there are any other contenders being discussed to lead the five-member panel overseeing industry bailouts after Joseph Dunford, a retired Marine general, withdrew himself from consideration yesterday. Read more from Bloomberg News.
Stimulus Leaves America's Black Neighborhoods Behind: The $2 trillion rescue that Congress passed in March ranks among the most aggressive in history. Viewed through the aggregate data, there's no doubt that the CARES Act has saved the economy from a slide into depression and helped millions of families weather the initial plunge into lockdown. Its $1,200 stimulus checks, enhanced unemployment benefits, and flood of money for small businesses, along with the billions of dollars the Federal Reserve has pumped into financial markets, are an expression of an American policy elite that has at times seemed determined not to repeat the mistakes of the last crisis.
And yet in Cleveland's predominantly Black neighborhoods, their streets pockmarked with vacant lots and abandoned buildings, home to childhood poverty levels that rival those in developing nations, you find lots of stories that are emblematic of who's being left behind. Cleveland has been among the hardest hit cities in the U.S. Its unemployment rate peaked at 23.1% in April, after one-fifth of its labor force, mostly lower-income service workers, lost their jobs in a matter of weeks. Read more from Shawn Donnan.
Businesses Worry as Tax Day Arrives: U.S. taxpayers were given an additional three months to file tax returns this year because of the coronavirus crisis, but even the extra time hasn't been enough for some businesses struggling to pay the government as the pandemic threatens to worsen. While the shift to the July 15 deadline was meant to help filers weather disruptions caused by virus-related shutdowns, companies are facing the added problem of navigating a confusing and constantly changing patchwork of disaster relief at a time when the work of the Internal Revenue Service has been slowed along with the rest of the nation's economy. Read more from Laura Davison.
Elections & Politics
Jones Wins Primary to Succeed Lowey: Progressive Mondaire Jones won the New York Democratic primary to run for the seat being vacated by veteran Rep. Nita Lowey (D), all but assuring his election in November and setting the stage for Jones to become the first openly gay Black member in Congress. "Growing up poor, black, and gay, I never imagined someone like me could run for Congress, let alone win," Jones said in a statement. "That changes this year, thanks to the great people of New York's 17th Congressional District." Read more from Billy House.
Tuberville Defeats Sessions in Alabama: Former Auburn football coach Tommy Tuberville defeated Jeff Sessions in his bid to return to the U.S. Senate, a contest that had turned into a grudge match between Trump and his former attorney general. Tuberville, 65, will have an edge in November running against incumbent Sen. Doug Jones (D) in one of Trump's strongest states, though Jones, a former U.S. attorney, has a sizable war chest. That race is critical to Republican hopes of holding the Senate. Read more from Steven T. Dennis and Billy House.
Gideon Wins Maine Primary To Face Collins: Maine House Speaker Sara Gideon won a three-way Democratic primary to take on Sen. Susan Collins (R), the AP reported. Nonpolitical analysts say a Collins-Gideon election will be among the most competitive Senate races this fall in part because Collins' once-towering political standing in the state has ebbed, Megan Howard reports.
Texas Results: Former Rep. Pete Sessions, who was ousted from a Dallas-area district in the 2018 Democratic wave, won a shot at a different House seat in November. The son of the late FBI director and U.S. District Judge William Sessions was declared the winner by the Associated Press in the Republican runoff in Texas's 17th Congressional District, an area covering both his childhood home of Waco and College Station. The area is now represented by Rep. Bill Flores (R), who is retiring. Read more from Billy House.
Watkins Charged with Voter Fraud: Rep. Steve Watkins (R-Kan.) has been charged with four counts relating to voter fraud, local stations WIBW and KSNT report. The charges are related to 2019 local elections and include interference with law enforcement, providing false information, and voting without being qualified, WIBW reports, citing District Attorney Mike Kagay. Read more from Chelsea Mes.
Biden Narrowing Running Mate List: Biden said yesterday he is preparing to narrow the field of vice-presidential hopefuls to a smaller group of finalists who he'll interview. "The background checks that have been done are coming to a conclusion within the next week to 10 days," he said. Once that process is complete, "we're going to go through all of that, narrow down the list, and then interview the folks left on the list." Biden had initially promised a decision by Aug. 1 but has more recently given himself some wiggle room to make an announcement sometime before the start of the Democratic National Convention on Aug. 17. Read more from Jennifer Epstein.
What Else to Know Today
Supreme Court Condones Executions, Public Opinion Shifts: The Supreme Court's middle-of-the-night clearance of the first federal execution in 17 years yesterday is the latest example of the high court's strict stance toward death row defendants' claims. The court's tendency to rule in favor of the government in capital punishment cases, which has become more pronounced since Justice Brett Kavanaugh replaced Anthony Kennedy, comes as U.S. public approval of the death penalty reaches historic lows. Read more from Jordan S. Rubin.
Ginsburg Hospitalized With Fever, Chills: Justice Ruth Bader Ginsburg will be hospitalized for several days after being admitted for a possible infection and undergoing an endoscopic procedure to clean out a bile duct stent, according to the Supreme Court in a statement. She was examined at Sibley Hospital in Washington on Monday night after experiencing fever and chills. Read more from Greg Stohr.
Trump Offers Misleading Data on Black People's Police Risk: Trump said yesterday more White people die at the hands of police than Black people, comments likely to further stoke racial tensions amid nationwide protests over racism and police brutality. Police fatally shoot more White Americans in absolute numbers but Black people die at more than twice the rate of Whites, according to a Washington Post database created in 2015. Since then, 1,301 Black people have been killed by police, a rate of 31 per million. Police have killed 2,495 White people — a rate of only 13 per million. Read more from Jordan Fabian.
Trump Says Merit-Based Immigration Plan Coming 'Soon: Trump said he will soon sign a merit-based immigration measure and would address "in a very Republican way" a program he has sought to end that shields 670,000 young undocumented immigrants from deportation. "We're going to be signing an immigration act very soon," Trump told reporters yesterday at a White House press briefing. Read more from Jordan Fabian and Justin Sink.
Trump Ends Hong Kong's Special Status: Trump said he's issued an order to end Hong Kong's special status with the U.S. and signed legislation that would sanction Chinese officials responsible for cracking down on political dissent in Hong Kong, the latest escalation in tensions between Washington and Beijing. "No administration has been tougher on China than this administration," said Trump at a White House event. Read more from Jordan Fabian.
U.S. Shift in South China Sea Raises Risk of Clash: The Trump administration's move to brand most of Beijing's claims in the South China Sea a violation of international law doesn't mean much on its own: China has repeatedly refused to acknowledge the 2016 tribunal ruling that the U.S. finally just endorsed. But analysts say they fear it could lead to a miscalculation at sea if it prompts the Communist Party to become more aggressive in asserting its claims, both to rebuff the U.S. and to deter other claimants in Southeast Asia from taking action. Read more from Philip J. Heijmans and Andreo Calonzo.
To contact the reporters on this story: Zachary Sherwood in Washington at zsherwood@bgov.com; Brandon Lee in Washington at blee@bgov.com
To contact the editors responsible for this story: Michaela Ross at mross@bgov.com; Giuseppe Macri at gmacri@bgov.com; Loren Duggan at lduggan@bgov.com
Stay informed with more news like this – from the largest team of reporters on Capitol Hill – subscribe to Bloomberg Government today. Learn more.