What to Know in Washington: Trump Uses Mugshot as Rallying Cry
Bloomberg Government subscribers get the stories like this first. Act now and gain unlimited access to everything you need to know. Learn more.
Donald Trump, along with his 18 alleged co-conspirators, has turned himself in at the Fulton County Jail in Atlanta over state charges that he conspired to overturn the result of the 2020 presidential election in Georgia.
It's the fourth time the former president has been processed as a criminal defendant this year.
Fulton County District Attorney Fani Willis indicted the group on Aug. 14, alleging they violated Georgia's racketeering law by participating in a "criminal enterprise" to keep Trump in office after he lost the election. The district attorney has said that all the defendants will be arraigned starting as soon as Sept. 5 in Atlanta, setting the stage for a series of remarkable court appearances.
Trump was in the jail for roughly 20 minutes. He was assigned inmate number P01135809. He also had a mug shot taken, the first for the former president, which was released about an hour after he left the jail.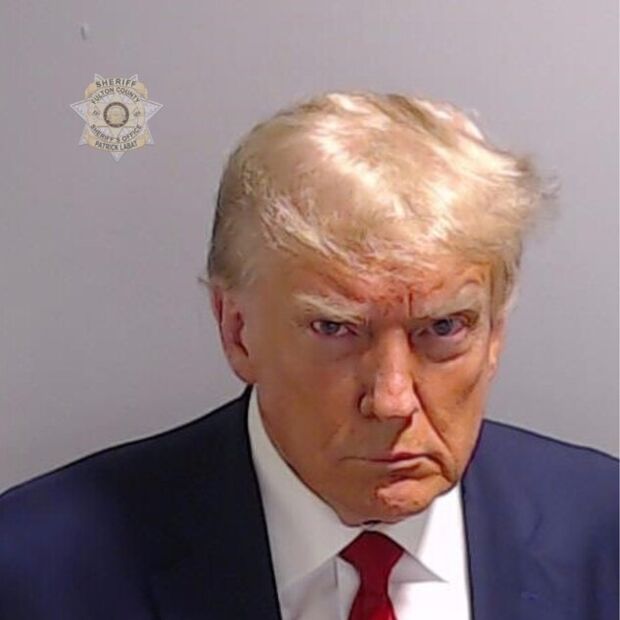 After his booking, Trump's motorcade returned him to the airport.
"What has taken place here is a travesty of justice," Trump, 77, said after just before getting back on his private airplane. "We did nothing wrong. I did nothing wrong. And everybody knows it."
Earlier in the day, before Trump departed New Jersey, he took to social media to disparage Willis and the city of Atlanta. He also falsely claimed there is "IRREFUTABLE" evidence that the election was rigged. Neither Trump nor his allies have ever produced such evidence. Republican officials in Georgia and in Trump's own administration all concluded the vote was fair.
He is already facing a similar election-fraud case in Washington federal court and unrelated criminal charges in New York and Florida. But he wasn't required to report to a detention facility for booking until now. Read more from Erik Larsen.
Trump

posted his own mug shot in a return to

Elon Musk

's X, which was formerly known as Twitter. In his first post since 2021, Trump displayed the mug shot taken at the Fulton County Jail, along with the words "ELECTION INTERFERENCE NEVER SURRENDER!" and a link to a political fundraising page. Read more.
More on 2020 Election Probe
US House Republicans on the Judiciary Committee announced they are probing Willis. "Your indictment and prosecution implicate substantial federal interests, and the circumstances surrounding your actions raise serious concerns about whether they are politically motivated," Chairman Jim Jordan (R-Ohio) said in a Thursday letter to Willis.
Trump's former Chief of Staff Mark Meadows surrendered to Atlanta authorities on charges that he conspired to keep his ex-boss in office after he lost the 2020 presidential election.
John Eastman likely can't escape testifying about memos he authored suggesting that the vice president could reject electoral votes to declare Trump the winner of the 2020 presidential election, a state bar judge said Thursday.
Eastman lacked historical and legal basis to support his "extraordinary and radical" claims the vice president has the authority to reject electoral votes, a Stanford Law fellow testified Thursday. Read more.
Jeffrey Clark has surrendered to Georgia authorities and was booked at the Fulton County Jail early Aug. 25, NBC News reports, without saying how it obtained the information.
2024 Presidential Race
About 12.8 million people watched the first Republican presidential primary debate of the 2024 election season, an event that competed with an online interview Trump gave to Tucker Carlson.
Trump's allies have spent weeks praising Vivek Ramaswamy, a rival Republican 2024 contender, believing the Ohio businessman's outsider bid helps neutralize their greatest threat.
Hedge fund billionaire Bill Ackman is convinced that the novice politician vying to be the Republican presidential candidate will rival Florida Governor Ron DeSantis and eventually challenge Donald Trump, but thinks he needs to clear up a couple of things first. Read more.
A growing rift in the Republican party over foreign policy was exposed to the harsh light of a national stage when two presidential candidates had a tense exchange over whether the US should continue supporting Ukraine.
Republican presidential candidate Nikki Haley backed an increase in the retirement age that would be tied to life expectancy as a way to counter rising US government debt, a day after her standout performance in the first GOP debate.
On Lawmaker Radars
Travelers considering visiting Maui after historic wildfires should still go to South Maui, Sen. Brian Schatz (D-Hawaii) said, as the tourism-reliant state seeks to rebuild after historically deadly wildfires devastated parts of the island.
Tougher draft rules for how auditor's vet the financial cost of their client's criminal deeds would weaken audits, putting investors at risk, the chair of the House Financial Services Committee told the US audit board Thursday.
Congress may start considering banking legislation several months after three of the four largest bank failures in US history.
Defense & Foreign Affairs
Some of the US's top Middle Eastern allies — including the world's biggest oil exporter — are moving closer into the orbit of China and Russia, further complicating geopolitics upended by Russia's invasion of Ukraine.
Of all the Biden administration officials to travel to China in recent months, Commerce Secretary Gina Raimondo may prove the most consequential to improving ties between the world's biggest economies.
The Biden administration's decision to open talks to temporarily lift sanctions against Venezuela raises the prospect that production may finally rebound in the world's largest oil reserves.
The Biden administration is defending a key immigration parole program that has allowed over 160,000 migrants into the US from the Caribbean and Latin America in a Texas federal court this week.
War in the 21st century has posed a new problem for the Pentagon: how to protect the intellectual property behind weapons systems developed by the private sector.
What Else We're Watching
Two Federal Reserve officials signaled policymakers may be close to being done with interest-rate increases, but one of them held back from ruling out further hikes until inflation is more clearly on a downward path.
Here's what to expect from the Federal Reserve Bank of Kansas City's annual gathering in Jackson Hole, Wyoming featuring central bankers from around the world. Read more.
The Biden administration is moving forward with new regulations for natural gas pipelines in response to a deadly series of explosions that tore through suburban Massachusetts in 2018.
Ongoing litigation from the pharmaceutical industry threatens to delay Medicare's plans for negotiating lower prices for some of the drugs it spends the most on as questions linger on how the federal government will implement certain parts of the law.
Hedge funds and private equity firms are breathing a sigh of relief, welcoming concessions the Securities and Exchange Commission made when green-lighting a rule that imposes new restrictions and requires more fee disclosures.
To contact the reporter on this story: Katrice Eborn in Washington at keborn@bgov.com
To contact the editor responsible for this story: Brandon Lee at blee@bgov.com
Stay informed with more news like this – from the largest team of reporters on Capitol Hill – subscribe to Bloomberg Government today. Learn more.