What to Know in Washington: Trump Urges Calm But U.S. Vulnerable
Bloomberg Government subscribers get the stories like this first. Act now and gain unlimited access to everything you need to know. Learn more.
President Donald Trump insists his administration is ready for a coronavirus outbreak in the U.S., yet reports of new cases in several states over the weekend will test his effort to project control over the spreading infection.
Trump is facing the most serious challenge of his crisis-management skills — one that could imperil his bid for a second term. So far, he has painted any criticism of his handling of coronavirus as an attempt to undermine his presidency.
"Now the Democrats are politicizing the coronavirus," Trump said Friday night at a rally in South Carolina, just hours before the first U.S. death from the virus. "This is their new hoax, but you know, we did something that's been pretty amazing."
Yet medical experts and lawmakers from both parties are increasingly concerned that the U.S. government is far from ready for the virus to spread broadly among the American public. They're sounding the alarm that a surge in U.S. cases would quickly overwhelm hospitals, amplify supply shortages, and disrupt the world's largest economy. Yesterday, New York City reported an infected patient in Manhattan.
The U.S. isn't presently prepared for an outbreak, said Peter Hotez, professor and dean of the National School of Tropical Medicine at Baylor College of Medicine in Houston. "That's the bad news," he said.
"But the good news is, I still think we have a couple more weeks to figure it out," he added.
The virus is steadily spreading. There were more than 30 cases in at least eight states as of last night, including New York, and the disease is now in at least 65 countries. Washington state health officials reported a second death.
Trump is set to meet with pharmaceutical industry executives at 3 p.m. today, the White House said in a statement on the day's schedule. His coronavirus task force, led by Vice President Mike Pence, will meet at 4 p.m., as Trump departs the White House for an evening rally in Charlotte. Pence and coronavirus response coordinator Deborah Birx will then brief the media at 5 p.m. Read more from Josh Wingrove, Susan Warren and John Tozzi.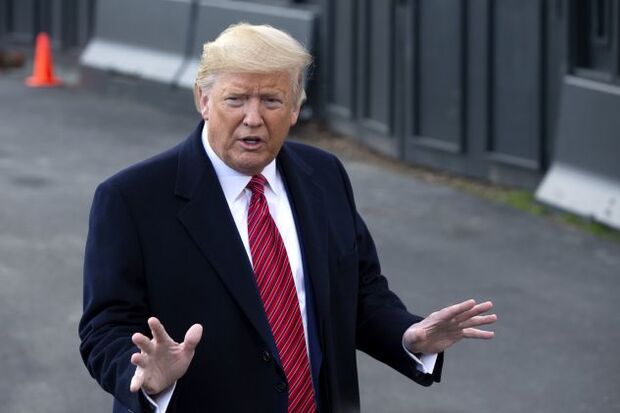 Trump Broadens Travel Restrictions: Trump briefed the nation on his administration's response and urged people not to panic after the death of the first person in the U.S. from the coronavirus was confirmed on Saturday.
The U.S. is expanding travel restrictions to include any foreign national who has visited Iran in the past two weeks, said Pence, who heads Trump's coronavirus task force. Americans will also be advised not to travel to the areas of Italy and South Korea that are most affected by the virus. Trump also said the U.S. is considering restrictions on the border with Mexico, as has been reported. "Yes, we are thinking about the southern border," he said. "We hope we won't have to do it." He later indicated he didn't think that the southern border was a problem in containing the virus. Josh Wingrove has more.
CDC Teams Race to Catch Up: The experts from the Centers for Disease Control and Prevention huddled in a room with Bela Matyas, health officer of Solano County, Calif. They had a raft of questions about a milestone case in the spread of the coronavirus: the first U.S. victim with no known connection to travel in Asia. "Did she go to the spa?" they wanted to know late last week. "Did she go to church? Did she go to a playground?"
Now, the CDC is sending another team to Washington state, where the first U.S. virus death was reported Saturday and there is a potential outbreak at a health facility that cares for the elderly. Yesterday, two more patients were confirmed in Washington, three in California and the first in New York and Rhode Island.
With new cases emerging every day across the country, the virus may soon outpace the efforts of medical detective work as it becomes harder to track and contain. Read more from Sophie Alexander and Dina Bass.
Surgeon General Warns 'Stop Buying Masks': The U.S. Surgeon General urged people to "stop buying masks," saying on Twitter that they're not effective in preventing the general public from catching coronavirus. "The best way to protect yourself and your community is with everyday preventive actions, like staying home when you are sick and washing hands with soap and water, to help slow the spread of respiratory illness," Jerome M. Adams said in a tweet, Hailey Waller reports.
Elections, Politics & Policy
Sanders Looks to Win Big on Super Tuesday: The Democratic Party's best chance to stop Sen. Bernie Sanders (I-Vt.) from winning its presidential nomination comes on Super Tuesday, but his two top challengers — a newly buoyant Joe Biden and a beleaguered Michael Bloomberg — both face huge obstacles to doing so.
Sanders is heavily favored to come out of Super Tuesday with a large number of delegates and perhaps an insurmountable lead, despite deep worry in establishment Democratic circles that he would lose to Trump. So if the nominee is going to be anyone but Sanders, Democrats in the 14 states voting in the single-biggest day of balloting need to choose an alternative.
"Well, I think it's no secret that the establishment is getting very nervous, whether it is the corporate wing of the Democratic Party or the political leadership. And the argument that we can't beat Trump is absolutely wrong," Sanders told reporters in Los Angeles.
With his commanding win in South Carolina Saturday, Biden pitched himself as that candidate, and many party leaders rallied to his side with well-timed endorsements. But he's low on cash, his Super Tuesday operation is negligible and the sprawling map negates his strongest asset: a folksy one-on-one appeal. Unless Sens. Elizabeth Warren (D-Mass.) or Amy Klobuchar (D-Minn.) can mount an improbable upset win on Tuesday, their continued presence in the race only helps Sanders, by diffusing the anti-Sanders delegates.
Buttigieg, Steyer Drop Out: Pete Buttigieg is ending his presidential campaign, people close to his campaign said yesterday. Buttigieg rose from a young mayor of Indiana's fourth-largest city to the first openly gay presidential candidate to earn delegates toward the nomination. The 38-year-old newcomer to the national stage outlasted several senators and governors in the crowded Democratic field but got little support from non-white voters.
His decision came only a month after he won the delegate race in the Iowa caucuses, having built an impressive ground game there. He appealed to many Midwestern voters with a practical approach to governing, like his "Medicare for All who want it," an alternative to the more sweeping government-run health care system offered by Sanders. Read more from Tyler Pager and Emma Kinery.
Billionaire Tom Steyer also ended his campaign after a disappointing finish in South Carolina, where he had hoped to make a stand. Steyer didn't garner enough of the vote to get any delegates. He had been betting on a strong performance in that state after doing poorly in the first three early contests, failing to crack the top four slots in Iowa, New Hampshire and Nevada, Emma Kinery reports.
Bloomberg's Path Clouded: Michael Bloomberg's campaign was put on the defensive by a swift and ferocious response from supporters of Biden, who suggested it was time for the billionaire to step aside. But the former New York mayor's campaign said he has no intention of dropping out on the eve of Super Tuesday, when he will appear on ballots for the first time. Bloomberg skipped the first four contests while spending more than $538 million in advertising and setting up a massive field operation nationwide.
"We'll see what happens, but I'm optimistic. All I can say is this: We have to stop talking and start doing," Bloomberg said yesterday at the Dr. Martin Luther King Jr. and Coretta Scott King Unity breakfast in Selma, Ala., one of the 14 states plus American Samoa that vote in just two days. Read more from Mark Niquette.
Bloomberg is the majority owner of Bloomberg Government's parent company.
Sanders Looking to Knock Out Warren at Home: Sanders is looking to deliver a knock-out blow to progressive competitor Warren on Super Tuesday by winning the primary on her home turf of Massachusetts. Sanders is making an aggressive push in the Bay State in the last few days before the March 3 Democratic ballot. He held a rally there Friday night and will hold another on Saturday as polls show him overtaking Warren. For her part, Warren will return home on Tuesday to vote but has no planned campaign events in the state, and that night she'll be in Michigan. Read more from Misyrlena Egkolfopoulou and Tyler Pager.
Trump Raised More Than $86 Million in February: Trump's re-election campaign and the Republican National Committee jointly raised more than $86 million in February, the RNC announced today, Nour Al Ali reports. That brings the total raised since the beginning of 2019 to $607 million and leaves the fundraising entities with $225 million in cash on hand, the RNC said. "This was also the biggest month for digital fundraising since 2016, attributed to the over one million new donors gained" during the House's impeachment inquiry, the RNC said in a statement.
National Security & Foreign Affairs
Trump to Nominate Ratcliffe as Spy Chief: Trump said he'll nominate Rep. John Ratcliffe (R-Texas) to be the next director of national intelligence — less than a year after Ratcliffe withdrew from consideration for the post when it was last open. Trump said in a tweet on Friday evening that he would have announced Ratcliffe's nomination earlier but that the congresssman wanted to wait until an unspecified report by a government inspector general was completed. He didn't elaborate. Ratcliffe is a Trump loyalist who was one of his most fervent defenders during the president's impeachment inquiry last year. If confirmed by the Senate, he would replace Ric Grenell, the U.S. ambassador to Germany, who was picked to be acting director of national intelligence earlier this month.
Senate Minority Leader Chuck Schumer (D-N.Y.), reacting to Trump's announcement on Friday, said in a statement that "at a time when the Russians are interfering in our elections, we need a nonpartisan leader at the helm of the intelligence community who sees the world objectively and speaks truth to power, and unfortunately neither Acting Director Grenell nor Representative Ratcliffe comes even close to that." Read more from Mario Parker.
U.S., Afghan Taliban Ink Peace Deal: U.S. and Taliban officials signed a peace deal Saturday that aims to wind down the war in Afghanistan after more than 18 years of fighting that turned into the longest conflict in American history. The deal calls for U.S. troop levels to fall to 8,600 within 135 days, from about 13,000 now, and for all U.S. forces to withdraw in 14 months if the accord holds.
Defense Secretary Mark Esper in a Washington Post op-ed Saturday called the deal "the best chance" to end the conflict and ensure another terrorist attack like Sept. 11 never happens again. He and NATO Secretary General Jens Stoltenberg celebrated the agreement but cautioned it was "condition-based" and would depend on security improvements. Eltaf Najafizada and Nick Wadhams share other provisions in the agreement.
North Korea Marks Year of Failed Talks With Missiles: North Korea launched two unidentified projectiles off its eastern coast, South Korea's defense ministry said, a move that comes just after the year anniversary of the failed Hanoi summit between leader Kim Jong Un and Trump. The projectiles were launched today from an area near the North Korean coastal city of Wonsan, the South Korean defense ministry said, adding that it was "monitoring relevant movements and in a state of preparedness." North Korea's most recent missile test was on Nov. 28, one of numerous volleys of short-range ballistic missiles launched by the regime last year. Read more from Jihye Lee.
U.S. Urges Ethiopia to Reach Deal on Nile Dam: Egypt, Ethiopia and mutual neighbor Sudan should conclude an agreement before the completion of Ethiopia's disputed Nile dam, to prevent "significant harm to downstream countries," Treasury Secretary Steven Mnuchin said. "Final testing and filling should not take place without an agreement," Mnuchin said in a statement on the Treasury Department's website following the latest Washington meeting between the parties on Feb. 27 and 28, which Ethiopia skipped. International safety standards should be assured before filling begins, he said. Read more from Samuel Gebre.
U.S. Launches Tool to Claim Rare Earth Minerals: In a high-tech twist on hammering pickets into the ground, the State Department has launched an online tool aimed at staking America's claim to many of the world's rare-earth minerals. The U.S. has become increasingly concerned about securing a stable supply of critical minerals used in car batteries, solar panels and wind turbines. Many of those resources are located in emerging markets that may be seen as too risky by American investors looking for "best-in-class" standards. Read more from Danielle Bochove.
Around the Administration
Cuccinnelli Appointment Ruled Unlawful: Trump's appointment of Virginia's former attorney general as head of the immigration service violated federal law, a federal judge concluded. The ruling voids controversial policy changes that made it more difficult to get asylum in the U.S. Ken Cuccinelli's appointment in 2019 as acting director of U.S. Citizenship and Immigration Services, a unit within the Department of Homeland Security, ran afoul of a statute governing how federal government job vacancies are filled, U.S. District Judge Randolph Moss said in a 55-page ruling.
The move voids a directive put in place under Cuccinelli limiting the consultation time asylum seekers have with legal counsel before an initial interview to determine if they have a credible fear of persecution or torture backing up their asylum request. If applicants pass such reviews, then they can make their cases to stay in the U.S. to immigration judges.
The ruling also raises questions about other disputed policies aimed at making it harder for immigrants to get and keep jobs in the U.S. Read more from Jef Feeley and Hailey Waller.
Head of Top U.S. Federal Union Resigns: J. David Cox, the president of the American Federation of Government Employees, on Friday resigned from his position at the largest federal workers union in the U.S. amid mounting allegations of misconduct. "I am certain that our great union will continue leading the fight against attacks on our members' pay, benefits, retirement, and rights on the job," AFGE's national secretary-treasurer Everett Kelley, who is taking over Cox's position, told staff in an email Friday announcing the change. "Even while we do that, we know that there is still work that we can do to improve our culture here at AFGE and bring about a more inclusive workplace, free from discrimination and harassment." Read more from Josh Eidelson.
USDA Promotion: Secretary Sonny Perdue tapped an Agriculture Department administrator for a promotion on Friday, Megan U. Boyanton reports. Bette Brand replaces Donald "DJ" LaVoy as the new Rural Development deputy undersecretary. Brand previously held the role of administrator of Rural Development's Rural Business Service agency. Brand joined the Agriculture Department in 2018 after decades at Farm Credit of the Virginias.
"The mission of Rural Development to improve the economy and quality of life in rural America will continue to advance with Bette at the helm," Perdue said in a statement Friday. "She is perfectly suited for this role."
LaVoy announced his retirement months after taking on the deputy undersecretary position last September. Before transferring to the Agriculture Department, he served the Housing and Urban Development Department for more than 22 years.
DeVos Launches Campus Debit Card Program: Education Secretary Betsy DeVos on Friday officially launched a federal pilot program that offers students at four colleges the opportunity to receive their student aid refunds on prepaid cards. The Education Department announced in October that Purdue University, Jackson State University, University of Georgia, and University of California-Riverside would participate in the pilot. Fiserv and Metabank were picked to administer the program based on experience in the campus debit card market.
Lawmakers and consumer groups previously raised concerns about how the program would protect the privacy of student data.
Trump Says It's 'About Time' the Fed Cuts Interest Rates: Trump said it was "about time" the Federal Reserve acted like a "leader" and lowered interest rates, whether such a move was related to the coronavirus-driven stock market plunge or not. "If you look at the Fed, it has a massive impact, lots of it is psychological and lots of it is fact," Trump said at a White House press conference to discuss the administration's response to the coronavirus. Fed Chairman Jerome Powell on Friday opened the door to a rate cut, citing the "evolving risks" posed to the U.S. economy from the virus. Read more from Ros Krasny and Mario Parker.
What Else to Know
Judicial Group Won't Be Gatekeeper if Democrat Elected: Russ Feingold, the incoming president of the American Constitution Society, said the organization is ready to help a Democratic president identify progressive legal minds for federal judgeships, but it won't become a "gatekeeper" as the conservative Federalist Society has been for Trump. "It's not appropriate to turn over to a private entity basically a gatekeeper role about who gets to be a judge," Feingold told Bloomberg Law on Friday. "The Constitution is very clear, the president is to nominate and the Senate is to advise and consent. There should not be a prior gatekeeper." Read more from Madison Alder.
SEC Power to Recoup Illegal Gains at Risk in Court Case: The Securities and Exchange Commission is bracing for a U.S. Supreme Court ruling that could eviscerate one of the agency's most potent weapons by slashing its power to recoup billions of dollars in illegal profits from wrongdoers. The court hears arguments tomorrow on contentions that the SEC can't use a traditional legal tool known as "disgorgement" to collect money from someone the commission sues in federal court. Disgorgement is distinct from fines and other penalties the SEC seeks, in part because it's geared toward reimbursing victims. Read more from Greg Stohr, Ben Bain and Robert Schmidt.
Trump Wins Court Ruling on Resisting Congressional Testimony: Trump defeated Democrats' effort to force former White House Counsel Don McGahn to testify, in a court ruling that bolsters the president's resistance to congressional oversight. The federal appeals court's ruling arrives too late to affect the impeachment process, which was resolved with Trump's acquittal by the Senate earlier this month. But it could have an impact on other congressional probes — a judge overseeing the House's efforts to obtain Trump's taxes scheduled a hearing for next week after having put that matter on hold awaiting a ruling on the McGahn case.
The appeals court in Washington Friday said it lacked jurisdiction to decide a dispute between the executive and legislative branches. "The Constitution does not vest federal courts with some 'amorphous general supervision of the operations of government,'" Circuit Judge Thomas Griffith wrote for the majority, quoting in part from an earlier decision. Read more from Andrew Harris and Erik Larson.
Kushner Divests From Startup Over Conflict Concerns: Jared Kushner has divested from Cadre, the real estate technology startup he co-founded, according to a person familiar with the matter, after the business attracted investment offers that could pose conflicts of interest for the White House aide. Kushner, who is Trump's son-in-law as well as one of his senior advisers, transferred his interest in Cadre to a trust that sold his shares back to the company. He recently listed his stake in federal disclosures as being worth between $25 million and $50 million, and the sale price was in that range, according to the person. Read more from Jennifer Jacobs and Caleb Melby.
College Completion Rates on the Rise in Most States: The six-year college completion rate is up in most colleges and the gap has shrunk between the highest and lowest-performing states, according to data released today by the National Student Clearinghouse, Andrew Kreighbaum reports.
The national six-year completion rate for students entering college in 2013 was 60%, the Clearinghouse reported. Vermont, Rhode Island, Delaware, and Massachusetts posted completion rates above 70%. But populous states like Ohio, Michigan, New York, and California saw some of the biggest jumps in college completion. Completion rates went up at four-year colleges in 37 states compared to the previous year and at two-year colleges in 33 states.
To contact the reporter on this story: Zachary Sherwood in Washington at zsherwood@bgov.com
To contact the editors responsible for this story: Giuseppe Macri at gmacri@bgov.com; Loren Duggan at lduggan@bgov.com
Stay informed with more news like this – from the largest team of reporters on Capitol Hill – subscribe to Bloomberg Government today. Learn more.