What to Know in Washington: Trump Undercuts Campaign Reset
Bloomberg Government subscribers get the stories like this first. Act now and gain unlimited access to everything you need to know. Learn more.
Donald Trump has begun openly acknowledging his precarious re-election chances, but is undercutting his own campaign's attempts to tailor appeals to women and seniors as polls show them flocking toward Joe Biden.
Recent polls have shown Biden with growing leads nationally and in key battleground states, an advantage driven largely by erosion in Trump's support among women and people 65 and older. Trump's campaign has begun running more ads aimed at seniors, and hopes some of the loss can be offset by gains among Latino and Black voters.
But the campaign's efforts to reverse the trends face a headwind: Trump himself. The president has undercut the outreach to seniors by continuing to downplay the coronavirus outbreak and by mocking Biden's age.
He's tested what support he still enjoys from women by unloading particularly pointed attacks on Biden's running mate, Sen. Kamala Harris (D-Calif.), and by mocking Hillary Clinton's failure to crack the "glass ceiling" on the White House. And a televised town hall yesterday was almost immediately derailed by Trump declining to disavow a far-right conspiracy theory movement, QAnon.
Meanwhile, the prospect he may lose re-election has begun to creep into Trump's speeches, even as he insists that polls are wrong. "I'm running against the worst candidate in the history of presidential politics, and if I lose, it puts more pressure," Trump said at a rally yesterday in North Carolina. "How do you lose to a guy like this?"
He has reprised a version of that remark at most of his events this week while pointing to signs that polls may not capture the state of the race: the thousands of supporters attending his rallies; Republican success registering voters in some competitive states; boat parades in his honor. Read more from Mario Parker and Josh Wingrove.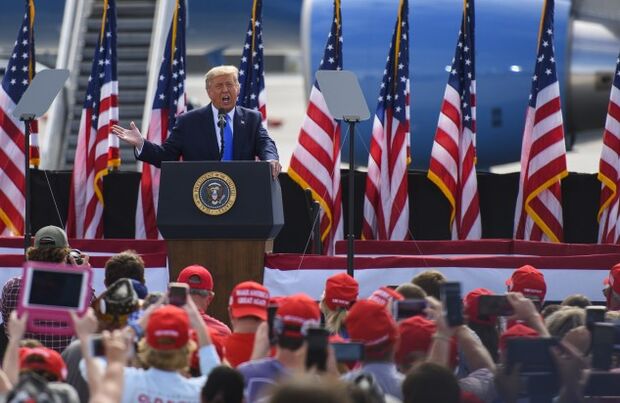 Trump, Biden Clash From Afar in Dueling Town Halls: In dueling town halls, Trump embraced controversial conspiracy theories and sparred with the moderator, while Biden offered policy-focused answers aimed at avoiding anything that could imperil his lead in the polls
The split-screen campaign event — simultaneous network town halls 1,000 miles apart — offered voters a clear distillation of the two candidates for president: Trump appeared defensive and irritable, criticizing the media and Democrats for opposing him at every turn. Biden recited details of 30-year-old legislation and explained his plans in his avuncular long-winded manner.
Trump gave himself rave reviews for his handling of the coronavirus pandemic and discussed topics including the far-right conspiracy theory movement QAnon's views on pedophilia. At the same time, Biden was faulting his leadership on the pandemic and the economy. Jordan Fabian and Tyler Pager recap last night's events.
What to Watch in Congress
Pro Formas: The House meets for a pro forma session today at 9 a.m. The Senate meets for a pro forma at 4:30 p.m.
Barrett Vote Set for Oct. 22 in Senate Judiciary Committee: The Senate Judiciary Committee will vote Thursday on Amy Coney Barrett's nomination to the Supreme Court. The vote means a floor vote by the entire Senate will likely take place the week before the election, Kimberly Strawbridge Robinson reports.
Senate Majority Leader Mitch McConnell (R-Ky.) yesterday said Barrett has enough support to win Senate confirmation to the Supreme Court and he expects to bring her nomination to the floor next Friday. Read more from Laura Litvan and Steven T. Dennis.
Related: Barrett's Rulings Offer Insight on Gig Work, Job Discrimination
Twitter's Dorsey to be Subpoeaned: Sen. Lindsey Graham (R-S.C.) yesterday said the Senate Judiciary Committee will subpoena social media companies next Friday to explain their actions affecting their platforms' distribution of a New York Post article linking Joe Biden and his son Hunter to a Ukrainian energy company.
The announcement came after Sen. Josh Hawley (R-Mo.) asked Twitter CEO Jack Dorsey and Facebook CEO Mark Zuckerberg to testify before the Judiciary Subcommittee on Crime and Terrorism. The hearing date is to be determined, but will occur before the election, and would "consider potential campaign finance violations," Hawley said in the letter to CEOs, Teaganne Finn reports.
Meanwhile, the Federal Communications Commission decision to review a liability shield for Twitter and Facebook may fulfill the wishes of Trump and his conservative allies, but it's prompted questions about the agency's authority and political motivations. With less than three weeks before the election, the FCC's Republican Chairman, Ajit Pai, said the agency would seek to "clarify" the platforms' exemptions from liability for how they handle users' posts. That would fulfill an executive order issued in May by Trump to rein in Big Tech after Twitter started to fact-check the president's posts. Todd Shields and Ben Brody have more.
Amtrak CEO Testifies: The Senate Commerce, Science and Transportation Committee is scheduled Wednesday to hear testimony from Amtrak CEO William Flynn and others from the rail industry during a hearing on passenger and freight rail.
VA Mission Act Oversight: The Senate Veterans' Affairs Committee plans a hearing Wednesday on implementation of the VA Mission Act.
Sign of Hope in Stimulus Talks
Treasury Secretary Steven Mnuchin told Speaker Nancy Pelosi (D-Calif.) yesterday that Trump will personally lobby to get reluctant Senate Republicans behind any stimulus deal they reach.
Trump said he's willing to go beyond the $1.8 trillion offer for a virus relief plan that's already been offered by the administration, but Senate Majority Leader McConnell rejected that, saying GOP lawmakers won't go along.
Pelosi spoke with Mnuchin yesterday for 82 minutes on a call in which Mnuchin said he'd accept Democrats' demands for a national testing plan for the coronavirus, with "minor edits" to be shared today, according to Pelosi spokesman Drew Hammill. Staff will exchange language on several areas, he said. Read more from Steven T. Dennis, Billy House and Justin Sink.
Yarmuth Sees $1.8 Trillion as Workable: Democrats can compromise more on the overall cost of another coronavirus stimulus measure, and should accept a $1.8 trillion deal if it's structured the right way, House Budget Chairman John Yarmuth (D-Ky.) said in an interview yesterday, Jack Fitzpatrick reports. "For the top-line number, I think $1.8 trillion injected into the economy at this point would be a huge benefit to the country," Yarmuth said.
His comments reflect a growing willingness among non-centrist Democrats to take a deal smaller than the $2.2 trillion proposal from Pelosi. Yarmuth largely agrees with Pelosi's approach in negotiations and would not support a "piecemeal" measure that only covers a few areas of negotiation. Yarmuth describes himself as a mainstream Democrat and is a member of the Congressional Progressive Caucus. Caucus Vice Chair Ro Khanna (D-Calif.) also said Democrats should take a deal below the $2.2 trillion mark. Moderate lawmakers proposed a $1.5 trillion measure in September but garnered little interest from the ideological base of either party.
Pelosi, in a letter to Democratic colleagues last night, urged patience on a measure and said that the White House had accepted their proposal for a national virus testing and tracing plan. She added, however, that "even if this key priority is resolved," other hurdles remain in the ongoing negotiations for a comprehensive relief package.
Lawmakers could reduce the top-line cost of a stimulus measure by shortening the time frame of benefits rather than shrinking the benefits themselves, Yarmuth said. For example, they could provide only six months of aid to state and local government and then try to provide more later, especially if Democrats make gains on Election Day, he said.
Yarmuth cited unemployment benefits are another logical point of compromise. "Whether it's $400 a week or $600 a week is, to me, something that's easy to compromise," Yarmuth said. "And $400 is better than $300 is better than zero."
More Elections & Politics
Biden Turns to Beltway for National Security Team: If Biden wins the presidency next month, he plans to fill his national-security team exactly the way Trump didn't — with officials well-known inside the Washington Beltway who carry resumes full of government experience. There won't be any Rex Tillerson-type picks. The former Exxon Mobil chief was an outside-the-box choice for secretary of state who arrived with a stellar background but no government experience and quickly lost support in the Oval Office, Congress and his own building. He was fired by tweet.
Biden has two top candidates for secretary of state, according to seven people familiar with the campaign's thinking. They are longtime aide Antony Blinken, who served as Biden's national security adviser, and Susan Rice, the Obama-era national security adviser who was on Biden's short list for vice president.
Top Pentagon and intelligence posts are likewise expected to be filled by people who have worked in those fields for years. For defense secretary, the odds-on favorite is Michele Flournoy, a former undersecretary of defense who was seen as Hillary Clinton's pick for the job if she'd won in 2016. Flournoy was the highest-ranking woman in Pentagon history when she was the top adviser to then-Defense Secretary Robert Gates in 2009, and would be the first woman in that job. Another potential Pentagon candidate is Jeh Johnson, who led the Department of Homeland Security under Obama. Johnson would be the first African American in that position. Read more from Nick Wadhams and Tyler Pager.
States Shatter Early Voting Records: Millions of Americans are breaking voter-turnout records with three weeks to go before Election Day, with Democrats casting early ballots at a far higher rate than Republicans. Concerns about the coronavirus pandemic have increased mail-in voting and led to unprecedented levels of early voting, especially among Democrats. More than 17 million voters have cast their ballot early, either in person or by mail, in states that report voting data, according to the University of Florida Elections Project.
As Trump and the Republican Party bet on Election Day in-person turnout, states that he won by a small margin in 2016 are seeing more Democrats voting early. With 18 days of frenetic campaigning by Trump and Biden still ahead, many states allow early voting. This year, with enthusiasm running high, voters have already cast nearly 13% of the total votes counted in the 2016 general election. Read more from Misyrlena Egkolfopoulou.
Adelsons Become Trump's Biggest Donors: Casino mogul Sheldon Adelson and his wife Miriam Adelson became the biggest contributors to Trump's re-election effort, with $75 million in donations to a super-PAC that is spending heavily on television ads supporting the president, according to filings with the Federal Election Commission. For the Adelsons, who were among the top donors to Trump in 2016, the donation to Preserve America PAC is the most they've given to a single super-PAC in an election cycle, with each donating in $12.5 million increments. Read more from Bill Allison.
Graham Sees Possibility of Defeat: Sen. Graham, who has tied his fate to Trump perhaps more than any other senator in his party, is starting to talk about the possibility of a future without the president. At yesterday's Senate Judiciary hearing, Graham delivered some sober and unusually candid remarks about the Nov. 3 election, in which both he and Trump are on the ballot and confronting serious challenges to re-election. "I'll just say this, if I'm around I will commit myself to starting over. Looking forward not backward," he said. Read more from Steven T. Dennis.
Graham and Trump both hold leads in South Carolina, a Republican stronghold that hasn't backed a Democratic presidential candidate since 1975. A New York Times/Siena College poll released yesterday found Trump leading Biden by 8 percentage points, 49% to 41%. Trump won the state by 14 points in 2016. Graham is facing an unexpectedly strong showing by his Democratic challenger, Jaime Harrison, who trails by 6 points. Read more from Emma Kinery.
Intelligence Aide Calls Social Media 'Big Vulnerability': A top U.S. intelligence official said disinformation on social media is a "big vulnerability" and warned of an "existential threat" to democracy and U.S. elections. "The public in the democratic nations around the world really doesn't understand what disinformation and influence looks like and feels like when you see it"," said William Evanina, head of the U.S. National Counterintelligence and Security Center. Read more from Alyza Sebenius and Chris Strohm.
Trump Says Mail Voting Extension May Harm Procrastinators: Trump's campaign and the Republican National Committee filed an emergency request to delay a North Carolina court ruling allowing mail-in ballots to be accepted as many as nine days after Election Day, arguing the extension may confuse "procrastinating voters." U.S. District Judge William Osteen's late Wednesday ruling extending the deadline will cause "mass confusion," the campaign and the RNC said in a filing. Read more from Erik Larson.
What Else to Know Today
Midwest Surge Hits Illinois, Ohio, Michigan: Covid-19's recent march across the Midwest has caught up with the region's most populous states. Illinois, Ohio and Michigan all have proven unable to fend off outbreaks at their doorsteps, as well as in nearby Wisconsin. In Illinois, cases increased to a record 4,015 yesterday, extending one of the most concerning weekly trends in the country. Daily Covid-19 deaths in the state rose to 53, the highest since June 24. Read more from Jonathan Levin.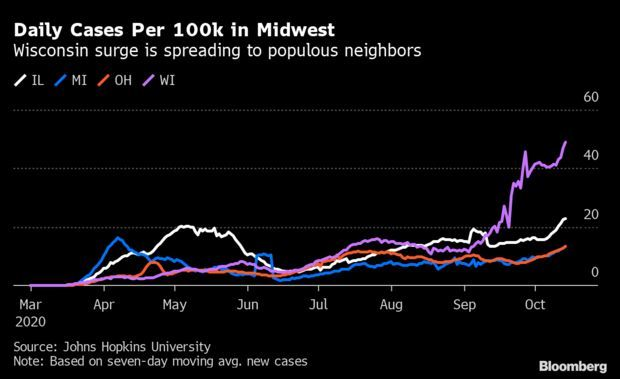 Chamber Tells Trump to Withdraw Diversity Order: The U.S. Chamber of Commerce and a group of more than 150 companies are urging Trump to withdraw an Executive Order barring federal contractors from using diversity and inclusion training containing "divisive concepts" about racism and sexism. "We believe the E.O. will create confusion and uncertainty, lead to non-meritorious investigations, and hinder the ability of employers to implement critical programs to promote diversity and combat discrimination in the workplace," the group said. Read more from Rebecca Greenfield.
Google Taps Antitrust Veterans for DOJ Fight: Google has selected two prominent law firms with experiencing fighting antitrust cases as it girds for an upcoming showdown with the U.S. government. The Department of Justice is expected to file an antitrust lawsuit in the coming days against Google. People familiar with the case have said it will target Google deals to make its search engine the default option on smartphones and web browsers, which help maintain the company's wide lead in the market. Read more from Mark Bergen and David McLaughlin.
Warren Calls for Probes of White House Insider Trading: Sen. Elizabeth Warren (D-Mass.) requested the Securities and Exchange Commission and Commodities Futures Trading Commission investigate Trump administration officials for privately alarming their conservative allies about the economic impact of the pandemic. A New York Times report on Oct. 14 said the administration was cautioning allies privately in February while Trump was publicly optimistic about the U.S. handling of the pandemic. Read more from Maria Monteros.
Homeland Chief Skirts Courts on Visa, Asylum Rules: Chad Wolf, the acting secretary of homeland security, moved to ratify a slate of measures laid out by his predecessor, Kevin McAleenan, brushing aside recent court rulings that said it was likely both men improperly served in that role. A Department of Homeland Security notice, signed by Wolf Oct. 7 and scheduled for publication in today's Federal Register, purports to affirm a number of previous actions by McAleenan, who served as acting secretary immediately after the April 2019 resignation of Kirstjen Nielsen—the last Senate-confirmed person to lead the department—and one previous action by U. S. Citizenship and Immigration Services Deputy Director for Policy Joseph Edlow. Read more from Genevieve Douglas and Shaun Courtney.
Wealthy Nations Defy Trump With Lifeline to Cuba: Members of the Paris Club, an informal group of rich nations, are close to suspending Cuba's debt obligations for this year, in a move that defies U.S. attempts to block any financial relief to the communist island. A group of over a dozen countries at the Paris-based creditor group will likely agree to a request from Cuba to delay a debt payment with these nations due at the end of October, according to three people familiar with the negotiations. Read more from Alonso Soto, Ben Bartenstein, and Alessandra Migliaccio.
Portland, Oakland Challenge Legality of Federal Agents: In the months since camouflage-clad federal agents appeared in Portland, Ore., during racial justice protests, Trump has reiterated his commitment to send more federal agents to cities in a number of different contexts. He has pledged to send federal agents in communities "plagued by crime" and to cities "run by liberal Democrats," and hinted that he could even deploy them to polling places around the election. A new lawsuit filed by the cities of Oakland, Calif., and Portland questions the legal justification for these deployments, alleging that they are both a violation of federal law and unconstitutional. Read more from Laura Bliss and Sarah Holder.
China Moves to Shield Its Own Advanced Tech: China is set to pass a new law that would restrict sensitive exports vital to national security, expanding its toolkit of policy options as competition grows with the U.S. over access to the technologies that could drive the global economy. China's top legislative body is expected to adopt the measure in a session that concludes tomorrow. The Export Control Law primarily aims to protect China's security by regulating the export of sensitive materials and technologies that appear on a control list. Read more from Bloomberg News.
Second Bid to Expand Solar Duties Blocked: The Trump administration's second bid to expand tariffs on solar power models was blocked by the U.S. Court of International Trade yesterday due to procedural deficiencies. The administration in 2018 announced four-year "safeguard" tariffs on imports of solar power cells and modules, with the stated purpose of protecting domestic manufacturers from surging imports. Read more from Brian Flood.
With assistance from Jack Fitzpatrick
To contact the reporters on this story: Zachary Sherwood in Washington at zsherwood@bgov.com; Brandon Lee in Washington at blee@bgov.com
To contact the editors responsible for this story: Giuseppe Macri at gmacri@bgov.com; Loren Duggan at lduggan@bgov.com
Stay informed with more news like this – from the largest team of reporters on Capitol Hill – subscribe to Bloomberg Government today. Learn more.