What to Know in Washington: Trump Tries to Deliver Trade Promise
With two months to go until Election Day, President Donald Trump is trying to make good on a number of trade promises to protect key constituencies in swing states to bolster support for his campaign and vulnerable Senate Republicans.
Mexico today begins issuing pre-approval permits on some steel exports to ensure they aren't just rerouted from China. The step was negotiated with the U.S. to avoid tariffs that America used against the nation last year on national-security grounds and seems aimed at states that are top producers, including Pennsylvania and North Carolina.
Trump's trade envoy this week also asked that the U.S. International Trade Commission probe whether Mexican blueberries have hurt American farmers and hold talks to address concerns about strawberries from south of the border. The steps look targeted to win over growers in Georgia, Michigan and Florida and come after years of requests for protection by Sens. Marco Rubio (R-Fla.) and Rick Scott (R-Fla.).
The moves follow tariffs on Canadian aluminum and come in spite of a new North American trade deal entering into force in July where a U.S. demand for seasonal agriculture tariffs was ruled out. Trump also cut the cap on allowable steel from Brazil and extended aid to Maine lobster farmers hurt by his trade war with China, a longstanding request from Sen. Susan Collins (R-Maine). White House Trade adviser Peter Navarro last week highlighted steps to help Minnesota's logging industry.
"Protectionist actions by an incumbent in a re-election campaign are not new, but the lack of any real analysis as to whether these actions help or hurt the national interest is stunning," said Rufus Yerxa, president of the National Foreign Trade Council in Washington and deputy U.S. Trade Representative during the George H.W. Bush administration. "As long as it buys votes in battleground states, they'll keep doing it."
The press office of U.S. Trade Representative Robert Lighthizer didn't respond to a request for comment. Read more from Eric Martin.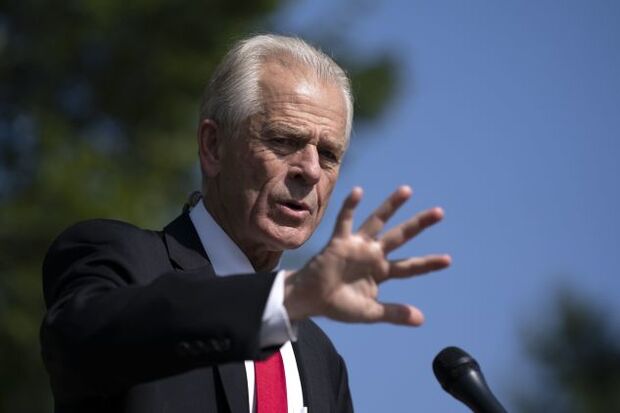 What to Watch in Congress
Floor Schedules Today: The Senate holds a pro forma session at 10 a.m. The House scheduled a pro forma at 10:30 a.m.
Next Week on the Floor: The Senate is scheduled to return from recess Tuesday at 3 p.m. At 5:30 p.m., the chamber will vote on the motion to invoke cloture, or limit debate, on the nomination of Brett Ludwig to be a judge on the U.S. District Court for the Eastern District of Wisconsin. Senate Majority Leader Mitch McConnell (R-Ky.) has also filed cloture on the judicial nominations of Christy Wiegand to the Western District of Pennsylvania, Hala Jarbou to the Western District of Michigan, Thomas Cullen to the Western District of Virginia, and Diane Gujarati to the Eastern District of New York.
Republicans Eye Vote on $500 Billion Stimulus: Senate Republicans are pulling together a narrow $500 billion Covid-19 relief package, aiming for a vote next week, in an effort to prod Democrats back to the negotiating table. GOP lawmakers in the Senate, with encouragement from the White House, have been working for several weeks on a slimmed-down virus stimulus that would spend much less money than the $1 trillion proposal put forward by Senate Republicans last month.
Sen. John Barrasso (R-Wyo.), a member of the body's Republican leadership, said earlier this week the Senate may consider the legislation next week, when it returns from an August recess. Read more from Erik Wasson and Misyrlena Egkolfopoulou.
McConnell expressed doubts about whether Congress can get a deal on another pandemic relief package when lawmakers return to Washington after a month-long recess, despite the Trump administration's push for a quick, targeted stimulus.
"I don't know if there will be another package in the next few weeks or not," McConnell said at an event at a hospital in his home state of Kentucky Wednesday. He said talks between top administration officials and Speaker Nancy Pelosi (D-Calif.) haven't been fruitful, and that any embrace of bipartisanship in the Capitol has "descended" as the fall elections near. Read more from Laura Litvan.
Any move to actually consider the bill would need 60 votes in the Senate, and Democrats are expected to block it in the absence of a deal between Pelosi and the White House. The House isn't scheduled to resume a legislative session until the following week.
Hearing Highlights: National Institutes of Health Director Francis Collins and U.S. Surgeon General Jerome Adams are scheduled to testify before the Senate Health, Education, Labor and Pensions Committee Wednesday on vaccines and public health, according to a statement from the committee.
Elections & Politics
North Carolina's Growth Makes It a Senate Battleground: The demographic tide has been slowly rising for Democrats in North Carolina. Cal Cunningham is counting on it to carry him past incumbent Sen. Thom Tillis (R) in November in a contest that could determine which party controls the Senate next year. The state's dynamic growth has put nearly 1.8 million new voters on its rolls since 2016, according to Michael Bitzer, a politics professor at Catawba College in Salisbury, when Trump won it by 3.6 percentage points. Those new voters amount to about a quarter of the electorate. They skew younger—and they are more diverse. That could have consequences from the top of the ballot down. Read more from Steven Dennis and Allison McCartney.
Auchincloss Wins Primary for Seat Vacated by Kennedy: Newton City Councilman and Marine Corps veteran Jake Auchincloss won the Democratic primary for Massachusetts' 4th Congressional District, according to the Associated Press, Megan Howard reports. Seven Democrats ran to succeed Rep. Joe Kennedy in a Democratic bastion that runs from wealthy Boston suburbs south to part of lower-income Fall River, with five of them topping more than $1 million in receipts.
Trump Denies Account of Disparaging U.S. War Dead: Trump last night strongly denied an explosive report that he belittled Americans who died in the nation's wars as "losers."
"It's a total lie. It's fake news," Trump said of an article in the Atlantic published earlier in the day.
According to the article, Trump, on a trip to France in November 2018, skipped a planned visit to the graves of American Marines killed defending Paris in the closing days of World War I because he didn't think their sacrifice had any significance, and complained: "Why should I go to that cemetery? It's filled with losers." The Atlantic, citing several unnamed sources, said that Trump also referred to the dead Marines as "suckers" and said he didn't want to get his hair mussed in the rain. Read more from Mario Parker and Justin Sink.
Trump Plans Las Vegas Fundraiser: Trump's campaign is organizing a high-dollar, in-person fundraiser in Las Vegas on Sept. 13, according to people familiar with the plans. Trump, who once enjoyed a huge financial advantage over Democratic nominee Joe Biden and the Democratic National Committee, has seen it erode over the summer. Read more from Bill Allison and Jennifer Jacobs.
Biden Says He'd Appoint Special Coordinator on Tibet: Biden said China's plans "to further tighten controls over Tibet" are the latest efforts "by Beijing to crush ethnic minorities that seek to preserve their distinct culture, language, and beliefs." Biden said it's disgraceful that Trump has not met with the Dalai Lama, and as president he would plan to do so as well as appoint a new Special Coordinator for Tibetan Issues, and insist China restore access to Tibet for U.S. citizens, Chelsea Mes reports.
Trump Warns Biden Would Destroy Energy Jobs:Trump traveled to Pennsylvania for the second time in two weeks, telling voters in the swing state that Biden will destroy energy jobs and side with violent protesters. Biden leads Trump in Pennsylvania by 4.2 percentage points, according to the average of polls compiled by RealClear Politics. Read more from Mario Parker and Jennifer Epstein.
Schiff Says DHS Memo Shows Russia Effort to Undermine Election: House Intelligence Chairman Adam Schiff (D-Calif.) said a DHS bulletin shows that Russia is "echoing destructive and false narratives around vote by mail" promoted by Trump, while seeking to interfere in U.S. elections. The DHS Office of Intelligence and Analysis bulletin "further demonstrates why the Office of the Director of National Intelligence's cancellation of in-person briefings on election security for Congress is so dangerous," Schiff said in statement, Megan Howard reports.
Kanye West Ordered Off Arizona, Virginia Ballots: Kanye West won't be on the Nov. 3 ballot in Virginia and Arizona after courts ruled that he couldn't run as an independent presidential candidate. Read more.
Former Spokeswoman Sues Iowa Governor: A former Iowa Department of Public Health spokeswoman is suing Iowa Gov. Kim Reynolds (R) for wrongful discharge, alleging she lost her job after fulfilling media public-records and information requests that may have been perceived as damaging to the governor's image. Read more from Stephen Joyce.
Protests & Unrest
Lawmakers Want Defense to Answer Race Questions: House Oversight and Reform Subcommittee on National Security Chairman Stephen F. Lynch (D-Mass.) and Subcommittee on Civil Rights and Civil Liberties Chairman Jamie Raskin (D-Md.) in a statement yesterday demanded the Department of Defense hand over documents and information from a June request on how DOD is addressing racial disparities in the military justice system, as required by last year's National Defense Authorization Act.
Rochester Officers Suspended: Rochester Mayor Lovely Warren (D) said she's suspending the officers involved in the death of Daniel Prude, a Black man who suffocated during a police incident in the city in March. People protested outside Rochester's police headquarters after body-camera footage released by Prude's family on Wednesday showed the officers covered the man's head with a hood and pressed his face into the ground. Read more from Bloomberg News.
Biden Speaks With Blake, Condemns Violence: Biden drew an explicit contrast with Trump during his visit to Wisconsin yesterday, speaking directly to Jacob Blake, a Black man shot by the police, and promising sweeping changes if he's elected to root out racism in the U.S. Biden also condemned the violence unequivocally and has blamed Trump for what he describes as fomenting violence and dividing the nation. Biden's trip marked his first campaign visit to Wisconsin, a critical battleground state that Trump narrowly won in 2016.
Read more from Tyler Pager.
DC Protests Brewing: Protests are also brewing in Washington, where an officer shot and killed an 18-year-old Black man on Wednesday. Mayor Muriel Bowser (D) said the police department has released the officer's body-cam footage to "urgently" provide a preliminary update to the public.
"Our officer was trying to take guns off the street and what I know is he encountered somebody with a gun," Bowser said. "Now the rest of the investigation has to happen and that's the stage where we are now."
The Coronavirus Pandemic
Hospitals Barely Weather Covid-19 With Federal Grants, Cuts: The U.S. hospital industry may not have fared as poorly as feared during the early months of the Covid-19 pandemic, according to new data from an influential Medicare advisory panel. The hospital industry counters that its members are still operating at thin margins and anticipate further losses without more federal help.
The Medicare Payment Advisory Commission estimates that federal CARES Act grants and facility cost reductions limited hospital industry profit losses to between $20 billion and $30 billion in April. That's lower than the estimated $50.7 billion monthly loss figure from March through June that the American Hospital Association touted. Read more from Tony Pugh.
U.S. Will Have Enough Ventilators for Next Wave: U.S. officials expect to have enough ventilators to care for Covid-19 patients and possible "second waves" of the virus after the government receives about 130,000 of the machines by the end of October. The Department of Health and Human Services awarded contracts to 10 companies—including General Motors, Ford, and Hamilton Medical—to make about 200,000 ventilators, but later chose to terminate three and scale back the initial order. Read more from Shira Stein.
Students Must Take Standardized Tests, DeVos Says: State school leaders should expect to administer standardized tests for K-12 students during the forthcoming year, Education Secretary Betsy DeVos wrote in a letter yesterday. U.S. states and territories received waivers for federal school testing mandates for the 2019-20 academic year after the coronavirus pandemic forced campuses to shut down in the spring, when students are typically tested. Read more from Andrew Kreighbaum.
'Low Chance' of Vaccine by November, US Official Says: Authorization of a Covid-19 vaccine by Nov. 1 when U.S. health officials have told states to be prepared to distribute shots is "extremely unlikely but not impossible," Moncef Slaoui, chief scientific adviser to Operation Warp Speed, told NPR's All Things Considered yesterday. "There is a very, very low chance that the trials that are running as we speak could read before the end of October," Slaoui said, referring to when data on a vaccine's safety and effectiveness could be available. Read more.
Virginia Senate OKs Liability Shield For Adult Care: Adult care providers would be protected from Covid-related lawsuits under a bill the Virginia Senate unanimously approved yesterday. Providers would be protected from liability if they were not able to give certain care due to the lack of resources because of the pandemic. Read more from Andrew M. Ballard.
Hiring Seen Slowing, But Jobless Rate May Dip: Gains in U.S. payrolls are expected to continue, but the pace is slowing. Today's Labor Department report will likely show employers added 1.35 million workers in August, according to the median estimate in a Bloomberg survey of economists, the fourth straight month of additions. The unemployment rate is forecast to dip below 10% for the first time since March. Read more.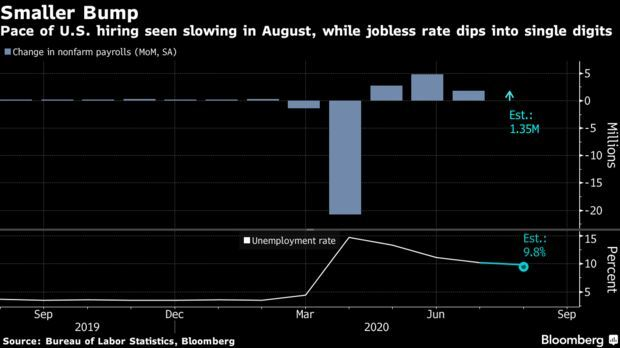 What Else to Know Today
GOP State AGs Urge Web Liability Shield Curbs: A quartet of Republican state attorneys general—from Texas, Indiana, Louisiana, and Missouri—is backing a Trump administration push for the Federal Communications Commission to write rules narrowing an internet platform liability shield. The AGs said they favor limiting the reach of Section 230 of the Communications Decency Act, which gives tech companies legal immunity to moderate third-party content on their platforms. Read more from Jon Reid.
WeChat Users Want to See Evidence Behind Trump's Ban: WeChat users who sued Trump seeking to block his executive order banning the Chinese messaging app in the U.S. on national security grounds asked to see the evidence supporting his decision. The U.S. is opposing the evidence request. A hearing is scheduled for Sept. 17 on the users' request for a preliminary injunction. Read more from Edvard Pettersson.
EPA Chief Touts Second-Term Goals: Environmental Protection Agency Administrator Andrew Wheeler laid out plans to overhaul the way the agency assesses the costs, benefits and scientific justifications of environmental regulations. The effort, which Wheeler said could unfold over a second Trump term, could make it harder to justify some pollution curbs under the Clean Air Act, Clean Water Act and other statutes, Jennifer Dlouhy reports.
States, Groups Back Lawsuit to Block EPA Pesticide Approval: Ten states and several nonprofit organizations asked a federal appeals court to block the EPA from allowing the use of a pesticide they say is toxic to pollinators, citing economic and legal issues, in amicus briefs filed yesterday. Read more from Maeve Allsup.
EPA Sued Over Failure to Regulate Perchlorate in Drinking Water: The Natural Resources Defense Council sued the EPA in the D.C. Circuit yesterday for failing to set drinking water standards for perchlorate, a rocket fuel chemical. Read more from Amena H. Saiyid.
To contact the reporter on this story: Zachary Sherwood in Washington at zsherwood@bgov.com
To contact the editors responsible for this story: Giuseppe Macri at gmacri@bgov.com; Michaela Ross at mross@bgov.com