What to Know in Washington: Trump Touts Economy as the Fix
President Donald Trump rejected calls to overhaul law enforcement or cut officers' funding amid protests over police brutality and racism, and instead backed new training programs as well as economic development, school choice and improved health care in minority communities.
Trump — speaking yesterday in Dallas during a roundtable with a group of supporters, including religious leaders, business owners and law enforcement officials — said he was working to finalize an executive order that called for encouraging "police departments nationwide to meet the most current professional standards for the use of force, including tactics for deescalation."
But Trump offered scant details on what those programs would look like, beyond a pilot program that could allow social workers to embed with law enforcement. And Trump dismissed the concerns raised by many protesters of systemic problems with law enforcement saying instances of brutality could be chalked up to "bad apples" and there "aren't too many of them."
"We'll take care of our police — we're not defunding police," Trump said. "If anything, we're going the other route. We're going to make sure that our police are well-trained, perfectly trained, they have the best equipment."
The event comes amid nationwide protests calling for policing reform in the aftermath of the death of George Floyd, an unarmed black man, as he was arrested by police in Minneapolis. Trump, who has said he believed the case to be isolated and not evidence of systemic racism in U.S. policing, has nevertheless been weighing executive action or legislation to influence law enforcement agencies.
White House spokeswoman Alyssa Farah tweeted yesterday that the administration is "working to finalize an executive order that will encourage Police Departments nationwide to meet the highest standards for the use of force by police officers." She said that includes "mobilizing co-response teams to deal with people who are homeless, on drugs, or dealing with mental health. We will also advise on best practices for hiring, training and community policing." Justin Sink and Jennifer Jacobs have more.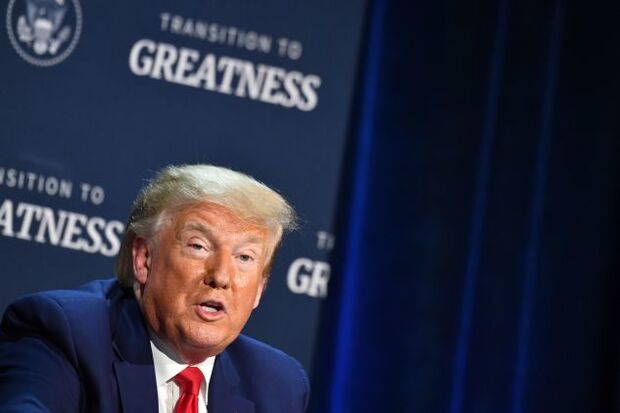 DOD to Review National Guard Response to Protests: Defense Secretary Mark Esper yesterday directed Army Secretary Ryan McCarthy to lead a review of National Guard's law enforcement support efforts across the U.S. during the last two weeks of protests. The report, to be submitted by July 30, will address "a range of issues, including training, equipping, organizing, manning, deployment, and employment of National Guard forces," according to a statement from Esper, Chelsea Mes reports.
Paul Proposes Bill to Bar 'No-Knock Warrants': Sen. Rand Paul (R-Ky.) is offering legislation to prohibit law enforcement from forcibly entering a home without announcement, Caitlin Webber reports. The bill would bar so-called no-knock warrants, and is proposed in memory of Breonna Taylor, according to a statement from Paul's office. Taylor, a resident of Louisville, was killed in March during a police raid on her home carried out under such a warrant.
Tucker Carlson Advertisers Depart After Black Lives Comment: Disney, Papa John's and T-Mobile said this week they would no longer advertise on the show of Fox News host Tucker Carlson after he sparked an uproar in addressing the global protests over police brutality and racial inequality. "This may be a lot of things, this moment we are living through," he said Monday on his show. "But it is definitely not about black lives and remember that when they come for you, and at this rate, they will." Read more from Gerry Smith.
Coronavirus & the Economy
Houston Approaches 'Precipice of Disaster': Houston-area officials are "getting close" to reimposing stay-at-home orders and are prepared to reopen a Covid-19 hospital established but never used at a football stadium as virus cases expand in the fourth-largest U.S. city. The announcement came a day after the Lone Star state recorded its highest one-day tally of new cases since the pandemic emerged. Read more from Joe Carroll.
Trump Campaign Asks Rally-Goers to Waive Liability: Trump's campaign is asking people attending his campaign rally in Oklahoma next week to waive liability if they contract Covid-19 — even as he hurtles forward to reopen the country. An online ticket form for the Trump campaign rally at the BOK Center in Tulsa, Okla., on June 19, tells potential participants that by attending, "you and any guests voluntarily assume all risks related to exposure to Covid-19 and agree not to hold Donald J. Trump for President, Inc.; BOK Center; ASM Global; or any of their affiliates, directors, officers, employees, agents, contractors, or volunteers liable for any illness or injury." Read more from John Harney.
Faulty Virus Antibody Tests Put Pressure on FDA: Antibody tests for the coronavirus will face tougher scrutiny as scientists learn more about how the disease spreads and whether patients can catch the virus again. The first antibody tests hit the market with minimal Food and Drug Administration oversight. Their accuracy varied widely, with lawmakers deriding some of the tests as "junk." As researchers learn more about the virus, the FDA's demands on test makers will change, Commissioner Stephen Hahn said this week. Those changes could lead to more accurate tests. For now, potentially faulty tests can stay on the market while under FDA review. Read more from Jacquie Lee and Valerie Bauman.
HHS Pressed for Health Stimulus Details: The top Republican and Democrat on the Senate Finance Committee are asking HHS to publish which health-care providers received portions of the about $210 billion in stimulus funding that's been allocated by lawmakers. "We urge you to expeditiously establish a single, comprehensive and publicly available data source that easily shows the amount of funding received by each provider," Chairman Chuck Grassley (R-Iowa) and top Democrat Ron Wyden (Ore.) told Secretary Alex Azar in a letter. Read more from Laura Davison.
Virus Relief Slow to Reach Tribes: An administrative bottleneck is slowing the stream of funds aimed at assisting American Indian and Alaska Native tribes in dealing with the Covid-19 outbreak. Tribes are struggling to use the competitive grants process due to administrative burdens of writing an application, Indian Health Service Director Michael Weahkee told House appropriators yesterday. Funding for most agencies are distributed through a grants process. American Indian and Alaska Native tribes have been hit especially hard by the pandemic. Read more from Shira Stein.
Rule Excludes Undocumented Students From Stimulus: Education Secretary Betsy DeVos unveiled an interim final rule yesterday excluding foreign and undocumented students from emergency relief provided in the CARES Act. The law included more than $6 billion for grants to college students affected by campus closures. DeVos advised colleges in April that undocumented students and others who aren't eligible for federal student aid don't qualify for assistance from the CARES Act. The California Community Colleges system and Washington state Attorney General Bob Ferguson have filed suits challenging that guidance.
The interim final rule will take effect when it is published in the Federal Register on Monday, though the Education Department won't enforce the rule for money already released to students, Andrew Kreighbaum reports.
Politics & Elections
Kamala Harris Is On Strong Footing in VP Search: Sen. Kamala Harris (D-Calif.) is on even stronger footing in Joe Biden's search for a running mate as he faces intensifying pressure to choose a black woman in the middle of a national debate over race. Harris has long been near the top of Biden's list but as other candidates slip in the eyes of allies and observers, she is increasingly better positioned to be the former vice president's pick for a job he says he knows more about than anything else, according to Democrats who have spoken to Biden or are familiar with his thinking.
Biden committed in March to naming a woman as his running mate. Some allies suggested right away she should be a woman of color, and since the national protests over the killing of George Floyd while in police custody, the pressure to choose a black woman has increased. Read more from Jennifer Epstein.
Biden Unveils Plan to Reopen Economy: Biden yesterday laid out an eight-step plan to open the economy safely and restore consumer confidence, trying to strike a contrast with Trump's urging for states to immediately lift restrictions put in place to combat the coronavirus. The former vice president's plan, which builds on a number of proposals his campaign has already released, seeks more Covid-19 testing, including for any person called to return to work, making sure workers have access to personnel protective equipment, guaranteeing paid sick leave and building a national contact tracing task force. Tyler Pager has more.
Republican Party Will Move Convention Events to Florida: The Republican National Committee said its executive committee had voted unanimously to allow "the official business of the national convention to continue in Charlotte, North Carolina, " but "the celebration of the nomination" would be moved to Jacksonville, Florida. North Carolina's governor had refused to accede to requests by Trump that all coronavirus social-distancing measures such as mandatory face masks be lifted. Read more from Max Berley and Jennifer Jacobs.
Energy Executive to Host Trump's Dallas Fundraiser: Trump's fundraiser in Dallas last night was hosted by billionaire Kelcy Warren, CEO of pipeline company Energy Transfer, three people familiar with the matter said. It's Trump's first in-person fundraiser since the coronavirus outbreak locked down much of the country in March. About 25 couples are expected to contribute a combined $10 million to Trump's campaign, the Republican National Committee and state organizations, according to an RNC official. Read more from Jennifer Jacobs.
Campaign Aims to Help With Voting During Pandemic: As states adapt voting practices due to the pandemic, a $20 million campaign launched yesterday by a nonpartisan nonprofit organization aims to educate voters about such changes, seeking to avoid the problems that have marred recent primary elections. With vote by mail and no-excuse absentee ballots gaining popularity around the U.S., iVote Civic Education Fund is launching iVoteFACTS to inform voters in five swing states about the ways they can participate in November. Tyler Pager has more.
What Else to Know Today
Facebook, Google Lawsuit Protections Targeted: Sen. Josh Hawley (R-Mo.) is drafting legislation to weaken a liability shield that protects technology companies including Facebook and Google, two people familiar with the matter said, after Trump called for curbing what he says is censorship of conservatives. Read more from Ben Brody and Josh Wingrove.
Creation of Space National Guard Backed in Bill: National Guard Bureau won support from the Senate Armed Services Committee in the fiscal 2021 defense authorization approved by the panel this week. But the legislation would delay the full establishment of a new reserve component of the Space Force until the Pentagon completes a study, according to a summary of the legislation released yesterday. Read more from Travis J. Tritten.
Also in the bill, the Defense Department would be required to take steps to sever Chinese government access to sensitive defense data that it can glean through telecommunications networks, the materials used in weapons, and pharmaceuticals. Roxana Tiron has more.
Missiles in Saudi Attacks Came From Iran: Cruise missiles that slammed into a Saudi oil complex last year likely came from Iran, the United Nations concluded in a confidential report, supporting U.S. allegations that the Tehran government was behind the attack, which sent tremors through global energy markets and shook the kingdom. Read more from David Wainer.
U.S. to Continue to Cut Forces in Iraq: The U.S. and Iraq released a joint statement following discussions yesterday stating the countries had "recognized that in light of significant progress towards eliminating the ISIS threat, over the coming months the U.S. would continue reducing forces from Iraq" as well as discuss "the status of remaining forces as both countries turn their focus towards developing a bilateral security relationship based on strong mutual interests," Chelsea Mes reports. Talks will continue in Washington, likely in July, the statement said.
North Korea Says It Sees No Benefit From Engaging With Trump: North Korea accused the U.S. of breaking promises it made at a historic summit two years ago, saying the Trump administration had turned dreams for peace into "a dark nightmare" and diminished hopes for a denuclearization of the Korean Peninsula. Read more from Jeong-Ho Lee.
CBP Misspent 2019 Emergency Funding: U.S. Customs and Border Protection took emergency border funding and spent it on dirt bikes, boats, computer network upgrades, HVAC improvements, and canine supplies, according to Government Accountability Office findings. A 2019 emergency funding package had allocated $112 million for consumables and medical care, and $708 million for migrant care and processing facilities. "This callous disregard for the law is yet another example of this Administration's continuing failure to carry out its duty to provide humane conditions and medical care for migrants in its care," Homeland Security Chairman Bennie Thompson (D-Miss.) said yesterday in a statement.
FAA Warns of Safety Issues From Lighter Flights: A drop in airline passengers has triggered an unusual spate of incidents that are challenging flight safety, according to publicly available reports as well as government, industry and union officials. Read more from Alan Levin.
White House Aims to Speed Sea Research Permits: A White House working group said yesterday it wants to streamline permitting for exploring, mapping, and researching the ocean as part of a plan to explore and better understand the nation's waters. Read more from Stephen Lee.
With assistance from Andrew Kreighbaum
To contact the reporters on this story: Zachary Sherwood in Washington at zsherwood@bgov.com; Brandon Lee in Washington at blee@bgov.com
To contact the editors responsible for this story: Giuseppe Macri at gmacri@bgov.com; Loren Duggan at lduggan@bgov.com; Michaela Ross at mross@bgov.com