What to Know in Washington: Trump to Wisconsin, Despite Governor
President Donald Trump will continue his effort to make unrest in U.S. cities a central issue in his re-election campaign with a trip today to Kenosha, Wisc., gripped by violence since the shooting of a Black man by police late last month.
Ahead of his visit, Trump escalated his blame of Democrats for nationwide protests and riots, warning voters yesterday it's a preview of what's to come if his opponent, Joe Biden, is elected to replace him.
But Biden had already begun to fire back at the president, reminding voters yesterday in his first campaign appearance since accepting the Democratic Party's nomination that the unrest has unfolded under Trump's watch, and charging he's failed to calm tensions and is encouraging violence for his political benefit.
The president is expected to meet today with local law enforcement officials and business owners whose property was damaged during demonstrations after a police officer last month repeatedly shot Jacob Blake, a 29-year-old Black man, in the back. Trump is making the trip against the wishes of Wisconsin's Democratic governor, Tony Evers, who wrote him Sunday to warn he might inflame tensions in the city.
Trump said yesterday he wouldn't meet with Blake's family on his visit, and that he declined to take part in a telephone call because they requested a lawyer participate. The president also announced the Department of Justice and Department of Homeland Security would mount a joint operation to investigate "left wing" civil unrest in the U.S. Read more from Justin Sink and Mario Parker.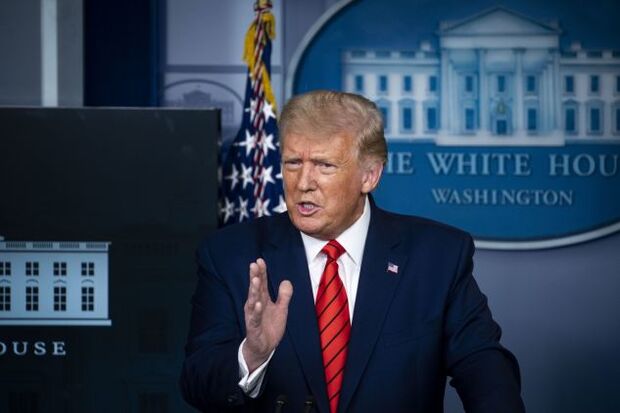 Trump Says Plane of 'Thugs' Threatened Republican Convention: Trump said yesterday in an interview that a plane loaded with "thugs" was headed for the Republican National Convention last week "to do big damage." He provided few details.
The convention concluded Thursday night with Trump's nomination acceptance speech on the South Lawn of the White House, and he has complained frequently since about protesters who accosted audience members as they left. Trump made the claim about the plane in an interview with Fox News host Laura Ingraham, who asked him who he thought was controlling Democratic presidential nominee Joe Biden. "People you've never heard of. People that are in the dark shadows," Trump responded.
Ingraham said his response sounded like a conspiracy theory. "No, people you haven't heard of," Trump continued. "We had somebody get on a plane from a certain city this weekend, and in the plane it was almost completely loaded with thugs wearing these dark uniforms, black uniforms with gear and this and that. They're on a plane." Read more from Justin Sink.
Trump Calls Companies Supporting Black Lives Matter 'Weak': Trump called companies supporting the Black Lives Matter movement "weak" and said they're led by "weak people."
Since George Floyd's death in the custody of Minneapolis police in May, many major corporations have moved swiftly to embrace Black Lives Matter and the racial equity principles it represents. Trump made clear in his interview with Ingraham that he doesn't support the movement. Companies, he said, are supporting the movement because "they just do what's the easiest path." Read more from Justin Sink.
What to Watch Today
Congress: The Senate meets for a pro forma session today at 7 a.m. and the House meets for a pro forma session at 12:30 p.m.
The House Select Subcommittee on the Coronavirus Crisis holds a hearing today at 1 p.m. on the Treasury's response to the Covid-19 pandemic with Secretary Steven Mnuchin. Mnuchin plans to paint an optimistic portrait of the economic recovery, according to prepared remarks, but he'll leave room for more relief.
"While we continue to see signs of a strong economic recovery, we are sensitive to the fact that there is more work to be done, and certain areas of the economy require additional relief. We will continue to try to work with the Senate and the House on a bipartisan Phase IV relief package," Mnuchin will say in prepared testimony.
Despite stalled negotiations with Speaker Nancy Pelosi (D-Calif.) and Democrats, Mnuchin will say he believes "a bipartisan agreement still should be reached and would provide substantial funds for schools, testing, vaccines, PPP for small businesses, continued enhanced unemployment benefits, child care, nutrition, agriculture, and the U.S. Postal Service, along with liability protection for universities, schools, and businesses."
Massachusetts Primaries: Massachusetts Democrats will decide today whether they want to oust one of the longest-serving progressive legislators in Washington, Sen. Ed Markey (D-Mass.), in favor of a scion of the nation's most distinguished Democratic family, Rep. Joe Kennedy III (D-Mass.), who's a generation younger and has promised more engaged leadership.
Another long-serving Democrat, House Ways and Means Committee Chairman Richard Neal (D-Mass.), also faces serious opposition in his primary from a much younger opponent. And Democrats in Kennedy's district will choose a nominee who's likely to join the next Congress. Greg Giroux previews today's primary.
Mary Anne Marsh, a Democratic consultant in Massachusetts, discussed the state's marquee race on the latest episode of Downballot Counts. Listen here.
Energy Production: Energy Secretary Dan Brouillette will join North Dakota Republican Sens. John Hoeven (R) and Kevin Cramer (R) in the state to discuss energy with coal, oil, and gas producers in the region, Kellie Lunney reports. The group will be in Minot, N.D. and tour the Air Force base there. Brouillette, Hoeven, and Cramer will hold a livestreamed press conference at 4:30 p.m. Central Time on after the energy industry roundtable discussions.
The Coronavirus Pandemic
U.S. Cancels Ventilator Contracts with Three Makers: The Trump Administration is canceling contracts for ventilators with three companies, including a $650 million deal signed in April with Royal Philips.
Vyaire Medical will deliver no more than 4,000 ventilators in a deal in which they contracted to provide 22,000 at a cost of $407.9 million, according to a spokesperson for the Department of Health and Human Services. Hamilton Medical will deliver no more than 4,518; the original agreement called for the company to provide 25,574 for $552 million.
Philips, meanwhile, said it supplied 12,300 ventilators to the U.S. Strategic National Stockpile by the end of August. However, HHS Services terminated the order for the remaining 30,700 devices without giving a reason, said Chief Executive Officer Frans van Houten. Read more from Shira Stein.
Some College Enrollment Dips in Pandemic: Black students and older learners enrolled in college at lower numbers this summer as the coronavirus pandemic disrupted the U.S. economy and forced many classes to go online. While overall enrollment fell relatively slightly over the summer, the biggest losses were concentrated at community colleges, which had 5.6% fewer students than the previous summer, and for-profit colleges, which had 7% fewer students, the National Student Clearinghouse Research Center reported today. Those institutions admit higher shares of minority and low-income students. Read more from Andrew Kreighbaum.
Elections & Politics
Democrats' Quest for Senate Majority Hinges on Biden: Democrats' bid to retake the Senate after six years of Republican control hinges on Joe Biden carrying the party's candidates across the line in closely contested races. Trump's stubbornly low approval ratings, the impact of the coronavirus pandemic and Biden's lead in polls of the presidential contest are a drag on Republican candidates and an opportunity for Democrats nine weeks before the election.
Democrats are all but certain to make Senate gains beyond the 47 Senate seats they now hold, with particularly strong prospects of defeating GOP incumbents in Arizona, Colorado, Maine and North Carolina. But with a likely loss by Sen. Doug Jones (D) in deep-red Alabama, a close presidential contest could leave the two parties splitting the Senate in half, analysts said, even with GOP seats in Montana, Georgia and Iowa and several other states now in the mix. That would give control to the party in the White House. Read more from Laura Litvan, Skylar Woodhouse and Allison McCartney.
The Voters Who Will Decide 2020: Everyone's vote is important, but thanks to the Electoral College, some votes in America matter more than others. In election years past, we often heard about a key bloc that candidates needed to win over—think Soccer Moms in the 1990s and Nascar Dads in the 2000s. Now, in an increasingly diverse (yet polarized) country slogging through both a pandemic and an economic crisis, whose votes do Trump and Biden need most? Pollsters and analysts helped Bloomberg identify nine groups who will likely determine the outcome of 2020. Read more.
Georgia Ordered to Accept Mail Ballots After Election: Georgia officials must count mailed ballots that arrive as late as three days after the Nov. 3 presidential election, a federal judge ruled, in a victory for a voting rights group that's registering people of color in the state. U.S. District Judge Eleanor Ross in Atlanta agreed that the current deadline for accepting ballots, 7 p.m. on Election Day, would unfairly restrict voting amid an expected surge in mailed ballots because of the coronavirus. Votes must still be postmarked by Election Day. The plaintiffs had requested a seven-day extension. Read more from Erik Larson.
Texas AG Sues County Over Mail-In Ballots: Texas Attorney General Ken Paxton filed a lawsuit yesterday against Harris County to stop its plans to send mail-in ballot applications to more than 2 million registered voters in the Houston area. "Election officials have a duty to reject mail-in ballot applications from voters who are not eligible to vote by mail," Paxton (R) said in a release announcing the filing in Harris County District Court. Read more from Paul Stinson.
Social Media Impersonators Seen as Election Threat: When Instagram users searched for Rep. Cheri Bustos (D-Ill.) in July, they encountered two accounts featuring identical images of the congresswoman holding a small goat. One, "cheribustos," was her official campaign account. The other, "bustoscherie," was a fake claiming to be Bustos. It was one of dozens that party officials have seen impersonating candidates and campaign staff on Instagram, its parent company Facebook, and Twitter in the lead up to November's elections.
"We see it as a threat to everyone who is running for office this year," said Ben Block, the digital rapid response director at the Democratic Congressional Campaign Committee, who leads a team that found social media pages impersonating Democrats ranging from prominent incumbent members of Congress to little-known challengers. The fakes "in every way, shape and form" mimic the real candidates, and they have disproportionately targeted women — particularly women of color — running for office this cycle, he said. Read more from Alyza Sebenius.
Facebook is working with a group of third-party researchers to study how content and user behavior on the social network's apps affect the 2020 election. Read more from Kurt Wagner.
Defense & Foreign Affairs
Iran Crisis Countdown Hits Pause: With U.S. elections just two months away, China, Europe and Russia will play for time in an attempt to prevent the Trump administration's maximum-pressure campaign on Iran from descending into even deeper conflict.
The commission responsible for resolving disputes under the Iran nuclear deal is returning today to the Vienna palace where the landmark agreement, known as the Joint Comprehensive Plan of Action, was sealed five years ago. It's the first meeting of envoys from signatory states since the United Nations Security Council rejected U.S. attempts to restore international sanctions, and follows new impetus to widen nuclear inspections inside the Persian Gulf country. Read more from Jonathan Tirone.
Pompeo Sees Arms Control Deal With Russia: Secretary of State Michael Pompeo said the U.S. has made progress toward a new nuclear arms control agreement with Russia after talks earlier in August in Vienna, and raised the prospect that the two sides could sign a deal by the end of the year. "We made real progress in the last couple weeks," Pompeo said in an interview with Washington radio station WMAL, referring to talks between U.S. envoy Marshall Billingslea and Deputy Russian Foreign Minister Sergey Ryabkov. "I hope we could get that done before the end of the year — would be a good thing for the world, take down risk from nuclear weapons." Read more from Nick Wadhams.
U.S. War Jets in UAE Become Thorny Prop: As Israel and the United Arab Emirates met in their first round of peace talks, American and Emirati officials were posing today near U.S. warplanes the Gulf nation wants to buy over Israeli objections. White House senior adviser Jared Kushner and National Security Adviser Robert O'Brien, who are in the UAE in support of the normalization efforts, attended briefings with Emirati military officials at the Al Dhafra air force base. The facility hosts U.S. jets, including Lockheed Martin Corp.'s F-35 combat plane, which the Emiratis say they've been trying to buy for years.
Several of the stealth fighters were nearby on the tarmac when the Americans posed for photos alongside less advanced U.S.-made F-16s. Read more from Ivan Levingston.
ByteDance Chief Reconsiders TikTok Options: As Trump threatened to ban the U.S. operations of the hit app TikTok, Chinese parent ByteDance's choices seemed to be limited to selling the business for $20 billion to $30 billion or leaving empty-handed.
But after China signaled it will get involved in any deal's approval, ByteDance founder Zhang Yiming is reconsidering his options and weighing the implications of Beijing's involvement, according to people familiar with the matter. The company's regulatory team and deal negotiators are huddling to discuss whether it's still possible to craft a sale that can win approval from both governments, an acquirer, venture investors and ByteDance itself, said one of the people, asking not to be named because the matter is private. Read more from Zheping Huang and Colum Murphy.
What Else to Know Today
All Trump Appellate Judges Seated: All of Trump's first-term appellate appointments will have been seated once Justin Walker takes his place tomorrow on what's considered to be the nation's second-most powerful court. Barring an unexpected vacancy in coming months, Walker's start on the U.S. Court of Appeals for the District of Columbia Circuit will cap Trump's four-year appeals appointments at 53, or nearly 30% of the 179 seats. Read more from Madison Alder.
Anti-Counterfeit Group Adds Members: The Buy Safe America Coalition, a group formed to lobby against the sale of counterfeit products online, added today large retailers Levi Strauss, JCPenny, Gap and Birkenstock, Rebecca Kern reports. The group was initially formed in mid-August by the Retail Industry Leaders Association along with other fashion trade associations to push for legislation that would require digital marketplaces like Amazon and EBay to verify third-party-sellers to combat counterfeit goods. Read earlier coverage of the coalition here.
Facebook Says It Can Block Content to Avoid Regulatory Risk: Facebook today told users it can take down or block any content that could increase regulatory or legal risks for the social media giant around the world — even if the content itself isn't illegal. The broad language of a global change to its terms of service, which takes effect Oct. 1, gives the U.S. giant room to do whatever it deems necessary to maintain its business objectives in a shifting regulatory environment. Read more from Sarah Frier.
Bannon Fate May Be Tied to Associate: When his dealings with a loan shark turned ugly in 2008, Andrew Badolato sought the help of the FBI, agreeing to record calls as the government built a case against a man it said was involved in organized crime. Around the same time, Badolato, a longtime business partner of Trump's former campaign chief Steve Bannon, assisted with a second case, providing information that helped prosecutors send one of his associates to prison for securities fraud.
Now the Sarasota, Florida, businessman is at the center of a third criminal case — this time as a defendant. Federal prosecutors have accused him of conspiring with Bannon and two others to siphon hundreds of thousands of dollars from a campaign to raise funds for a border wall between the U.S. and Mexico. Read more from David Yaffe-Bellany and Christian Berthelsen.
To contact the reporter on this story: Zachary Sherwood in Washington at zsherwood@bgov.com
To contact the editors responsible for this story: Giuseppe Macri at gmacri@bgov.com; Loren Duggan at lduggan@bgov.com; Michaela Ross at mross@bgov.com