What to Know in Washington: Trump to Attend Election Hearing
President Donald Trump plans to travel to Pennsylvania today for a meeting of state Republican lawmakers examining accusations of election impropriety, according to three people familiar with the matter.
Trump's visit to Gettysburg for a hearing by the Pennsylvania Senate Majority Policy Committee was not listed on the president's public schedule. He is expected to appear alongside former New York Mayor Rudy Giuliani, who has been leading a longshot legal effort in several states to reverse the results of the Nov. 3 election, the people said.
Giuliani's efforts have gained little traction — and widespread derision — and the president's appearance alongside his longtime private lawyer risks further tarnishing his legacy.
In Pennsylvania, where President-elect Joe Biden leads by more than 80,000 votes, Trump supporters complained observers in Philadelphia were not allowed to be closer to workers counting the ballots, but failed to present evidence of widespread fraud.
Last weekend, a federal judge in Pennsylvania dismissed a lawsuit that Giuliani personally argued after the other attorneys working on the campaign's lawsuits in the commonwealth asked to be removed from the case. Trump's lawyers presented "strained legal arguments without merit and speculative accusations" that were not supported by evidence, U.S. District Judge Matthew Brann wrote in his opinion dismissing the lawsuit. Giuliani pledged to appeal.
Trump has publicly struggled to accept his election loss, only this week agreeing to give Biden's team access to government resources as part of the transition process. And he's sought to appeal to lawmakers in Republican-controlled state governments to refuse to certify results that show him losing to the former vice president. Read more from Jennifer Jacobs and Justin Sink.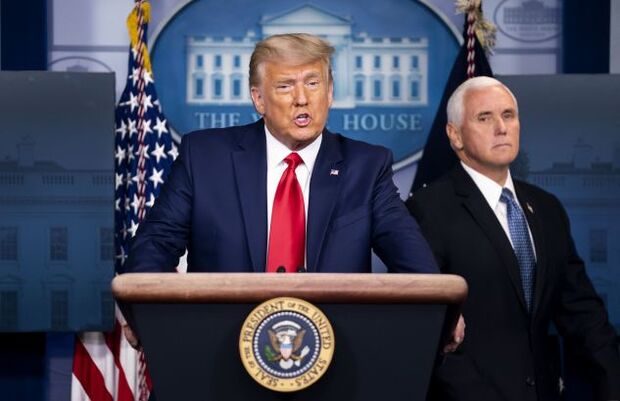 Democrats Given Extension in Pennsylvania: The U.S. Supreme Court granted Democrats five extra days to respond to one of two lingering GOP appeals challenging the Pennsylvania Supreme Court's decision that extended the deadline for mail ballots to be received. The top court's action means Democrats can make simultaneous responses on Nov. 30 in both cases. The cases, which involve about 10,000 ballots that came after Election Day, have lost virtually all of their significance amid Biden's victory in the state by 80,000 votes. Greg Stohr has more.
Also in Pennsylvania, the secretary of state called on a federal appeals court to reject an effort by the Trump campaign to undo the certification of Biden's win there, at least temporarily. The Trump campaign shouldn't be allowed to "sow confusion and doubt" over the electoral process with a Hail Mary attempt to revive a substandard lawsuit that was already dismissed by a federal judge, Pennsylvania Secretary of State Kathy Boockvar wrote in a filing yesterday in the Third Circuit Court of Appeals. Read more from Erik Larson.
Separately, a Democratic group cited Monty Python's 1970 "Spanish Inquisition" sketch in a court filing mocking Trump for trying to take "three last chances" to file a lawsuit to overturn Pennsylvania's election results. The Trump campaign is trying to get a federal appeals court to revive a third version of its complaint after voluntarily withdrawing the first one and then seeing Judge Brann issue the scathing dismissal of the second one. Read more from Larson.
In Wisconsin, a group filed a last-ditch petition with the state's Supreme Court to block officials from certifying Biden as the winner and awarding him its electoral votes. The Wisconsin Voters Alliance claimed in its petition yesterday that an organization funded by Facebook CEO Mark Zuckerberg paid more than $6 million to illegally help absentee voting in cities where the vote favored Biden. Read more from Bob Van Voris.
Trump Gives Biden Intelligence Briefing Access
Biden will begin to get the nation's most classified intelligence after the White House yesterday approved giving him the Presidential Daily Briefing as the transition moves forward.
The incoming president getting access to the top-secret briefing is the most high-profile part of the transition process, and seen as key to the orderly transfer of presidential responsibilities to a new leader.
"It's been offered. I did not have it today," Biden told reporters. "They've been very forthcoming, offering all access, and so we're going to be starting those on a regular basis."
An intelligence official said the Biden team would meet with current intelligence officials next Monday to review further details of the transition. All federal agencies are now participating in briefings, a transition official said on condition of anonymity, a day after the White House had formally acknowledged Biden likely won, even as the president himself has not yet conceded. Read more from Gregory Korte and Jennifer Epstein.
Biden said his transition team will not be "so far behind the curve" now that the Trump administration is cooperating on the fight against coronavirus. "We're already working out meeting with the Covid team in the White House," Biden told NBC in an interview. "How to not only distribute, but get from a vaccine being distributed, to a person being able to get vaccinated." Read more from Gregory Korte.
Biden also said his team has spoken to Anthony Fauci, the country's top infectious disease expert. He said he hasn't spoken to Fauci himself yet, but he's widely praised Fauci's efforts to stem the spread of the coronavirus around the country. The incoming president urged more cooperation amid spiking cases. Jennifer Epstein has more.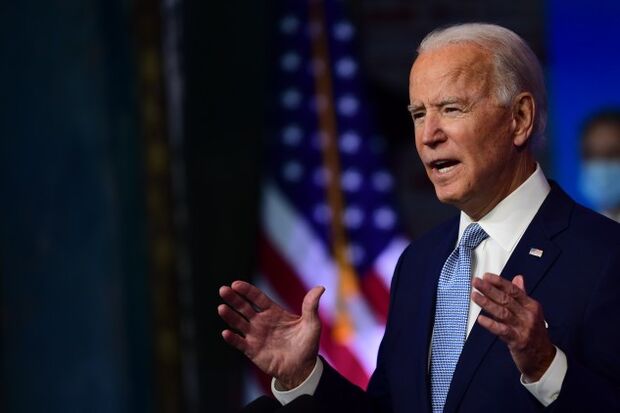 Building the New Administration
Biden has named the first senior officials to join his incoming administration, after the outgoing administration formally initiated the transition process. Biden will be naming 23 people in total to cabinet and cabinet-level positions. The president's cabinet includes the vice president, the attorney general and the leaders of the 15 executive departments: Agriculture, Commerce, Defense, Education, Energy, Health and Human Services, Homeland Security, Housing and Urban Development, Interior, Labor, State, Transportation, Treasury, and Veterans Affairs. Emma Kinery and Christopher Cannon track the nominees here.
Blinken Carries Biden's Confidence as Top Envoy: Antony Blinken, tapped by Biden to serve as America's 71st secretary of state, would carry the most valuable asset a diplomat can have when meeting other world leaders: the confidence of the U.S. president. Biden and Blinken's history of working together since the early 2000s means America's allies, and rivals, will know the person they are dealing with speaks for their president. That hasn't always been the case. Read more from Bill Faries and David Wainer.
UN Pick a Morale Boost for Diplomats: When Linda Thomas-Greenfield was held at gunpoint on a diplomatic assignment in Rwanda in 1994, she tried her best to look calm as she explained to a "glazed-eyed young man" that she wasn't the woman he was told to kill. "I was afraid, don't get me wrong, but I didn't panic," Thomas-Greenfield, now one of America's most experienced diplomats and Biden's pick for United Nations ambassador, later recalled in a TED Talk. The Tutsi woman who was the intended target was among hundreds of thousands killed during the genocide that year. Now, Thomas-Greenfield will soon be preparing for her Senate confirmation hearing, leaning on her experience across four continents, including State Department assignments in Jamaica, Nigeria, Switzerland and Pakistan, as well as in Washington as assistant secretary of state for African affairs. Read more from David Wainer.
Climate Groups Prod Biden to Declare Crisis: Progressive environmentalists are mounting a long-shot bid to get Biden to go beyond naming a climate czar and declare an environmental national emergency, borrowing a tactic employed by Trump to fund part of his border wall. Invoking a climate emergency could give Biden the authority to circumvent Congress and fund clean energy projects, shut down crude oil exports, suspend offshore drilling and curtail the movement of fossil fuels on pipelines, trains, and ships, according to a research note by consulting firm ClearView Energy Partners. "The president's powers to address climate change through an emergency are very, very large," said Kassie Siegel, an attorney with the environmental group Center for Biological Diversity, which is lobbying Biden's team to act. "This is No. 1 on the list of things the Biden administration should do." Read more from Ari Natter.
Yellen to Restore Treasury-Fed Cooperation: As Treasury Department secretary, Janet Yellen is almost certain to pursue tighter coordination with the Federal Reserve next year — repairing recent frictions — though observers say she will be careful to avoid any specific move that could trigger a wave of Republican protests. Biden's pick for Treasury was at the Fed for the better part of two decades, and saw first-hand how vital the cooperation of the two agencies is to ensuring the flow of credit amid stressed economic times.
Step one, after winning Senate confirmation, will be deciding how to proceed with several emergency Fed lending facilities backed by Treasury money and authorized by Congress through the Cares Act, after outgoing Treasury Secretary Steven Mnuchin announced he would sunset them by year-end. Yellen will need to make a call on whether she has the legal authority to resurrect the programs, which the Fed said it wanted to extend. Read more from Saleha Mohsin and Craig Torres.
Liberal Lawyer Group Prepares Judicial Nominee List: Within two hours of the election being called in Biden's favor, the liberal American Constitution Society submitted recommendations for judicial nominees to his team. Biden needs to be prepared to act quickly in a way past Democratic presidents haven't, ACS President and former Sen. Russ Feingold (D-Wis.) said. His group has been laying the groundwork to help with that for months. ACS's 45 working groups across 36 states helped develop the list of progressive judicial recommendations—excluding Supreme Court—and more names are coming. ACS is often seen as a liberal equivalent for the conservative Federalist Society, the group Trump looked to for many of his judicial picks. Read more from Madison Alder.
Progressives Pressure Biden Against Hiring Reed: Reps. Alexandria Ocasio-Cortez (D-N.Y.), Ilhan Omar (D-Minn.) and Rashida Tlaib (D-Mich.) are backing a petition against Biden nominating his former chief of staff Bruce Reed to a leading role in his administration, Axios reports. The petition, which objects to Reed potentially serving as head of the White House's Office of Management and Budget, was launched by Justice Democrats, who worry Reed is too much of a deficit hawk. Read more from Axios.
On Lawmakers' Radars
Lawmakers Reach Deal on Outline for Annual Spending Bill: Republican and Democratic lawmakers have reached a deal on spending levels for the annual spending bill necessary to keep the federal government open after current funding runs out Dec. 11, according to two congressional aides in both parties. The agreement, struck between Senate Appropriations Chairman Richard Shelby (R-Ala.) and House counterpart Nita Lowey (D-N.Y.) increases hopes that a giant $1.4 trillion bill to fund the government can pass Congress before the deadline.
The agreement encompasses top-line amounts for all 12 parts of an omnibus appropriations package as well as the level for emergency spending above the $1.4 trillion budget cap set in law in 2019. The White House had been trying to force Congress to adopt $7 billion in cuts to domestic spending by preventing $12.5 billion in funding for the Veterans Affairs Department from being designated as an emergency. Read more from Erik Wasson.
The emergency spending deal is important because if lawmakers had agreed to base funding levels and not emergency funds, they still would have had to debate how much money to spend overall. Aides did not say how much emergency funding is included in this agreement, Jack Fitzpatrick reports.
Whitehouse Signals Judiciary Fight to Come: Sen. Sheldon Whitehouse (D-R.I.) signaled he intends to stay in the running for top Democrat on the Senate Judiciary Committee after Sen. Dick Durbin (D-Ill.) expressed interest in the position. The jockeying comes one day after Sen. Dianne Feinstein (D-Calif.) announced she plans to step down as top Democrat in the new Congress. Feinstein recently drew criticism from progressives for her handling of Supreme Court Justice Amy Coney Barrett's confirmation. "In the wake of Ranking Member Feinstein's announcement, I look forward to the question of succession on the Senate Judiciary Committee being decided by the caucus," Whitehouse said in a statement yesterday. "I will abide by the caucus's decision." Read more from Madison Alder.
Bipartisan Lawmakers Seek Ligado Order Delay: House Agriculture Chairman Collin Peterson (D-Minn.) and fellow committee member Rep. Glenn 'GT' Thompson (R-Pa.), along with 6 other bipartisan lawmakers, wrote to House leadership and the leadership of the House Appropriations Committee asking to include language in fiscal 2021 appropriations packages to delay the FCC's order granting Ligado's application to deploy 5G network infrastructure nationwide. The lawmakers claim the order would impede with adjacent spectrum related to GPS and satellite communications, which could impact multiple stakeholders, including the military and agriculture industry.
Pelosi Urged to Support More IMF Reserves: The Congressional Progressive Caucus, Black Caucus, Hispanic Caucus, and Asian Pacific American Caucus wrote a letter yesterday calling on Pelosi to support the issuance of at least $2.84 trillion of new International Monetary Fund reserve assets, called "special drawing rights," to provide support to developing nations. The lawmakers call for the SDR inclusion in any year-end legislation, including a Covid-19 stimulus package, year-end appropriations deal, or conference report for the annual National Defense Authorization Act, Eric Martin reports.
The Coronavirus Pandemic
Guidance Coming on Shortened Quarantine Period: Federal health officials are working on new guidance that would shorten the recommended 14-day quarantine period after potential exposure to the coronavirus, the top U.S. virus-testing official said. Officials are beginning to see a preponderance of evidence that people could spend less time in quarantine if they also test negative for Covid-19, said Admiral Brett Giroir, an assistant secretary at HHS. Read more from Emma Court and Jacquie Lee.
YouTube Suspends Trump-Touted OANN: YouTube is temporarily banning One America News Network for breaking rules about Covid-19 claims, shuttering the right-wing cable outlet on the world's largest video site for a week. "After careful review, we removed a video from OANN and issued a strike on the channel for violating our COVID-19 misinformation policy, which prohibits content claiming there's a guaranteed cure," Ivy Choi, a YouTube spokeswoman, said in a statement. After a channel receives three strikes, YouTube terminates it altogether. One America News is a favorite of Trump and its online audience rose this month after some Trump allies turned against Fox News, the conservative cable standard-bearer. Read more from Mark Bergen.
The Outgoing White House
Trump Leaves a Tangled Legal Path on Student Debt: The coronavirus relief for U.S. student loans is set to expire at the end of the year. In January, 41 million borrowers carrying more than $1.6 trillion in student debt will be expected to once again start making monthly payments — unless Congress passes new legislation, or Trump takes further action to relieve the pressure.
After that, it's up to the incoming administration. Already, some senior Democrats are urging Biden to forgive — or cancel — debt, saying he will be able to use the same authority cited by the Trump administration to modify federal student loans. And while legal and policy experts say Biden can make the case that he has the power to implement sweeping changes, there's increasing uncertainty over which legal authority the Trump administration used to offer relief. Biden has indicated he would prefer Congress to act. Read more from Misyrlena Egkolfopoulou.
DOL Asked to Punt Lawyer Transfer to Biden: An independent federal agency investigating whether Labor Secretary Eugene Scalia illegally retaliated against a top attorney, shifting her to a new job against her will, has asked the Labor Department to delay that transfer, setting up a Trump administration decision on whether to give Biden a chance to reverse it. The U.S. Office of Special Counsel requested Scalia give Janet Herold an extra 60 days beyond her Nov. 26 deadline to accept her reassignment to a non-legal post in Chicago, Ben Penn reports.
Obamacare Program for Pre-Existing Conditions Updated: The Trump administration is changing calculations for a complicated Obamacare program intended to ensure that health insurers are paid when covering the sickest patients. The Centers for Medicare & Medicaid Services released a final rule yesterday aimed at improving the patient data used to determine how insurers pay one another for covering high-cost enrollees. Read more from Sara Hansard.
DHS Sued Over Immigration Impact on Environment: The Homeland Security Department has illegally "turned a blind eye" to the environmental impact of its visa and citizenship policy actions, according to a lawsuit filed yesterday by Minnesota residents in a federal court in the state. The Homeland Security Department has never finalized an environmental study under the National Environmental Policy Act, which stem from DHS's failure of the NEPA procedures it adopted in 2014, the residents say in their lawsuit. Read more from Maya Earls.
Trump's USDA Moves to Cement Lunch Legacy: A new Agriculture Department rule would clinch the Trump administration's changes to school nutrition guidelines before Biden takes office in January. The proposed rule unveiled today would finalize adjustments that Trump's administration has sought for years. The changes would relax whole-grain requirements for breakfasts and lunches at schools and get rid of schools' final target for sodium reduction, a rollback of policies set under former President Barack Obama. Megan U. Boyaton has more.
ZTE's Designation as Security Threat Affirmed by FCC: The FCC affirmed its decision to designate ZTE as a national security threat over concerns telecommunications gear made by the Chinese company could be used for spying.
The action shows that the FCC remains determined to drive ZTE and fellow Shenzhen-based manufacturer Huawei from the U.S. market, where small rural carriers rely on their cheap network equipment. The agency at its Dec. 10 meeting plans to consider rules for listing prohibited gear, FCC Chairman Ajit Pai said in a Nov. 18 blog post that identified Huawei as a threat. Read more from Todd Shields.
Editor's Note: Bloomberg Government's What to Know in Washington will not publish Thursday, Nov. 26 and Friday, Nov. 27. We'll resume publication Monday, Nov. 30.
With assistance from Jack Fitzpatrick
To contact the reporters on this story: Zachary Sherwood in Washington at zsherwood@bgov.com; Brandon Lee in Washington at blee@bgov.com
To contact the editors responsible for this story: Giuseppe Macri at gmacri@bgov.com; Loren Duggan at lduggan@bgov.com; Michaela Ross at mross@bgov.com