What to Know in Washington: Trump Tests Positive for Covid-19
President Donald Trump said early this morning that he has tested positive for coronavirus along with his wife and one of his closest aides, throwing an already volatile campaign into deeper disarray just one month before the election.
"Tonight, @FLOTUS and I tested positive for COVID-19. We will begin our quarantine and recovery process immediately. We will get through this TOGETHER!," the president said on Twitter, hours after Bloomberg News reported that the adviser, Hope Hicks, had fallen ill with the virus.
The election campaign against Democrat Joe Biden has focused heavily on Trump's handling of the coronavirus, which has already killed more than 200,000 Americans and deepened inequalities. Biden and others have criticized Trump's response as slow off the mark and ineffective.
The White House already announced that Trump was canceling all public events, including a rally in Florida today. Normal virus protocols could keep him off the campaign trail at least 10 days and possibly longer at a critical moment when he was trying to gain ground on Biden, who polls show is holding steady with about a 7 percentage-point lead nationally.
In addition, the announcement could complicate plans for a confirmation hearing and vote on Trump's Supreme Court nominee, Amy Coney Barrett, though as of early today there had been no change in the schedule that would start hearings the week of Oct. 12. Also, it wasn't clear what effect the development could have on negotiations over an economic stimulus package to counter the fallout from the virus, as House Democrats and the White House remained far apart.
In a memo released early this morning, Trump's physician said that the president and first lady plan to remain at the White House "during their convalescence" and that the medical unit would "maintain a vigilant watch."
"Rest assured I expect the president to continue carrying out his duties without disruption while recovering, and I will keep you updated on any future developments," White House physician Scott Conley said. Read more from Jordan Fabian.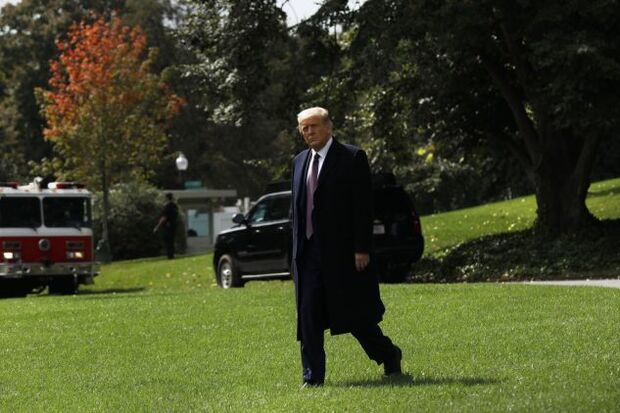 Diagnosis Reshapes Election: Trump's Covid-19 diagnosis has dramatically altered the closing weeks of the presidential campaign, with the president now facing not only an unprecedented health challenge but also logistical and staffing chaos about a month before Election Day.
Trump's illness prompted the White House to cancel political events today. Campaign and fundraising trips planned for the coming days — including visits to key battlegrounds including Wisconsin, Pennsylvania and Nevada — are expected to be scrapped as the president remains quarantined at the White House.
Trump leans on his in-person political events to raise cash and create enthusiasm among supporters as he tries to make up ground against Biden, who leads in polls and fundraising in no small part due to the president's response to the virus now afflicting him
Trump had hoped to turn the focus of the final weeks of the campaign away from the pandemic and toward his Supreme Court nominee, the economic recovery and civil unrest — issues where he believes he holds an advantage. But the lack of his signature rallies and the shift in focus away from the very issues that most excite his voters are likely to make it harder to close the gap with Biden, who has held a steady lead of about 7 percentage points in national polls for some time. Now, the weeks ahead are sure to be dominated by constant discussion of Trump's health, turning attention back to a pandemic most Americans think he's mishandled. Read more from Justin Sink.
Large Retinue of White House Aides at Risk: Trump interacted or traveled with a large coterie of top aides and advisers in the days before he was diagnosed with Covid-19, raising the risk of a widespread outbreak within the White House. The circle of close contacts with the infected president and his wife, Melania, begins with his adviser Hicks. She was seen in close quarters with several other officials, including White House senior adviser Stephen Miller and Trump campaign senior adviser Jason Miller.
Depending on how far the virus spreads through the halls of the West Wing and Congress, as well as the president's campaign headquarters, much more than Trump's travel schedule may be derailed.
Ronny Jackson, the president's former White House physician, told Fox News early Friday morning that the positive test would "affect everybody who has been around the president" as they would likely need to self-isolate. He cautioned that it's not yet clear how widely the virus has circulated. Even though Hicks tested positive, "that doesn't mean that's the person he got it from," Jackson told Fox.
"Contract tracing is being done and the appropriate notifications and recommendations will be made," White House spokesman Judd Deere said in a statement. Read more from Jordan Fabian.
Happening on the Hill
U.S. Stimulus Talks in Limbo: U.S. stimulus talks remain in limbo after the House passed a Democrat-only $2.2 trillion package that did nothing to bridge the gap with Republicans. The 214-207 vote, which garnered no GOP support, followed the most concerted talks between the top negotiators since early August. Speaker Nancy Pelosi (D-Calif.) told reporters last night that she would review documents that Treasury Secretary Steven Mnuchin had sent her to determine where to go next.
And Trump's stunning announcement that he and the First Lady had tested positive for Covid-19 is certain to generate even more uncertainty.
Pelosi and Mnuchin held multiple phone calls yesterday after meeting in person at the Capitol on Wednesday, amid rising pressure from a wave of job-cut announcements by large companies. "We are going back and forth with our paper," Pelosi said yesterday, underscoring the importance of the language used in any deal. The talks have so far failed to resolve what's been a difference of hundreds of billions of dollars between the two sides. Sharp disagreements also remain on components of coronavirus relief, with the Trump administration rejecting the scale of aid Democrats want for state and local authorities, and Pelosi demanding the end of tax breaks she says are devoted to the wealthy. Read more from Billy House and Erik Wasson.
Virus Spending Watchdog Says Work Hobbled: The special inspector general in charge of monitoring Treasury and Federal Reserve coronavirus bailout funds said that his office needs additional money and staff to be able to conduct its oversight work. Hiring "has been a conundrum in many ways," Brian Miller, the special inspector general for Pandemic Recovery, said yesterday. He says he has faced "logistical nightmares" trying to get senior staff on board and needs Congress to grant him expedited hiring authority.
Miller himself was the only employee for the first month following the office's launch in June, he said at an New York City Bar Association event. Congress has appropriated $25 million for SIGPR's five-year life span. Miller says that money will run out by the end of this fiscal year, which runs through Sept. 30, 2021. Read more from Laura Davison.
Lawmakers Seek Earmark Return: Members on both sides of the aisle said yesterday they support ending the decade-long moratorium on earmarks. The recommendation to again allow funding local projects and programs through federal spending bills was mentioned throughout a House Rules Committee hearing at which members expressed what changes they'd like to see in the next Congress. Read more from Emily Wilkins.
FAA Urged to Release 737 Max Documents: House Transportation Chairman Peter DeFazio (D-Ore.) asked the Federal Aviation Administration to publicly disclose any documents regarding design changes or evaluations for the grounded Boeing 737 Max airliner before the aircraft is returned to service. Information that should be shared includes "system safety assessments" and "key test data concerning the safety of the aircraft," he said, Ben Livesey reports.
Elections & Politics
Democrats Gear Up to Watch Polls: Joe Biden's campaign and other Democrats in key battleground states say they're readying their own efforts to monitor balloting as they express concern about Trump's call for supporters to show up at the polls to watch for problems with voting. Biden's campaign has enlisted thousands of volunteers and the Democratic National Committee began building voter-protection teams in some states as early as last year, according to the campaign. "I think we feel like we have the right team in place and the right plans in place," said Rachana Desai Martin, Biden's national director of voter protection.
Republicans have plans to use about 50,000 volunteers from early voting through Election Day, according to the Republican National Committee, and Trump is actively encouraging supporters to sign up to be a "Trump Election Poll Watcher" as part of the "Army for Trump." Read more from Jennifer Epstein, Misyrlena Egkolfopoulou and Mark Niquette.
GOP Lawsuits to Curb Voting by Mail Don't Need Judges to Succeed: Judges are largely rejecting efforts by Trump's campaign to restrict voting by mail during the pandemic, but fresh lawsuits and appeals by the GOP are dragging out the legal fights, adding uncertainty to the Democrats' final push to get out the vote. The nationwide effort by the Republicans has frequently come up short as judges rebuff arguments that rule changes to accommodate the public health crisis were made improperly or could lead to widespread fraud. But even if the GOP fails to reverse the rulings, the very existence of such suits may convince voters that the outcome is tainted. Read more from Erik Larson.
Texas Gov. Greg Abbott yesterday declared counties can select only one location to collect mail-in ballots from voters, requiring the shuttering of numerous ballot drop-off sites. Touted as an election security effort, counties also must allow poll watchers to "observe any activity conducted at the early voting clerk's office" associated with delivery of completed ballots, according to the governor's proclamation. "These enhanced security protocols will ensure greater transparency and will help stop attempts at illegal voting," Abbott (R) said in a news release. Read more from Paul Stinson.
Trump Says He Condemns Proud Boys and White Supremacists: Trump said yesterday in an interview that he condemned the Proud Boys, a militant group that supports him, after declining to directly condemn white supremacists during Tuesday's presidential debate. "I condemn the KKK, I condemn all white supremacists, I condemn the Proud Boys," Trump said in an interview on Fox News, after insisting that he had long condemned such groups. "If I say it 100 times it won't be enough because it's fake news," he said, Jordan Fabian reports.
What Else to Know Today
Trump Blocked From Restricting High-Skill Visas: The Trump administration was blocked from restricting H-1B visas that highly skilled foreign technology workers rely on to work in the U.S. The ruling conflicts with a pair of decisions in September in similar cases. U.S. District Judge Jeffrey White in Oakland, Calif., agreed with several big U.S. business groups, which argued Trump exceeded his authority by imposing the immigration restrictions. Read more from Joel Rosenblatt.
Vaccine Race Has Drug Companies Pushing Limits: No less than four Covid vaccines are hurtling toward the finish line in the U.S. Moderna and Pfizer, along with its German partner BioNTech, are leading the pack with vaccines that require two doses, while a single-shot vaccine from Johnson & Johnson began a late-phase trial last week. "This is beyond unprecedented," says Otto Yang, a viral immunologist at UCLA. "It is crazy fast." There may never have been anything like this pedal-to-the-metal race in the history of vaccines. But will they work? And will enough people take them, especially amid the political turmoil surrounding their development? Robert Langreth takes a closer look at the vaccine race.
October is a critical month in the race for a Covid-19 vaccine, with developments that could lead to some Americans getting inoculated in the final days of this year. Pfizer and BioNTech this month plan to reveal late-stage results showing whether or not their two-shot regimen is effective in preventing the spread of the virus. Read more from Cristin Flanagan.
ByteDance Works to Resolve TikTok Concerns as Process Drags On: ByteDance is working with U.S. regulators to resolve outstanding security concerns over its planned sale of a stake in music-video app TikTok, and the companies involved are bracing for the approval process to drag on past the November election, according to people familiar with the matter. Oracle, which is leading the bid to buy a stake in TikTok, is also still hashing out the fine-print terms of the deal, which two weeks ago received an endorsement "in concept" from Trump but faces skepticism from others within his administration and from the Chinese government. ByteDance is in discussions on a final proposal with the Committee on Foreign Investment in the U.S., or Cfius, the regulatory body that must clear any agreement. Read more from Kurt Wagner, Liana Baker and Jennifer Jacobs.
Google to Cite Rivals and Privacy in Lawsuit Defense: Google is expected in the coming days to be hit with the biggest U.S. antitrust lawsuit since the government went to battle with Microsoft two decades ago. Officially, the company hasn't laid out its legal arguments yet. But piecing together submissions to other antitrust authorities, executive blog posts, and congressional testimony gives a picture of Google's strategy. Read more from Gerrit De Vynck.
To contact the reporters on this story: Zachary Sherwood in Washington at zsherwood@bgov.com; Brandon Lee in Washington at blee@bgov.com
To contact the editors responsible for this story: Giuseppe Macri at gmacri@bgov.com; Loren Duggan at lduggan@bgov.com; Michaela Ross at mross@bgov.com