What to Know in Washington: Trump Tax Cuts Poised to Stay
Bloomberg Government subscribers get the stories like this first. Act now and gain unlimited access to everything you need to know. Learn more.
President Joe Biden will likely be unable to keep one of his key campaign promises—to roll back his predecessor's historically unpopular 2017 tax cuts—because of unyielding resistance among even some in his own party to raise taxes.
While Biden won applause on the campaign trail for pledging to repeal President Donald Trump's tax overhaul on "day one," as president he has run into the same political reality faced by Barack Obama, who kept the vast majority of George W. Bush's tax reductions: raising taxes is a hard lift in Congress.
In Biden's case, Sen. Kyrsten Sinema (D) of Arizona has loomed as the biggest obstacle. While she hasn't spelled out her views in public, Democratic lawmakers attempting to craft a package of revenue-raisers to pay for the sweeping social spending bill to enact most of Biden's economic agenda say she's opposed tax-rate increases.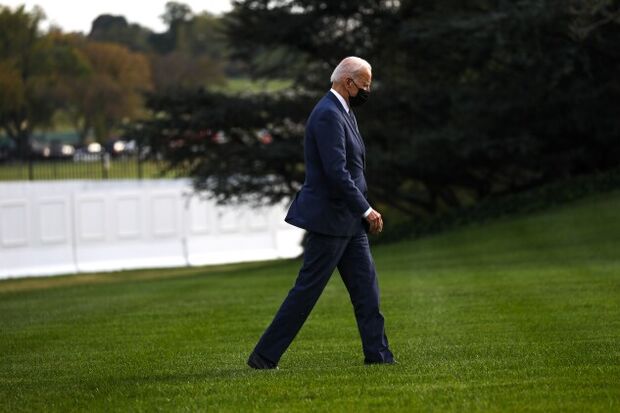 Biden has already acknowledged that there aren't enough votes to raise Trump's 21% corporate tax rate. The setback is ironic considering how Trump's overhaul was a historically unpopular tax cut that directed many of the benefits to high-earning taxpayers and large corporations.
"I'm surprised that it seems like the corporate rate is out," said Alex Hendrie, the director of tax policy at Grover Norquist's Americans for Tax Reform. "A lot of people around town assumed that it would go up."
More about the tax package may be known later this week, with Senate Democrats planning to release their plan to fund what's shaping up to be a near-$2 trillion social spending package. Read more from Laura Davison.
Biden Agenda Deal Picks Up Speed: Senate Democrats moved closer to an agreement on Biden's economic agenda yesterday, but some House lawmakers raised doubts about the terms of the deal being discussed and whether differences could be resolved in the next few days. Sen. Joe Manchin (D-W.Va.), who has been pushing to shrink the size of the sweeping social-spending package, expressed optimism Democrats could have a deal this week, the best recent sign for Biden's domestic agenda after months of intra-party wrangling over tax and spending increases.
House Democrats were far more skeptical, with Budget Chair John Yarmuth (D-Ky.) saying numerous parts of the plan were still being negotiated, indicating talks could extend beyond this week. "I wouldn't bet my grandson on that," Yarmuth said when asked if he thought the new framework could be completed before Biden leaves for European summits later this week. Read more from Erik Wasson, Laura Litvan and Billy House.
Highway, Transit Lapse Looms Again: The clock is once again ticking for lawmakers to prevent another lapse in federal highway and transit programs. As negotiations continue, Congress faces an Oct. 31 deadline to reauthorize surface transportation programs. It's déjà vu for lawmakers who were up against the same deadline last month and failed to meet it when a vote on the infrastructure bill was delayed. Read more from Lillianna Byington.
Democrats Want Immigration Deportation Shields: Senate Democrats are pursuing a third proposal to provide temporary immigration parole status to millions of undocumented immigrants, which would allow them to stay lawfully in the U.S. and to apply for work permits, said Sen. Dick Durbin (D-Ill.), the No. 2 Democratic leader in that chamber. Democrats will put the plan before the Senate parliamentarian, Elizabeth MacDonough. Once Democrats submit it, her decision could come within days. Read more from Laura Litvan.
Talks Accelerate on Climate Measures: Tax credits for electric vehicles remain in the emerging Democratic spending package, breaks for renewable energy could be expanded and the fate of a fee on methane is still under discussion, Senate Democrats said yesterday after a closed-door meeting on climate provisions. A major priority for the White House — an expansion of a tax credit for electric vehicles — remains in the bill, though discussion about the details of it are continuing, Sen. Gary Peters (D-Mich.) said as he emerged from the session in the Capitol with Majority Leader Chuck Schumer (D-N.Y.), Manchin, and other senators. Read more from Ari Natter.
Democrats Mull Dropping Expanded Medicare, Medicaid: Two significant elements of Democrats' ambitious health agenda, expanding Medicare and Medicaid, face an uphill battle after Manchin signaled his opposition. Manchin said he doesn't want to expand Medicare benefits without first protecting the rest of the program from insolvency later this decade. He also rebuffed legislation to extend coverage to millions of Americans in states that have refused to expand their Medicaid programs. Read more from Alex Ruoff and Erik Wasson.
Bill Tests Progressives' Strength: The Congressional Progressive Caucus is set for the most significant test yet of the new rules it quietly instituted late last year in an effort to increase its power in Democratic-controlled Washington. The push for the 96-member group, which includes those from both safe and vulnerable districts, to stay together on legislative priorities and sway the new president's agenda is feeling the full force of the party's urgency to compromise and pass two major bills before the election year. Read more from Emily Wilkins.
Happening on the Hill
Today's Agenda:
The House will weigh legislation reauthorizing domestic violence prevention and services grants.
The Senate continues work on Biden's judicial nominees.
Click here for a complete list of today's hearings and markups.
Republicans Could Bring Home Millions in Earmarks: Key Republican senators have gotten approval for hundreds of millions of dollars each in earmarks in annual spending bills, an offering that may help grease the wheels for a bipartisan federal funding bill later in the year. Senate Democrats last week released their final nine government funding bills for fiscal 2022, including billions in projects specifically requested by members, reviving the earmarks process for the first time since it was banned in 2011. Read more from Jack Fitzpatrick.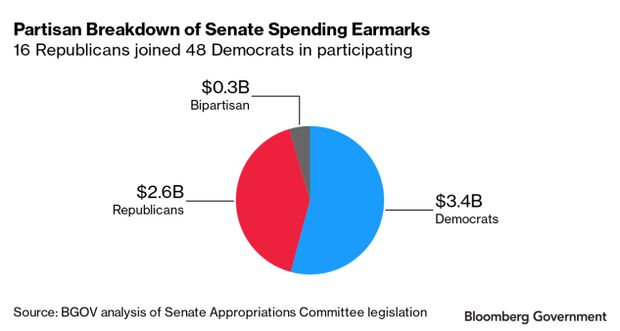 Biden Plans to Nominate Rosenworcel as FCC Chair, Sohn as Member: Biden today is expected to name Jessica Rosenworcel, the acting leader of the Federal Communications Commission, to become its chair, according to a person briefed on the matter. Biden also is expected to nominate Gigi Sohn, a former FCC official, to serve as a commissioner and give Democratic appointees a majority at the agency for the first time in his term, the person said. The appointments would break a partisan split on the commission and clear the way for the agency to fulfill Democratic priorities such as restoring net neutrality rules that bar unfair practices by broadband providers. Read more from Todd Shields.
Facebook's Algorithms Eyed by Congress: A legislative push from U.S. lawmakers to regulate social media platforms is taking on more urgency since a whistle-blower revealed thousands of pages of internal documents showing how Facebook employees knew that the company's algorithms prioritizing growth and engagement were driving people to more divisive and harmful content. After wrestling with how to write laws to allow or prohibit certain kinds of speech, which risks running afoul of the First Amendment, regulating automated algorithms is emerging as a possible strategy. Read more from Anna Edgerton
YouTube, TikTok Defend Teen Privacy Plans: Social media companies YouTube, TikTok and Snap will tout established protections of teen privacy to counter lawmaker questioning at a hearing today, seeking to distance themselves from the criticism faced by rival Facebook, according to their prepared remarks. The Senate Commerce Committee's consumer protection panel, led by Connecticut Democrat Richard Blumenthal and Tennessee Republican Marsha Blackburn, will examine efforts by Alphabet's YouTube, TikTok and Snap to protect the privacy of children and teenagers online. Read more from Rebecca Kern.
Senate Confirms First Workplace Safety Chief Since Obama-Era: The Senate signed off on California safety regulator Doug Parker taking the reins of the Department of Labor's workplace safety arm, giving the agency its first confirmed leader since the Obama era. Parker, who played a central role in developing California's Covid-19 workplace safety rule, will lead the Occupational Safety and Health Administration, an agency on the front lines of the federal government's response to the coronavirus pandemic. Read more from Paige Smith.
Voting Rights Lawyer Confirmed to Second Circuit: Voting rights lawyer Myrna Pérez is Biden's latest addition to the New York-based federal appeals court following her Senate confirmation. The Senate voted yesterday to confirm Pérez to the U.S. Court of Appeals for the Second Circuit. Before her nomination to the federal bench, Pérez served as director of voting rights at the Brennan Center for Justice. Read more from Madison Alder.
Solicitor General Pick Teed Up for Vote to End Debate: The full Senate plans later this week to hold the first of what is expected to be two votes on the nomination of Elizabeth Prelogar for U.S. solicitor general. Schumer said the chamber would as early as today first consider a cloture motion on Prelogar's selection to be the government's top lawyer at the Supreme Court. If Prelogar is confirmed, she'd become just the second woman to hold the job after Elena Kagan. Madison Alder has more.
Cruz Won't Block Biden's China Envoy Pick: Sen. Ted Cruz (R-Texas) won't stand in the way of Nicholas Burns to be ambassador to Beijing out of a recognition that U.S.-China relations are too important to delay, according to a person familiar with the matter. Cruz has used Senate procedure to slow down confirmation for more than two dozen of Biden's nominees, infuriating administration officials who say Cruz is undercutting American diplomacy and national security. Read more from Nick Wadhams.
Banking Watchdog Pick Mired in Political Spectacle: Cornell Law School professor Saule Omarova was thrust into the spotlight in September when the Biden administration announced her nomination for the Office of the Comptroller of the Currency. But things quickly grew uglier and more personal. Republican lawmakers raised the specter of a Soviet-style takeover of the finance system, leaning partly on an academic paper Omarova wrote imagining a new role for the Federal Reserve as a kind of public bank—and by asking pointed questions about her biography. Read more from Robert Schmidt and Jesse Hamilton.
Around the Administration
Today's Agenda: Biden will participate virtually at 9 a.m. in the annual U.S.-ASEAN Summit, and plans to discuss the Covid-19, climate issues, economic growth, and other topics. Biden will campaign with Democratic gubernatorial candidate Terry McAuliffe in Arlington, Va., at 7:50 p.m.
McAuliffe Gets Hand From Biden: McAuliffe distanced himself from Biden earlier this month in a bid for more votes in the closely fought Virginia governor's race, prompting some sharp retorts from the White House. Now, as polls show a toss-up contest with Republican rival Glenn Youngkin, McAuliffe is counting on the power of the presidency to give him an edge, planning an appearance with Biden today, a week before the election. Read more from Ryan Teague Beckwith.
Biden to Pledge More Virus, Climate Aid in Southeast Asia Summit: Biden plans to provide Southeast Asia with more than $100 million in funding to fight the pandemic and tackle the climate crisis as his administration seeks to bolster ties with a region seeking to balance its growing economic reliance on China. Biden is set to attend a virtual meeting with leaders from the Association of Southeast Asian Nations today. Read more from Philip J. Heijmans.
China, U.S. Have 'Candid' Talks: The U.S. and Chinese governments made some incremental progress in their economic and trade negotiations, with Chinese Vice Premier Liu He and U.S. Treasury Secretary Janet Yellen holding their second call in about four months. China described the conversation as "pragmatic, candid and constructive" in a statement in Beijing, saying the two sides agreed that it's important to strengthen communication and coordination of macroeconomic policies as the world's recovery faces a critical moment. Read more from Bloomberg News.
Why Abortion Soared to Top of Supreme Court Docket: The U.S. Supreme Court raised the stakes in the politically explosive fight over reproductive rights by agreeing to hear arguments on Nov. 1 on a Texas law that has largely shut down legal abortion in the state. The court won't directly decide if the law—which bans almost all abortions after six weeks of pregnancy—violates Roe v. Wade. Nor will the justices be addressing whether to overturn its abortion-rights precedents; that's an issue they will consider in a separate case on Dec. 1. But the decision to intervene in the Texas case—and hear arguments on a highly expedited schedule—reshapes the multifaceted legal fight. Read more from Greg Stohr.
To contact the reporters on this story: Zachary Sherwood in Washington at zsherwood@bgov.com; Brandon Lee in Washington at blee@bgov.com
To contact the editors responsible for this story: Giuseppe Macri at gmacri@bgov.com; Loren Duggan at lduggan@bgov.com; Michaela Ross at mross@bgov.com
Stay informed with more news like this – from the largest team of reporters on Capitol Hill – subscribe to Bloomberg Government today. Learn more.