What to Know in Washington: Trump Support Drops Where Cases Rise
Bloomberg Government subscribers get the stories like this first. Act now and gain unlimited access to everything you need to know. Learn more.
Coronavirus is skyrocketing in Republican-leaning Sunbelt and interior states, where shifting attitudes about the virus and President Donald Trump's handling of it could spell more trouble for his re-election effort.
New cases have exploded in particular in Arizona and Florida, battlegrounds Trump must retain to win re-election. Jacksonville, Fla., where the president relocated the Republican National Convention, had the fastest-growing rate of coronavirus of any metropolitan area in the U.S. for the week ended July 4, according to Evercore ISI.
The convention site was changed after Roy Cooper, the Democratic governor of North Carolina, balked at holding a gathering in Charlotte, as planned since 2018 when it was the only city to officially submit a bid, at full capacity.
The slide in support for Trump occurred as the president stopped talking about the virus and masks to focus instead almost entirely on reopening, a risky gamble that so far appears to be backfiring.
Pew Research Center polls show Trump's approval is slipping fastest in the 500 counties where the number of cases have been more than 28 coronavirus deaths per 100,000 people.
Pew surveyed voters in late March and the same people again in late June, and found 17% of those who approved of the president in March now disapprove.
The shift came almost equally among Democrats and Republicans, men and women, and college graduates and non-graduates. But those who live in counties with a high number of virus cases were 50% more likely to say they no longer approve of Trump.
And older voters, who have typically trended conservative and have backed Trump in the past, are abandoning him at the same time the virus hits those ages 65 and older the hardest.
In six key battleground states, Trump is now trailing Democratic nominee Joe Biden by 6 percentage points among voters 65 and over, according to a New York Times-Siena College poll conducted June 8 through June 18 in Arizona, Florida, North Carolina, Wisconsin, Michigan and Pennsylvania.
Seniors in those states disapproved of Trump's handling of the pandemic, 52% to 45%. And by a 26-point margin those voters said the federal government should prioritize containing the pandemic over reopening the economy.
Biden is leading Trump by 6 percentage points in Arizona and by 6.4 percentage points in Florida, according to the RealClearPolitics polling averages for those states. Read more from Mike Dorning and Gregory Korte.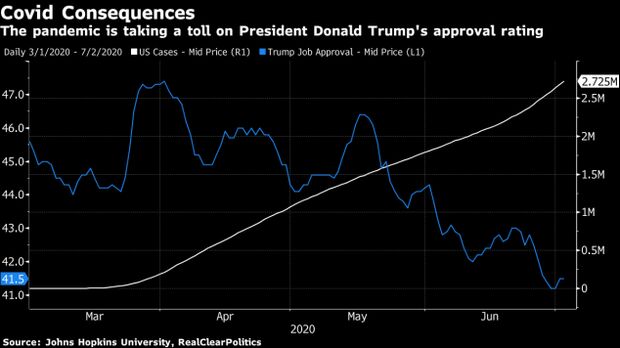 What to Watch this Week
The House and Senate are out of session this week and next. House appropriations subcommittees will meet starting today to consider fiscal 2021 spending bills.
Three measures were released last night, ahead of today's markups. Five more measures will be released today, with more markups set for tomorrow.
Click here for a complete list of the week's hearings and markups.
Follow BGOV's markup tracker here.
Pandemic Developments
Florida Tops 200,000 Virus Cases: Florida's Covid-19 cases rose yesterday in line with the one-week average, to cross 200,000. Reported cases rose by 10,059, or 5.3%, to 200,111, compared with an average 5.3% in the previous seven days. The Sunshine State set a record with 11,458 cases on Saturday. Deaths reached 3,731, according to the report, which has data through Saturday, up by 29.
Florida Gov. Ron DeSantis (R) has resisted returning to a lockdown, but hospitals and local officials in the state are reacting to the rising trend in cases. "We've been breaking record after record after record the last couple of weeks," Miami Mayor Francis Suarez said yesterday on ABC's "This Week." The city instituted a mask-in-public rule and increased the severity of penalties for businesses that don't follow the rules, Suarez said. Read more from Steve Geimann.
Trade Groups Push for Mask Guidelines: Top Washington trade groups called on Trump, Vice President Mike Pence and governors to issue guidelines on mask requirements, citing the economic risk from the accelerating spread of Covid-19. A letter from the U.S. Chamber of Commerce, the National Retail Federation, the Business Roundtable and others came a day after Trump offered limited praise for wearing masks but suggested they need not be required. The president has put little emphasis on masks despite evidence they can help combat the spread of the virus. Read more from Ben Brody.
Gottlieb Says U.S. Should Build Up Antibody Therapy Supply: The U.S. should be building up reserves of therapeutic antibodies now ahead of any potential approval or emergency use authorization to treat the coronavirus, said the former head of the Food and Drug Administration. "We need a more coordinated national strategy around this," ex-FDA Commissioner Scott Gottlieb said yesterday on CBS's "Face the Nation." Gottlieb said the U.S. government could encourage drugmakers to curtail production of less essential medicines for a time, in favor of making more antibody treatments now. Read more from Cristin Flanagan.
National Academies Eyed for Vaccine Rollout: The U.S. plan for distributing hundreds of millions of Covid-19 vaccines will likely rely on an outside advisory committee to figure out how to do it in a fair way. National Institutes of Health Director Francis Collins told a Senate spending panel Thursday his agency and the CDC are in talks with the National Academy of Medicine to form a panel by Labor Day to craft guidelines for ethical vaccine distribution. Jeannie Baumann has more.
Hydroxychloroquine to Get More Scrutiny: The antimalarial drug that Trump touted for Covid-19 is getting another chance, as a global clinical trial will try to determine the treatment's effectiveness in preventing coronavirus infection. A trial led by Bangkok-based Mahidol Oxford Tropical Medicine Research Unit is recruiting health workers in contact with Covid-19 patients to explore whether hydroxychloroquine, as well as its sister drug chloroquine, can stop the illness. Read more from Siraphob Thanthong-Knight.
Coronavirus & the Economy
Coronavirus Wreaks Havoc on America's Psyche: As the U.S. reopens, Americans aren't much interested in going out and spending. A survey of 2,200 U.S. adults shows how Covid-19 has dramatically changed behavior in the world's biggest economy, potentially for the long haul. The data flashes warning signs for the recovery, showing waning interest in public events and material things, like appliances and clothes, and a new austerity, expressed through pantry stockpiling and delayed big-ticket purchases. This foreshadows an era of fear and frugality that could push a full economic rebound—one that Washington and Wall Street are banking on—out of reach. Read more from Tiffany Kary.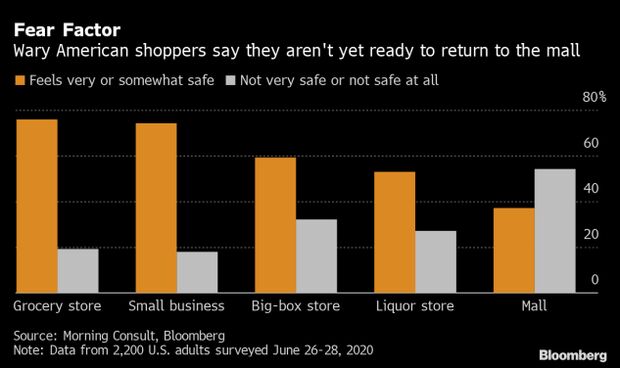 Scalia Says Coronavirus Economic Recovery Better Than Projected: Labor Secretary Eugene Scalia said the economic recovery from the coronavirus pandemic has been better than expected so far, and it won't be necessary to extend an emergency unemployment program that ends this month. "We are doing well, we do need to be careful about the virus but I am just optimistic," Scalia said in an interview on "Fox News Sunday." "It's really important to again remember how much better than projected we've done so far."
"Spending, retail spending, consumer spending generally, new home starts, all of these have been actually very encouraging economic indicators over the last about six weeks or so," Scalia said. Read more from Elizabeth Dexheimer.
Scalise Urges Democrats to Limit PPP Probe: Rep. Steve Scalise (R-La.), ranking Republican on the House Select Coronavirus Committee, called on Chairman Jim Clyburn (D-S.C.) "to narrow" a panel investigation into the implementation of the Paycheck Protection Program. Scalise said that loan applications were processed on a first-come, first-served basis and didn't help "wealthy existing clients" over small businesses. Scalise also said that the Small Business Administration and the Treasury Department have agreed to provide requested information and data, Elizabeth Elkin reports.
Low-Income Households Suffer Inflation Shock: The coronavirus is inflicting a price shock on low income Americans that risks further driving up inequality. In a study released this week, Bloomberg Economics estimated higher grocery and housing costs for lockdown necessities meant those households whose incomes are in the bottom 10% currently face inflation of 1.5% compared with 1% for the top 10% and the official 0.1% overall average recorded in May. Read more from Simon Kennedy.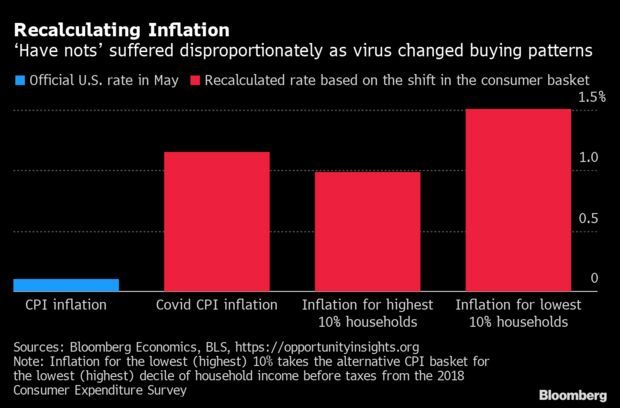 Elections & Politics
Biden Sees 'Desperation' in Trump's Changing Attacks: Trump has cycled through a string of attacks against Joe Biden but as he and allies seek to tie the Democratic nominee to the "radical left," Biden's campaign warned today that the new message will fall short. Trump used two weekend speeches to vow to defeat Democrats and the "radical left," linking the party to protesters marching in the streets and pulling down statues. Although he didn't name Biden, as the party's nominee, the former vice president is its standard bearer.
Biden's campaign said in a memo to surrogates that any effort to attack Biden, who defeated the more progressive Sens. Bernie Sanders (I-Vt.) and Elizabeth Warren (D-Mass.), by attacking his positions as too far to the left, are "falling laughably flat." Read more from Jennifer Epstein.
Trump to Host Outdoor New Hampshire Rally: Trump will hold an outdoor rally in New Hampshire on Saturday at which face coverings are "strongly encouraged," a change in tone after months of skepticism about the value of wearing masks to prevent the spread of coronavirus. The event is set for 8 p.m. outside the Portsmouth International Airport, the Trump campaign said yesterday. Attendees will have "ample access" to hand sanitizer and "will be provided a face mask that they are strongly encouraged to wear," the campaign said.
Trump has been eager to restart rallies after putting them on hold due to the coronavirus pandemic and widespread stay-at-home orders. The Portsmouth event will be Trump's second campaign rally in a month, after an indoor event in Tulsa, Oklahoma, on June 20 drew a smaller-than-expected crowd. Read more from Elizabeth Dexheimer.
Gen Z's Protest Zeal Stirs Democratic Hopes: National demonstrations after the killing of George Floyd in police custody drove tens of thousands of young people to the streets. Now liberal activists have reason to believe that they can channel that energy into votes for Joe Biden. During the first two weeks of June, as protesters gathered nationwide, more than 293,000 Americans registered to vote via Vote.org, a nonpartisan group that promotes voting. Almost half were younger than 34. Read more from Emma Kinery.
VP Contender Rice Says Trump's Been Doing Putin's 'Bidding': Former National Security Adviser Susan Rice rejected White House assertions that Trump wasn't told of intelligence that Russia may have offered bounties on American troops, a subject that's consumed Washington over the past week. "We have a president who is doing our arch adversary's bidding," Rice said yesterday on NBC's "Meet the Press," referring to Russia's president. "And he's surrounded by sycophants and weaklings who aren't doing their jobs."
"The message to Vladimir Putin is you can kill American servicemen and women with absolute impunity. This is an extraordinary revelation," she said. Read more from Steven T. Dennis.
SCOTUS Blocks Order Easing Alabama Voting Rules: A divided U.S. Supreme Court blocked a lower court's decision that would have made it easier for some people to cast their ballots in Alabama's primary runoff if they were at high risk of becoming seriously ill from Covid-19. The justices, voting 5-4 Thursday along ideological lines, granted an emergency request by Alabama officials, who said that the order would undermine confidence in the election by jettisoning rules designed to prevent fraud. Read more from Greg Stohr.
Facebook Confronts Civil Rights Complaints: For years, Facebook brushed off complaints from civil rights groups that it failed to do enough to combat racism, discrimination and voter suppression flourishing on its site. Now, pressure from a boycott by major advertisers is forcing the social media giant to address their concerns. CEO Mark Zuckerberg has agreed to meet with leaders of the National Association for the Advancement of Colored People, Anti-Defamation League, and Color of Change to discuss their requests tomorrow. Naomi Nix has more.
Kanye West Says He's Running: Kanye West says he's running for president. It wasn't clear if the musician is serious, or if this is a publicity stunt for himself or a project unrelated to the presidency. West's tweet on Saturday instantly went viral, with more than 100,000 retweets within the first hour. West has 30 million followers on Twitter. 'Kanye' quickly became the number one trending term on Twitter in the U.S. Read more from Derek Wallbank.
What Else to Know Today
Trump's Taxes, Birth Control Top SCOTUS Agenda: The U.S. Supreme Court is poised to cap a term like no other with potentially blockbuster rulings covering birth control, religious rights and Trump's efforts to keep his financial records private. The justices will tackle their eight remaining cases starting today, when they publish opinions in July for the first time since 1996. The eight cases were heard in an extraordinary May argument session, held by telephone because of the coronavirus outbreak. The justices could finish their work later in the week.
Together, the final opinions could rewrite the narrative of a Supreme Court term that so far has yet to produce the clear conservative shift some envisioned after two Trump nominees joined the court. The rulings will shape public perceptions of the court, and perhaps of Trump, heading into the November election. Read more from Greg Stohr.
Trump Agencies Move to Limit LGBT Rights: The Trump administration's ongoing push to limit LGBT rights in employment, health care, and education faces the threat of more litigation following a U.S. Supreme Court ruling that extended job protections based on sexual orientation and gender identity. Several federal agencies, including Labor, Health and Human Services, and Education departments, have in recent years issued guidance and rulemaking that rolled back LGBT rights or bolstered religious liberties. Read more from Erin Mulvaney, Lydia Wheeler, Paige Smith and Andrew Kreighbaum.
House Panel to Interview Berman: Geoffrey Berman, ousted as the senior U.S. attorney for the Southern District of New York amid ongoing investigations into Trump's businesses and inaugural committee, is scheduled to be interviewed by the House Judiciary Committee next week. The transcribed interview will occur behind closed doors on Thursday, according to a congressional aide. Read more from Billy House.
Trump Weighs China Steps as Bill Awaits Signature: Trump has yet to sign a bill that would levy sanctions on some Chinese officials over Beijing's tightening grip on Hong Kong, but other moves are possible before long. An administration official told reporters on Saturday that Trump is looking at two or three actions against China, with a high probability something could be unveiled soon—more likely in days than weeks. Read more from Daniel Flatley.
U.S. Utility Giant Kills Pipeline, Sells Assets to Berkshire: One of the largest utilities in America is starting to turn its back on natural gas. Dominion Energy, the second-biggest U.S. power company by market value, yesterday said it's selling substantially all of its gas pipeline and storage assets to Berkshire Hathaway for $4 billion. In a separate statement, Dominion and its partner Duke Energy said they're killing the controversial Atlantic Coast gas pipeline along the U.S. East Coast, citing ongoing delays and "cost uncertainty." The moves come as utilities face increasing pressure from local governments, investors and environmentalists to quit the fossil fuel. Read more from Rachel Adams-Heard, Katherine Chiglinsky and Gerson Freitas Jr.
Population Growth Driven Exclusively by Minorities: U.S. racial and ethnic minorities accounted for all of the nation's population growth during the last decade, according to new Census Bureau estimates. The data underscore the country's growing diversity—and suggest the trend will continue as the White population ages and low birth rates amount to a declining share. Read more from Alex Tanzi.
To contact the reporters on this story: Zachary Sherwood in Washington at zsherwood@bgov.com; Brandon Lee in Washington at blee@bgov.com
To contact the editors responsible for this story: Giuseppe Macri at gmacri@bgov.com; Loren Duggan at lduggan@bgov.com; Michaela Ross at mross@bgov.com
Stay informed with more news like this – from the largest team of reporters on Capitol Hill – subscribe to Bloomberg Government today. Learn more.