What to Know in Washington: Trump Stirs Alarm on Bounty Claims
President Donald Trump has publicly shrugged off allegations that Russia offered bounties to kill American troops in Afghanistan, reigniting concerns that he's more interested in preserving ties with the Kremlin than defending U.S. interests.
Trump has yet to demand an investigation or threaten Russia with any consequences if the allegations are confirmed — even as lawmakers from both parties demanded the administration hold Russia accountable if there is evidence that the bounty offers occurred.
Trump's only public remark on the reports was a tweet that an intelligence official he didn't name told him the bounty allegations weren't credible — even though White House Press Secretary Kayleigh McEnany told reporters yesterday that there's no consensus on their veracity.
Trump's reluctance to confront Russia has spawned lingering fears among U.S. lawmakers and allies overseas that Trump prefers to remain willfully ignorant when it comes to allegations of President Vladimir Putin's plotting against the U.S.
Republicans as well as Democrats demanded the administration provide additional details. GOP lawmakers went to the White House for briefings yesterday while House Democrats accepted an offer for some members to receive a briefing today.
The latest Russia episode is becoming a growing political crisis for a president who is trailing his Democratic opponent, Joe Biden, in polls and struggling to defend his handling of the resurgent coronavirus outbreak at the same time as nationwide protests against police brutality and racism continue.
Last night, the director of national intelligence, John Ratcliffe, vowed to investigate the allegations and brief lawmakers and the president about his conclusions.
But Ratcliffe, a former Republican congressman who was confirmed in May, devoted much of his statement to a rebuke of the person or persons behind the allegations.
"The selective leaking of any classified information disrupts the vital interagency work to collect, assess, and mitigate threats and places our forces at risk. It is also, simply put, a crime," he said. Read more from Justin Sink and Nick Wadhams.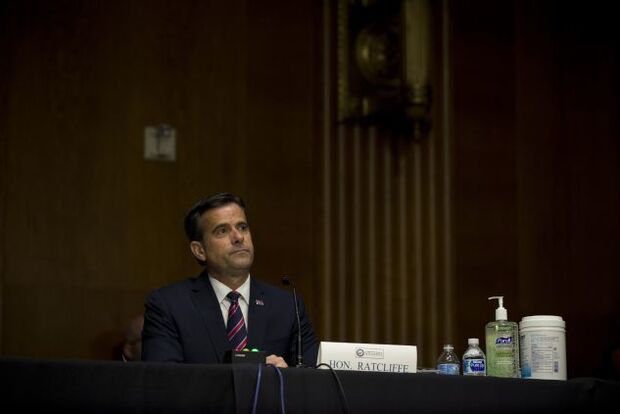 Also Happening on the Hill
Democrats Call for 'Negative Emissions': House Democrats are unveiling today a wide-ranging plan to combat climate change with a goal of effectively capturing more carbon dioxide than power plants, factories and cars emit into the atmosphere after 2050. The negative emissions proposal is part of the more than 500-page blueprint from the Select Committee on the Climate Crisis. Though many of the proposals are unlikely to win favor in the Republican-controlled Senate, the document outlines the emerging debate over climate policy that will play a role in the fall elections. The plan, set to be announced at a press conference this morning, leaves much of the policy work to other committees. Read more from Charlie Mcgee.
Repatriation Program Aid Boost Passed: The Senate and House quickly cleared legislation for Trump yesterday that would temporarily raises the cap for the Health and Human Services Department's repatriation program from $1 million to $10 million to ensure funding for those brought back to the U.S. as a result of the pandemic. "The current global health crisis has made it necessary to repatriate thousands of people, and we ought to make sure the resources are there to help individuals and families in the short-term so they can get back on their feet. Our bill does just that," said Senate Finance Chairman Chuck Grassley (R-Iowa), who authored the bill.
House Votes to Bolster ACA: Legislation to expand Obamacare subsidies and direct the U.S. government to demand lower prices on some drugs won House passage yesterday, an election-year reprise of earlier votes that top Democrats engineered to highlight differences with the Republican Senate and the Trump administration.
The bill would expand the Affordable Care Act's tax credits and pressure states to expand Medicaid programs with the promise of more federal funds. It would cap what any person may pay for coverage premiums at 8.5% of income. It would also let immigrants living in the U.S. under the Deferred Action for Childhood Arrivals program get access to subsidized insurance plans. Read more from Alex Ruoff.
House Passes Resolution to Overturn Anti-Redlining Rewrite: The House passed a resolution yesterday that would overturn changes to how banks are measured on their lending and investment to low-income communities. The House voted 230-179 in favor of the resolution of disapproval of the Office of the Comptroller of the Currency's update to Community Reinvestment Act regulations
The House vote is the first step in eliminating the OCC's May 20 rule using the Congressional Review Act. The law requires simple majorities in the House and Senate plus the president's signature to kill a regulation within 60 legislative days of its finalization. Read more from Evan Weinberger.
Infrastructure Bill Ready for House Floor: The House will begin consideration today of Democrats' $1.5 trillion infrastructure package. The Rules Committee yesterday approved several amendments to the measure, including those related to strengthening the clean energy sector, reducing vehicle emissions, and boosting resources for environmental justice communities. Kellie Lunney has an overview of the additions.
Pelosi Extends Proxy Voting Through Aug. 18: Speaker Nancy Pelosi (D-Calif.) extended by 45 days the chamber's emergency procedures that permit members to cast floor votes remotely by designating colleagues in the chamber to be their proxy. Pelosi acted as the first 45-day period drew to a close under a bill adopted in May over Republican opposition to allow for remote votes during floor votes and in committee markups. James Rowley has more.
Democrats Press Zuckerberg on Hate Speech: Facebook CEO Mark Zuckerberg faces demands from Senate Democrats for answers about hate groups on the platform at the same time a growing number of companies are pulling advertising from its sites over harmful content. In a letter to Zuckerberg today, three Democratic senators—Mark Warner (Va.), Bob Menendez (N.J.), and Mazie Hirono (Hawaii)—question what they call the company's "lack of action to prevent white supremacist groups from using the platform as a recruitment and organizational tool" despite Facebook's stated policies on hate speech. Read more from Steven T. Dennis and Ben Brody.
The Coronavirus Pandemic
Biden to Assail Trump's Handling of Pandemic: Joe Biden is set to sharply criticize Trump's stewardship of the response to the coronavirus pandemic, saying the president is dismissing the threat of the virus as cases surge. More than six months after the first reported Covid-19 case in the U.S., Biden today will deliver a speech in Wilmington, Del., outlining what he will call a failed presidential response that has exacerbated a crisis other countries have managed to control.
Biden will assail Trump for holding crowded campaign events and playing golf. And the Democratic nominee will charge that the president called for slowing down testing for the virus because increased cases would hurt his political prospects, according to a preview of the speech released by the Biden campaign.
Biden will outline steps the country should take to fight the virus and safely reopen the economy, his campaign added. The former vice president has previously called on all Americans to wear masks and said if he were president, he would make it compulsory. Read more from Tyler Pager.
Powell Warns of Extraordinary Uncertainty, Urgency to Curb Virus: Federal Reserve Chair Jerome Powell stressed the importance of keeping the coronavirus contagion contained as the U.S. economy bounces back from its deepest contraction in decades. "We have entered an important new phase and have done so sooner than expected," Powell said in remarks prepared for testimony before the House Financial Services Committee today with Treasury Secretary Steven Mnuchin. "While this bounceback in economic activity is welcome, it also presents new challenges — notably, the need to keep the virus in check."
House Democrats at the hearing today are likely to question Powell and Mnuchin on ways to find more aid for state and local governments and how to more strongly tie government support to jobs. Dozens of corporations that raise funds in financial markets have benefited from the Fed programs even though they didn't ask the Fed for a loan. Meanwhile, many are also determining that they will need less staffing for the near future, and are firing workers. Read more from Craig Torres and Rich Miller.
Testing in Hotspots See Long Lines, Delays: The U.S. is again grappling with a shortfall of testing that has hobbled the nation since the coronavirus outbreak's early weeks, and now threatens to further undermine containment efforts at a crucial moment. In new hot spots like Arizona, Texas, and Florida, where Covid-19 is rapidly spreading, lines for testing extended outside of urgent-care offices and other sites. Two school football stadiums in Houston regularly hit capacity by mid-morning and have to turn people away. Read more from Emma Court.
What Else to Know Today
U.S. Suspends Some Hong Kong Benefits: The Trump administration escalated pressure against China yesterday over its crackdown on Hong Kong by making it harder to export sensitive technology to the city, the latest step toward revoking the former U.K. territory's special trading status. As part of the suspensions, the Commerce Department said it's revoking regulations allowing special treatment to Hong Kong on products including export license exceptions. Read more from Jenny Leonard and John Harney.
China's top legislative body approved the landmark national security law for Hong Kong, a sweeping attempt to quell dissent that drew fresh U.S. retaliation and could endanger the city's appeal as a financial hub. The National People's Congress Standing Committee voted to write the legislation into the former British colony's law today, broadcaster Now TV reported, citing unidentified people familiar with the proceedings. Read more.
Trump Woos Cuba Hardliners: Trump's clampdown on Cuba's Communist government is part of an election-year strategy to keep Cuban-American voters in Florida in his column — but it could backfire in the must-win state. In recent weeks the administration has issued new sanctions and ordered Marriott International to stop operations there. Those actions are part of a policy that comes from the typical playbook for a Republican president facing re-election: make an appeal to influential Cuban-Americans in South Florida who have supported the GOP for decades over their shared disdain for the island's leaders. Read more from Jordan Fabian, Stephen Wicary and Ben Bartenstein.
Comcast Cuts Ties to Lobbyist Schlapp: Comcast, the largest U.S. pay-TV provider, has cut its ties to conservative activist Matthew Schlapp, who has drawn criticism for remarks about Black Lives Matter. "He's no longer representing us as an outside lobbyist," a Comcast spokeswoman said yesterday by phone, without elaborating, Gerry Smith reports.
U.S. Puts Ambassador Residence in Israel for Sale: The U.S. has put its ambassador's residence outside Tel Aviv up for sale, and according to Israeli media, the asking price may be as much as $100 million. The property, located in the beachfront town of Herzliya, is being sold because the embassy was moved to Jerusalem and the ambassador established an official residence there, a U.S. Embassy spokesperson said. Read more from Alisa Odenheimer.
Stone Is Treated Like Any Other Felon, Judge Says: The judge who sentenced Roger Stone to 40 months behind bars for lying to Congress said the Republican operative who sought three delays in starting his prison term is a criminal—and should be treated like one. In a memo unsealed Monday, U.S. District Judge Amy Berman Jackson in Washington balked at the government's explanation for not challenging Stone's requests for a postponement of two more months because of Covid-19, saying it didn't add up. Read more from Erik Larson.
To contact the reporters on this story: Zachary Sherwood in Washington at zsherwood@bgov.com; Brandon Lee in Washington at blee@bgov.com
To contact the editors responsible for this story: Giuseppe Macri at gmacri@bgov.com; Loren Duggan at lduggan@bgov.com; Michaela Ross at mross@bgov.com