What to Know in Washington: Trump Stays Silent on Virus Surge
President Donald Trump has stayed silent as the U.S. coronavirus outbreak rages anew, a leadership vacuum that leaves governors and health authorities to grapple with record numbers of new cases and hospitalizations.
Trump hasn't spoken publicly in a week, as the virus surges across the country and sets records for hospitalizations and daily new cases. He'll receive a briefing today on vaccine development, but has otherwise focused his public comments this week on circulating debunked allegations of voter fraud and criticizing Fox News on Twitter.
The president could help by asking Americans directly to wear masks, encouraging Republican governors to do more to slow the spread, publicly backing health officials or even directing his staff to jointly coordinate with President-elect Joe Biden's transition team, to ensure a smooth handoff, health experts say. Trump has instead been absent. He's discouraged masks and social distancing and is blocking the start of Biden's transition while refusing to concede defeat, compounding the federal inaction.
"I find it really just unbelievable that the federal government has just thrown in the towel on this and is doing nothing," said Ashish Jha, dean of the Brown School of Public Health. He expects Biden to inherit an even more dire picture.
"We are in the worst shape that we have been in, in the pandemic. Things are awful and they are going to get much, much worse," he said.
The US recorded 145,000 cases yesterday, second only to the 152,000 a day earlier, roughly double the figures from just two weeks earlier. Deaths have been trending upward as well with nearly 2,000 on Wednesday alone.
Data show the virus surging across the entire country, in both cities and smaller towns and in virtually every state. About 65,000 Americans are currently hospitalized from the virus, according to the Covid Tracking Project, another record. The situation is likely to worsen, fueled by cold weather and Thanksgiving gatherings, public health experts say.
Maryland Gov. Larry Hogan, a Republican and a Trump critic, said the states last had a call with the White House coronavirus task force on Nov. 2. "It's one of the things I'm frustrated about," Hogan said yesterday. "The states are out here fighting probably the worst part of the crisis we've ever had to deal with and we don't really know what's going on at the federal level and we don't see any action out of Congress either."
A call with governors is scheduled for next week, according to a person familiar with the matter. Read more from Josh Wingrove and Emma Court.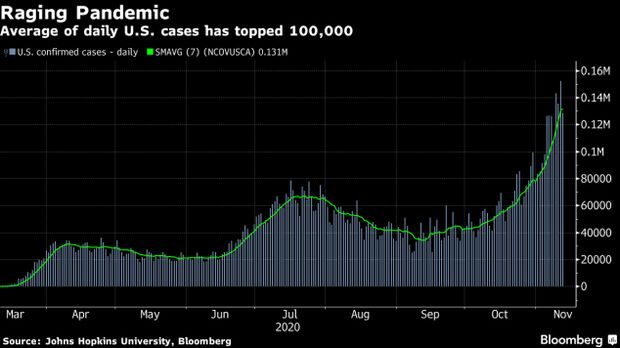 The Presidential Transition
Klain Says Biden Has Spoken to Some GOP, Not McConnell: Ron Klain, Joe Biden's chief of staff, said yesterday the president-elect has spoken with some Republican officials in recent days, but not with Senate Majority Leader Mitch McConnell (R-Ky.). "Joe Biden has spoken to Republicans, some Republican senators, Republican governors," Klain said in an interview on MSNBC, his first since Biden announced Wednesday that his longtime aide would lead his White House staff. "But he has not spoken to Senator McConnell."
Klain declined to say who Biden had talked to, suggesting that some Republicans might have wanted their names kept under wraps. "I'm not naming names because we read out the calls when we read out the calls, when both sides agree to read out the calls. And he's having private conversations with individuals," Klain said. Read more from Jennifer Epstein.
China congratulated Biden and Sen.

Kamala Harris

(D-Calif.) on winning the election, ending days of speculation about when Beijing would formally acknowledge the victory. "We have been following the reaction on this U.S. presidential election from both within the United States and from the international community," Chinese Foreign Ministry spokesman Wang Wenbin told a briefing in Beijing today. "We respect the American people's choice and extend congratulations to Mr. Biden and Ms. Harris." Read more.
U.K.-U.S. Trade Deal Dream Hits Biden Reality Check: Biden's election is serving up a rude reality check for U.K. Prime Minister Boris Johnson's desire to quickly close a trade deal with the U.S., a project that has until now depended heavily on the whims of Trump. After five rounds of formal negotiations, both sides insist they have made good progress on what would be the U.K.'s second-biggest post-Brexit trade deal, eclipsed only by the pact with the European Union that it's departing. There are even some discussions of having a further formal round of talks before Trump leaves the White House in January, according to people close to the negotiations.
Johnson indicated in a letter to Biden sent this past weekend that he wanted to make pursuing a bilateral trade deal a priority, according to one person familiar with its content. Trade was also among the issues discussed when the two men spoke by phone on Tuesday, according to a readout issued by Downing Street. Read more from Shawn Donnan and Eric Martin.
From NATO to climate change, the relationship between the U.S. and Europe is in dire need of a reboot after four years of Trump's abrasive "America First" policies. Technology—covering 5G networks, digital taxation, privacy rules, cross border data flows and more—may not be the most obvious place to start fixing a transatlantic security alliance formed before the dawn of the Internet. But as Biden heads to the White House, it's arguably the most urgent, if difficult. Read more from Marc Champion.
Biden's Treasury Department is facing a narrow window if it wants to put its stamp on an OECD-led effort to overhaul global tax rules in 2021. The OECD wants to get nearly 140 countries to agree to a plan by next summer—which won't leave much time for Treasury staffers to take on their new roles after Biden takes office Jan. 20, firm up the U.S.'s negotiating position going forward, and engage in the talks. "Even under the best of circumstances, there will likely not be senior folks in place at Treasury until April or May" of 2021, said Will Morris, deputy global tax policy leader at PwC and chairman of the tax committee at Business at the Organization for Economic Cooperation and Development, an advisory group. "There's a time crunch there." Read more from Isabel Gottlieb.
Fetal Tissue Studies See Promise in Biden: A ban on fetal tissue research could be easily undone by the incoming Biden administration, but what happens to research grants in the meantime is unclear. Biden has promised to undo a wide range of Trump's policies, primarily through executive orders. While the fetal tissue research policy didn't come via executive order, it is a Trump-era research policy ripe for change once the Biden White House installs a new health secretary. Read more from Jeannie Baumann.
Movers & Shakeups
UAW Endorses Andy Levin for Labor Secretary: The United Auto Workers yesterday endorsed Rep. Andy Levin's (D-Mich.) bid to become Biden's secretary of labor, Josh Eidelson reports. The union is one of at least three to send letters backing Levin to the president-elect's transition team, along with the Utility Workers Union of America and the Communications Workers of America. The UAW and UWUA sent letters yesterday, according to Brian Rothenberg, a UAW spokesman, and Erin Bzymek at UWUA.
Meanwhile, worker advocates are discreetly making a case for Biden to fire the National Labor Relations Board's top attorney, fed up by what they view as his attacks against organized labor. Current and former union officials began discussing before the election how to pressure Biden to oust NLRB General Counsel Peter Robb, a Trump appointee whose term expires in November 2021, seven current or former Democratic NLRB officials and union attorneys said. Most requested anonymity to divulge discussions that haven't been made public. Read more from Ian Kullgren.
Wall Street Doesn't Want Gensler or Bharara at SEC: Biden's presidential transition has barely started but already banks and investment firms are anxious about two names they fear are in the running to lead the Securities and Exchange Commission. The uneasiness started late last week, when news broke that Gary Gensler — a scourge of Wall Street when he led the Commodity Futures Trading Commission — had been tapped to examine financial regulators for the president-elect. That fueled concerns that Gensler himself might be in line for the top job at the SEC or another agency he's reviewing.
Then Washington lobbyists and industry trade groups got wind of another SEC contender who they would find potentially more alarming: Preet Bharara, Manhattan's former top federal prosecutor. Bharara loomed large over Wall Street in the decade following the 2008 financial crisis, when he aggressively investigated insider trading and contributed to SAC Capital Advisors, Steven Cohen's old hedge fund firm, shutting its doors. Read more from Ben Bain and Robert Schmidt.
Court Watchers Want Woman for Biden's Top SCOTUS Lawyer: Biden should make diversity a priority in picking his top lawyer to argue before the U.S. Supreme Court, female appellate litigators and progressive activists say. The former vice president and one-time chairman of the Senate Judiciary Committee has already pledged to nominate a woman of color to the high court bench, should the opportunity arise. The Supreme Court bar, however, is still largely made up of white males. "The Biden administration has a fantastic opportunity to demonstrate its stated commitment to diversity through its SG pick," said Jaime Santos, a partner in the appellate litigation practice at Goodwin Procter. Read more from Kimberly Strawbridge Robinson and Jordan S. Rubin.
Group Tells Firms No Jobs for Trump Lawyers: Trump administration lawyers who have "abused" their roles by aiding the president shouldn't get jobs at big firms and universities, a group of law students and new attorneys said today. Those who shouldn't get posts include former Deputy Attorney General Rod Rosenstein, Labor Secretary Eugene Scalia, former Solicitor General Noel Francisco, and former Acting Assistant Attorney General for the Civil Rights Division John Gore, according to the open letter by the People's Parity Project. "The goal of the project is to hold the political and legal architects of these policies accountable," said Sejal Singh, one of the group's co-founders. "Our goal is not to target career civil servants." Read more from Stephanie Russell-Kraft.
Contesting Votes
Trump Hits Up Donors for Court-Fight Funds: Trump is asking his small-dollar donors to help him pay for legal fees to get courts to overturn the 2020 election results. Yet there is no guarantee the money would be used for that. Since last Saturday, when the race was called for Biden, the Trump campaign has blasted out at least 30 text messages to supporters asking them to donate $250 or less to his post-election effort to challenge the results. Some of the appeals have been sent under Trump's name, while others have said "DEFEND GEORGIA" or demanded that "MICHIGAN HALT COUNTING VOTES" or simply "ELECTION DEFENSE."
But a donor would have to give $8,333 before a dollar landed in the Trump campaign's actual recount fund because of the way donations will be split among the various committees. Read more from Bill Allison and Mario Parker.
Election Was Most Secure in American History: Calling this year's election "the most secure in American history," a joint statement from the Elections Infrastructure Government Coordinating Council — including members from the Cybersecurity and Infrastructure Security Agency, the U.S. Election Assistance Commission and other state election officials — added that "there is no evidence that any voting system deleted or lost votes, changed votes, or was in any way compromised."
The officials said they had "utmost confidence in the security and integrity" of the Nov. 3 vote, as Trump continues to make unfounded claims of fraud. The statement acknowledged the "many unfounded claims and opportunities for misinformation about the process of our elections" and urged Americans to turn to election administrators and officials for accurate information. Read more from Alyza Sebenius.
Trump Battles Arizona County Over 191 Disputed Ballots: Trump's campaign failed to produce evidence to back its claims that thousands of ballots weren't counted in Arizona's biggest county because of widespread problems with machinery and poll workers, a lawyer for the Democratic National Committee told a judge. The Trump campaign and the Arizona Republican Party claimed in a lawsuit that poll workers improperly directed voters to press a green error button that resulted in potentially thousands of ballots going uncounted on Nov. 3. Evidence presented at the hearing showed 191 votes for the president were affected, a figure the campaign ultimately didn't dispute. Read more from Erik Larson.
Pennsylvania Blasts Trump's 'Slapdash' Suit: Pennsylvania's top elections official asked a federal judge to toss a lawsuit by Trump's campaign vying to discard hundreds of thousands of mail-in ballots because his poll watchers didn't get sufficient access to the ballot counting process, calling it a "slapdash" legal effort that's already failed in other courts. Secretary of State Kathy Boockvar moved to dismiss the suit filed earlier this week by Trump's campaign seeking to block Pennsylvania from certifying the election result unless it tosses out 680,000 mail-in ballots from the state's most populous counties, Erik Larson reports.
What Else to Know Today
Dems Demand ICE Stop Deporting Medical Witnesses: House Homeland Security Chair Bennie Thompson (D-Miss.) and Oversight and Reform Chairwoman Carolyn Maloney (D-N.Y.), as well as members of their committees, demanded Immigration and Customs Enforcement halt any deportations of witnesses or victims in an ongoing investigation into alleged forced hysterectomies and medical maltreatment at a facility in Georgia. The allegations are being investigated by several congressional committees and the departments of Homeland Security and Justice. Read the letter here.
Young Tests Positive for Virus: Rep. Don Young (R-Alaska) said in a tweet he has tested positive for Covid-19 and is working from home in his state. Young is 87 years old, and therefore considered high-risk for Covid-19, Max Reyes and Erik Wasson report.
TikTok Gets Reprieve on Trump's Demand for Ban: The Trump administration pulled back from its threat to ban the viral video-sharing app TikTok in the U.S., as the dispute winds its way through the court system and a proposed sale hangs in limbo. For months, the app's Chinese owner, ByteDance, has faced the prospect of a U.S. ban starting yesterday. But judges have blocked those prohibitions from going into effect. The Commerce Department said yesterday that it would comply with those court rulings for the time being, even as the government appeals.
Separately, ByteDance has challenged an order from the Treasury Department to sell TikTok or face unspecified penalties. The U.S. Court of Appeals in Washington yesterday gave ByteDance and the Trump administration Dec. 14 and Dec. 28 deadlines to file documents in the case. Read more from David Yaffe-Bellany and David McLaughlin.
Trump Blocks Investments in Some Chinese Firms: Trump signed an order prohibiting U.S. investments in Chinese firms determined to be owned or controlled by the country's military, the latest push by the White House to pressure Beijing over what the president has described as abusive business practices. China has been "increasingly exploiting" U.S. capital for "the development and modernization of its military, intelligence, and other security apparatuses," posing a threat to the U.S., says the executive order, signed yesterday. Justin Sink has more.
Obamacare Skirmishes Await Regardless of Ruling: The fight over Obamacare will likely continue even if the U.S. Supreme Court upholds the constitutionality of the country's signature health-care law for a second time. Despite its newly strengthened conservative majority, the court signaled Nov. 10 it's inclined to let the Affordable Care Act live on with or without the individual mandate that requires everyone to buy health insurance. That ruling won't stop opponents from trying to tear down the law, but it could deter another broadside legal attack, some health law scholars say. Read more from Lydia Wheeler.
Meanwhile, in the first week of Obamacare enrollment for 2021, more than 800,000 people signed up for health plans on the federal HealthCare.gov platform, the Centers for Medicare & Medicaid Services announced Thursday. Read more from Sara Hansard.
Alito Warns of Covid-Era Religious Rights Infringements: Justice Samuel Alito said the Covid-19 pandemic is exacerbating an assault on religious and speech rights around the U.S. in a pointed speech to the Federalist Society that addressed issues before the court. The 70-year-old justice gave a full-throated defense last night of what he characterized as "second-tier" rights, saying that the pandemic has "highlighted disturbing trends that were already present before the virus struck." Read more from Kimberly Strawbridge Robinson and Jordan S. Rubin.
With assistance from Brandon Lee
To contact the reporter on this story: Zachary Sherwood in Washington at zsherwood@bgov.com
To contact the editors responsible for this story: Giuseppe Macri at gmacri@bgov.com; Loren Duggan at lduggan@bgov.com; Michaela Ross at mross@bgov.com