What to Know in Washington: Trump Set to Tout Economy in Speech
Bloomberg Government subscribers get the stories like this first. Act now and gain unlimited access to everything you need to know. Learn more.
Donald Trump gets his chance today to make his best case for re-election to a nation still reeling from the coronavirus pandemic, with a speech to close the Republican National Convention seeking both to reverse perceptions of his handling of the crisis and paint him as the best steward of an economic recovery.
Trump will accept the Republican nomination for president from the South Lawn of the White House, an accommodation itself forced on him by the pandemic. His remarks will end a four-day convention that's featured repeated denunciations of Democrats as radicals who seek to exploit the virus for political gain and snuff out the fledgling economic recovery.
The speech will serve in part as an answer to Democratic nominee Joe Biden's searing indictment of the Trump administration's response to the pandemic in his own nomination acceptance speech last week. And the president will look to position himself — as he did during his 2016 convention — as the lone person able to address the nation's ills.
But Trump also wants voters thinking of issues beyond the 179,000 Americans killed by the virus so far, and is likely to echo the law-and-order nationalism offered by Vice President Mike Pence last night night during his acceptance speech at Fort McHenry in Baltimore.
Pence's remarks came as the nation was again roiled by racial unrest, this time by the case of Jacob Blake, a Black man in Kenosha, Wis., who was repeatedly shot in the back by police. Professional basketball and baseball players refused to play in protest of the episode; and two people were killed in a Black Lives Matter protest over the Blake shooting and an Illinois teenager whose social media accounts carried pro-Trump and pro-police imagery was arrested in that crime.
Attention was further diverted by the impending landfall of Hurricane Laura, a vicious Category 4 storm threatening the U.S. Gulf Coast. The president's campaign aides said he planned to proceed with the evening's political festivities while continuing to monitor the path of the dangerous storm.
And while Trump is likely to address both developments, the pandemic remains a central challenge for the president as he tries to resuscitate a bid for re-election that once revolved around the strength of the economy.
He is expected to argue that his administration should be applauded for increasing supplies of protective equipment and coronavirus tests, both of which were in perilously short supply for months after the U.S. was caught off-guard by a domestic outbreak that rapidly blossomed into the largest in the world.
He'll boast of his administration's push to manufacture ventilators, the supply of which now outpaces U.S. demand. And he has said he'll tout the development and medical therapies, even as critics note they remain they remain in development.
"In our fight against the virus, we've launched this mobilization, and it's the biggest since World War Two. Biggest and most successful, too," Trump told supporters Monday in North Carolina. "You'll be hearing that on Thursday night. I'm going to be talking about it because what we've done is incredible." Read more from Justin Sink.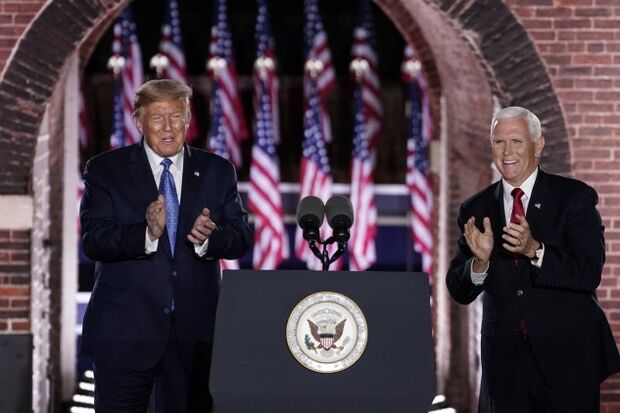 Pence Speaks With Live Audience: Very few people in last night's convention audience of about 100 wore masks, and some of them said they had been screened for fever but had not been tested for the coronavirus infection before the event. Trump and Pence greeted members of the audience after the speech and posed for pictures. Read more from Mark Niquette and Jordan Fabian.
Sen. Joni Ernst (R-Iowa) promoted Trump as the best candidate to help struggling Iowa farmers. Rep. Elise Stefanik (R-N.Y.) said the effort to remove Trump from office last year was "an attack on you — your voice and your vote." Football star turned Utah congressional candidate Burgess Owens (R), who also has ties to the QAnon movement, said Trump has delivered for Black Americans. Rep. Lee Zeldin (R-N.Y.) praised Trump's response to the coronavirus. Read a recap of night No. 3 at the RNC from Bloomberg News.
Afghan negotiators, assisted by American officials, will start peace negotiations between the Taliban and the Afghan government this week, Keith Kellogg, national security adviser to Pence, said during Republican convention, Kasia Klimasinska reports.
Separately, House Homeland Security Chairman Bennie Thompson (D-Miss.) asked the Office of Special Counsel to investigate acting Homeland Security Secretary Chad Wolf's appearance performing a naturalization ceremony in the Republican National Convention Tuesday. "This is an unprecedented politicization of the naturalization ceremony," Thompson said in a letter.
What to Watch Today
Republican National Convention: People familiar with campaign planning denied reports that Trump's nomination acceptance speech might be canceled or postponed because of Hurricane Laura. White House counselor Kellyanne Conway yesterday said that "we adapt to events" and "as of right now, the president plans to speak tomorrow, Mark Niquette and Jordan Fabian report.
Congress: The House and Senate are not in session today, and both chambers are scheduled to hold pro forma sessions tomorrow.
More Elections, Politics & Protests
U.S. Sees No Foreign Meddling in Mail Voting: U.S. officials said they see little evidence of coordinated voter fraud or efforts by foreign adversaries to meddle with mail-in balloting ahead of November's elections even as Trump repeatedly warns that the vote is at risk. In a briefing yesterday, intelligence officials said it would be difficult for adversaries to change vote counts in the U.S. But Moscow and others continue to attempt to divide Americans with online campaigns, FBI and Homeland Security officials said. Read more from Alyza Sebenius.
U.S. agencies will start coordinating intensively with state and local partners 45 days before the election, according to a Cybersecurity and Infrastructure Security Agency official. The CISA will have both a classified and unclassified operations center that will include federal partners, National Association of Secretaries of State, state election directors, and private sector vendors like voting system providers, Shaun Courtney reports.
Minneapolis Deploys Guard, NBA Walkout Spreads: Protests flared in several U.S. cities last night, days after a Black man, Jacob Blake, was shot seven times in the back by police in Kenosha. A 17-year-old was arrested yesterday after two people were fatally shot in that same city during Tuesday's violent clashes between protesters, armed counter-protesters and police.
In Minneapolis, where George Floyd was killed by police earlier this year, Minnesota Gov. Tim Walz declared a peacetime emergency and mobilized the state's National Guard. The city had declared a curfew earlier in the evening following unrest and damage to business storefronts downtown.
Professional athletes led by the NBA boycotted their games yesterday amid players' ire over Blake's shooting and protesters' deaths and inaction on racial justice issues generally. The growing protests threaten to disrupt sports leagues' efforts to play their coronavirus-disrupted seasons. The NBA will hold a special Board of Governors meeting this morning, ESPN's Adrian Wojnarowski reported. Major League Baseball signaled the league would continue playing, scheduling make-up games for those postponed last night. Derek Wallbank has more.
Meanwhile, a group of Black Lives Matter protesters from Portland sued Trump over what they say was an indiscriminate use of violent tactics against lawful demonstrators, the third such lawsuit in recent weeks. The protesters, represented by the American Civil Liberties Union, said more than a hundred heavily armed federal law enforcement agents shot them in the head and body with impact munition and pepper balls or sprayed them in the face with with pepper spray. Read more from Edvard Pettersson.
GOP's Curtis Says Party Needs Version of Green New Deal: Republicans should come up with a conservative version of the Green New Deal and plant "a stake in the ground" on climate change, said Rep. John Curtis (R-Utah) last night during a Facebook Live chat with a conservative nonprofit environmental group focused on mobilizing young voters, the American Conservation Coalition.
A new Morning Consult poll, conducted on behalf of Environmental Defense Fund Action this month, found that more than half of Republican voters surveyed believed the U.S. should prioritize legislation to clean energy production (62%) and reduce greenhouse gas emissions (56%). Still, the RNC is using its policy platform from 2016 for 2020, which does not include ideas on tackling climate change, Kellie Lunney reports.
Kanye West Sues After Not Making Ballot: Rap legend Kanye West is suing to overturn a decision to keep him off the Nov. 3 ballot in Ohio as an independent presidential candidate. West was disqualified because details and a signature on a nominating petition and statement of candidacy for the rapper failed to match the paperwork used to gather needed voter signatures, Ohio Secretary of State Frank LaRose said. Read more from Ryan Teague Beckwith.
The Coronavirus Pandemic
Fauci Worried by New CDC Testing Guidelines: The nation's senior infectious disease expert, Anthony Fauci, told CNN yesterday he's concerned that the new CDC guidelines on testing will make people believe "that asymptomatic spread is not of great concern, when in fact it is." Fauci said he was not participating in the Aug. 20 Coronavirus Task force discussion about new testing guidelines because he was undergoing a surgery. Brett Giroir, a senior Trump administration official overseeing Covid testing, said the testing talks had involved Fauci, CNN reports.
Blue States Targeted by DOJ Call Action Political: The Trump administration, in a request for data to decide whether to open investigations, said orders by four states led by Democratic governors requiring nursing homes to admit Covid-19 patients may have aided the virus to spread, killing thousands of older people. "This is nothing more than a transparent politicization of the Department of Justice in the middle of the Republican National Convention," Michigan Gov. Gretchen Whitmer and New York Gov. Andrew Cuomo said in a joint statement. Read more from Justin Blum.
The CDC's and DOJ's moves plunged the Trump administration deeper into a partisan divide over the federal Covid-19 response, stoking the debate over the role of politics in public health with a change to testing policy and an inquiry into deaths in states led by Democrats. The moves, combined, could artificially lower the confirmed caseload and shift blame for deaths away from the administration — politically benefiting the president. Read more from Emma Court and Josh Wingrove.
Covid Gag Rules Leave Everyone in the Dark: In the past few months, U.S. businesses have been on a silencing spree. Hundreds of U.S. employers across a wide range of industries have told workers not to share information about Covid-19 cases or even raise concerns about the virus, or have retaliated against workers for doing those things, according to workplace complaints filed with the NLRB and the Occupational Safety and Health Administration.
Workers at Amazon, Cargill, McDonald's, and Target say they were told to keep Covid cases quiet. The same sort of gagging has been alleged in OSHA complaints against Smithfield Foods, Urban Outfitters, and General Electric. In an email viewed by Bloomberg Businessweek, Delta Air Lines told its 25,000 flight attendants to "please refrain from notifying other crew members on your own" about any Covid symptoms or diagnoses. Read more from Josh Eidelson.
Idaho businesses whose failure to follow Covid-19 mitigation guidelines results in a person being exposed to the virus would not be held liable under a bill the state Legislature passed last night unless a court found acts or omissions to be intentional, willful, or reckless. It now heads to Gov. Brad Little (R) for his consideration. Read more from Paul Shukovsky.
Abbott Cleared for 15-Minute Test: A 15-minute coronavirus test from Abbott Laboratories that will be priced at just $5 won emergency authorization for use in the U.S., a breakthrough that could ease the bottleneck that's crimped much of the nation's testing capacity. The product, dubbed BinaxNOW, works without relying on laboratory equipment at a time when labs can take up to two weeks to produce results. It uses a nasal swab and a small reactive card, and it can be administered by a range of health workers, including pharmacists, at nearly any location. Read more.
California is working with PerkinElmer to build a laboratory testing site with a full supply chain that will enable the state to add as many as 150,000 tests per day, more than doubling its current capacity, Gov. Gavin Newsom (D) said. The agreement comes with a guarantee that tests will have a 24- to 48-hour turnaround time, helping California vastly improve its processing from the current average turnaround of five to seven days, he said. Read more.
Hospital Revenues Remains Top Industry Concern: Lost hospital revenue due to the pandemic will have the greatest impact on the health-care industry in the coming year, according to a survey of industry officials. Nearly 37% of over 2,300 members of the pharmaceutical, medical device, and other health-care sectors cited lost revenue due to delayed or canceled medical procedures as their main worry for the year ahead, industry analytics firm Definitive Healthcare reported. Read more from Sara Hansard.
Health Firms Swap Data to Avert Supply Shortages: Companies at every level in the health-care supply chain are sharing more data, modifying contracts, and investing in new technologies to prevent future shortages of drugs, masks, and other gear that have become scarce through the pandemic. Personal protective equipment makers are disclosing how much stock they have in a push to boost transparency. Hospitals are working to establish alternative products for when the doctor's first choice isn't available, and distributors are using real-time data to ensure crucial supplies get to the neediest populations. Shira Stein has more.
Trump Virus Funds for Private Schools Blocked Again: The Trump administration's move to steer more pandemic relief money to private schools from a $13 billion education fund was blocked by a second federal judge. The order by a San Francisco judge follows a preliminary injunction issued last week by a Seattle judge. Read more from Malathi Nayak and Peter Blumberg.
What Else to Know
Cicilline Vows to Loosen Big Tech's Grip: Rep. David Cicilline (D-R.I.), who's leading a high-profile House investigation into technology giants including Amazon and Facebook, is set to offer recommendations as soon as next month that will target the power of digital behemoths and could lead to the overhaul of antitrust laws. Cicilline, chairman of the House Judiciary Antitrust Subcommittee, said in an interview yesterday that the inquiry has confirmed that Google, Apple, Amazon, and Facebook are abusing their market power. Read more from David McLaughlin.
Cicilline yesterday in the interview also rebuked Trump for commenting on the potential acquisition of the domestic operations of the popular TikTok video app by a U.S. company, but at the same time said such a deal could protect American interests. Read more from Naomi Nix.
Meanwhile, government officials building an antitrust case against Google are investigating whether the company engages in tying, the practice of bundling different products together in a way that can block competitors and give the seller an unfair advantage. In recent months, the Justice Department and state attorneys general have asked executives at rival firms about the pricing and operations of Google's Network division, according to people familiar with the discussions. Read more from Gerrit De Vynck and Mark Bergen.
Laura Batters Louisiana With Extreme Winds: Hurricane Laura raked across Louisiana early today, becoming one of the most powerful storms ever to hit the state with a "catastrophic storm surge," flash floods and devastating winds that could inflict more than $15 billion in insured losses. The storm came ashore at 1 a.m. local time near Cameron, Louisiana, with maximum winds of 150 miles per hour, matching a record set in 1856. Read more from Bloomberg News.
In the hours before Laura reached the coast, emergency personneltook up positions in Texas and Louisiana and readied half a million meals and 800,000 liters of water. It's the role of the Federal Emergency Management Agency to coordinate the immediate response to natural disasters. But thoughscientists have warned of increasingly extreme weather due to climate change, preparation hasn't been FEMA's top spending priority.
An analysis of preparedness grants disbursed by FEMA shows the agency spends far more on counter-terror than natural disasters. In 2019, for example, the U.S. Government Accountability Office found more than $1 billion in FEMA grants assigned to counter-terror preparation and only $315 million in readiness for natural disasters. Read more from Leslie Kaufman.
TikTok Chief Quits as Trump Plans Ban: TikTok CEO Kevin Mayer resigned just months after taking the helm of the viral video phenom as it's come under fire from the Trump administration. Read more from Kurt Wagner.
SEC Greenlights NYSE Direct Listings: The U.S. Securities and Exchange Commission approved the New York Stock Exchange's proposal to allow companies to sell shares to raise capital in a direct listing, according to a decision yesterday. Under the new rule, the offering, called a primary direct floor listing, will provide an auction price range. Unlike a traditional IPO, the shares won't be underwritten by banks. Read more from Crystal Tse.
Farm-Export Forecasts Cast Doubts Over Trump's China Deal: Trump promised American farmers bountiful sales of agricultural commodities to China for two years. That's unlikely to happen, if you believe the U.S. Department of Agriculture's forecasts. Exports of farm goods to China are expected at only $18.5 billion in the 2021 fiscal year that starts in October, and at $14 billion in the prior 12 months, the USDA said in a report yesterday. Read more from Kim Chipman and Isis Almeida.
China's Missiles Warn U.S. Aircraft Carriers to Stay Away: China's latest volley of missile launches into the world's most hotly contested body of water served as a warning to two key U.S. targets: aircraft carriers and regional bases. The missiles launched into the South China Sea on Wednesday included the DF-21D and DF-26B, the South China Morning Post reported, citing a person close to the People's Liberation Army. Those weapons are central to China's strategy of deterring any military action off its eastern coast by threatening to destroy the major sources of U.S. power projection in the region. Read more from Bloomberg News.
Pompeo Blasts Bank for Siding with China: HSBC has been accused by U.S. Secretary of State Michael Pompeo of aiding the Chinese government's clampdown on Hong Kong. Pompeo cited reports that the British bank had stopped executives of Hong Kong-based publisher Next Media from accessing their credit cards and personal bank accounts following the arrest of the company's founder, Jimmy Lai. In a written statement, Pompeo also said HSBC continued to provide banking services to people sanctioned by the U.S. Read more from Harry Wilson.
Trump Says Concerned on Greece-Turkey Tension: Trump spoke with Turkey's Recep Tayyip Erdogan in a phone call yesterday and expressed concern about "increased tension between NATO allies Greece and Turkey in the Eastern Mediterranean," according to a White House statement, Derek Wallbank and Jordan Fabian report.
With assistance from Shaun Courtney and Kellie Lunney
To contact the reporters on this story: Michaela Ross in Washington at mross@bgov.com; Brandon Lee in Washington at blee@bgov.com
To contact the editors responsible for this story: Giuseppe Macri at gmacri@bgov.com; Zachary Sherwood at zsherwood@bgov.com
Stay informed with more news like this – from the largest team of reporters on Capitol Hill – subscribe to Bloomberg Government today. Learn more.