What to Know in Washington: Trump Scandal Fight Revived
Scandals that rocked Donald Trump's first years as president came roaring back on two fronts yesterday, as the Justice Department suddenly abandoned its case against his first national security adviser and House Democrats released thousands of pages of transcripts on whether the Trump campaign conspired with Russia in the 2016 election.
The move by the Justice Department to vacate the prosecution of Michael Flynn for lying to FBI agents came after weeks of demands by Trump and his allies to redress what the president often calls a Democratic "hoax" and a "witch hunt" intended to tar his administration.
Trump cheered the reversal on Flynn, which provoked outrage from Democrats, who again accused Attorney General William Barr of doing Trump's partisan bidding and renewed demands that he resign.
The transcript release closed out a lengthy saga over a series of interviews with Trump advisers and former Obama administration officials.
The papers reveal Trump confidants resisting lawmakers repeatedly, declining to answer questions and saying they didn't recall specific moments. Ultimately, the probe ended with each party releasing competing reports, with Republicans clearing Trump and Democrats accusing his 2016 campaign of malfeasance.
As the U.S. now grapples with an economic and a health crisis brought on by the coronavirus pandemic, the Flynn case and the Mueller inquiry seem almost like ancient history. But with the 2020 election just months away, those events provide ammunition both for the president's most ardent supporters and his bitterest opponents.
House Intelligence Chairman Adam Schiff (D-Calif.) said the transcripts showed Trump "invited illicit Russian help, made full use of that help, and then lied and obstructed the investigations in order to cover up this misconduct."
Republicans, however, have been trying to build a case that the entire Russia investigation was built on a pretext by Obama-era officials. Rep. Jim Jordan (R-Ohio), the top Republican on the House Judiciary Committee, noted that the transcripts show James Clapper, Obama's director of national intelligence, testified he "never saw any direct empirical evidence" of plotting with the Russians even though there were concerns about "anecdotal evidence." "But Adam Schiff and the Democrats put us through three years of the Mueller probe anyways?" he tweeted. "Ridiculous." Read more from Chris Strohm and Billy House.
Happening on the Hill
FBI Backlash Boosts Odds Surveillance Bill Is Altered: Anger over the FBI's mishandling of applications to eavesdrop on a former Trump campaign aide boosts the odds that the Senate will vote to expand judicial oversight of secret surveillance to catch spies and terrorists, privacy advocates say. Republicans are disturbed and angry over an inspector general's Senate testimony that the FBI misled a secret court to get warrants for continued surveillance of Carter Page for its investigation of possible collusion between Russia and Trump's 2016 campaign. It also spurred many Democrats to seek tighter controls over FBI eavesdropping.
Senate Majority Leader Mitch McConnell (R-Ky.) called yesterday for passage — without amendments — next week of House-passed legislation that would restore legal authorities that lapsed March 15 for two different types of surveillance and the collection of relevant business records. In a floor speech, he urged the rejection of three amendments that are guaranteed votes under a procedural deal because they'd "jeopardize tools that keep America safe.'"
But increased skepticism about the Foreign Intelligence Surveillance Act, or FISA, may still propel the Senate to adopt one amendment that makes modest changes to the legislation, privacy advocates say. Read more from James Rowley.
Records Sought of Trump Org. Seeking Foreign Aid: Democrats are seeking information from the Trump Organization about its requests for emergency pandemic relief from foreign governments. The House Oversight Committee is requesting documents and communications from Trump's company pertaining to "any loans or other funds from any domestic or foreign government entity, including the British government, referring or relating to the coronavirus crisis," according to a letter dated yesterday and reviewed by Bloomberg News. Read more from Caleb Melby and Stephanie Baker.
Democrats Said Pushing for $1B or More in Broadband Subsidies: House Democrats are pushing to include more than $1 billion in the next economic relief package to help pay low-income Americans' broadband bills, five telecom industry sources familiar with the effort say. Democrats are said to be considering whether to distribute the aid through the FCC's Lifeline program, which provides monthly discounts of $9.25 for about 7 million low-income subscribers, or through a new broadband subsidy program, according to the sources, who spoke on condition of anonymity to describe the effort. Read more from Jon Reid.
DOD Management Officer Job Said 'Not Working Out,': A newly completed review confirms that the Pentagon chief management officer position created two years ago to overhaul department spending is "not working out," House Armed Services ranking member Mac Thornberry (R-Texas) said. The Defense Business Board approved findings critical of the chief management officer this week in the review ordered by Congress and it recommended changes to the post, Thornberry said, Travis J. Tritten and Roxana Tiron report.
Economic Actions & Industry Pains
Worst Postwar U.S. Jobs Report Is On Tap: Today's U.S. jobs report is forecast to show employers slashed about 22 million jobs in April, nearly erasing a decade of job gains in a single month as the country shut down to control the spread of the coronavirus. That's 27 times the worst monthly decline during the 2007-2009 recession and about 11 times the previous record decline in September 1945, when the nation demobilized with the end of World War II. "This might be the worst macroeconomic data report in U.S. history," said James Sweeney, chief economist at Credit Suisse Group.
The unemployment rate — which was at a 50-year low just a few months ago — may surge to 16%, the highest level since the Great Depression, according to Labor Department figures back to the 1940s and National Bureau of Economic Research data before that. With millions more Americans filing for unemployment benefits in recent weeks, the jobless rate is likely to keep climbing in May. Read more from Reade Pickert.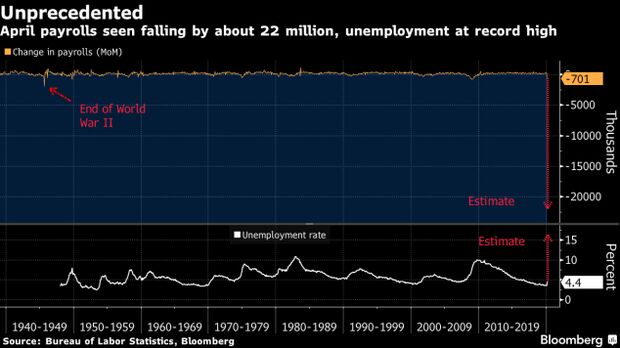 SBA Treated as a Washington Backwater Until Pandemic: The only person who didn't speak at a White House briefing on a massive federal effort to aid mom-and-pop firms crushed by the coronavirus pandemic was the woman actually running the initiative, Jovita Carranza. Trump, his daughter Ivanka and Treasury Secretary Steven Mnuchin all lauded the program despite its rocky start at the beginning of April. Carranza, who was charged with processing hundreds of billions of dollars in loans only months into her new job as the head of the Small Business Administration, smiled approvingly, but was never asked to speak.
Carranza's sideline role at the April 28 event was emblematic of the challenges facing her agency, which has long been treated as a backwater in Washington. Despite its checkered track record in disaster response, the SBA is now responsible for a $659 billion program to rescue the 30 million small firms that make up nearly half the U.S. economy. Naomi Nix and Mark Niquette take a closer look at the agency's role in the pandemic.
Trade Bailout Overpaid Farmers, Favored Cotton: The Trump administration's $28 billion trade bailout largely overpaid farmers for their losses, with southern cotton farmers receiving the most outsized gains, according to researchers at Kansas State University. The payout to cotton farmers in the bailout's second round was 33 times the estimated financial impact of tariff disputes with China and other nations, according to the study, published this week in an academic journal. The U.S. Department of Agriculture didn't immediately provide a comment on the findings. A spokeswoman for the National Cotton Council said its estimates indicate growers were under-compensated for trade losses. Read more from Mike Dorning.
Research, Treatment & Coordination
HHS Testing Official Joins WHO: A senior HHS official who's been coordinating coronavirus testing for the federal government was confirmed by the Senate to represent the U.S. on the board of the World Health Organization. Brett Giroir, HHS assistant secretary for health, was approved by a voice vote yesterday to join the 34-member executive board of the WHO. The move comes after Trump ordered a 60-day freeze of U.S. funding for the organization in April. Giroir will continue at his HHS post, a spokesperson for his office confirmed when he was nominated. Read more from Shira Stein.
Shortages Seen for Needles, Syringes for Vaccine: Health-care providers, the Trump administration, and manufacturers like Becton Dickinson are preparing for the next coronavirus-era supply shortage: needles and syringes essential to delivering vaccines. The Department of Health and Human Services has signed contracts to get an additional 320 million needles and syringes, and companies are ramping up their production. The moves come as officials foresee a surging demand for needles and syringes with more people seeking a flu shot this year and governments trying to secure inventory for a possible coronavirus vaccine. Read more from Shira Stein.
Trump Goes All In on Vaccine: When the Soviet Union put the first man into space in 1961, the shock to America's self-confidence was electric. If China should be first to produce a successful vaccine against the coronavirus, U.S. prestige is likely to suffer a similar blow. Trump is putting everything he's got into a research effort dubbed Operation Warp Speed, which pulls together pharmaceutical companies, government agencies and the military. So is China, which has a head start at a time the two countries are already engaged in a fight for dominance impacting everything from trade to the roll-out of 5G communications networks. Read more from Marc Champion.
Globally, most vaccine programs are in their early stages, meaning the gold standard of data, clinical trials with "blinded" placebo and therapeutic groups, is still a ways off. In normal times, the process to approve a drug or vaccine is slow and painstaking. It can be accelerated but at the risk of incurring unforeseen harm. When rules are loosened in the desire to get a vaccine to market quickly, it's important to cast a skeptical eye on too-good-to-be-true data. It's also possible that more than one usable vaccine could emerge. In the polio epidemic of the 1950s, scientists developed two different kinds, first an injection and later oral drops, to help eradicate the disease. Cristin Flanagan, Riley Griffin, Robert Langreth and John Lauerman look at the most promising candidates for a vaccine.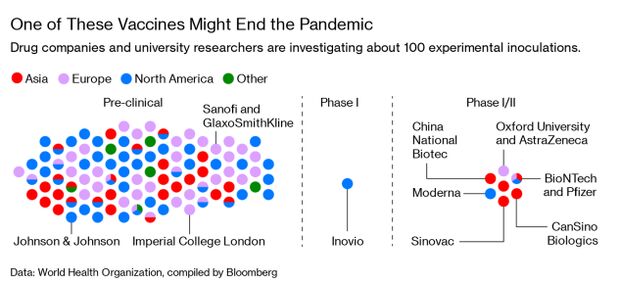 Covid-19 Came From Bats, Can Spread Among Cats: A World Health Organization scientist said Covid-19 comes from bats and can spread among cats amid an international debate about the virus's origin. The novel coronavirus comes from a group of viruses that originate or spread in bats, and it's still unclear what animal may have transmitted the disease to humans, Peter Ben Embarek, a WHO expert in animal diseases that jump to humans, said today in a briefing with reporters. Read more from Janice Kew and John Lauerman.
Children Suspected of Spreading Virus: Children with Covid-19 threaten recovery from the pandemic — sparking increased scrutiny of their cases from scientists and policy-makers seeking clues about the new coronavirus' spread and virulence. While infections of those under 18 compose a small portion of the worldwide total, they number in the thousands, and in recent days have become the subject of a National Institutes of Health study. There have also been reports in the U.S., U.K. and Europe of a mysterious condition among children. Read more from Vernon Silver and Marco Bertacche.
What Else to Know Today
China and U.S. Agree to Cooperate on Trade Deal: The top trade negotiators for China and the U.S. pledged to create favorable conditions for implementation of the bilateral trade deal and cooperate on the economy and public health. Read more.
Barr Vows to Push Overturning of Obamacare: Attorney General Barr said the Justice Department would continue its efforts to invalidate Obamacare even as millions of Americans have lost their health insurance during the coronavirus pandemic, Chris Strohm and John Harney report.
Kansas Solicitor General Tapped for Federal Court: Kansas Solicitor General Toby Crouse, who argued and won two cases for his state at the U.S. Supreme Court this term, is Trump's latest pick for a federal trial court seat in the state. Read more on the pick from Madison Alder.
Amazon Files Second JEDI Challenge: Amazon filed a second challenge this week against the Pentagon's decision to choose rival Microsoft for a cloud contract worth as much as $10 billion. Naomi Nix has more.
U.S. Pulls Some Patriot Batteries from Mideast: The U.S. has removed two of its four Patriot antimissile batteries from Saudi Arabia and another two in the Mideast partly because tensions with Iran have eased from a peak earlier this year, according to a U.S. official, Tony Capaccio and Glen Carey report.
U.S. Says Huawei Shouldn't Share Evidence With CFO: Huawei Technologies Chief Financial Officer Meng Wanzhou shouldn't be permitted to see "sensitive" evidence the government has collected, lawyers for the U.S. said, arguing that she's a fugitive and not entitled to the material, Patricia Hurtado reports.
To contact the reporters on this story: Zachary Sherwood in Washington at zsherwood@bgov.com; Brandon Lee in Washington at blee@bgov.com
To contact the editors responsible for this story: Giuseppe Macri at gmacri@bgov.com; Loren Duggan at lduggan@bgov.com