What to Know in Washington: Trump Says He's in 'Good Position'
Trump said he's in a "very good position" in advance of an impeachment trial in the Republican-led Senate, and that Majority Leader Mitch McConnell (R-Ky.) can do "whatever he wants."
"We have the majority," Trump told reporters on Tuesday at his Mar-a-Lago resort in Palm Beach, Fla., Jordan Fabian reports. "And it's up to Mitch McConnell." He praised McConnell as a "very good guy and a very fair guy."
The Democratic-controlled House adopted two articles of impeachment against Trump last Wednesday following an investigation into allegations that the president withheld military aid from Ukraine in an effort to extract politically damaging information about a domestic political rival, former Vice President Joe Biden.
Speaker Nancy Pelosi (D-Calif.) delayed sending the articles to the Senate in an attempt to pressure McConnell, who wants a quick trial, to allow witnesses. Many House Democrats fear the Senate will swiftly move to acquit the president without examining evidence. Trump's acquittal in the Republican-majority Senate is all but assured.
McConnell, Pelosi and Senate Minority Leader Chuck Schumer (D-N.Y.) have been wrangling over the contours of a Senate trial, its length and whether additional witnesses will be called.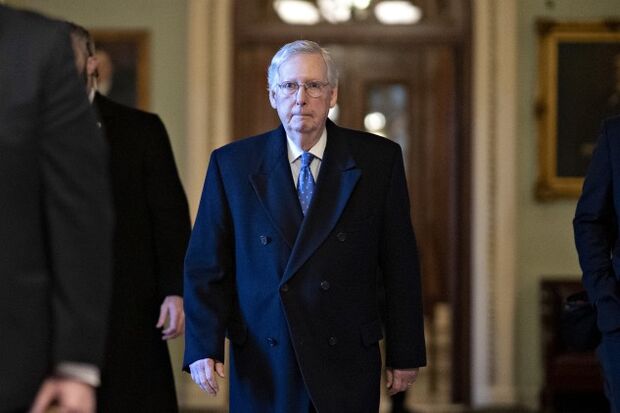 Murkowski Weighs In: Sen. Lisa Murkowski (R-Alaska) expressed concerns with McConnell's coordination with Trump, in an Anchorage's NBC affiliate KTUU, the New York Times reported yesterday. Murkowski said she was "disturbed" by comments by McConnell that indicated he intends to work in concert with the White House counsel in planning the impeachment trial.
"In fairness, when I heard that I was disturbed," she said. "To me it means that we have to take that step back from being hand-in-glove with the defense, and so I heard what leader McConnell had said, I happened to think that that has further confused the process."
Trump and Dershowitz Chat at Mar-a-Lago: Trump spoke briefly on Tuesday night with Alan Dershowitz amid speculation the veteran trial lawyer and longtime Harvard law professor could join his legal team, Fabian reports. The two men were spotted by reporters chatting at a Christmas Eve dinner at the resort. The White House did not comment on the conversation.
Dershowitz was an outspoken defender of the president during the investigation of Special Counsel Robert Mueller, and supported him during the impeachment proceedings in the House. The New York Times reported this month that Trump's lawyers were considering adding Dershowitz to their team for the Senate impeachment trial, citing unnamed sources.
Trump Impeachment Trial Finds Scant Precedent in History: Bill Clinton's impeachment two decades ago set the modern template for Trump's upcoming trial in the Senate. But the process may be even more contentious this time given sharper tribal divisions in Washington. Mike Dorning takes a look back at the differences in atmosphere from the1999 trial and today.
What Else to Know
Trump on North Korea: Trump said that if North Korea tests intercontinental ballistic missiles, the U.S. will "deal with it."
"I handle them as they come along," Trump Tuesday told reporters at Mar-a-Lago. North Korea had long suggested it would use the end-of-year holiday season to deliver a "Christmas gift" to the U.S. after demanding Washington make additional concessions as part of long-stalled nuclear talks between the two sides. Earlier this year, Kim Jong Un's regime set a Dec. 31 deadline for a breakthrough that has long seemed elusive. Read more.
Turkey to Defy U.S., Keep Russian Missiles: Turkey dug into its refusal to abandon its new Russian missile defense, saying it won't bow to threat of crippling U.S. sanctions or trade the S-400s for an American system. "They said they would not sell Patriots unless we get rid of the S-400s. It is out of question for us to accept such a precondition," Ibrahim Kalin, a spokesman for President Recep Tayyip Erdogan, said late Tuesday after a cabinet meeting.
Turkey, which has NATO's second-largest military, denies it is walking away from the alliance, but its row with the U.S. over its purchase of the Russian S-400s is escalating. Congress is pushing for sanctions against Ankara over the objection of Trump, who says such a move could drive Turkey closer to Moscow. Read more from Selcan Hacaoglu.
U.S. Buckles in South Korea Troop-Funding Talks: Days before a troop-funding deal was set to expire, the U.S. has dropped its demand that South Korea pay five times more to host its military personnel after receiving assurances Seoul would purchase more American weapons, a newspaper report said. The Trump administration also likely eased up after South Korea indicated it would step up its presence in the Strait of Hormuz, helping U.S. efforts to protect oil flows in the region, South Korea's Chosun Ilbo newspaper reported today, citing an unidentified diplomatic source. The increase now may be about 10% to 20% above the current level of nearly $1 billion, it said. Read more from Jihye Lee.
Bloomberg Campaign Cuts Ties With Firm That Used Prison Labor: Former New York City Mayor Michael Bloomberg said his presidential campaign has stopped working with a firm that provided phone bank services using prison labor. The Intercept reported Tuesday that a third party working for a subcontractor has at least one call center operated out of a state prison in Oklahoma where incarcerated people made calls on behalf of Bloomberg's campaign. Bloomberg said his campaign immediately ended the arrangement after learning about it from a reporter.
"We do not support this practice and we are making sure our vendors more properly vet their subcontractors moving forward," Bloomberg said in a statement he posted on Twitter. Read more from Mark Niquette. Bloomberg is the majority owner of Bloomberg Government's parent company.
Former Trump Adviser Says She Was Fired for Getting Pregnant: A former Trump campaign adviser is claiming in a sex-discrimination lawsuit that she was fired and denied a White House job after becoming pregnant following an affair with her supervisor. Arlene "A.J." Delgado, a lawyer and conservative commentator, sued the Trump campaign Monday in federal court in Manhattan, claiming she was ostracized after revealing in December 2016 the pregnancy that resulted from an affair with Jason Miller, a senior communications strategist who was also her boss. Read more from Chris Dolmetsch.
Boeing Discloses 'Very Disturbing' Messages on Max: A batch of messages between Boeing employees on the development of the 737 Max paints a "very disturbing picture" of concerns about the plane, according to an aide to a House committee. The documents were turned over to the Federal Aviation Administration on Monday, the agency said in a statement. The disclosure came the same day that Boeing ousted its chief executive officer. At least some of them were written by the same Boeing pilot whose 2016 messages were released in October and were the subject of sharp questioning by lawmakers, according to a person familiar with their contents who wasn't authorized to discuss them. Read more from Alan Levin.
To contact the reporter on this story: Zachary Sherwood in Washington at zsherwood@bgov.com
To contact the editors responsible for this story: Brandon Lee at blee@bgov.com; Loren Duggan at lduggan@bgov.com