What to Know in Washington: Trump Returns, Trailed by Doubts
President Donald Trump and his allies looked to capitalize on his discharge from the hospital yesterday, painting his return to the White House as a triumphant metaphor for his strength and vigor a month before Election Day.
The president highlighted a supporter saying his return to the campaign trail would make him an "invincible hero." A campaign spokesman chided Joe Biden, his Democratic opponent, for lacking the experience of contracting and beating the coronavirus, while lawmakers tweeted Internet memes about Trump defeating the virus in battle.
Trump, at the same time, pointed to his own experience to implore Americans not to fear the virus, shortly before a staged return to the White House that saw him defiantly remove his mask and pose for photos as he entered the residence.
The president's behavior may excite his strongest supporters, but the risk for him is that it will cement broader perceptions he's been too cavalier about the spread of the virus and the threat it poses. That was underscored yesterday when three more White House aides, including Press Secretary Kayleigh McEnany, were reported to have been infected. And an ABC News/Ipsos poll conducted after Trump's diagnosis found that 72% of voters thought he had not taken the threat of contracting the disease seriously enough.
"Don't let it dominate you," Trump said in a video posted to Twitter after his return. "Don't be afraid of it. You're gonna beat it. We have the best medical equipment, we have the best medicines, all developed recently."
In his Twitter video yesterday, and others posted since he entered the hospital, Trump showed no recognition that as president, he received medical care beyond the expectations of most any other human. More than 7.4 million Americans have contracted the virus and 210,000 have died since February.
For Trump's campaign, the aim is that the heroic depiction of his ordeal and recovery from the virus can improve his standing among voters – particularly those who have soured on his handling of the deadly pandemic. Biden has the support of 57% of likely voters, compared with Trump's 41% in a CNN poll conducted by SSRS Oct. 1-4, Deana Kjuka reports.
But the president is also gambling – both with his return to the White House and his political posturing – that his rapid recovery from the virus will hold. A return to the hospital would be both a concerning development for his health and further reinforcement of perceptions that he's been impatient with the virus at every turn. Read more from Justin Sink.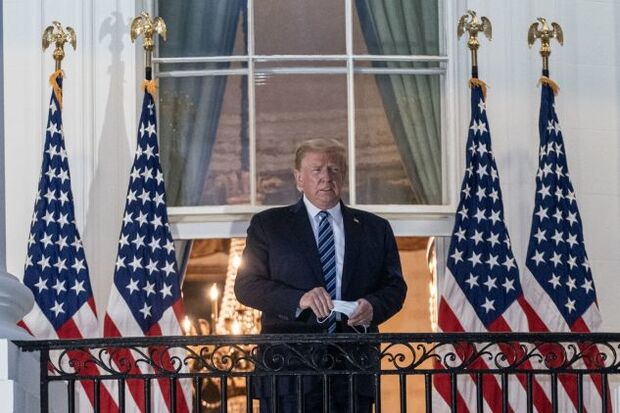 Working From Home: Within hours of Trump's arrival at the White House, officials announced measures including restricting access to the president and offering protective gear to those who meet with him. The steps seek to prevent further infections following positive coronavirus tests among several key aides. The White House is creating additional room for Trump to work in the residence, and avoid heading into the Oval Office, by converting the Map Room and Diplomatic Reception Room into office space, according to a person familiar with the matter.
The president's aides plan to keep him at the residence and away from the Oval Office but are uncertain how long that will last, according to people familiar with the matter. Read more from Josh Wingrove, Jennifer Jacobs and Justin Sink.
Biden Says Trump Bucked Safety Protocols: Trump brought his coronavirus infection upon himself by dismissing safety protocols, Democratic presidential nominee Joe Biden said yesterday. "Anybody who contracts the virus by essentially saying masks 'don't matter, social distancing doesn't matter' I think is responsible for what happens to them," he said during a town hall in Miami hosted by NBC News. Biden said because Trump bucked safety precautions, his diagnosis didn't come as a shock. "Quite frankly, I wasn't surprised," he said, Jennifer Epstein reports.
Trump 'Intends to Be Ready' to Debate Biden: Trump "intends to be ready to debate" Biden next week, campaign spokesman Tim Murtaugh said yesterday in a statement. Murtaugh added, however, that the Trump campaign would not agree to the moderator being able to mute the candidates when their time has expired to prevent the kind of interruptions and cross-talk—mostly by Trump—that derailed the first presidential forum last week. Read more from Mario Parker.
Happening on the Hill
What to Watch Today: The House has a pro forma session scheduled for 9 a.m. today, and the Senate has a pro forma session set for 11:30 a.m.
Pelosi, Mnuchin Trade Stimulus Plans: Speaker Nancy Pelosi (D-Calif.) and Treasury Secretary Steven Mnuchin will resume negotiations today on another round of pandemic relief for the U.S. economy, but there's still no clear path to a deal before Election Day. Pelosi and Mnuchin have spoken regularly by phone over the past week after reviving talks with their first in-person meeting since early August on stimulus legislation. While both sides have reported progress, significant gaps remain between the Democrat's $2.2 trillion proposal and a $1.6 trillion offer backed by the White House.
Even with Trump urging the two parties during his recent hospital stay to "get it done" on a stimulus bill, Congress would have just four weeks to finalize and pass any legislation before the Nov. 3 election. And it's unclear that an agreement authored by Mnuchin and backed by the White House would have the necessary support in the Republican-led Senate. Read more from Erik Wasson and Mike Dorning.
GOP Beefs Up Virus Measures for Barrett Hearing: Senate Republicans are taking steps to reduce the risk of coronavirus spread at hearings for Supreme Court nominee Amy Coney Barrett, seeking to keep the confirmation process on track in face of Democratic objections following the infection of two panel members. The Senate Judiciary Committee hearings, scheduled to begin Oct. 12, will be held in a spacious room in the Hart Senate Office Building used for such purposes in the past. Each senator, along with Barrett, will have their own sanitary station with sanitizer, paper towels and trash cans. Face masks and gloves will be available throughout the room, best known for its grand white-granite backdrop behind the dais. Read more from Laura Litvan.
Tech Breakup Eyed by Panel: A House panel led by Democrats investigating competition in the technology sector is poised to propose sweeping reforms to block giants such as Amazon and Apple from both owning marketplaces and selling their own products on them, according to a critique of the recommendations by one Republican member of the subcommittee.
The critique and the panel's report are still drafts and the contents of both could change. It's not clear which members will endorse the report, whose release has been delayed because of last-minute information regarding Facebook, CNBC reported earlier. The report was expected this week, but it's been pushed back, according to a person familiar with the matter.
The recommendations, which would represent the most dramatic overhaul of competition law in decades if approved, are the result of a yearlong investigation by the House antitrust panel led by Rep. David Cicilline (D-R.I.). That probe is coming to its conclusion as federal and state antitrust enforcers are also investigating Alphabet's Google and Facebook. Read more from Ben Brody and David McLaughlin.
More Elections & Politics
Harris and Pence Set to Debate: Mike Pence and Sen. Kamala Harris (D-Calif.) will take the stage tomorrow night under extraordinary circumstances that will elevate the oft-forgotten vice presidential debate to the highest-stakes running mate matchup in years. With Trump fresh out of the hospital but still battling the coronavirus, both Pence and Harris will have to reassure voters that they can step into the presidency if either of the septuagenarians who top the tickets become incapacitated.
A week after Trump and Biden squared off in a combative and chaotic debate, Pence and Harris will meet at the University of Utah in Salt Lake City under dramatically different circumstances. Not only have the safety precautions become stricter since at least 10 people who live or work at the White House have become infected, but the tone is expected to be more civil as well.
Although the Trump campaign opposed it, Harris's staff won an argument to have a plexiglass shield separating her and Pence, who has tested negative for the virus that sent Trump to Walter Reed National Military Medical Center for three days. The candidates will be a little more than 12 feet (3.7 meters) apart, and the moderator, Susan Page of USA Today, will also be that distance, the Commission on Presidential Debates said yesterday. Read more from Tyler Pager and Mario Parker.
Supreme Court Reinstates South Carolina Ballot Witness Rule: The Supreme Court reinstated a Republican-backed South Carolina requirement that a witness sign each absentee ballot, rejecting Democratic contentions that the rule will make it harder for thousands of people to vote. The justices, without any published dissents, yesterday blocked a federal judge's order that had lifted the signature requirement because of the Covid-19 outbreak.
The Supreme Court order is a blow to Democrats in a state where they are trying to unseat a high-profile senator — Republican Lindsey Graham. Polls show Democrat Jaime Harrison in a close race with Graham in the Republican-leaning state. Read more from Greg Stohr.
Iowa Pre-Filled Absentee Ballot Applications Upheld by Judge: An Iowa judge agreed with Democratic petitioners that pre-filled absentee ballot applications sent to registered voters can't be invalidated by a state directive that allows only for blank request forms. Iowa District Court Judge Robert Hanson yesterday issued an emergency stay of the requirement that Democrats said would confuse voters, especially those who had already verified and returned the pre-filled applications sent out by county auditors. Read more from Edvard Pettersson.
Video Voting OK for Some With Disabilities, Arizona Court Says: An Arizona court declined yesterday to forbid voting via videoconference for some people with illness or disability, ruling it may be necessary in limited cases. The Maricopa County Superior Court order also denied endorsing those election procedures aimed at helping people in nursing homes, long-term care facilities, and hospitals with Covid-19 restrictions. The lawsuit brought by Maricopa County Recorder Adrian Fontes (D) is part of a larger partisan debate among state leaders, including Gov. Doug Ducey (R), over voting access and election security during the coronavirus pandemic. Read more from Brenna Goth.
The Coronavirus Pandemic
FDA Says It Told Vaccine Makers of Principles for Emergency Use: The Food and Drug Administration said it's made clear to drugmakers the standards for a vaccine to be cleared for emergency use, obviating a more formal FDA guidance document that is still under review by the White House after the New York Times and Politico both reported yesterday that Trump's office blocked the EUA guidance.
As final-stage trials of Covid-19 vaccines proceed, the FDA has worked to make clear what standards would have to be met to authorize use of the shots. One such path is an emergency-use authorization, or EUA, a fast-track procedure that relies on less safety and efficacy data than a full approval. Read more from Drew Armstrong and Angelica LaVito.
Covid Woes Stalk Workers Back on Job: Covid-19 survivors now have another battle that will outlast the deadly virus: working for a living. Many with persisting symptoms may still be too sick to work full time or in person. They worry about being exposed again; how they'll squeeze in doctor appointments when they've exhausted their time off; how long their bosses will be understanding; if they'll be able to perform as they did before, and what happens if they can't.
Millions of people could be dealing with medical issues including heart, kidney and lung damage long after the pandemic subsides. With no clear legal or regulatory guidance yet on how accommodating employers will have to be, Covid-19 has created a parallel predicament for businesses that carries numerous risks of litigation. It's unclear whether and how key workplace protections under the Americans with Disabilities Act will apply, leaving it up to employers and employees to sort out what accommodations can or should be made. Read more from Lydia Wheeler and Paige Smith.
Covid-19 Making a Dangerous Comeback: Covid-19 is spreading again across most of the U.S., hammering rural America and smaller cities and raising anxiety in New York, as experts warn that school reopenings and colder weather might cause the situation to rapidly deteriorate. In 34 states, the seven-day average of new cases is higher now than it was a month ago. Although the virus has waned in populous states including California and Florida, it is wreaking unprecedented havoc in the Midwest and making an incipient return in parts of the Northeast. Read more from Jonathan Levin and Kristen V. Brown.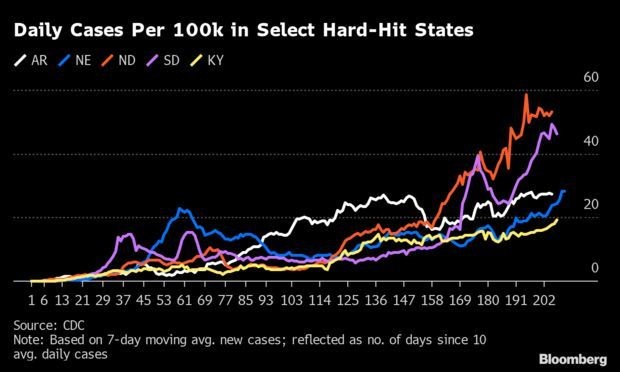 What Else to Know Today
Trump to Tap Hodges for Security Council: Trump is promoting Joshua Hodges, a USAID official, to head Western Hemisphere Affairs at the White House's National Security Council, according to three people familiar with the matter. Hodges, who has worked in Congress, at the Department of Energy and at the NSC, most recently served as senior deputy assistant administrator in USAID's bureau for Latin America and the Caribbean. He replaces Mauricio Claver-Carone, who began his term as president of the Inter-American Development Bank this month, Ben Bartenstein and Jennifer Jacobs report.
U.S. Seeks to Show United Front on China: Secretary of State Mike Pompeo called on three other Indo-Pacific democracies to band together against coercion from China, in a bid to keep pressure on Beijing amid the coronavirus crisis rocking Washington. The Quad group that also includes Australia, India and Japan began its second ministerial-level meeting in Tokyo today, in an event expected to help firm up New Delhi's participation in the group. Isabel Reynolds has more.
Trump Rape Accuser Says Defamation Isn't Part of His Job: The New York advice columnist who claims Trump raped her in a department store dressing room two decades ago asked a judge to deny a Justice Department request to substitute the U.S. government as the defendant in her defamation lawsuit. E. Jean Carroll, who went public with her claims last year and sued Trump after he called her a liar, said in a court filing yesterday that the U.S. effort misapplies a federal law intended to protect government workers from lawsuits related to their jobs. The law doesn't apply because the allegedly defamatory statements weren't part of Trump's official duties, she said. Read more from Erik Larson.
Eric Trump Testifies in New York AG Probe: Trump's son Eric was questioned under oath by the New York attorney general's office, which is probing whether the family's real-estate company falsely reported property values to get loans or tax benefits, according to a person familiar with the matter. Eric Trump, a vice president at the Trump Organization, was deposed yesterday via teleconference after initially refusing to provide testimony, then unsuccessfully trying to delay it until after the November election. Read more from Erik Larson.
Russia, U.S., France Push for Halt to Azeri-Armenia Fight: Russia, the U.S. and France stepped up demands for a halt to the worst fighting in decades between Azerbaijan and Armenia over the disputed territory of Nagorno-Karabakh. Read more from Zulfugar Agayev and Sara Khojoyan.
To contact the reporters on this story: Zachary Sherwood in Washington at zsherwood@bgov.com; Brandon Lee in Washington at blee@bgov.com
To contact the editors responsible for this story: Giuseppe Macri at gmacri@bgov.com; Loren Duggan at lduggan@bgov.com; Michaela Ross at mross@bgov.com