What to Know in Washington: Trump Recuperates Amid Questions
Donald Trump's condition remains clouded by confusion over his treatment for Covid-19, with the president's effort to show strength contradicted by conflicting accounts from his doctors that raise doubts about how soon he'll be able return to work and his re-election campaign.
Trump made a surprise outing from Walter Reed National Military Medical Center yesterday, waving to supporters gathered outside from his motorcade and saying in a video posted on Twitter that he's learned a lot about the virus. "I get it," he said.
A member of his medical team, Brian Garibaldi, a pulmonary expert at Johns Hopkins University, said at a briefing yesterday that the president could be released from the hospital as soon as Monday.
But the White House physician, Sean Conley, disclosed for the first time that he was given supplemental oxygen and has received a medication that's typically used in more severe Covid-19 patients. That raises questions about the president's condition as he heads into a phase of the illness where the health of some patients worsens suddenly and dramatically.
The questions about Trump's treatment and recovery as well as demands for more complete disclosure about his health come amid the prospect of widening outbreak among White House and campaign staff and Senate Republicans, even as campaign aides predicted the president would soon be back on the campaign trail.
"We have to trust that what they're telling us about the president's condition is real," Speaker Nancy Pelosi (D-Calif.) said on CBS's "Face the Nation," adding that she's getting details about Trump's health from the press and alleging that Trump is approving the medical team's public statements. Read more from Mark Niquette.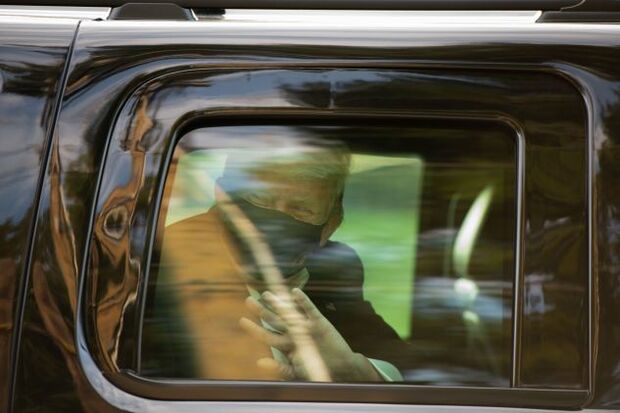 Trump Doctor Sows Confusion With Reversals: The admission by Trump's physician to giving a misleading statement about the president receiving oxygen was the latest in a series of contradictory and confusing accounts about Trump's infection. Conley told reporters yesterday that the president had received supplemental oxygen Friday, after saying the previous day that the president hadn't been treated with oxygen. Conley said he gave the misleading information initially to "reflect the upbeat attitude" of Trump and his doctors. Read more from Josh Wingrove and Robert Langreth.
Trump Taking Drug for More Severe Cases: Trump's doctors added a steroid known as dexamethasone to his treatment, a drug that's typically used in more severe Covid-19 cases. Dexamethasone can control the inflammatory and immune effects of the virus. Seen as a potential breakthrough for patients whose Covid cases have gotten significantly worse, it was found in one study to significantly reduce the likelihood of death in those who need supplemental oxygen. Dexamethasone also carries some risks. In patients like Trump, who according to his doctors is not getting regular oxygen support, the steroid was associated with a potentially higher rate of death, according to the study of the drug published in the New England Journal of Medicine. Read more from Drew Armstrong and Robert Langreth.
Hospital Stay Renews Focus on Transfer of Power: The White House insists Trump remains in charge of the government, but his hospitalization raises the question of what would occur if his condition worsens significantly. There are provisions for a peaceful transition of power if Trump becomes incapacitated, but National Security Adviser Robert O'Brien said yesterday that such transfer over to Vice President Mike Pence is "not something that's on the table." Read more from Daniel Flatley and Josyana Joshua.
How Trump Tempted Fate: Ever since March, when much of the country went into lockdown to contain the coronavirus, Trump has tempted fate — ignoring his own administration's advice on avoiding the virus, yet managing to avoid it all the same. There was a June rally inside a Tulsa arena, and a convention speech to 2,500 people on the South Lawn of the White House in August. Then came de facto political rallies, which gave way to full outdoor rallies, which gave way to indoor ones. All gathered Trump supporters, largely maskless, tightly packed together, and yet the president — a habitual germophobe even before the pandemic — always emerged unscathed.
But they all paled next to last weekend's celebratory introduction of Supreme Court nominee Amy Coney Barrett, where roughly 150 guests sat shoulder-to-shoulder in the White House Rose Garden. Read more from Josh Wingrove, Jennifer A. Dlouhy and Michelle Fay Cortez.
All told, hundreds of people — some masked, many not — came into contact with Trump in the week leading up to his positive Covid test, according to interviews with witnesses and a review of White House schedules, news accounts and photographs. The list reflects a remarkably wide range of people who encountered the president at receptions, fundraisers and other events: corporate CEOs, senators, governors, big-money donors, state lawmakers, four-star generals, and parents grieving the loss of their children to combat. Read more from Jennifer A Dlouhy, Ari Natter and Misyrlena Egkolfopoulou.
Happening on the Hill
McConnell's Plan for Quick Barrett Vote at Risk: Senate Majority Leader Mitch McConnell's (R-Ky.) drive to confirm Supreme Court nominee Amy Coney Barrett by Election Day is now in peril from a coronavirus outbreak among Republicans in Washington.
Three GOP senators have tested positive for the coronavirus in the past few days and at least eight others are known to have had direct exposure. Several are in self isolation. The infected senators also attended a Senate Republican lunch last week and committee meetings, raising the risk of even wider contagion. Although none of those who tested positive so far have reported falling seriously ill, McConnell's already narrow margin for confirming Judge Amy Coney Barrett would evaporate if just three GOP lawmakers are unable to vote when her nomination is brought to the floor.
McConnell is putting the Senate on hiatus for the next two weeks, but he insisted over the weekend that it was "full steam ahead" on Trump's Supreme Court nominee, with Judiciary Committee hearings beginning Oct. 12.
The schedule laid out by Judiciary Chairman Lindsey Graham (R-S.C.) would have the committee voting on Barrett by Oct. 22. McConnell has said he would bring it to the full Senate as soon as the panel's work is done, which would mean a confirmation vote about a week before Election Day.
Senate Minority Leader Chuck Schumer (D-N.Y.) acknowledged yesterday that Democrats can't block the hearings but vowed to use "every tool in the toolbox" to try to delay a final confirmation vote. But the virus could prove more powerful than parliamentary procedures.
The Judiciary Committee will cancel a planned hearing with former FBI Deputy Director Andrew McCabeset for tomorrow, after he expressed concerns about the coronavirus that has infected two senators on the panel, CNN reported, citing a spokesperson for Graham. Read more from Laura Litvan, Steven T. Dennis and Josh Wingrove.
Trump Presses for Stimulus Deal: Trump pressed for a deal on another round of pandemic aid to jolt the U.S. economic recovery, saying the country "wants and needs" fiscal stimulus. With Trump receiving treatment, his Saturday tweet departed from his health to focus on weeks of partisan deadlock over another stimulus bill. Speaker Nancy Pelosi (D-Calif.) said Friday negotiations with the White House will press ahead and Trump's Covid-19 diagnosis might change the tenor of the talks by underscoring the seriousness of the pandemic. Read more from Tony Czuczka.
Tech CEOs to Testify Before Election: Twitter and Facebook will send their CEOs to a Senate hearing later this month devoted to a law that protects internet companies from liabilities. The Senate Commerce, Science, and Transportation Committee voted to subpoena the heads of Facebook, Twitter and Google for an Oct. 28 session focusing on Section 230 of the Communications Decency Act. Twitter CEO Jack Dorsey and Facebook CEO Mark Zuckerberg have agreed to attend voluntarily, their companies said, Mark Bergen and Sarah Frier report.
DOD Use of Virus Response Funds Probed: House Select Subcommittee on the Coronavirus Crisis Chairman James Clyburn (D-S.C.), Financial Services Chairwoman Maxine Waters (D-Calif.), Oversight and Reform Chairwoman Carolyn Maloney (D-N.Y.) and Oversight National Security Subcommittee Chairman Stephen Lynch (D-Mass.) are requesting documents from Defense Secretary Mark Esper following reports the department used almost $1 billion in coronavirus funds for military contracts. Read more from Maria Monteros.
Elections & Politics
Trump Campaign Hobbled as Biden Pulls Away: Trump's re-election campaign has seen its candidate, campaign manager and party chairwoman all laid low by Covid-19. He is short on cash, Democrat Joe Biden is pulling away in the polls and his best hope to climb back — the raucous rallies that fueled his 2016 win — are on hold indefinitely as the last month of the race ticks away.
Trump is still dominating the news cycle, but for all the wrong reasons — in the hospital, fighting the virus he sought to effectively erase from the story of his presidency as he appealed to voters for a second term. Instead, coronavirus dominates the conversation around Trump. Whether he can participate in the final two presidential debates this month is an open question — though voters hammered Trump's performance in the first debate, when he interrupted Biden so much the former vice president finally told him, in vain, to shut up.
The litany of political disasters "certainly causes great worry in the closing weeks of a campaign in which the president is behind in polls and fundraising," said Ed Rollins, a Republican strategist who heads the pro-Trump Great America political action committee. Read more from Mario Parker.
Pence, Harris Will Be 12 Feet Apart at Debate: Pence and Democratic vice-presidential nominee Kamala Harris will be farther apart at their debate next week, at 12 feet rather than 7 feet as initially planned, according to people familiar with the change said. The Commission on Presidential Debates made the change following reports that Trump attended last Tuesday's first presidential debate while potentially having been exposed to the coronavirus. Read more from Mario Parker.
Toomey Won't Run for Senate Re-Election: Sen. Pat Toomey (R-Pa.) has decided he won't run for re-election in 2022, nor will he run for governor, The Philadelphia Inquirer reported, citing sources it didn't identify. Toomey, a Republican who's in his second term, is among the Senate's most conservative members on government spending as well as a staunch free-trade advocate and critic of many of Trump's trade policies. Read more from Steven T. Dennis.
Georgia Election Day Deadline for Absentee Ballots Reinstated: Georgia's Election Day deadline for absentee ballots was reinstated by a federal appeals court, overturning a judge who had extended it by three days, Edvard Pettersson reports. The Atlanta-based Court of Appeals, by a 2-1 vote, said it's up to the state to set its own deadlines. "The Constitution sets out our sphere of decision making, and that sphere does not extend to second-guessing and interfering with a state's reasonable, nondiscriminatory election rules," the court said.
What Else to Know Today
Pompeo Shortens Asia Trip: Secretary of State Michael Pompeo will shorten his travel to Asia this week as the White House deals with the spread of the coronavirus among its top officials. Pompeo will be in Tokyo until Oct. 6 for a meeting of the foreign ministers of four of the Indo-Pacific region's biggest democracies, State Department spokeswoman Morgan Ortagus said yesterday in a statement. His earlier itinerary included trips to Mongolia and South Korea on Oct. 6 to 8. Read more from Faris Mokhtar.
New U.S. ICBMs Could Cost Up To $264 Billion: The Pentagon estimates the cost of its next-generation intercontinental ballistic missile program, including decades of operations and support, could be as high as $264 billion. That total would be $1.9 billion more than the "life-cycle cost" estimated by the Defense Department's independent cost assessment unit in the program's first major review in 2016, a Pentagon spokeswoman said. Read more from Tony Capaccio.
Covid 'Long Haulers' Raise Insurance Questions: Millions of people will live with coronavirus effects long after the pandemic subsides. Even mild cases have caused lung, heart and kidney damage in otherwise healthy people. It's unclear what their future health-care needs will be, or how much their care will cost. As with HIV and opioid addiction crisis, the scope and newness of the pandemic presents many new questions about what treatments insurers will cover.
Group health plans and insurance companies are supposed to cover diagnostic testing for Covid-19 under federal laws passed in response to the pandemic. Plans shouldn't charge deductibles, co-payments or coinsurance for office, telehealth, urgent care or emergency-room visits where a Covid-19 test is given or ordered. But no federal law requires insurers to pay for coronavirus treatment. Read more from Lydia Wheeler.
Census Judge Bends Commerce to Follow Orders: A federal judge appears to have finally bent Wilbur Ross to her will after ruling the Commerce Department repeatedly violated her order to keep the census count going until the end of the month. Late Friday, at Koh's order, a Census official sent a text to all field staff charged with counting the U.S. population to continue operations through Oct. 31. Ross had earlier announced on Twitter that census collection data would end Oct. 5. Read more from Joel Rosenblatt.
Texas Attorney General Accused of Bribery: Top aides to Texas Attorney General Ken Paxton accused him of bribery, improper influence and other potential criminal offenses, according to a letter obtained by the Austin American-Statesman. Seven aides reported a potential violation of law by Paxton in his official capacity, to "an appropriate law enforcement authority," according to an Oct. 1 letter to the Office of Attorney General's director of human resources. The seven signatories of the letter, which doesn't outline the offenses, said they had knowledge of facts relevant to the offenses and provided statements to law enforcement. Read more from Martin Z. Braun.
Big Law Serves Pipeline for Female Supreme Court Advocates: Private law firms have become a small but important pipeline for female advocates before the Supreme Court. This is particularly so as the number of cases argued by women attorneys at the solicitor general's office, the traditional launching pad for high court advocates, has fallen in recent years. Read more from Kimberly Strawbridge Robinson.
To contact the reporters on this story: Zachary Sherwood in Washington at zsherwood@bgov.com; Brandon Lee in Washington at blee@bgov.com
To contact the editors responsible for this story: Giuseppe Macri at gmacri@bgov.com; Loren Duggan at lduggan@bgov.com; Michaela Ross at mross@bgov.com