What to Know in Washington: Trump Rebuked by Defense Chiefs
Donald Trump faced a direct challenge to his leadership from his current and former defense secretaries, who issued a pair of rare public dissents questioning the president's threat to use military force against rolling, nationwide protests over police brutality.
Defense Secretary Mark Esper said in a news conference yesterday he did not support invoking the 1807 Insurrection Act to quell protests using the military, saying National Guard troops are sufficient. Esper said active-duty troops should be a last resort, angering White House officials and Trump for what they regarded as breaking rank.
Trump confronted Esper later that day in the Oval Office during a meeting with Vice President Mike Pence, Attorney General William Barr and General Mark Milley, head of the Joint Chiefs of Staff. The president privately asked advisers whether Esper could still be effective in his position, according to two people familiar with the matter. But Trump's pique at Esper seemed to blow over, one of the people said.
The standoff, however, was soon overshadowed by a scathing denunciation from Esper's predecessor, James Mattis.
Mattis said in a statement that he was "angry and appalled" by the events of the past week, criticizing Trump for allowing protesters to be violently dispersed from Lafayette Square in front of the White House before he walked to a historic church to hold a Bible in front of cameras. It was an abuse of power that made a "mockery of our Constitution," Mattis said.
The double-barreled rebuke from his current and former defense chiefs elevates the pressure on Trump as he falters in handling a pair of crises: a raging pandemic that has killed more than 100,000 Americans, and protests over a painful legacy of racial inequality, injustice and police brutality following the killing of an unarmed black man at the hands of law enforcement in Minneapolis.
With Trump's poll numbers sinking, his re-election challenger, Joe Biden, is attempting to seize on the president's struggle to confront those challenges just five months before voters cast ballots. Mattis's criticism echoed attacks leveled on Trump by Biden, but the former defense chief's key role in the president's original national security cabinet gives him a standing few outsiders could ever claim. Read more from Josh Wingrove and Jennifer Jacobs.
More on Protests & Responses
Esper Probed on Troop Movement Into D.C.: House Armed Services Chairman Adam Smith (D-Wash.) expressed concern about the use of military force to disperse protesters in Washington on Monday, the "movement of active duty troops" into staging areas around the capital, and possible plans to deploy troops around the U.S. Smith, in a letter to Esper, seeks details on the Pentagon's plans "for the use of active duty forces for domestic law enforcement" and on how many troops have moved to D.C. Tony Capaccio has more.
Democrats Demand Barr Detail Clearing of Protest: Four House committee chairmen want Attorney General William Barr and other administration officials to provide details about the removal on Monday of protesters from the streets around Lafayette Square and the White House just before the president walked through the area. Judiciary Chairman Jerrold Nadler (D-N.Y.) and others included in their letter demands for confirmation of who gave the order to clear streets and under what authority. Read more.
Trump Says New York Must Crack Down: Trump urged New York City leaders to crack down on police-brutality protests in the city, warning he would end the demonstrations otherwise. "If they don't get it straightened out soon, I will take care of it," Trump said of New York in an interview with former Press Secretary Sean Spicer on NewsMax TV, a conservative outlet. The remark came as Trump and Spicer discussed whether the president would seek to deploy the military to break up the protests. "I don't think we'll have to," Trump said. Read more from Jennifer Jacobs and Josh Wingrove.
Obama Tells Cities to Review Use of Force: Former President Barack Obama called on the nation's mayors to review their police departments' use of force policies and commit to reforms during a virtual town hall yesterday. "We need mayors, county executives, others who are in positions of power to say: This is a priority," Obama said. The remarks were the first time the former president had spoken on-camera since George Floyd's death, though he published an essay earlier this week calling for those who are eager for change to vote. Read more from Justin Sink.
Cities Evaluate Police Budgets: Trump's calls for an increased police response haven't been widely embraced by mayors and governors. Los Angeles said it would pursue a different agenda entirely. The city announced plans to trim its police budget and use that money to invest in the city's black community. The city will identify $100 million to $150 million in cuts from its police budget as part of a review of spending priorities, the Los Angeles Times reported.
Over the past four decades, the cost of policing in the U.S. has almost tripled, from $42.3 billion in 1977 to $114.5 billion in 2017, according to an analysis of U.S. Census Bureau data conducted by the Urban Institute on behalf of Bloomberg Businessweek. Despite the rising dollar amounts, policing has consistently made up about 3.7% of state and local budgets since the 1970s. However, crime has been trending downward for years: Violent crime and property crime have fallen significantly since the early 1990s, according to U.S. Bureau of Justice Statistics data. Read more from Polly Mosendz and Jameelah D Robinson.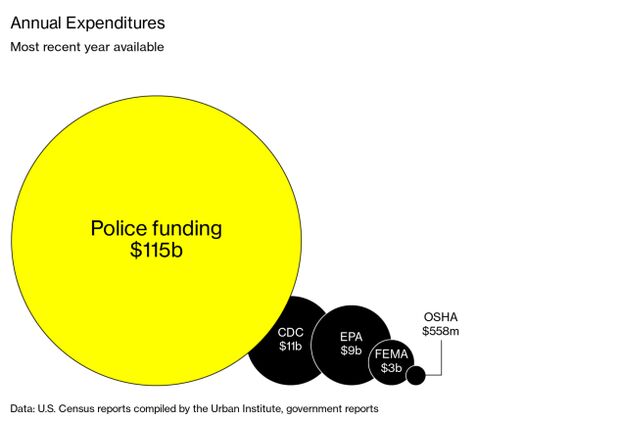 Amid the protests, officers in Camden, N.J., left the riot gear at home and brought an ice cream truck to a march on May 30. The police department's chief, Joseph Wysocki, who is white, brandished a "Standing in Solidarity" poster alongside residents holding "Black Lives Matter" signs. That Camden was able to demonstrate peacefully without escalation looked like a sign of progress in a city that's one of the country's poorest and was once considered its most dangerous. Sarah Holder has more.
Happening on the Hill
Senate Passes Changes to Small Business PPP Loan Program: The Senate cleared changes to the popular Paycheck Protection Program last night that will allow small businesses more flexibility in using the rescue loan funds. The bill, which was passed by the House last week on a 417-1 vote, now heads to Trump's desk for his signature.
Senators gave unanimous consent for the legislation hours after Sen. Ron Johnson (R-Wis.) raised objections to an attempt from Senate Minority Leader Chuck Schumer (D-N.Y.) to swiftly pass it.
About $130 billion remains from the second round of $320 billion that Congress approved for PPP. The initial round of $349 billion was tapped in just 13 days." Read more from Erik Wasson, Laura Litvan and Mark Niquette.
U.S. Economy Is Too Hooked on Benefits for Congress to Pull Plug: After approving the most generous unemployment benefits in U.S. history to help counter the coronavirus, Congress is in a bind over what to do when they expire at the end of next month. With America gradually heading back to work, there's no majority among lawmakers to extend the $600-a-week extra payments in their current form. But with the economy more fragile than it's been in generations, they don't dare to just pull the plug. And that means weeks of wrangling lie ahead over the next phase of a rescue effort already costing almost $3 trillion.
The Senate announced late Wednesday that it will hold a hearing next week on unemployment benefits. Any plan that emerges will have to meet the concern, mostly voiced by Republicans, that too-high payments have become a disincentive to work. And it will have to win votes from Democrats who control the House and are pushing to keep safety nets in place for the tens of millions of Americans who lost their jobs in the worst slump since the Great Depression. Read more from Jenny Leonard and Laura Davison.
Democrats Seeking Over $300 Billion for Schools: Over 100 House Democrats signed a letter to congressional leaders this week asking for at least $305 billion in additional funds for K-12 public schools in new coronavirus relief legislation. The HEROES Act (H.R. 6800) that the House passed last month carried $58 billion for public schools. But projections from the Center for Budget and Policy Priorities have found state revenue shortfalls combined with new costs from the coronavirus have created a need in excess of $300 billion for schools, the lawmakers wrote, Andrew Kreighbaum reports.
Senate Panel Advances Whistleblower Protections: The Senate Intelligence Committee backed new protections for intelligence community whistle-blowers and new reporting requirements for political campaigns as part of a broader intelligence authorization bill. The legislation, approved 14-1 by the committee, follows Trump's repeated lashing out against a whistleblower whose complaint over the president's phone call with Ukraine's president led to his impeachment in the House. Read more from Steven T. Dennis.
Fired Watchdog Says He Told Pompeo Aides of Probe Into Spending: The State Department's fired inspector general told lawmakers that he had told senior aides to Michael Pompeo that he was investigating the secretary of state and his wife for possible misuse of government funds, undercutting Pompeo's claim that he knew nothing about the probe. Steve Linick also confirmed he was investigating Pompeo's emergency declaration in May 2019 that allowed for $8 billion in weapons sales to Saudi Arabia over protests from Congress, according to a joint statement by five House and Senate Democrats who participated in interviewing him Wednesday. They said Linick told lawmakers he was "shocked" by his firing on May 16 and that subsequent justifications weren't true. Read more from Nick Wadhams.
Reopening Efforts, Virus Aid & Research
Businesses Say Confusing Rules Slowed Relief: Representatives of lenders as well as businesses that received pandemic bailout relief told an oversight board yesterday that delayed and confusing instructions from the U.S. government hampered the effectiveness of the main rescue program for smaller companies. Guidelines for Paycheck Protection Program loans were posted in a fragmented basis and underwent several revisions that made it hard for businesses to know if they qualified, said Anthony Wilkinson, president of the National Association of Guaranteed Government Lenders. Read more from Laura Davison.
Trump Taps Seven Drugmakers for a Vaccine: The White House is working with seven pharmaceutical companies as part of its "Warp Speed" coronavirus vaccine program, including a bet on a rapid-but-unproven genetic technology. The companies include Johnson & Johnson, Merck, Pfizer, Moderna, and Oxford University in collaboration with AstraZeneca, as well as two other firms, two people familiar with the matter said. Trump was briefed on Tuesday about the project, one of the people said.
Drugmakers and university researchers are investigating over 130 experimental inoculations, according to the World Health Organization, though fewer than a dozen candidates are currently being assessed in human trials. Moderna, Pfizer and Oxford have already started trials of their vaccines in healthy patients, while J&J and Merck intend to launch studies later in the year. Riley Griffin and Jennifer Jacobs have more.
U.S. Falls Just Short of May Virus Testing Goal With 12 Million: The Trump administration came up shy of meeting its goal of doing about 12.9 million tests in May. Brett Giroir, a top official at the Department of Health and Human Services who has overseen the administration's efforts to ramp up testing, said yesterday that the country did about 12 million tests last month. Read more from Shira Stein and Emma Court.
Meanwhile, around 70 U.S. coronavirus testing sites were closed temporarily "due to the threats of violence," Giroir also said in the briefing with reporters.
From the Campaign Trail
Trump Appeals to Religious Voters: Trump is seeking to invoke religion to bolster his law and order image during the civil unrest in an appeal to evangelical and Catholic conservatives, two groups he routinely turns to when he's facing strong criticism.
Trump, not a regular churchgoer, this week stood outside St. John's Episcopal Church across the street from the White House, holding a Bible aloft, and the next day visited a shrine to Saint John Paul II where the president and his wife, Melania, posed solemnly in front of an altar. Those events were meant to serve as contrast to his demands for a tough, militaristic response to the violent demonstrations across the country for some conservative religious leaders, even as they deeply offended more liberal ones.
White evangelical and Catholic voters make up a third of the population of the key battleground states of Michigan, Pennsylvania and Wisconsin. Trump won those states in 2016 by a combined 77,000 votes over Hillary Clinton. Read more from Gregory Korte and Mario Parker.
Cities Vie to Host Republican Convention: Several cities and states indicated they were eager to host the Republican National Convention after Trump said he was pulling the event from Charlotte, N.C. A person familiar with discussions said places being considered include Nashville, Las Vegas, and Jacksonville and Orlando, as well as Georgia and Arizona. All of the states under consideration with the exception of Nevada are led by a Republican governor. Emma Kinery and Ryan Teague Beckwith have more.
Polls Show Trouble for Trump in 3 Key States: A new round of state polling from Fox News shows trouble for Trump in three states that he won in 2016: Arizona, Ohio and Wisconsin. In Arizona, Joe Biden leads Trump 46% to 42%. Biden beats Trump 45% to 43% in Ohio. And in Wisconsin, Biden beats Trump 49% to 40%. The margins of error are 3 percentage points in Arizona and 3.5 points in Ohio and Wisconsin, Gregory Korte reports.
Trump Hits Record On Google Ads: A wave of ads on Google's YouTube has sought to draw attention the president's 74th birthday. In the last full week of May, Trump's campaign spent $1.48 million on Google advertising, the highest weekly total of the 2020 campaign, according to the search giant's data. Many of the ads take the form of a digital birthday card the president's supporters can sign by sharing information like their email addresses. Read more from Eric Newcomer and Mark Bergen.
Trump Releases Ad Celebrating SpaceX Launch: Trump's re-election campaign released a digital advertisement celebrating the recent launch of a SpaceX rocket, highlighting one of the president's achievements as he faces a storm of criticism for his response to the protests over police violence. Read more from Misyrlena Egkolfopoulou.
California Adds In-Person Voting Spots: Californians will have more options to vote in person for the Nov. 3 election in an effort to boost voter participation in case Covid-19 surges again this fall. Gov. Gavin Newsom (D) signed an executive order yesterday to increase the number of California polling places to one per 10,000 registered voters in each county, an increase from the current requirement of one per 15,000 voters. Read more from Tina May.
What Else to Know:
Google Search is a Target of U.S. Antitrust Probes: U.S. federal and state authorities are asking detailed questions about how to potentially limit Google's power in the online search market as part of their antitrust investigations into the tech giant, according to rival DuckDuckGo. Gabriel Weinberg, CEO of the privacy-focused search engine, said he has spoken with state regulators, and talked with the Justice Department as recently as a few weeks ago. Read more from Gerrit De Vynck.
Wall Street Halts Massive Student-Loan Relief Deal in Court: A federal judge sided with a coalition of financial firms, rejecting an agreement between U.S. regulators and a money manager that could have brought student-debt relief to hundreds of thousands of borrowers. The agreement promised to audit some 800,000 student loans to resolve allegations that collection agencies illegally flooded the nation's courts with faulty paperwork to force distressed borrowers to pay up. Read more from Shahien Nasiripour.
To contact the reporters on this story: Zachary Sherwood in Washington at zsherwood@bgov.com; Brandon Lee in Washington at blee@bgov.com
To contact the editors responsible for this story: Giuseppe Macri at gmacri@bgov.com; Loren Duggan at lduggan@bgov.com; Michaela Ross at mross@bgov.com