What to Know in Washington: Trump Raises Vaccine Hopes, Concern
President Donald Trump again raised hopes — and concern — about swift U.S. approval for a coronavirus vaccine, saying at a town hall event hosted by ABC News that the shot could be ready within four weeks.
"The previous administration would have taken perhaps years to have a vaccine, because of the FDA and all the approvals," Trump said yesterday. "We're within weeks of getting it. You know, could be three weeks, four weeks."
Trump's timetable is far more optimistic than estimates by drug industry executives or other government officials, including National Institute of Allergy and Infectious Diseases Director Anthony Fauci. He said to expect a vaccine approval closer to the end of the year with broad distribution next year.
Public health authorities have raised concerns the White House is pressuring the FDA to approve a vaccine before the election on Nov. 3, and drug companies developing a shot have jointly said they would not put forward a vaccine until it is thoroughly vetted for safety and efficacy.
Trump offered his three-to-four-week prediction after a man who identified himself as a conservative diabetic told the president he was pleased with his response to the pandemic until about May 1. The man said he felt he had to dodge people who refuse to wear masks or socially distance and accused Trump of leaving vulnerable people exposed.
Trump made a broad defense of his response to the pandemic, and said again the virus "is going to go away." Since February the virus has killed more than 196,000 Americans. Read more from Josh Wingrove and Mario Parker.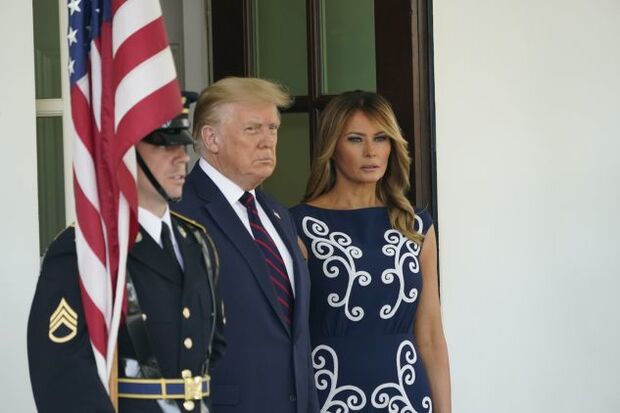 AstraZeneca's U.S. Trial Remains on Hold: AstraZeneca's Covid-19 vaccine study remains paused in the U.S. pending a regulatory review of an incident in which a U.K. study participant became ill, federal officials said. The British drugmaker and its partner, the University of Oxford, put research into the shot on hold last week after the volunteer suffered neurological symptoms. Trials resumed in the U.K. over the weekend and in South Africa yesterday, while Fauci told CNN that it's probably just a matter of time before they restart in the U.S. Read more from Riley Griffin.
Trump Says Obamacare Replacement Is 'All Ready': Trump also said yesterday that his plan to replace Obamacare — which he has repeatedly promised would be introduced in a matter of weeks, only for the deadlines to come and go — is now "all ready."
Trump made the statement during the town-hall, where several voters confronted Trump about his policies and his behavior. "I have it all ready, and it's a much better plan for you," Trump said to one such voter, a Black woman who voted for Hillary Clinton in 2016 and demanded to know what the president would do to protect people like her who have pre-existing medical conditions from losing their health insurance. "We are not going to hurt anything having to do with pre-existing conditions," Trump answered. "We're not going to hurt pre-existing conditions."
He claimed his long-delayed health plan was ready after the host of the event, George Stephanopoulos, pointed out that his administration has asked the Supreme Court to strike down the Affordable Care Act, including its protections for people with pre-existing conditions. Trump didn't directly answer when Stephanopoulos asked of his plan, "what is it?" Read more from Josh Wingrove and Mario Parker.
Happening on the Hill
Senate Debates Plane Safety Approval Fix: A bill to revamp how new aircraft are deemed safe to fly is up for a Senate panel's vote today, the same day House investigators blasted Boeing and federal regulators for mistakes that led to two fatal 737 Max jet crashes.
The legislation, supported by the Senate Commerce Committee's top Republican and Democrat, would rein in the authority regulators give aircraft manufacturers to sign off on components of a plane's safety. It would encourage communication between regulators and manufacturers' in-house safety inspectors, and require plane-makers to have safety management systems to identify and mitigate potential hazards. Courtney Rozen has more on today's markup.
The House investigation, released today by the Transportation and Infrastructure Committee, contends Boeing's sway over top Federal Aviation Administration managers, plus a flawed safety approval process, contributed to the accidents that killed 346 people. Alan Levin has more on the report.
Senators Call Google 'Monopoly Upon Monopoly': Senators laid out a case for why Google is abusing the size of its online empire to undercut competition and amass even more power, articulating arguments that may be central to the U.S. government's upcoming antitrust case against the internet giant. Google's clear dominance in the search, online video, and advertising technology markets lets it benefit the rest of its business, senators of both sides argued yesterday at the Senate Judiciary Committee's antitrust panel hearing. Read more from Gerrit De Vynck and Ben Brody.
Student Athlete Pay, Safety Get Scrutiny: College leaders told a Senate panel Congress should preempt a "hodgepodge" of state laws for compensation of athletes, which they say spark antitrust concerns and violate laws that require fair revenue for less lucrative women's sports programs. The call from university leaders comes amid a racial justice movement that has shed a new spotlight on perceived exploitation of the players, the majority of whom are Black, as largely White coaches make multimillion-dollar salaries. Erin Mulvaney has more.
Congress Can Challenge IRS Payroll Tax Guidance: Congress could now challenge the Internal Revenue Service guidance on Trump's payroll tax deferral order, according to the Government Accountability Office. The GAO said that it doesn't need to issue a legal decision on whether the IRS's notice implementing the order is a rule subject to the Congressional Review Act, as it's automatically a rule based on the way it was submitted. Allyson Versprille has more.
Elections & Politics
Biden to Address Democrats on Election Strategy: Biden will address Senate Democrats by phone tomorrow as he seeks to rally his troops with less than seven weeks until Election Day. Biden is expected to discuss plans in individual states as well as efforts to support down-ballot Democrats, a person familiar with the plans said. The meeting comes as Democrats try to win a majority in the Senate, which would help Biden enact his agenda. Jennifer Epstein has more.
Biden Courts Veterans, Latinos in Florida: Biden sought to shore up support among Florida's veterans and Latino voters yesterday as Democrats seek to flip the key state from Trump. Biden began his trip to the battleground state, which has voted for every president since 1996, with a roundtable for veterans. Biden is fighting hard to boost his support in that cohort, who usually lean Republican, after The Atlantic reported Trump called war dead "losers" and "suckers." Biden cited his son, Beau, a Bronze Star recipient. He "was not a sucker," Biden said at the event. Read more from Tyler Pager.
Also in Florida, Biden called on the federal government to offer debt relief to Puerto Rico as part of a broader plan to support the bankrupt U.S. territory as he works to appeal to Puerto Rican voters there. Biden would encourage an end to the territory's fiscal austerity, according to a plan released by his campaign. He would also increase federal funding for recovery from storms and Covid-19. Read more from Jennifer Epstein.
Ohio Judge Slams GOP Aim to Limit Ballot Drop Boxes: Restricting each Ohio county to one ballot drop box for the 2020 presidential election to ensure equal treatment of voters is "nonsense," a judge said in scrapping the limit put in place by the Republican secretary of state. Frank LaRose's directive was "arbitrary and unreasonable," especially during an election defined by a coronavirus-triggered surge in mail-in voting and U.S. Postal Service delays, state Judge Richard A. Frye ruled, Erik Larson reports.
S.C. Bill Would Ease Absentee Voting: South Carolina voters wouldn't have to vote in person Nov. 3 because of the coronavirus, under a bill state lawmakers approved yesterday that's headed to the governor. Gov. Henry McMaster (R) is expected to sign the bill to extend loosening state absentee voting rules, spokesman Brian Symmes said. Read more from Andrew Ballard.
The Coronavirus Pandemic
FDA Releases Performance Data on Virus Tests: The Food and Drug Administration released performance data last night for more than 55 Covid-19 diagnostic tests, in an effort to help doctors, labs and patients evaluate competing products. There are more than 100 tests on the market for Covid-19. Read more from Emma Court.
Working Parents Get Virus-Leave Leeway: Working parents whose children have hybrid school schedules due to the pandemic don't need their employers' permission to take federal leave, the Labor Department said. That type of reduced-schedule leave under the Families First Coronavirus Response Act doesn't qualify as "intermittent leave," DOL said in a revised rule that takes effect today. Unlike leave to care for a child in a school that blends at-home and in-class instruction, periodically taking leave under the virus law for other reasons must first be authorized by a worker's employer, according to the rule. Read more from Robert Iafolla.
Pandemic Turns America Into Nation of Freelancers: Over a third of the U.S. workforce did at least some work on the side this year as the Covid-19 outbreak decimated jobs and wages. That translates to 59 million people, 2 million more than in 2019, according to the Freelance Forward report released yesterday by Upwork, a firm that helps businesses find workers. Read more from Alex Tanzi.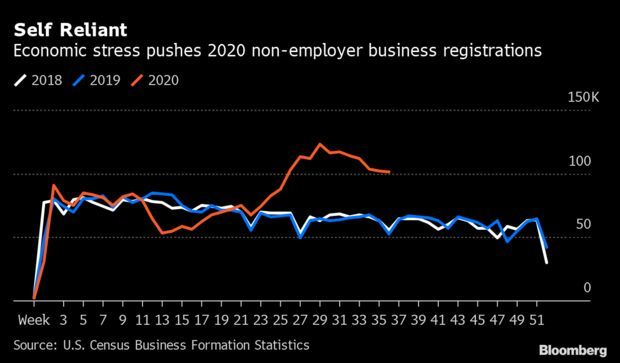 What Else to Know Today
Wildfires Defy Trump Decree Intended to Curb Them: After a series of deadly wildfires in 2018 scorched California, Trump ordered his federal agencies to do a better job of managing the vast federal forests under their care. The executive order, issued in the wake of a fire season that included a blaze that killed 85 people in Paradise, Calif., instructed the departments of Interior and Agriculture to harvest more than 4 billion board feet of timber, clear underbrush and take other steps to deny fuel to wildfires.
But critics say this year's voracious fire season — which has destroyed homes, killed dozens and ruined air quality from Mexico to Canada — illustrates the limitations of the strategy. "This has nothing to do with fire management," Char Miller, a professor of environmental analysis and history at Pomona College in Claremont, Calif., said in an interview. "In truth, logging doesn't prevent forest fires." Read more from Ari Natter.
Trump Nears Decision on Oracle-TikTok Bid: Trump is preparing to decide whether to approve Oracle's alliance with the Chinese-owned video app TikTok after security experts examined the companies' proposal. A U.S. national security panel reviewed the bid yesterday, but didn't make a recommendation that the president approve or reject the deal, according to a person familiar with the matter. Speaking to reporters on the South Lawn of the White House, Trump said his staff are "very close to a deal" and signaled what could be telling support for Larry Ellison, Oracle's chairman. "I have a high respect for Larry Ellison," he said. "He's somebody I know, he's been really a terrific guy for a long time." Read more from Saleha Mohsin, David McLaughlin and Shelly Banjo.
Trump Announces FCC Pick: In a statement yesterday Trump said he intends to nominate Nathan Simington to be a member of the FCC. Simington is currently a senior adviser at the National Telecommunications and Information Administration and prior to that was senior counsel to Brightstar Corporation, Chelsea Mes reports.
The White House also announced the intent to nominate Michael Rigas to be deputy director for management for the Office of Management and Budget, and Lt. Gen. Eric P. Wendt be ambassador to Qatar.
FTC Said to Prep Possible Facebook Antitrust Lawsuit: The U.S. Federal Trade Commission is preparing a possible antitrust lawsuit against Facebook, according to a person familiar with the matter. The FTC has been investigating Facebook for more than a year to determine whether the social media giant has harmed competition through acquisitions or other conduct and could file a case by the end of the year, the person said. No final decision on the probe has been made, the person said. Read more from David McLaughlin.
Judiciary Finalizes New Goals: The federal judiciary is stressing the need for greater diversity within its ranks amid a nationwide push for racial equality and fairness. Its policy making body yesterday finalized diversity-based goals in its 2020 Strategic Plan and noted the judiciary "can and should strive" for diversity in its hiring. Judges should also be mindful of diversity when hiring clerks. Read more from Madison Alder.
Diplomat Demands Husband's Release in Belarus: An American diplomat in Ukraine is demanding that Belarus release her husband, a dual U.S.-Belarusian citizen, whom she argues was detained for writing articles critical of President Alexander Lukashenko. Heather Shkliarov's statement was an unusual move because it broke with precedent in which diplomats leave such statements to senior State Department officials. Read more from Nick Wadhams.
Taliban Tell Afghan Government They Have No Aim to Seize Power: Taliban leaders told their government counterparts at the Afghan peace talks they wouldn't seek to seize power and that their struggle was to free the country from foreign forces and establish an Islamic system. "Our battle is not for taking power but for the independence of our country from foreign occupation and the establishment of an Islamic system," the group's chief negotiator, Abdul Hakim Haqqani, told the government delegation yesterday, according to a series of tweets by his spokesman. Read more from Eltaf Najafizada.
Hong Kong Complains About 'Made in China' Labeling: Hong Kong's government has formally complained about the Trump administration's move to label imports from the city as "Made in China" rather than "Made in Hong Kong," as the U.S. and China continue to spar on fronts ranging from trade and technology to human rights. Read more from Iain Marlow.
To contact the reporters on this story: Zachary Sherwood in Washington at zsherwood@bgov.com; Brandon Lee in Washington at blee@bgov.com
To contact the editors responsible for this story: Giuseppe Macri at gmacri@bgov.com; Loren Duggan at lduggan@bgov.com; Michaela Ross at mross@bgov.com