What to Know in Washington: Trump Preps Run Amid Discord in GOP
Donald Trump is barreling ahead with plans for a third White House run even as a growing number of Republicans abandon the former president over the dismal GOP showing in midterm elections that many in the party blame on him.
After teasing for weeks his entry into the 2024 presidential race, Trump is poised to make a "very big announcement" Tuesday at 9 p.m. New York time that would make him the first major contender from either party to formally declare.
Yet the timing could not be worse for Republicans. Candidates endorsed by Trump floundered in key races in last week's midterm elections, as voters rejected election-deniers and others with extreme positions on social issues like abortion rights and education.
That cost Republicans their chance to reclaim the Senate and left them well short of the significant majority they had hoped to win in the House, though they were within one seat of gaining control on Monday night, nearly a week after the close of polls across the country.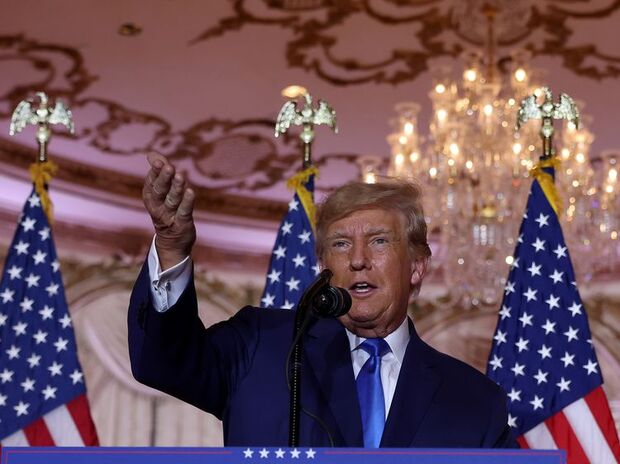 Over the past week, Trump has tumbled from virtually unquestioned Republican leader, whose endorsement carried enormous symbolic importance for down-ballot candidates, to an anchor dragging down the GOP. Many Republicans and donors now want him to make way for a new standard-bearer like Florida Gov. Ron DeSantis, who cruised to re-election last week.
Trump had sought to use his early announcement as a way to freeze out other Republicans who might have entertained a White House run. Yet now, after the disappointing midterms, potential challengers will be emboldened, according to GOP strategist and pollster Frank Luntz. Possible challengers besides DeSantis and Youngkin may include former Vice President Mike Pence, former Secretary of State Michael Pompeo; Sen. Ted Cruz (Texas); Sen. Tim Scott (S.C.); and Maryland Gov. Larry Hogan.
Trump's 2024 campaign will be led by a cadre of strategists, including longtime GOP operative Chris LaCivita, Susie Wiles, chief executive officer of Trump's Save America PAC and Brian Jack, a former political director in Trump's White House, according to a person familiar with the matter, who asked for anonymity to discuss internal decisions. Read more
Trump received more bad news when the AP reported that Kari Lake, a relentless election denier whom he had promoted, was defeated in a tight race for Arizona's governor. Read more
Pence said he's considering a run for president in 2024 even if his former boss decides to run again, and added that he thinks "we'll have better choices" than Trump. Read more
Citadel's billionaire founder, Ken Griffin, called Trump a "three-time loser" and said he hoped he'd "see the writing on the wall" and not run again, making way for DeSantis. Read more
Congressional Republicans returned to Washington this week adrift and questioning party leadership after falling far short of expectations in the midterm elections. Finger-pointing over results of last week's balloting spilled over into this week's party leadership elections in both the House and Senate.
Before a caucus vote on Tuesday, House GOP leader Kevin McCarthy (Calif.) tried to tamp down a mutiny by a faction of conservative Republicans who were threatening to block his elevation to speaker next year when the party is expected to win control, though likely with one of the narrowest majorities in decades.
Late Monday, the GOP was within just one victory of securing the 218 seats necessary to win the House. "It's going to be a tight majority so everyone is going to have to work together," he said Monday. In the Senate, where Democrats managed to buck polls and history to maintain their majority, a group of Republicans was agitating to delay leadership elections scheduled for later this week. Senate GOP leader Mitch McConnell (R-Ky.) is planning to plow ahead.
Neither McCarthy nor McConnell is in serious danger of imminently being deposed, and challenges to leadership in the House are not unusual. Yet the current level of dissent is a sign of how Republicans are struggling to find a path toward success in 2024 with Trump still holding sway over a significant portion of the GOP base.
Also Happening on the Hill
CONGRESS' SCHEDULE:
The House meets at noon with votes set on the rule for legislation to negate nondisclosure agreements (NDAs) relating to sexual assault or harassment and 11 bills under expedited procedure.
Senators gather at 11 a.m. to consider Maria del R. Antontiorgi-Jordan to be a judge for the District of Puerto Rico, with a vote set for 2:15 p.m.
Rep. Henry Cuellar's primary challenger cast the conservative Democrat as "the Joe Manchin of the House." But Cuellar in an interview said: "I take that as a compliment, not as an insult." The lawmaker survived his primary and then won a toss-up race for re-election in a south Texas district last week.
Control of the House remains unsettled, but it's certain the eventual majority will be narrow, giving individual House members outsized influence to challenge their party's leadership or even vote with the other party. The dynamic is similar to the current, evenly-divided Senate where Manchin, a conservative West Virginia Democrat, has had enormous sway in shaping legislation.
Meanwhile, law firm lobbying operations see a Republican-led House and Democratic-controlled Senate cooperating on enough legislation next year to keep corporate clients investing in Washington. Read more
Senate Majority Leader Chuck Schumer (D-N.Y.) teed up a vote to start debate this week on legislation protecting same-sex marriage, after the bill's sponsors agreed on changes intended to draw enough Republican votes to win passage.
Schumer also said he wants to address the nation's debt ceiling this year, ahead of Republicans' expected takeover of the House, where some have floated using debt limit talks to extract changes to Social Security. Read more
Immigrants in a US detention facility endured excessive, unnecessary gynecological procedures, often without consent, according to a bipartisan Senate investigation that offers the starkest details yet of alleged mistreatment.
Dozens of parents whose children's deaths were tied to the harms of social media will meet with policy makers in Washington this week, urging them to pass legislation to protect kids online.
A group of small tech companies this week will launch an advertising campaign urging lawmakers to pass landmark legislation that would diminish the power of the country's largest internet giants.
Trump's new lawsuit against the Jan. 6 House committee was assigned to one of his judicial nominees in Florida, the latest case to highlight the former president's influence over the courts. Read more
Meanwhile, a woman who prosecuted organized crime before becoming a federal judge has been picked to serve as independent monitor of Trump's company while New York sues it for fraud. Read more
And, a federal judge dismissed a lawsuit by former Trump Organization lawyer Michael Cohen accusing the government and Donald Trump of retaliating against him for publishing a book. Read more
The Federal Energy Regulatory Commission is under pressure from a bipartisan group of lawmakers, trade associations, and other Biden administration officials to nix a proposed barrier to competitive bidding in building regional transmission lines.
Congress should issue nationwide guidelines for state taxation of remote sales following the South Dakota v. Wayfair ruling, the US Government Accountability Office said Monday.
House and Senate lawmakers are advancing bipartisan legislation to expand access to retirement savings options. BGOV breaks down the effort in a new OnPoint.
Around the Administration
BIDEN'S AGENDA:
Biden is attending the G20 summit in Bali today and is meeting with Indonesian President Joko Widodo, EU President Ursula Von der Leyen and Italian Prime Minister Giorgia Meloni.
Economists see US inflation running hotter through next year than they did a month ago and recession odds continue to mount against a backdrop of rising borrowing costs.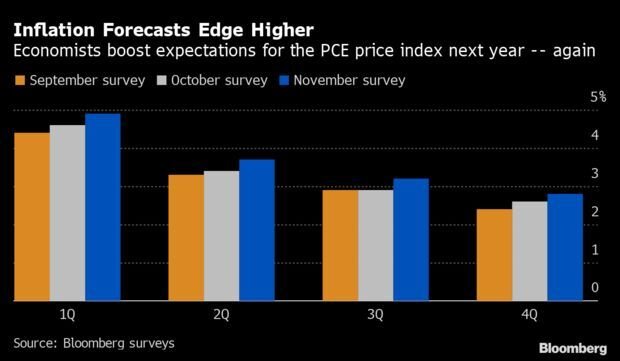 After Xi Jinping spoke for more than three hours on Monday with Joe Biden on the sidelines of the Group of 20 summit, China's readout of the meeting indicates the country's approach to US ties is shifting.
Former Secretary of State Henry Kissinger praised renewed talks between the US and China in Bali, but said a long path remains to prevent conflict between the world's largest economies. Read more
The face-to-face meeting between Biden and Xi was a powerful signal to the rest of the world that both leaders can manage ties, according to US trade chief Katherine Tai. Read more
Also on the sidelines of the G-20 summit, Biden had a brief, unannounced meeting with Turkish President Recep Tayyip Erdogan, who has been a thorn in the side of NATO. Read more
The federal public health emergency for Covid-19 will be in effect for at least the next 60 days, with Department of Health and Human Services officials not yet signaling an end date.
The US government can't discharge any student loans under Biden's massive debt forgiveness plan because a federal appeals court blocked the program indefinitely.
Six airlines paid back more than $600 million in refunds to passengers because of major delays or canceled flights, the Transportation Department announced Monday as air travel has seen more disruption amid the pandemic.
To contact the reporters on this story: Brandon Lee in Washington at blee@bgov.com; Michaela Ross in Washington at mross@bgov.com
To contact the editors responsible for this story: Giuseppe Macri at gmacri@bgov.com; Loren Duggan at lduggan@bgov.com