What to Know in Washington: Trump Preps Health Orders Amid Race
President Donald Trump plans a major health care speech today in North Carolina, outlining how he'd tackle Americans' medical costs in a second term in an attempt to address a growing electoral vulnerability.
Facing Democratic criticism that he's failed to offer a replacement for the Affordable Care Act that would still protect sick people from being denied health insurance, the president is expected to issue a lengthy executive order that will seek to reduce surprise medical bills, according to two people familiar with the matter. The new rules are intended to affect every hospital in the nation, a third person said.
The executive order is also expected to include language that purports to bolster protections for people with pre-existing conditions, according to the three people.
The order—and speech in Charlotte—will offer his broader vision for health care in a second term, two White House officials said, with an emphasis on improving consumer choice, affordability, and quality of care for vulnerable groups. The president will seek to paint previous actions he's taken to reduce drug costs, expand telemedicine, and assist vulnerable groups like those with kidney disease as indicative of his approach toward a more ambitious health care overhaul in a second term.
What's not expected: The president's long-promised comprehensive replacement plan for Obamacare, which his administration is trying to persuade the Supreme Court to strike down. And experts say that Trump's order on pre-existing conditions won't provide meaningful protections to sick people who seek health insurance.
"An executive order by itself can't accomplish anything," said Larry Levitt, executive vice president for health policy at the Kaiser Family Foundation, a health research group. "It has to be followed by regulations, and there's nothing in an executive order that can give the executive branch authority it doesn't have."
Trump and vulnerable Republican senators have been under increasing pressure from Democrats to explain how they would preserve popular elements of the Affordable Care Act, including its legal protections for people with pre-existing conditions. That scrutiny has intensified since the death of Justice Ruth Bader Ginsburg last Friday. Read more from Justin Sink, John Tozzi, Alex Ruoff and Shira Stein.
Meanwhile, Democratic leaders are putting Obamacare at the center of their biggest campaign battles, arguing Republicans are trying to defeat the health law by confirming a new Supreme Court justice and re-electing Trump. Democrats are betting the Affordable Care Act is popular enough to turn opinions against Republicans, and to buttress their message that Trump has bungled the response to the spread of Covid-19. Alex Ruoff has more.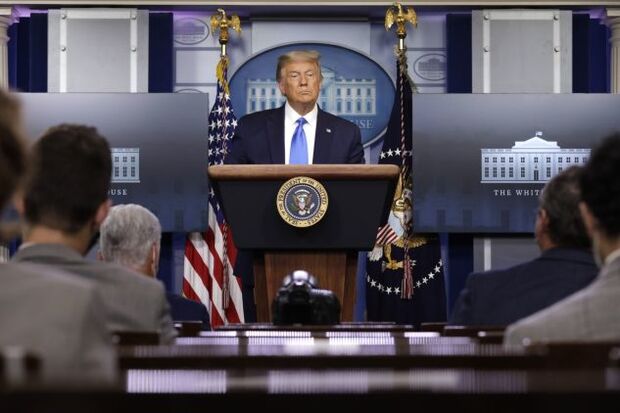 Thousands Driven to Obamacare Couldn't Pay: A significant portion of people who signed up for Obamacare during the pandemic—usually because of job loss—aren't getting health coverage because they couldn't pay their initial premiums. Almost one-third of some 20,000 Maryland enrollees from March through August didn't activate their plans. In Washington, one-fifth of a 27,000-enrollee sample are still without coverage due to lack of payment, a sign that Obamacare subsidies may not be enough to help uninsured people get coverage in a public health emergency.
Twelve states that operate their own Affordable Care Act exchanges have opened special enrollment periods outside the normal year-end window in response to Covid-19. In other states, uninsured people who lost their jobs are eligible for Obamacare now, but others must wait until November. People are enticed to sign up, but many are having trouble paying the first premium to start the coverage, Trinity College economics professor Gerardo Ruiz Sanchez found in a recent paper. Read more from Sara Hansard.
Happening on the Hill
Energy Effort Gains Momentum: The top senators on energy issues are working to muscle a bipartisan energy innovation package to the floor for consideration before lawmakers leave for the campaign trail, while the House is poised to advance its own proposal. The Senate could resume consideration of the American Energy Innovation Act next week, according to the chairman of the Energy and Natural Resources Committee. "We're still working it," said Sen. Lisa Murkowski (R-Alaska), who has spent years crafting the 53-bill energy package.
The House is set to pass similar, though not identical, energy innovation and efficiency legislation today or tomorrow. If the two chambers pass their respective bills, committee leadership will meet in an informal conference to reconcile differences. Kellie Lunney has more.
Trump Media Agency Boss Explains Skipping Hearing: The chief of the agency that oversees the Voice of America and other media organizations told the chairman of a congressional committee that subpoenaed him he couldn't appear because of a scheduling conflict. Michael Pack, who earlier this year took charge of the U.S. Agency for Global Media, had angered both Democrats and Republicans on the Foreign Affairs Committee when he defied the subpoena to testify about changes at the agency. In a letter yesterday to the panel's chairman, Eliot Engel (D-N.Y.), Pack said he was "disappointed to receive your subpoena" and "eager to testify." He complained in the letter that the panel's staff had refused to accept other dates. Read more from John Harney and Daniel Flatley.
Democrats Pitch Expansion of Apprenticeships: Democrats want to expand federal workforce training as a way to help people struggling to find work amid the pandemic, bucking a White House proposal for an alternate apprenticeship program. About 600,000 people participate in apprenticeships annually via the Labor Department's registered apprenticeship program, which allows workers to gain nationally recognized credentials in their occupations. Read more from Andrew Kreighbaum.
Senate Gives Trump His First Full EEOC Panel: TheSenate voted to give the Equal Employment Opportunity Commission a full leadership panel for the first time during the Trump administration, confirming civil rights lawyer Jocelyn Samuels (D). The full chamber signed off on Samuels by a 54-42 vote yesterday, one day after confirming Andrea Lucas (R) and Keith Sonderling (R), Paige Smith reports.
States Need More Aid, But Less Than Democrats Want: U.S. state and local governments need additional help from Washington to cope with the fallout from the coronavirus crisis, but not nearly as much as the roughly $900-billion sought by Democrats in the House. That's one conclusion of a paper by University of California-Berkeley professor Alan Auerbach and three fellow economists to be presented at a Brookings Institution virtual conference today. Read more from Rich Miller.
Elections & Politics
Trump Won't Commit to Peaceful Power Transfer: Trump yesterday wouldn't commit to a peaceful transfer of power if a tally of ballots shows Democrat Joe Biden wins the November election. "We're going to have to see what happens," Trump said in response to a reporter's question at a White House news conference last night. "You know that I've been complaining very strongly about the ballots, and the ballots are a disaster."
Trump has been criticizing the legitimacy of mail-in voting, which is being offered in a number of states as officials seek to limit the spread of the coronavirus at packed polling places. The president has repeatedly claimed without evidence that mail-in voting is more susceptible to fraud than in-person voting on Election Day. Lawyers representing Trump's campaign are challenging mail-in voting rules in several states. Read more from Josh Wingrove and Jordan Fabian.
Worst-Case Scenario Is Meltdown in Key State: It's the morning after the Nov. 3 election, and the world doesn't know who won the U.S. presidency because there are hundreds of thousands of mail-in ballots in the pivotal state of Pennsylvania that won't be counted for days as lawyers descend to battle over the votes. That's the worst-case election scenario emerging if the race is so close that a single state will determine whether Trump or Biden has the necessary 270 Electoral College votes to win the White House.
In 2000, the race came down to fewer than 600 votes in Florida. This year, with a record number of mail-in votes expected to be cast because of the coronavirus pandemic, Pennsylvania is perhaps most at risk for a post-election meltdown because of a confluence of factors, according to experts in election administration and law. Read more from Mark Niquette.
YouTube Will Label Videos on Mail Voting: YouTube will now treat videos about mail-in voting the same as footage on climate change or 9/11, another attempt from the social media giant to mitigate misinformation ahead of the presidential election. Read more from Mark Bergen.
Trump Retreats From Advertising in Key Battlefields: Trump's campaign has canceled $4.5 million in ad buys in key battleground states this week, raising more signs of trouble for his re-election effort, even as Biden expands his advertising footprint. Faced with a shrinking cash balance, Trump has pulled back on television ads in all but three states where the race is close: Arizona, Florida and Georgia. And his ads have disappeared from must-win states like Ohio and Iowa, where he and Biden are essentially tied. Read more from Gregory Korte, Bill Allison and Mario Parker.
Biden Leads Trump Among Women in Texas, Iowa, Georgia: Support for Trump is at 46% among likely voters in Texas, compared to 43% for Biden, according to a poll conducted by NYT and Siena College, Nour Al Ali reports.
Biden leads Trump in Iowa, 45% to 42%. Biden is up among women by 14 percentage points, while men favor Trump by eight points.
Biden and Trump are tied at 45% in Georgia. Biden leads among women by 10 points, while Trump is ahead with men by a margin of 11 percentage points.
Biden is ahead by 8 percentage points among women in Texas and Trump is ahead with men by 16 percentage points.
Texas GOP Sues to Stop Abbott Early Vote Order: An alliance of Republicans, including Texas GOP Chairman Allen West and six state lawmakers, are asking the state Supreme Court to block Gov. Greg Abbott, a fellow Republican, from extending the early voting period by six days. Citing the coronavirus pandemic, Abbott on July 27 signed a directive setting in-person early voting from Oct. 13–30, a departure from the original Oct. 19 start date. Paul Stinson has more.
What Else to Know Today
Trump Says He Can Veto FDA Vaccine Rules: Trump said the White House can veto final Food and Drug Administration rules for approving the emergency use of a coronavirus vaccine. "That has to be approved by the White House," Trump said. "We may or may not approve it." The FDA is expected to issue final rules in coming days for issuing an EUA for a coronavirus vaccine. Read more from Riley Griffin and Jordan Fabian.
Trump Eyes Souza for Intelligence Watchdog: Trump plans to nominate Allen Robert Souza, an official at the National Security Council, as the next watchdog for the U.S. intelligence community, the White House said in a statement. Souza is currently the principal deputy senior director for intelligence programs at the NSC. The previous inspector general, Michael Atkinson, who was fired by Trump in April, flagged the whistleblower complaint that led to Trump's impeachment, Vivek Shankar reports.
Trump Offers Help After Kentucky Officers Shot: At least two police officers were shot in downtown Louisville last night shortly before a 9 p.m. curfew took effect, the Louisville Courier-Journal reported. A Kentucky grand jury chose not to file murder charges yesterday against any of the police officers involved in the fatal shooting of Breonna Taylor during a drug raid on her home in Louisville. A single officer was charged with wanton endangerment for firing into neighboring apartments.
"Praying for the two police officers that were shot tonight in Louisville, Kentucky," Trump said in a Twitter post. Trump said he spoke with Gov. Andy Beshear (D) "and we are prepared to work together, immediately upon request."
Barr Remains Wary of Oracle-TikTok Deal: Attorney General William Barr and other national security officials haven't signed onto plans to let Oracle and Walmart take a stake in TikTok to avert Trump's threat to bar the app from U.S. stores, a person familiar with the matter said. The officials have unresolved concerns about the national security implications of the proposal, as competing camps emerge inside the administration, said the person. Read more from Chris Strohm and David Yaffe-Bellany.
China Still Expanding Xinjiang Re-Education Camps: China is continuing to invest in detention camps in Xinjiang, according to a new research report, findings that could bolster calls to punish Beijing over its human rights practices in the predominately Muslim region. Read more.
California Is Banning Gasoline Cars: California Gov. Gavin Newsom (D) yesterday ordered regulators to phase out the internal combustion engine and ban the sale of all new gasoline-fueled cars after 2035. With that, California became the first state in America to impose such a prohibition and delivered the biggest jolt yet to automakers already under pressure to give up fossil fuels and deliver a new generation of electric vehicles. Read more from Dana Hull, Gabrielle Coppola and David R. Baker.
Contractors Ordered to End Diversity Training: Companies that do business with the federal government are barred from conducting diversity training that includes "divisive concepts" such as the idea that the U.S. is inherently sexist or racist, or that individuals may be "inherently racist, sexist, or oppressive, whether consciously or unconsciously," under an executive order from Trump. Read more from Louis C. LaBrecque and Paige Smith.
Trump Labor Orders Partly Tossed: Portions of a pair of executive orders from Trump that limited union representation of the federal government's workforce violated the Federal Service Labor-Management Relations Statute, an arbitrator ruled. The ruling appears to be the first time an arbitrator has struck down parts of the 2018 orders that so far have been unsuccessfully fought in court. Louis C. LaBrecque has more.
To contact the reporters on this story: Zachary Sherwood in Washington at zsherwood@bgov.com; Brandon Lee in Washington at blee@bgov.com
To contact the editors responsible for this story: Giuseppe Macri at gmacri@bgov.com; Loren Duggan at lduggan@bgov.com; Michaela Ross at mross@bgov.com