What to Know in Washington: Trump, Pelosi Make Opposing Bets
Bloomberg Government subscribers get the stories like this first. Act now and gain unlimited access to everything you need to know. Learn more.
Nancy Pelosi and Donald Trump are putting down opposing wagers on where the economy is headed and who voters will blame if it goes south.
The two sides are at least $1 trillion apart on another package of relief the U.S. economy needs to overcome the ravages of a pandemic that continues to force companies, schools and other organizations to roll back plans to reopen for business.
Speaker Pelosi (D-Calif.) yesterday rebuffed an overture from Treasury Secretary Steven Mnuchin to resume negotiations, saying the White House refused to budge on the size of the relief plan. Mnuchin said it was Pelosi who refused to compromise.
Trump yesterday ridiculed the Democrats' proposals as "ridiculous" and filled with radical provisions that "no one in their right mind would approve."
One of the biggest sticking points is aid to state and local governments. Democrats offered to cut their original $3.5 trillion proposal by about a third but insisted on keeping almost $1 trillion for governments outside Washington. The Trump administration and congressional Republicans say state and local officials have been given enough help and offered to add $150 billion more for such aid than was in their original roughly $1 trillion proposal.
As much as the money, the argument is about how the country will fare in the months ahead, particularly in the 82 days until the election that will decide control of the White House and Congress.
"They don't think the economy is going to open up, and we do," Mnuchin said yesterday on the Fox Business Network. Read more from Justin Sink and Steven T. Dennis.
S&P 500 Briefly Tops Record Close: Where Washington sees a stalemate, Wall Street apparently envisions an eventual deal. The S&P 500 yesterday briefly surpassed the record peak reached before the coronavirus outbreak, only stumbling briefly as Democrats suggested the negotiations were in jeopardy.
It took just 175 days for the index to go from peak to trough to peak, a recovery that has come faster than any comparable one in the past. The previous 12 cycles that saw stocks recover from a drop of at least 20% took an average of four years. Since bottoming in March, the S&P 500 has risen about 50%, with more than 40 of its members doubling. More than $12 trillion dollars of share value that vanished is now all but restored. Read more from Vildana Hajric, Lu Wang and Claire Ballentine.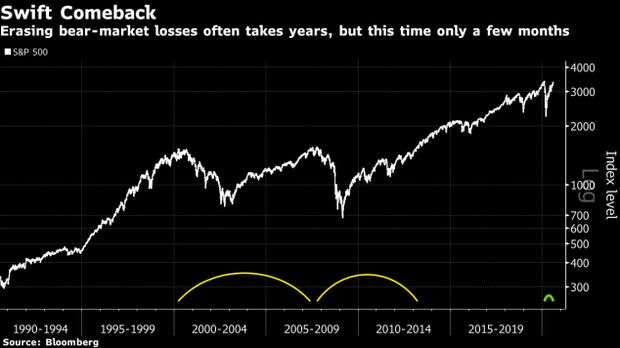 What to Watch Today
The Senate meets at 11 a.m. for morning business. No votes are scheduled. The House is not in session.
The White House holds a press briefing with Press Secretary Kayleigh McEnany at 1 p.m.
Bloomberg Government hosts an election webinar with reporters Greg Giroux and Emily Wilkins at 2 p.m. Find out more and register here.
Biden and Harris Make Debut
Democratic presidential nominee Joe Biden and his new running mate Kamala Harris appeared together for the first time yesterday since the California senator joined the ticket. "The choice we make this November is going to determine the future of America for a long, long time," Biden said. "Kamala knows how to govern. She knows how to make the hard calls. She knows how to do this job on Day One." Read more from Jennifer Epstein.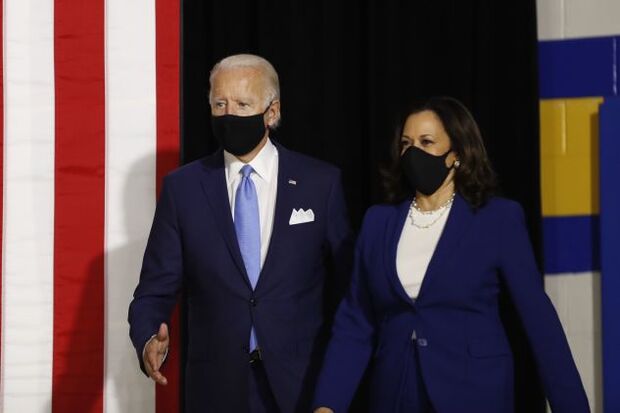 Biden is counting on Harris and her deep connections to the Black community to boost turnout from one of the Democratic Party's most important voting blocs. But Harris's difficulty stirring enthusiasm among Black voters during the Democratic primaries shows that she still needs to prove she can motivate this constituency, some activists say. Her efforts could be crucial in swing-state cities like Philadelphia, Detroit and Milwaukee where Black voters may prove decisive in defeating Trump. Read more from Tyler Pager and Naomi Nix.
The Trump campaign is painting Harris as both a radical leftist and as insufficiently liberal to unite the progressive wing of her party behind Biden. In the hours since Biden announced she would be his running mate, Harris was attacked for being "the most liberal U.S. senator," who would push the Democratic presidential ticket far to the left, and was also portrayed as a centrist whose moderate positions would prompt progressives led by Sen. Bernie Sanders (I-Vt.) to rebel. Read more from Misyrlena Egkolfopoulou.
Harris, who ran against Biden for the party nomination, still has more than $1.1 million in unpaid bills from her bid, according to filings with the Federal Election Commission. Harris raised about $39 million for her presidential bid in 2019, including transfers from her Senate campaign account, while spending about $40 million, the FEC filings show. Bill Allison has more.
More Elections & Politics
Trump to Visit Wisconsin as Democrats Prep Convention: Trump will go to Oshkosh, Wis., on Monday as the Democratic National Convention opens, the Milwaukee Journal Sentinel reports. Trump's campaign is considering holding a live event, the Sentinel reports. He will also visit Minnesota on Monday, Arizona on Tuesday and Pennsylvania on Thursday, NBC News separately reports.
Trump and Republican National Convention planners are not barred by law from holding the president's nationally televised nomination acceptance speech from the White House lawn or the executive residence, according to a government advisory opinion sent from Erica Hamrick, the deputy chief of the Hatch Act Unit at the Office of Special Counsel sent to House Oversight and Reform Chairwoman Carolyn Maloney (D-N.Y.). Read more from Ryan Teague Beckwith.
Trump Campaign Spending Big on Late Night: Stephen Colbert, Jimmy Fallon and Jimmy Kimmel may skewer Trump on their late night shows, but that doesn't stop his campaign from advertising on them. Trump commercials have appeared more than three times as often as his Democratic rival on all three talk shows since Biden's campaign began his first general election ad buys on June 19, according to data from Advertising Analytics. Trump spent an estimated $1.3 million to Biden's $700,000 on the comedy shows. Read more from Bill Allison and Gregory Korte.
Democrats Will Again Try to Flip Texas' 10th District: Texas' 10th Congressional District wraps around the northern fringes of Austin, sweeps through the small-town headquarters of Blue Bell ice cream and farm country, and reaches across the western suburbs of Houston. Since 2004 the district has voted eight times to send Rep. Michael McCaul (R-Texas) to the House. But the district is changing as the Austin and Houston areas grow, and its deep red politics are showing a purple tinge. McCaul faces a tough fight this November from Democrat Mike Siegel, a progressive who supports "Medicare for All" and was endorsed by Sen. Sanders. Read more from Rachel Adams-Heard.
Puerto Rico High Court Says Botched Primary to Resume: Puerto Rico's Supreme Court ruled that islanders who didn't get a chance to vote in last weekend's botched primary election can do so on Sunday, the latest twist in a gubernatorial race that will determine who gets the chance to lead the bankrupt commonwealth out of recession and a debt crisis. Read more from Jim Wyss.
Corn, Biofuel Boosters Pressure Pence Before Iowa Visit: Iowa ethanol and biodiesel advocates are pressing the Trump administration to swiftly deliver on promises to bolster renewable fuels, warning that voters in the state are increasingly skeptical of the commitment to the sector, Jennifer A. Dlouhy reports. "Iowa may very well hang in the balance," and action is important now, before Election Day, said the Iowa Corn Growers Association, Iowa Renewable Fuels Association, Iowa Soybean Association and Iowa Biodiesel Board in letter to Vice President Mike Pence ahead of his visit to the state today.
Facebook Launches Voting Center: Facebook launched a voting information hub to give users election information, including links to register to vote or volunteer at a local polling station, Kurt Wagner reports. The hub, which CEO Mark Zuckerberg first announced in May, will be promoted atop U.S. users' Facebook and Instagram feeds later this fall. The company expects it will reach 160 million Americans before November's presidential election, according to Emily Dalton Smith, Facebook's director of social impact. Facebook will compile information for the site from state officials and groups like the Bipartisan Policy Center and the Federal Voting Assistance Program.
Around the Administration
Election Mail Delay Sparks Bicameral Democratic Letters: Pelosi, Maloney and 173 other House Democrats sent a letter yesterday to Postmaster General Louis DeJoy calling on him to unwind operational changes that "that have worsened the crisis facing the Postal Service" and exacerbated an increase in delayed and undelivered mail. Democrats are "seriously concerned" by DeJoy's changes, including directing the service to no longer treat all election mail as first class, the lawmakers wrote.
The entire Senate Democratic caucus also wrote to DeJoy asking about the reports that election mail will not automatically be treated as first class, which could result in costing state election officials more. "Under normal circumstances, delayed mail is a major problem – during a pandemic in the middle of a presidential election, it is catastrophic," they wrote.
OMB Receives Democrats' Letter on Apportionment: A White House Office of Management and Budget spokesperson yesterday acknowledged receiving House Democrats' request for a variety of documents on the apportionment process for foreign military aid, global health programs and other funds, Jack Fitzpatrick reports. Budget Chairman John Yarmuth (D-Ky.), Appropriations Chairwoman Nita Lowey (D-N.Y.) and Maloney asked OMB Director Russell Vought for documents that detail a plan to either use or withhold budgetary resources in the last quarter of the fiscal year.
Democrats made a similar request in 2019, partly because of the Trump administration's withholding of foreign aid that year and its consideration of late-year rescissions of aid in 2018. OMB was "cooperative to a significant extent," Yarmuth said in October 2019, until officials stopped cooperating due to the House's impeachment inquiry of Trump.
Senators Propose Plan for Compensation of College Athletes: A group of Democratic senators led by Cory Booker (N.J.) is pushing for a "College Athletes Bill of Rights" to allow compensation and health-care coverage for the players who power a $16 billion industry. Booker, who played tight end at Stanford University, announced the proposal today, which he said will advance "justice and opportunity." The plan will allow personal endorsement deals, provide health-care coverage for injuries for at least a decade and give athletes more of a voice in the governance of college sports. Read more from Brandon Kochkodin.
Trump Move Could Gut DACA, Dreamers Say: The Trump administration's move to curtail a program sparing young immigrants from deportation is an effort to "dismantle" an initiative the U.S. Supreme Court just spared, a group of immigrants said in court. Acting Homeland Security Secretary Chad Wolf said last month that the administration would consider ending the Deferred Action for Childhood Arrivals program, claiming it could spur illegal immigration. Wolf said the U.S. would reject new applications and shorten renewal periods. Read more from Patricia Hurtado.
Barr Seeks Qualified Immunity From Lafayette Square Suit: Attorney General William Barr told a federal court yesterday that the doctrine of qualified immunity should protect him from any liability related to the June 1 clearing of Lafayette Square in Washington, D.C. Black Lives Matter D.C. alleges that Barr ordered federal and state law enforcement officers to disperse protesters at Lafayette Square so that Trump could pose for photographs at St. John's Episcopal Church. Judge Dabney L. Friedrich at the U.S. District Court for the District of Columbia will have to decide if the protesters' rights Barr is said to have violated were "clearly established" at the time of the incident. Read more from Porter Wells.
CFTC Nomination: Trump intends to nominate Robert Bowes to be a commissioner on the Commodity Futures Trading Commission, according to a White House statement. Bowes has been an appointee at the Housing and Urban Development Department and currently serves at the Office of Management and Budget. He previously worked at Fannie Mae and was a vice president at Chase Manhattan Bank in corporate finance, according to the statement.
The Securities and Exchange Commission said Deputy Chief Accountant Marc Panucci plans to leave the agency later this month, Jameelah Robinson reports. Panucci was appointed to the role in 2016. Prior to holding the post, he served as an assurance partner in PricewaterhouseCoopers' national office.
Picks for Sentencing Commission Released: The White House released the president's intended nominees to the U.S. Sentencing Commission. Judge Michael Moore, who serves as the chief judge of the U.S. District Court for the Southern District of Florida, would be nominated as chairman, according to a White House statement. Other intended nominees include U.S. District Judge Claria Horn Boom of the Eastern and Western Districts of Kentucky; Henry Hudson, a senior U.S. District Judge for the Eastern District of Virginia; John Malcolm, the vice president for the Institute for Constitutional Government and the director of the Meese Center for Legal & Judicial Studies at the Heritage Foundation; and Circuit Judge Phil Restrepo of the U.S. Court of Appeals for the Third Circuit.
Fannie, Freddie Will Impose New Fee on Most Mortgage Refinances: Fannie Mae and Freddie Mac are planning to charge an additional fee on most mortgage refinance loans that could raise costs for borrowers trying to take advantage of historically low rates in an uncertain economy. Read more from Joe Light.
Health CEOs Encouraged by Rural Options: Health-care executives and policy analysts reacted optimistically to a new method of paying groups of rural health-care providers to coordinate care, but they are wary about the risk involved. Read more from Shira Stein.
Defense & Foreign Affairs
U.S. Pushes Gulf Allies to Share Defenses: The Pentagon has backed billions of dollars in sales of U.S.-built missile interceptors and sensors to allies in the Middle East. Now, the top American general in the region is renewing long-frustrated efforts to develop a shared system to detect threats from Iran. Read more from Tony Capaccio.
Chinese Institutes Confronting U.S. Demand to Register: The White House is increasing scrutiny of a long-established program that's dedicated to teaching Chinese language and culture in the U.S. and other nations, the latest escalation of tensions with China. The State Department plans to announce as soon as today that Confucius Institutes in the U.S., many of which are based on college campuses, will need to register as "foreign missions," people familiar with the matter said. Read more from Peter Martin.
Trump's Green Card Wealth Test Gets Reprieve in Ruling: The Trump administration's plan to screen out green card applicants who might become dependent on public benefits got another legal boost when an appeals court halted an order that had blocked the policy from going into effect during the pandemic. Read more from Chris Dolmetsch.
Europe Sees an Olive Branch in U.S. Tariff Move: The U.S. left largely intact its list of European products worth $7.5 billion targeted with tariffs because of illegal Airbus subsidies, opting not to follow through on a threat to substantially increase the economic pain on its transatlantic trade partners. Read more from Brendan Murray and Jenny Leonard.
U.S. Says Iran Forces Boarded Tanker: Iranian special forces boarded a tanker in international waters for about five hours yesterday before releasing it, according to an U.S. official familiar with the matter. Read more from Sebastian Tong, Verity Ratcliffe, Stephen Stapczynski and Kevin Varley.
To contact the reporters on this story: Zachary Sherwood in Washington at zsherwood@bgov.com; Brandon Lee in Washington at blee@bgov.com
To contact the editors responsible for this story: Giuseppe Macri at gmacri@bgov.com; Loren Duggan at lduggan@bgov.com; Michaela Ross at mross@bgov.com
Stay informed with more news like this – from the largest team of reporters on Capitol Hill – subscribe to Bloomberg Government today. Learn more.