What to Know in Washington: Trump Nears Concession, Walks Back
President Donald Trump is coming to grips with his re-election defeat, according to aides and advisers, even as he continues to publicly discredit the outcome and delay the start of the official transition to President-elect Joe Biden's administration.
Trump began a tweet yesterday morning with the phrase "He won," interpreted by even fellow Republicans as a possible concession. "I think that's a start of an acknowledgment," Arkansas Gov. Asa Hutchinson (R) said on "Meet the Press."
After news organizations published stories saying Trump had acknowledged defeat for the first time, the president followed up with a tweet proclaiming, "I concede NOTHING!" But pressure is growing both from Biden's team and from within Trump's party for the government to begin the formal transition process, delayed by the president's refusal to concede.
Privately, people around him say the president is increasingly aware he cannot overturn the result of the election. The people asked not to be identified discussing the matter because of Trump's public statements.
Nonetheless, the president has made a show of fighting on. Over the weekend, he appointed his confidant Rudy Giuliani to lead his legal battles, which endured a string of setbacks last week. The former New York mayor, whose activities in Ukraine contributed to Trump's impeachment and who led a discredited effort to tar Biden as corrupt ahead of the election, said in a statement that "my team is vigorously fighting on behalf of the president to restore legitimacy and trust in the results of this election and future ones."
He made a series of allegations about irregularities and fraud in Michigan and Pennsylvania's elections. Election lawyers who have reviewed affidavits Trump's team have filed in a federal suit seeking to stop Michigan from certifying its election results say they do not constitute evidence of fraud and shouldn't be grounds to overturn the outcome.
Biden's incoming chief of staff, Ron Klain, said on "Meet the Press" yesterday that it's time for the president to accept the election outcome and begin the transition. The Trump appointee who leads the General Services Administration, Emily Murphy, has not yet acted to officially recognize Biden as the incoming president, allowing his transition teams access to federal agencies.
"It's time for leaders in both parties to get to business of this transition, to get to business of working together to start to plan out a legislative agenda for next year," Klain said. Read more from Mario Parker.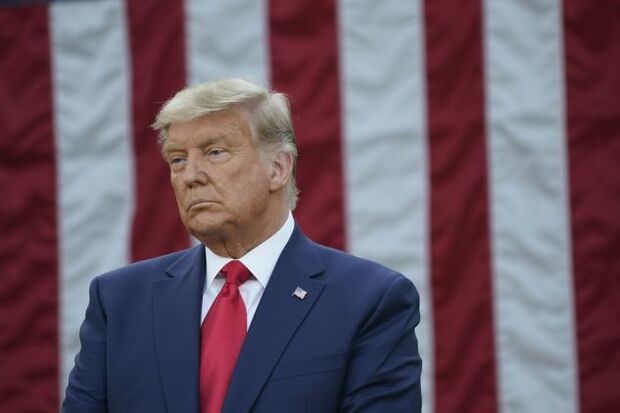 Pennsylvania Suit Focus Narrowed: An amended filing by Trump's campaign yesterday significantly narrowed the scope of an effort that had earlier sought to scrap about 680,000 votes cast in Pennsylvania. The lawsuit originally sought to block Pennsylvania from certifying its election results unless it threw out mail-in votes from the state's most populous counties, which include the Philadelphia and Pittsburgh areas that voted heavily in favor of Biden. It alleged that Trump-affiliated observers were limited from watching votes being counted in Democratic strongholds. Yesterday's updated filing scrapped that argument, to instead focus on ballots it maintains were improperly "cured" — an unknown number but one that is almost certainly a fraction of Biden's lead in the state of almost 66,000 votes. Read more from Erik Larson.
The Trump campaign's flurry of lawsuits seeking to overturn his election defeat is likely intended to undermine Biden's administration rather than achieve a courtroom victory, Michigan's top law enforcement officer said. Trump wants to sow doubt about Biden's victory "right from the get go" so his "aiders and abettors" can use unfounded claims of fraud to challenge Biden's policy proposals and legislative priorities, Michigan Attorney General Dana Nessel said in an interview. Read more from Erik Larson.
Georgia Recount Yields Few Changes, Democrats Say: Georgia's hand audit of ballots cast in the presidential election is proceeding rapidly with little change in the results so far, according to lawyers working for Biden's campaign. Some 48 of the state's 159 counties have finished their examination of the ballots with either no change or minor shifts — differences of fewer than five votes in some instances, they said. Four counties that have finished their retallies reported having no changes. Biden won the first count by over 14,000 votes. Election officials on Saturday started auditing almost 5 million ballots. Read more from Bill Allison.
Attorneys General Challenge Barr's Directive: Several Democratic state attorneys general expressed misgivings over U.S. Attorney General William Barr's directive last week authorizing U.S. attorneys around the country to open inquiries into the presidential election. In a letter to Barr released on Friday night, the 20 law enforcement officials said his act could have "potentially corrosive effects on the electoral processes at the heart of our democracy." Read more from John Harney.
The Presidential Transition
Biden, Harris to Talk Economy: Biden and Vice President-elect Kamala Harris will make remarks on the U.S. economy today, their transition team said. The comments "on the economic recovery and building back better in the long term," are due to start at 1:45 p.m. in Wilmington, Del.
Biden Team Plans Pharma Meetings: Biden's team will begin meeting with Pfizer and other leading pharmaceutical companies in the next days, as they continue the transition to a new administration amid the surging pandemic, according to Klain. "We're going to have meetings between our top scientific advisers and the officials of these drug companies, not just Pfizer, but there are other promising vaccines as well," Klain told NBC. Bloomberg reported that the consultations between Biden's advisers and the pharmaceutical industry started even before the election. Read more from Tyler Pager.
Biden's Aides Say Lockdown Not on Agenda: Two of Biden's coronavirus advisers said they favor targeted local measures to stem the pandemic and oppose a nationwide U.S. lockdown as too blunt. Vivek Murthy, a former U.S. surgeon general who's one of Biden's leading three advisers on the virus, said that based upon what the nation has learned about Covid-19 since the spring, the preferred approach of fighting the disease is "a dial that we turn up and down depending on severity." A nationwide lockdown would exacerbate "pandemic fatigue," which would undermine federal virus efforts, he said. Read more from Tony Czuczka and Bill Allison.
Teacher Unions See Reflection in Biden: Teachers unions are ready to flex long-dormant political muscle after playing defense for the past four years against Education Secretary Betsy DeVos and engaging in repeated clashes with the Obama administration before that. Biden has promised a more prominent role for organized labor in his administration than under Trump or even President Barack Obama, whom Biden served for eight years as vice president. Read more from Andrew Kreighbaum.
Farm Industry Braces for Tougher Eye: American agriculture is bracing for tougher scrutiny of practices from environmental protections to workplace safety in the transition from the anti-regulatory regime under Trump to the Biden administration. The key question will be the magnitude of pressure, amid divisions among Democrats about how hard to move on a progressive agenda. Another element of Biden's likely program for the Agriculture Department is more certain: greater food assistance for needy families. Read more from Mike Dorning.
Steelmakers Seek $1 Trillion for Infrastructure: The American steel industry is pivoting its focus from tariffs to infrastructure, pressing the Biden team for a major package that it says could add at least 3 million new jobs. The Steel Manufacturers Association, which represents the largest U.S. steelmaker, is calling for a five-year, $1 trillion-plus infrastructure package to be funded as part of a coronavirus relief bill. Funding should come from a "modest" increase in the gasoline tax, according to Philip Bell, the group's president. Read more from Joe Deaux.
Trump Plans China Actions to Bind Biden: Trump plans several new hard-line moves against China in the remaining weeks of his term, according to a senior administration official, potentially tying the hands of Biden. Actions under consideration include protecting U.S. technology from exploitation by China's military, countering illegal fishing and more sanctions against Communist Party officials or institutions causing harm in Hong Kong or the far western region of Xinjiang, the official said, without providing specifics. Read more from Mario Parker and Ros Krasny.
Trump Rushes Environmental Regulations: The Trump administration is rushing to issue permits, finalize major environmental regulations and even sell the rights to drill for oil in Alaskan wilderness before Inauguration Day in a push that could complicate Biden's climate and conservation agenda. The 11th-hour regulatory race underscores the extent to which federal agencies are anticipating Biden's swearing-in as U.S. president on Jan. 20 even as Trump refuses to concede. It also reveals a widespread effort by Trump officials to leave their imprint on federal policy and — at least temporarily — tie the hands of their successors. Read more from Jennifer A. Dlouhy.
Movers & Shakeups
Biden Eyes Diversity Amid White Aides: Biden promised to make history by putting more women and people of color in top cabinet jobs, but the inner circle of advisers to counsel him in the Oval Office is likely to remain dominated by White men. Biden took the first step this week toward filling out the ranks of his team by naming longtime aide Ron Klain as his chief of staff. Several other men are expected to be offered senior White House roles, including Ted Kaufman, Mike Donilon, Steve Ricchetti, Jeff Zients, Bruce Reed and Jake Sullivan, according to several people familiar with the transition.
They are a mix of longtime Biden aides and people who helped him with the campaign, and who now are advising him on the transition. Almost all are veterans of previous Democratic administrations. People familiar with the transition discussions say that several of them are expected to get posts inside Biden's administration, though none have been announced yet.
Insiders point to some people of color who likely will work closely with Biden at the White House: Symone Sanders, one of his highest-ranking Black staffers, and Cedric Richmond, a Black congressman from Louisiana who was a campaign co-chair. Sanders and Kate Bedingfield, the Biden campaign's deputy manager, are expected to get major communications roles, the people said. Read more from Tyler Pager.
When it comes to economic policy, Biden is putting racial disparities high on his agenda as he assembles his administration. The incoming president tapped Mehrsa Baradaran, whose book The Color of Money is a key reference on the racial wealth gap, to prepare the Treasury Department for the transition. She's joined by Lisa Cook, an economist at Michigan State University, on the "landing team" for the Federal Reserve and securities regulators. Read more from Lananh Nguyen and Jennifer Epstein.
Yellen Under Consideration for Treasury: Former Federal Reserve Chairwoman Janet Yellen is under consideration to be Biden's Treasury secretary, according to people familiar with the matter, joining other potential contenders. Yellen has withdrawn from at least one upcoming speaking engagement because she's now in contention for the Treasury job, a person familiar with the matter said. His team is also eyeing Fed Governor Lael Brainard and former Fed Vice Chairman Roger Ferguson, Bloomberg has reported. Read more from Saleha Mohsin, Jennifer Epstein, and Tyler Pager.
King Welcomes Intelligence Chief Consideration: Sen. Angus King (I-Maine) "welcomes being considered" by Biden to be his director of national intelligence, according to a spokesman for King. "Senator King is a committed public servant with a lengthy track record of discrete, independent thinking within the intelligence community," the spokesman said in a statement. Politico had earlier reported Biden was weighing King, who sits on the Intelligence Committee, for the post. Read more from Ryan Teague Beckwith.
Shakeup at DOD Said Creates 'Layers of Fear': Trump's appointment of Christopher Miller, a former Green Beret and White House counterterrorism coordinator, as the acting secretary of defense raises "two layers of fear," the chairman of the House Armed Services Committee said. The first is the "incredibly steep learning curve" over global military operations, options and controversies that Miller faces after Trump's dismissal-by-tweet of Mark Esper as Pentagon chief, said Rep. Adam Smith (D-Wash.). The second, he said, is whether Miller has the ability to talk the lame-duck president "off the edge" of an impromptu decision of global consequence. Read more from Tony Capaccio.
Trump Taps First Circuit Pick: Trump has resumed one of his most successful priorities as president, the appointment of federal judges, and the Republican-led Senate is poised to act before his term is up in January. The White House on Friday named Judge Raul M. Arias-Marxuach to fill the seat vacated by Judge Juan R. Torruella after his death. Trump also nominated federal prosecutor Thomas L. Kirsch to fill the seat on the Seventh Circuit that Justice Amy Coney Barrett vacated after her elevation to the Supreme Court. Read more from Madison Alder.
Happening on the Hill
Pelosi Faces Challenges of Slim Majority: Speaker Nancy Pelosi (D-Calif.) faces the imminent challenge of uniting a divided Democratic Party behind Biden's agenda without endangering her slim majority in midterm elections two years from now. With the narrowest majority in decades, Pelosi's ability to build consensus and keep Democrats moving in the same direction will be severely tested by the party's two competing factions.
After the Democrats lost as many as 10 House seats in the election, the tension spilled out on Twitter, in interviews and on a conference call, pitting representatives from swing districts like Pennsylvania's Conor Lamb and Virginia's Abigail Spanberger against the group of young, vocal progressives led by New York's Alexandria Ocasio-Cortez.
Pelosi's first test comes later this week. House Democrats will hold leadership elections that appear to offer a reprise of the existing team at the top, led by Pelosi, 80, Majority Leader Steny Hoyer (Md.), 81, and majority whip James Clyburn (S.C.), 80. The elections are to be held virtually, with nominating speeches and candidate presentations conducted by video call. Members will use a special phone app to vote, encrypted to keep their choices secret. Pelosi is asking the caucus to again pick her as the top Democratic leader, and its nominee for speaker. But the official vote for the speaker position occurs on the House floor in January, with members of both parties participating. Read more from Billy House.
Trump Pushes for 'Big and Focused' Stimulus Bill: Trump renewed a push for lawmakers to proceed with fresh stimulus to sustain the country's recovery. "Congress must now do a Covid Relief Bill," Trump tweeted Saturday, without offering details. "Make it big and focused. Get it done!" But after Trump lost the presidential election to Biden, his administration appeared to step back from negotiations on a new stimulus this week, leaving it to Senate Majority Leader Mitch McConnell (R-Ky.) to revitalize long-stalled talks with Pelosi. Read more from Jeff Kearns.
GOP's Kim Beats Cisneros in California Race: Republican Young Kim won the House race for California's 39th Congressional District, The Associated Press projected on Friday night. Kim, a former state lawmaker, defeated Rep. Gil Cisneros, a one-term incumbent. The race was a rematch from 2018 when Cisneros won the seat in what had long been a GOP-dominant district centered in Orange County. Read more from Ben Livesey.
Biden Set to Stump in Georgia for Runoffs: Biden is likely to travel to Georgia to campaign for the two Democratic Senate candidates ahead of the runoff elections in January, Klain said yesterday. Klain said the president-elect plans to campaign before the Jan. 5 votes, which will determine if Democrats or Republicans will control the Senate. Biden narrowly won the state in the presidential election. Senate control will have massive implications for Biden's ability to enact his policy priorities. Read more from Tyler Pager.
The Coronavirus Pandemic
U.S. Tops 11 Million Cases: The U.S. surpassed 11 million coronavirus cases yesterday as Florida reported the most new infections since July and California reached a three-month high. In a respite for New Yorkers, the city's public schools will remain open today, even as New Jersey counted record Covid-19 cases for the second straight day. Michigan Gov. Gretchen Whitmer (D) announced a three-week partial lockdown for her state. Read more from Bloomberg News.
The nationwide surge of the coronavirus threatens to overwhelm America's medical workforce. Prior waves of the pandemic were geographically concentrated: the Northeast in the spring, then the Sun Belt over the summer. Today's cases and hospitalizations are widespread, increasing in 49 states over the past week. One-in-5,000 Americans is currently hospitalized with the disease, the most ever in data aggregated by the Covid Tracking Project. Without enough workers to care for the sick, hospitals will face brutal triage decisions about which patients can be saved. Read more from John Tozzi and Jonathan Levin.
Death Toll Mounts With Difficult Weeks Ahead: The U.S. is starting to see a rising death toll from its latest spate of Covid-19 cases, and it's poised to get worse in the weeks to come. The country added 2,238 new deaths Friday, the highest in almost five months, according to data compiled by Johns Hopkins University and Bloomberg. The seven-day average for fatalities in America was 1,052 on Thursday, close to the highest since mid-August, according to the Covid Tracking Project. A consensus of models tracked by the University of Massachusetts Amherst's Reich Lab shows the daily pace set to rise by 200 by early December. Jonathan Levin has more.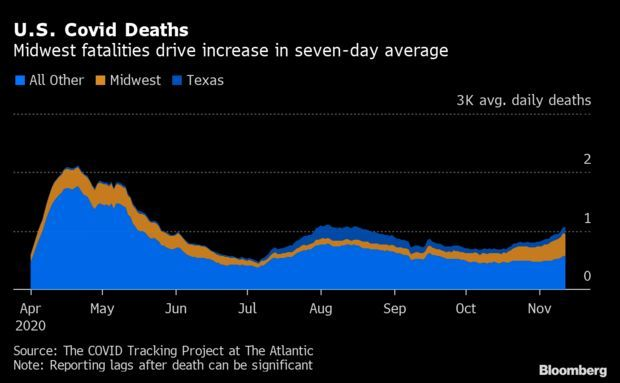 What Else to Know Today
Obama Says Adversaries See a Weakened Country: America's adversaries, even before the contentious U.S. election aftermath, had seen a weakened country given "cleavages in the body politic" that they think they can exploit, former President Obama said on CBS's "60 Minutes" yesterday. "When your time is up then it is your job to put the country first and think beyond your own ego, and your own interests, and your own disappointments," Obama said. "My advice to President Trump is, if you want at this late stage in the game to be remembered as somebody who put country first, it's time for you to do the same thing." Read more from Bill Allison.
Awkward Moments in Pompeo Trip: Secretary of State Michael Pompeo is on a 10-day trip to France, Turkey, Georgia, and the Mideast, including Saudi Arabia, in what could be his last foreign travel in this role. The trip will likely put his counterparts in an uncomfortable position, as he presses for cooperation on Trump administration foreign policy priorities that Joe Biden is likely to abandon when he takes office. A big part of Pompeo's trip appears to be aimed at enacting policies that'll be hard for Biden to undo. Read more from Nick Wadhams.
U.S., Allies on 'Verge of Defeating' Al-Qaeda: The U.S. remains committed to finishing the war that Al-Qaeda brought to its shores in 2001 and is on the "verge of defeating" the terror group and its associates, Acting Department of Defense Secretary Christopher Miller said in memo to employees. Read more from Niluksi Koswanage.
DHS Chief Wolf Found Serving Unlawfully: Acting Secretary of Homeland Security Chad Wolf is serving unlawfully as head of the department, having been elevated to that post in violation of the Homeland Security Act, a federal judge decided. While other federal judges have made preliminary findings to that effect, the ruling issued Saturday by U.S. District Judge Nicholas G. Garaufis in Brooklyn reached that conclusion as a matter of law. Genevieve Douglas has more.
Dairy Producers Push For Better Trade Terms: American dairy producers are renewing pressure on Washington to pursue trade deals that create "a more level and consistent global playing field" for the U.S. industry. The U.S. Dairy Export Council and the National Milk Producers Federation jointly released a summary of trade barriers for review by the Office of the U.S. Trade Representative. Read more from Justina Vasquez.
Google Data-Sharing Seen Hurting Future Probes: The U.S. government opposes sharing with Google other companies' sensitive information in an antitrust lawsuit because it says it would undermine trust and hamper future investigations. Trump's Justice Department sued Google last month accusing it of abusing a monopoly in its internet search engine. Read more from Joe Schneider.
SpaceX Speeds Astronauts to Space Station: Four astronauts are cruising to the International Space Station aboard a SpaceX capsule in the company's first regular NASA mission to the International Space Station. Read more from Justin Bachman.
To contact the reporters on this story: Zachary Sherwood in Washington at zsherwood@bgov.com; Brandon Lee in Washington at blee@bgov.com
To contact the editors responsible for this story: Giuseppe Macri at gmacri@bgov.com; Loren Duggan at lduggan@bgov.com; Michaela Ross at mross@bgov.com