What to Know in Washington: Trump Move on Stimulus Stumps Allies
President Donald Trump stunned campaign advisers and allies in Congress by single-handedly torpedoing any chance of a fresh coronavirus stimulus, saddling himself with the blame for any more layoffs and market losses in the final weeks before the election.
With the president already trailing badly in polls as he recovers from Covid-19, his decision to publicly scuttle talks toward a bill in excess of $1 trillion puzzled allies, who had accused Speaker Nancy Pelosi (D-Calif.) and Democrats for overreaching in negotiations.
Trump rejected Democratic proposals to expand the earned income and child tax credits, to provide funds to school, to fund child care, and to boost workplace safety requirements, among others, Pelosi said in a letter to colleagues yesterday, Jack Fitzpatrick reports.
The House speaker suggested later at a virtual event that if there is still no stimulus deal in the post-election lame-duck session of Congress, some of the virus relief funding could be added to a must-pass spending bill needed to keep the government open after Dec. 11.
Unless he backtracks, Trump's decision ensures that Americans won't receive stimulus checks before Election Day or an extension of at least $400 a week in enhanced unemployment benefits. Any stimulus measure would have also included billions for coronavirus testing and contact tracing, vaccine distribution, and financial assistance for the U.S. Postal Service ahead of Election Day.
Lawmakers had intended to provide aid for specific industries including restaurants, live entertainment venues and airlines, as well as rental, mortgage, and food assistance for ordinary Americans impacted by the virus.
Late last night, Trump issued a separate call for Congress to immediately approve $25 billion to help the airlines and another $135 billion for small businesses, but a piecemeal approach has been largely rejected by Democrats. His plea came as part of a late-night frenzy of tweets where Trump took aim at Democrats and accused them of trying to sabotage his presidency.
Trump terminated stimulus talks less than 24 hours after he returned home after three nights at Walter Reed National Military Medical Center with questions still swirling about his condition. People familiar with his thinking said Trump has been eager to return to the Oval Office, even while several more close aides tested positive for Covid yesterday.
The president's stimulus decision was likely driven by a hard political reality. Down by double digits to former Vice President Joe Biden, he lacks the political capital to bridge the gap between Democrats' demands for a bill in excess of $2 trillion and Senate Republicans who don't want to spend even half as much. Read more from Justin Sink, Mike Dorning and Jordan Fabian.
Centrist members of both parties bemoaned Trump's move:
Sen. Susan Collins (R-Maine), who's running behind in polls in her re-election campaign, said "waiting until after the election to reach an agreement on the next Covid-19 relief package is a huge mistake."
Rep. John Katko (R-N.Y.), a moderate House Republican, touted the stimulus offer from the bipartisan Problem Solvers group of moderate House members. "I disagree with the President," he tweeted. "With lives at stake, we cannot afford to stop negotiations on a relief package.
The Blue Dogs Coalition, a centrist group of Democratic lawmakers, said millions of Americans are suffering due to the coronavirus and that failure to get a deal "is not an option." The financial crisis "demands action, not partisan nonsense." Read more from Erik Wasson and Billy House.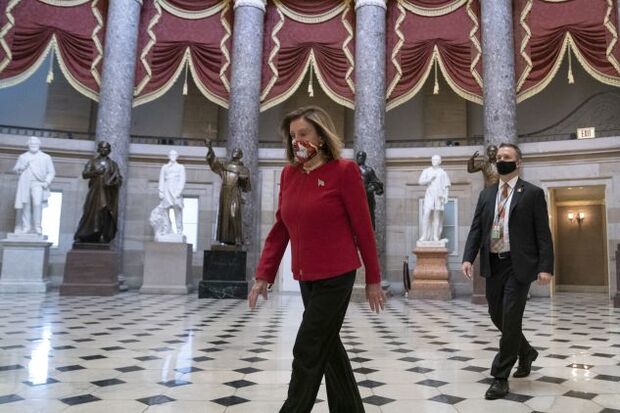 Corporate America Condemns Trump Move: Business leaders across America expressed dismay at Trump's announcement, with executives from retail and air travel industries saying more jobs will be lost if the economy doesn't get urgent aid. "This is very unfortunate. The economy is not something that can be put on hold until a time that might be more convenient," Steve Lamar, the head of the American Apparel & Footwear Association, said yesterday. "People are suffering today." Jonathan Roeder, Jordyn Holman, and Mary Schlangenstein have more.
Municipal Governments Fret: Trump's decision means America's pandemic-stricken municipal governments aren't likely to get any financial help soon, ensuring additional rounds of spending cuts, layoffs and tax increases that will deal a fresh hit to any economic recovery. "America's cities, towns and villages are reeling from the financial impact of the pandemic while continuing to expend significant resources to combat ongoing cases of COVID-19, recover from natural disasters and provide essentials services to their residents," Clarence Anthony, chief executive officer of the National League of Cities, said in a statement. "We can expect severe economic consequences from the failed negotiations, including more businesses closing and more public and private sector layoffs." Read more from Amanda Albright.
Trump Unleashes Two-Hour Twitter Barrage
Trump spent his first full day home from the hospital out of sight, but looked to make up for his absence last night with a spree of Twitter posts unleashing on some of his favorite targets.
In just a two-hour stretch, Trump announced he was declassifying all documents related to the probe into his campaign's ties to Russia — a move he subsequently claimed to have already taken — re-tweeted criticism of a premium cable miniseries, predicted the confirmation of Amy Coney Barrett to the Supreme Court would be "fast and easy," and blasted presidential debate moderator Chris Wallace as "a total JOKE."
He also criticized his own Food and Drug Administration, saying safety standards prepared by the agency for a coronavirus vaccine amounted to "another political hit job." The president insulted the physical appearance of Speaker Pelosi and declared that the upcoming election would be the "most corrupt" in American history. He further pledged to also declassify documents related to the four year old investigation into former Secretary of State Hillary Clinton's use of a private email server.
In total, the president tweeted or re-tweeted just under 40 times between 8 and 10 p.m. Washington time. The remarkable barrage seemed to reflect his concerns about his own standing as he tries to recover from the coronavirus while watching his poll numbers slip. It prompted Democratic nominee Joe Biden to post an animated image of himself imploring the president to "get off Twitter." Read more from Justin Sink.
'Political Hit Job': Trump accused the FDA of carrying out a "political hit job" against him by releasing new standards that could delay authorization of a coronavirus vaccine until after the November election. "New FDA Rules make it more difficult for them to speed up vaccines for approval before Election Day. Just another political hit job!" the president wrote in a tweet that tagged his hand-picked FDA commissioner, Stephen Hahn.
Trump commented hours after the FDA issued strict new requirements for Covid-19 vaccine applications, including a review by a panel of experts and two months of safety data. The guidelines are intended to reassure the American public any vaccine is safe and effective amid accusations the Trump administration's response to the virus has been tainted by politics. Read more from Jordan Fabian.
Russia, Clinton Probe Details: Trump announced he has authorized the declassification of documents related to the FBI's Russia investigation and the probe into Hillary Clinton's use of a private email account. "I have fully authorized the total Declassification of any & all documents pertaining to the single greatest political CRIME in American History, the Russia Hoax," Trump tweeted. "Likewise, the Hillary Clinton Email Scandal. No redactions!" he said.
Senate Republicans have been trying to put the spotlight back on what they said was a politically motivated probe meant to undermine Trump's candidacy in 2016 and his presidency. Former FBI Director James Comey told a Senate committee last week the inquiry into whether people close to Trump conspired with Russia to interfere in the 2016 election was largely conducted "by the book" but that specific aspects of the inquiry fell short. Read more from Chris Strohm.
Elections & Politics
Pence, Harris Meet for Vice-Presidential Debate: Vice President Mike Pence and Democratic vice-presidential nominee Sen. Kamala Harris (D-Calif.) face off Wednesday night in their first and only debate less than a month before the election, with coronavirus adding a sudden twist to the event. The showdown between vice-presidential candidates is more often a sideshow of U.S. presidential elections, but this year the encounter between Trump's and Biden's running mates takes on far greater significance with the pandemic.
The virus hit home for the Republican ticket over the past week with Trump and a widening circle of his aides testing positive for the virus and the president eventually landing in a military hospital for three days. The debate will be an opportunity for the American public to gauge whether Pence is ready to take over for the president. The debate will be a showcase as well for Harris. Emma Kinery breaks down what to watch for at the debate.
Pence's team has agreed to allow a plexiglass divider for his side of the stage during the debate, according to two people familiar with the matter. The team asked why a shield was needed if the two candidates would be 12 feet apart, according to the people, who added late last night that they had yet to receive a response. They said, however, that they would comply with the rules in order for the debate to proceed as scheduled. Read more from Mario Parker.
Biden's Climate Science Team: Biden has put forth the most ambitious climate plan of any presidential candidate in history—promising, among other things, to get the country to 100% clean electricity generation by 2035 and to invest $400 billion in clean energy innovation and technology over 10 years. That said, for climate activists, it's not quite a dream come true. The plan was knitted together in consultation with representatives from various diverse corners of the economic, political, and climate advocacy worlds. While every part of this coalition is invested in the Democratic candidate's vision, some want to see the country move more quickly toward renewables, while others think it's more important to conserve and create jobs, and still others are more concerned with political feasibility than anything else. Read more from Leslie Kaufman.
Biden Says Trump Shouldn't Debate With Covid-19: Democratic nominee Joe Biden said yesterday that he and Trump should scrap their next debate if the president is still infected with the coronavirus. "I think if he still has Covid we shouldn't have a debate," Biden told reporters on his way back from a campaign stop in Pennsylvania. "I'm looking forward to being able to debate him but I just hope all the protocols are followed that are necessary at the time," Biden said. Read more from Jennifer Epstein.
Biden Uses Gettysburg as Backdrop in Unity Message: Biden stood in front of the Civil War battlefields of Gettysburg yesterday to offer a pledge to unify the nation as his campaign entered its final four weeks and his support seems to be growing. "Once again, we are a house divided," Biden said, paraphrasing President Abraham Lincoln's legendary Gettysburg Address, aimed at restoring a sense of national purpose. "This must end." Read more from Jennifer Epstein.
Puerto Rico Governor Endorses Trump: Puerto Rico Gov. Wanda Vazquez (R) endorsed Trump as candidates strive to appeal to Latino voters, particularly in swing state Florida. In an interview with Telemundo on Monday, Vazquez urged the estimated 5.5 million Puerto Ricans on the mainland to "use your vote and evaluate who represents and thinks about Puerto Ricans in their most difficult time." When the interviewer asked "Donald Trump?" she responded, "Donald Trump." Read more from Jim Wyss.
National Security Chiefs Tout Election Integrity: Four agency directors from the U.S. national security community broke with Trump yesterday, uploading a Twitter video assuring voters that the U.S. electoral system is safe and reliable. "We are not going to tolerate foreign interference in our elections or criminal activity that threatens the sanctity of your vote or undermines public confidence in the outcome of the election," FBI Director Christopher Wray said in the video. Read more from Mark Niquette.
Trump's campaign can't block New Jersey's plan to accept mail-in ballots lacking a postmark for up to two days after Election Day, a federal judge ruled. U.S. District Judge Michael Shipp yesterday denied a request from the campaign and the Republican National Committee for a preliminary injunction against the voting measures, saying New Jersey's legislature was within its rights to set new voting rules during the coronavirus pandemic. Read more from Erik Larson and Elise Young.
A federal appeals court rejected an emergency bid by Montana Republicans to halt the automatic mailing of absentee ballots to all registered voters. The San Francisco-based appeals court yesterday denied the request to stay pending appeal a Sept. 30 order allowing the mailing to proceed. In that ruling, U.S. District Judge Dana Christensen rejected as "fiction" claims by Republicans that mail-in voting will lead to widespread ballot fraud. Read more from Edvard Pettersson.
Michigan can't enforce a law that makes it a crime to pay for transportation of voters to the polls, unless a they're physically unable to walk there, while state legislators appeal a judge's ruling that blocked the measure. U.S. District Judge Stephanie Dawkins Davis in Flint yesterday rebuffed a request from state legislators and the Republican National Committee to leave the law in force while they appeal her earlier decision, saying they were unlikely to win, Pettersson reports.
Facebook Bans Groups, Pages Linked to QAnon: Facebook is expanding its approach to the QAnon conspiracy movement, saying it will remove all Pages, Groups and Instagram accounts linked to QAnon's followers in an effort to limit their reach and growth online. Facebook previously banned QAnon Pages, Groups and accounts if they called for or celebrated violence. But that meant Groups and Pages that peddle the QAnon conspiracies, but were not explicitly violent, remained on the service. Read more from Kurt Wagner.
What Else to Know Today
Democrats Say Barrett Omitted Materials: Democrats on the Senate Judiciary Committee are asking the Justice Department to provide missing materials from Judge Amy Coney Barrett's Senate Judiciary Questionnaire. Barrett omitted materials concerning her views on Roe v. Wade from the questionnaire provided to the committee, the lawmakers said in a letter, Teaganne Finn reports. The omission "raises concerns" that the process of collecting materials responsive to the committee questionnaire, like the nomination process itself, "has been rushed, for no legitimate reason," they wrote.
Barrett's confirmation could make it harder for future administrations to adapt laws that have been on the books for decades to meet emerging challenges such as climate change. That's because Barrett's confirmation would strengthen a conservative bloc of justices who take a narrow view of federal agency power — potentially spelling doom for efforts to write regulations to thwart greenhouse gas emissions and promoting environmental justice. The prospect is driving a wave of opposition to Barrett from environmental groups. Read more from Jennifer A. Dlouhy.
Key Allegations in House Antitrust Report: A House panel proposed far-reaching antitrust changes to curb the power of U.S. technology giants including Amazon and Google, culminating a 16-month investigation with a damning 449-page report that Republicans largely shunned. Here are the main allegations.
FAA Proposes Simulator Training for Pilots: Proposed new pilot-training requirements for Boeing's grounded 737 Max — one of the final hurdles needed before the plane can return to the skies — includes simulator training that the planemaker once sought to avoid. The training would require that flight crews are trained and tested on the fixes to the plane, including changes to the automated system implicated in two crashes and a redesigned flight-control computer, the report posted by the Federal Aviation Administration said yesterday. The plan could be altered as the agency considers comments from pilots, airline unions and the public. Read more from Alan Levin.
Undocumented Migrants Face Fast Removals: Undocumented immigrants anywhere in the U.S. can be deported as quickly as a day, once Immigration and Customs Enforcement officials complete mandatory training online, the agency says. "This is huge. It can very significantly shift how immigration law is enforced," John Sandweg, former acting head of ICE in the Obama administration, said in an interview. All ICE personnel were told that the agency would now carry out the new, expanded authority for expedited removals in an Oct. 2 email, which Bloomberg Government reviewed. Read more from Shaun Courtney.
Related: Border Policy Was Clear: 'We Need to Take Children Away' (New York Times)
Microsoft, Wells Fargo Diversity Plans Draw Labor Inquiry: Microsoft and Wells Fargo, which have both pledged to double their ranks of Black leaders, received letters from the Labor Department asking how their efforts comply with laws limiting the consideration of race in employment. Microsoft, whose contracts with the U.S. government subject it to certain rules, said yesterday it's confident that its diversity pledges are legal. The company said in June that it would double the number of Black and African American managers, senior contributors and senior leaders in the U.S. by 2025. Read more from Dina Bass, Josh Eidelson and Hannah Levitt.
To contact the reporters on this story: Zachary Sherwood in Washington at zsherwood@bgov.com; Brandon Lee in Washington at blee@bgov.com
To contact the editors responsible for this story: Giuseppe Macri at gmacri@bgov.com; Loren Duggan at lduggan@bgov.com; Michaela Ross at mross@bgov.com