What to Know in Washington: Trump Meets North Korea's Kim at DMZ
For decades, U.S. presidents visiting the Demilitarized Zone dividing the Korean Peninsula have followed roughly the same playbook: Peer through binoculars at North Korean border guards. Look stern. Warn Pyongyang that provocations won't be rewarded. Trump smashed that precedent on Sunday, meeting Kim Jong Un for the third time after a last-minute Twitter invitation that even surprised the North Korean leader. He then became the first sitting U.S. president to enter the isolated country, walking a couple dozen feet across the demarcation line in the DMZ.
Yet throughout the history-making moment, Trump had something on his mind: critics who say his overtures to Kim haven't led to any meaningful moves toward ending North Korea's nuclear program. Nearly every time Trump appeared before cameras, including at the DMZ lookout point, he complained that he hadn't received sufficient credit for defusing tensions on the Korean Peninsula.
"There was great conflict here prior to our meeting in Singapore," Trump said of his first meeting with Kim last year. He repeatedly lashed out at Barack Obama, at one point saying that the former president had sought meetings with Kim but was rejected, a claim refuted by Obama's deputy national security adviser, Ben Rhodes. Margaret Talev and Jon Herskovitz have more.
Democrats Criticize 'Trump Show': Meanwhile, the Senate's top Democrat, Chuck Schumer (D-N.Y.), called the meeting Sunday between Trump and Kim another "typical Trump "show,"' according to a Twitter message. "North Korea continues to build nuclear weapons," he added. Read more from Nour Al Ali.
Democrats seeking to replace Trump said while it's good the president is talking with North Korean leader Kim Jong Un about eliminating his nuclear weapons, this weekend's drama appeared to be more of a show than a path toward getting results. "Of course as a country, we want this to work," Sen. Amy Klobuchar (D-Minn.) told CNN. "But it's not as easy as just going and, you know, bringing a hot dish over the fence to the dictator next door.''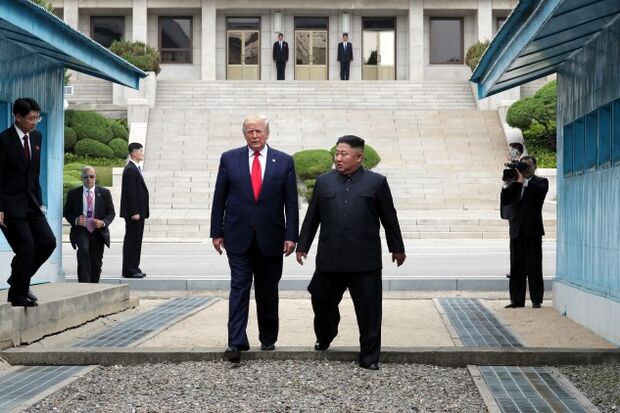 (Photo by Handout/Dong-A Ilbo via Getty Images)
Bringing Shunned Authoritarians Back: It was a good few days to be an authoritarian leader. At the Group of 20 gathering in Japan, leaders who can find themselves shunned at such multilateral summits were the focus of Trump's attention, humor and respect across Friday and Saturday. Turkey's leader was a "tough cookie" and Saudi Arabia's crown prince a "friend" who has done a "spectacular job." Trump said he had a "tremendous discussion" with Russia's Vladimir Putin. China's President Xi Jinping was "one of the great leaders in 200 years." Read more from Nick Wadhams.
Trump Splits With G-20 on Climate: Trump again split from other Group of 20 nations over climate change, with the U.S. rebuffing the need for the Paris Agreement to reduce emissions. Negotiators had worked through the night to try and reach agreement on the communique released Saturday after the G-20 summit. The so-called 19+1 formula on climate change is similar to what was agreed at the gathering last year in Argentina. Read more from Ilya Arkhipov and Gregory Viscusi.
More headlines from the G-20 summit:
IRS Bill Signing: Trump this afternoon is scheduled to sign into law the "Taxpayer First Act." The IRS would have to modify its appeals, summons, and asset seizure procedures under the bill, which would make a variety of other changes to the agency. For more on the bill, see the BGOV bill summary.
On Lawmakers' Radars
Senate 5G Infrastructure Bill: Sen. Dianne Feinstein (D-Calif.), ranking member of the Senate Judiciary Committee, introduced the Restoring Local Control Over Public Infrastructure Act on June 27. The bill essentially would nullify FCC orders that went into effect in January that set time frames for local governments to approval 5G infrastructure, with the goal of speeding up approval of small cell technologies on city-owned infrastructure. Cities are currently suing the FCC in the 9th Circuit over claims that the rules take away local authority over the permitting process for such infrastructure.
Deepfake Video Bill: A bipartisan group of senators introduced the Deepfake Report Act which directs the Department of Homeland Security to conduct an annual study of deepfake videos, which are realistic manipulations of events that did not actually occur. It's sponsored by Sens. Rob Portman (R-Ohio) and Martin Heinrich (D-N.M.), as well as five other members. "As AI rapidly becomes an intrinsic part of our economy and society, AI-based threats, such as deepfakes have become an increasing threat to our democracy," Portman said in a statement Friday.
Biofuel Waivers Controversy: A dozen Republican senators are insisting that Agriculture Secretary Sonny Perdue stop intervening in government decisions over granting oil refineries exemptions from biofuel-blending quotas, warning the White House that his involvement is potentially illegal. The Republicans issued their demand in a letter to Trump, following reports the USDA secretary pushed regulators to pare the exemptions and redistribute the waived quotas to other refineries, although they say federal law gives Perdue no role in the issue. Read more from Jennifer A. Dlouhy.
Senate Finance Counsel Sees No Leaks: If you want to know more about the Senate Finance Committee's probe of tax-advantaged land conservation deals, you're going to have to wait. John Schoenecker, senior investigative counsel for the committee, said there will be no staff leaks during the panel's investigation of transactions known as syndicated conservation easements. "One of the many reasons that's important is because there's a rumor going around that stakeholders in the IRS are controlling this investigation," Schoenecker said June 28 at a TEGE Exempt Organizations Council meeting. "That is unequivocally, entirely false." Read more from Kelly Zegers.
Elections & Politics
Harris Jumps 6 Points After Debate: Sen. Kamala Harris (D-Calif.) doubled her standing as preferred candidate to 12% from 6% among Democratic primary voters, according to a Morning Consult poll conducted after last week's debate in Miami. That increase puts Harris into a third place tie with Sen. Elizabeth Warren (D-Mass.), Morning Consult says. Joe Biden lost 5 percentage points from the previous poll, taken June 17 to 23. He still leads the field, with 33% of primary voters saying he's their first choice. Read more from Chelsea Mes.
Harris stood by her decision to confront Biden on race as she now faces an online campaign attacking her along racial lines. "It may make people uncomfortable to speak the truth about the history of our country but we must speak the truth," Harris told reporters Sunday. Her mother was Indian, her father was Jamaican and she was in the first generation of her family to be born in the U.S. "Harris is implying she is descended from American Black Slaves," read one tweet by Ali Alexander, a black Trump supporter with a sizable online following. "She's not." Jennifer Epstein has more.
Meanwhile, Trump said neither Harris nor Biden came out ahead in the debate. "He didn't do well, certainly, and maybe the facts weren't on his side," Trump said. "I think she was given too much credit for what she did. It wasn't that outstanding." Margaret Talev and Jennifer Jacobs have more.
Biden No Longer Has the Luxury of Just Running Against Trump: The former vice president's perch at the top of polls was shaken by Harris, the first-term senator from California, who confronted him at the first Democratic debate about past statements on school desegregation. That put the front-runner on the defensive and opened door for some of his party rivals to take aim at his vulnerabilities and his record, even as he tries to keep his focus on Trump. Read more from Jennifer Epstein and Sahil Kapur.
Buttigieg Raises $24.8 Million Haul in Q2, Continuing 2020 Surge: Pete Buttigieg continued his surge as a 2020 Democratic presidential candidate, raising $24.8 million in the second quarter and cementing his status as a top-tier candidate.
"Thank you to the over 400,000 of you who have invested in this campaign, and who helped us raise over $24,800,000 this quarter alone. You inspire us every step of the way, and we're just getting started," the mayor of South Bend, Indiana, tweeted Monday. Read more from Elizabeth Wasserman.
Boyda Seeking Open Senate Seat in Kansas: Former Rep. Nancy Boyda, a Democrat, has filed papers with the Federal Election Commission to run for an open U.S. Senate seat in the 2020 election. Boyda represented the Topeka-area 2nd congressional district from 2007 to 2009. She unseated Republican Rep. Jim Ryun in 2006 and then lost her seat to Republican Lynn Jenkins in 2008. Sen. Pat Roberts (R) isn't seeking re-election in a state Trump won by 21 percentage points in the 2016 election. Read more from Greg Giroux.
Murphy Loses on Millionaire Tax, Widens Rift With N.J. Democrats: New Jersey Governor Phil Murphy has backing from liberal voters, public unions and a national Democratic party agitating for progressive values in the age of Donald Trump. Foes within his own party may have higher-octane fuel: residents' disgust with some of the highest taxes in the U.S.
Murphy signed a $38.7 billion budget on Sunday, avoiding a government shutdown that could have cost him politically. The plan increases spending to make a record $3.8 billion pension payment and boosts funding for property-tax relief, public schools and the cash-strapped New Jersey Transit agency. Still, the governor lost his fight for a millionaire's tax with the more-moderate Democrats who control New Jersey's Senate and Assembly. Read more from Elise Young and Donald Moore.
What Else to Know
Wall Start Date Dealt Setback in Court: Trump was ready to break ground this morning on his long-promised Mexico border wall. But a court ruling late Friday dealt the president another setback. A federal judge who last month blocked a pair of construction projects in Arizona and New Mexico added four more sites in Arizona and California. And the Oakland, California-based judge turned his temporary injunction into a permanent one. Trump promised to appeal the ruling immediately, and complained that district court judges can issue nationwide injunctions. Read more from Kartikay Mehtortra.
Facebook to Ban Census Interference: Facebook will ban content that misrepresents the 2020 U.S. census to suppress participation by minority communities, the latest step by the social media company to quell criticism from civil rights advocates. Facing accusations that it hasn't done enough to curb efforts aimed at discouraging minorities, Facebook said Sunday it's developing a policy to be unveiled later this year that would prohibit distortions of census requirements, methods or logistics in postings.
The policy is among several changes Facebook announced in a report on its continuing civil rights audit, which is reviewing discrimination and biases on the social media platform. The study was conducted by civil liberties advocate Laura Murphy and Relman, Dane & Colfax, a law firm handling anti-discrimination issues. A final report is due next year. Read more from Naomi Nix.
Meanwhile, Facebook will also improve its content review tools to reduce the number of posts mistakenly removed for condemning hate speech, according to an update of the company's civil rights audit. Users also will be able to turn to an independent oversight board to appeal content decisions, and Facebook will release a framework for the board in August, according to the audit report released yesterday. Read more from Alexis Kramer.
Trump Says He'll Ease on Huawei: Trump said he'll allow Huawei Technologies to buy products from U.S. suppliers, in a concession to China after talks with the country's President Xi Jinping on Saturday. "U.S. companies can sell their equipment to Huawei," Trump said at a news conference following the Group of 20 summit in Osaka, Japan. "We're talking about equipment where there's no great national security problem with it."
The Commerce Department last month moved to blacklist Huawei, cutting it off from U.S. suppliers, though many companies have managed to skirt the restrictions. Trump met with Xi on Saturday on the sidelines of the Group of 20 summit in Osaka, Japan, and agreed to pause the trade war between their countries. Read more from Margaret Talev, Nick Wadhams and Jennifer Jacobs.
Trump Says Mass Deportations Still Planned: Trump said he would stick to a plan to step up deportations of undocumented immigrants living in the U.S. despite Congress passing legislation this week to improve border security. The deportations will begin in about a week "unless we do something pretty miraculous," Trump said on Saturday. "It's really, honestly it's very unfair, but yeah we will be removing a large number of people."
The House passed legislation on Thursday providing $4.5 billion for border security and humanitarian aid for migrants apprehended after crossing into the U.S. from Mexico. But Trump wants Congress to make it harder for Latin American migrants crossing the southern border to claim asylum, a process most of them use to enter the U.S, Margaret Talev, Jennifer Jacobs and Nick Wadhams report.
Iran Breaches Limit on Enriched Uranium, State News Agency Says: Iran has surpassed a limit on its stockpile of enriched uranium and is preparing to scrap some key components of its nuclear deal next week, two state-run news agencies aligned with hardliners said on Monday in separate reports. The nation's stockpile exceeded the 300 kilograms (661 pounds) of 3.67% enriched uranium that had been set as a limit as part of its 2015 nuclear accord, Fars news agency reported, citing an unidentified person. The Islamic Republic is preparing to breach some deal limits next week because it believes remaining signatories have made insufficient progress in delivering on promised economic benefits, according to Tasnim news agency.
Fars, which did not provide any details about its source, is also close to conservative state institutions. Earlier, the official Islamic Republic News Agency, which is run by the government of President Hassan Rouhani, had warned that "unidentified foreign ministry officials" were not legitimate sources of information. Read more from Nour Al Ali and Ladane Nasseri.
'Pixie Dust' Drives Broadband Competition With Billions at Stake: With billions of dollars riding on the outcome, corporations, industry groups, and think tanks have sent emissaries to the Federal Communications Commission 127 times this year to discuss how airwaves will be sold for 5G broadband networks. The next generation of broadband—far faster than most Americans are used to—is crucial to technology like driverless cars. The FCC must decide how much wireless to allocate to it, while weighing warnings about harm to businesses that would lose access to those airwaves. Read more from Megan R. Wilson.
Labor Department Chief of Staff Leaving Amid Senior Staff Exodus: Labor Secretary Alexander Acosta will soon lose another valued member of his inner circle when Chief of Staff Molly Conway leaves the department in the coming weeks, according to sources familiar with her plans. A Labor Department spokesman confirmed Conway's impending departure. Conway has been telling people she's headed for the exit this summer, even though she was just promoted from deputy chief of staff at the start of June. She's also been serving in a dual role as acting head of the Labor Department's Employment and Training Administration. Read more from Ben Penn.
To contact the reporters on this story: Brandon Lee in Washington at blee@bgov.com; Giuseppe Macri in Washington at gmacri@bgov.com
To contact the editors responsible for this story: Loren Duggan at lduggan@bgov.com; Heather Rothman at hrothman@bgov.com
Coming up at BGOV
Webinars
The State of Congressional Investigations
July 16, 2019
Register Now