What to Know in Washington: Trump Legacy at Risk as Trial Starts (1)
President Donald Trump's impeachment trial formally opens in the Senate today, promising to shape his legacy, deepen the country's political divisions and influence control of power in the nation's capital for years to come.
While the president faces little risk of removal from office by the Republican-led Senate, the trial may bring to life new details of Trump's Ukraine scandal and help sway undecided voters in the 2020 elections.
The nationally televised proceedings will be aimed at voters who will decide in November whether to reward Trump with a second term, and determine which party should control the House and Senate. The conduct of both Democratic and Republican senators — who will be forced to remain in the chamber during the sessions and abide by strict rules — will be under a microscope.
Senate Majority Leader Mitch McConnell (R-Ky.) proposed rules for the trial yesterday that could bring it to a conclusion within days, with much of the action taking place out of public view or in the dead of night.
Trump is heading into impeachment with weakened public support, despite having one of the strongest economies in years. Head-to-head national polling shows former Vice President Joe Biden, the president's top rival, consistently beating Trump in the popular vote. And a survey by CNN released on the eve of the trial showed that a majority of Americans — 51% — support the Senate voting to remove the president from office.
The trial could shift those numbers and carries the potential for unpredictability, as Democrats may win enough support from moderate GOP senators to call witnesses. If that happens, top administration officials with potentially damaging information — such as former National Security Adviser John Bolton — could speak publicly for the first time, provided Trump doesn't block them by invoking executive privilege. Read more from Justin Sink.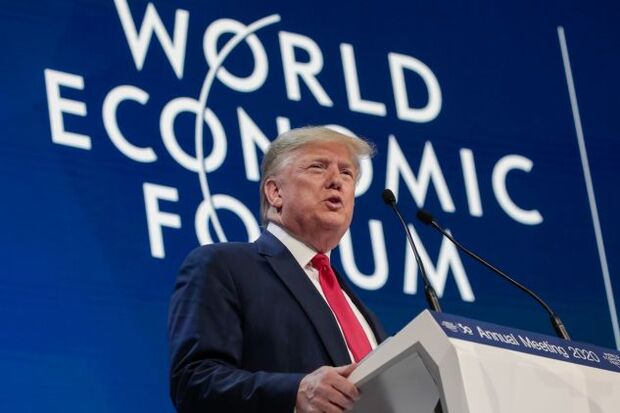 Trump, House Shape Impeachment Strategy: The White House and impeachment managers from the House each set the stage for Trump's trial with a pair of filings yesterday, with both sides arguing that the Constitutional separation of powers is at stake. The briefs provide the most detailed preview to date of how the president's team plans to defend him against two impeachment charges of obstruction of Congress and abuse of power — and how House Democrats will look to torque up pressure on Senate Republicans. Justin Sink has more.
McConnell Plans Tight Timeline: McConnell plans to give House impeachment managers just two days to prosecute their case against Trump — a move that accelerates the timetable for a trial Republicans intend to end in a quick acquittal. The resolution, which was released yesterday, gives House managers and Trump's defense 24 hours of floor time each to make their arguments, but limits them to just two days each, instead of the three allowed in Bill Clinton's 1999 impeachment trial. The rules would also allow the president's team to seek a quick dismissal of the charges, though many Republican senators have said they should at least hear the case.
The White House immediately backed McConnell's rules but didn't indicate whether it would press for a quick vote on a motion to dismiss. "Protecting the president's rights to offer pretrial motions was critical for us to support the package, and we're very gratified with the resolution," said Eric Ueland, the White House's liaison to Congress. "I'm not going to talk about trial strategy publicly."
Neither side will be allowed to call witnesses or seek documents under the proposed rules unless a majority of the Senate votes to allow such motions after the opening phase of the trial, including up to 16 hours of senators' questions. The rules need to be approved by a majority of the Senate. Read more from Steven T. Dennis, Laura Litvan and Daniel Flatley.
Elections & Politics
2020 Democrats March on MLK Day: The top Democratic presidential candidates walked arm in arm yesterday to celebrate Martin Luther King Jr. Day in South Carolina, a brief show of unity in an increasingly contentious race. Standing behind an NAACP banner, the candidates led hundreds down Main Street in Columbia, marching and singing as they headed to the Statehouse.
Sens. Elizabeth Warren (D-Mass.) and Bernie Sanders (I-Vt.) were side by side, seemingly marking a détente after a week of campaign-trail tensions over comments Warren claims Sanders made in a private conversation about whether a female candidate could win in 2020. To their right, Joe Biden linked arms with Sen. Amy Klobuchar (D-Minn.) and Rep. Tulsi Gabbard (D-Hawaii) and on the other side, Pete Buttigieg walked with Tom Steyer. The procession concluded at the Statehouse where Buttigieg was the only candidate who didn't give a short speech. The others did, reflecting on King's legacy and how it informs their visions for the country. Read more from Tyler Pager and Jennifer Epstein.
Back in Washington, Trump and Vice President Mike Pence visited the MLK national memorial and touted the rise of black employment during their administration. Earlier in the day, Trump tweeted that it was "appropriate" that the holiday coincided with the third anniversary of his inauguration.
Top presidential aide Kellyanne Conway, when asked by reporters at the White House how the president planned to mark the day, said she believed King would have opposed Trump's impeachment. "The president is preparing for Davos and agrees with many of the things Dr. Martin Luther King stood for and agreed with for many years, including unity and equality," Conway said. "And he's not the one trying to tear the country apart through an impeachment process and lack of substance that really is very shameful at this point." Read more from Kate Queram and Justin Sink.
Biden Tops Iowa Poll by Democratic Rural Group: A new Iowa poll has Biden leading the Democratic presidential race in the first caucus state. The former vice president also placed as likely caucusgoers' top second choice, putting him in a strong position with just two weeks to go until voters begin to choose their nominee. Biden had the support of 24% of likely caucus-goers polled by Focus on Rural America, an Iowa group with Democratic ties that has been polling in the state since last year. Biden's backing in the survey has been roughly stable since the group's September poll, when he was at 25%. He is also the second choice of 24% of those surveyed, an important measure given that caucusgoers have the chance to choose a second candidate if their first choice gets below 15% at their caucus site on Feb. 3. Read more from Jennifer Epstein.
What Else to Know
Macron, Trump May Have Tariff Truce: Presidents Emmanuel Macron and Trump agreed to a truce in their dispute over digital taxes that will mean neither France nor the U.S. will impose punitive tariffs this year, a French diplomat said. "Great discussion with @realDonaldTrump on digital tax," Macron said yesterday in a tweet. "We will work together on a good agreement to avoid tariff escalation." Trump, on Twitter, responded "excellent!" to Macron's post, without providing any more details. Trump is in Davos, Switzerland for the World Economic Forum. Read more from Ania Nussbaum and William Horobin.
Trump's Davos Schedule: Trump will hold bilateral meetings with Iraqi President Barham Salih, Pakistani Prime Minister Imran Khan, Swiss President Simonetta Sommaruga and European Commission leader Ursula von der Leyen while in Davos. Trump will also meet with Kurdish ally Nechirvan Barzani and Klaus Schwab, founder of the World Economic Forum, the White House said yesterday in an emailed statement, Vivek Shankar reports.
In his speech this morning, Trump said that the U.S. "is in the midst of economic boom the likes of which the world has never seen before."
"We've regained our stride; we discovered our spirit and reawakened the powerful machinery of American enterprise,'' Trump said. "America's thriving; America is flourishing and, yes, America is winning again like never before." Follow the latest with Bloomberg's Davos Update.
'Medicare for All' Wins Support From Medical Group: The nation's largest medical specialty organization is the first major doctors' group to support moving the U.S. toward a single-payer, "Medicare for All" system. The American College of Physicians, which represents 159,000 internal medicine specialists, released a series of working papers and a call to action yesterday outlining a "new vision for the future of health care policy" that includes sweeping changes. The U.S. health system is too expensive, not enough people have insurance coverage, and the government should play a larger role in solving those problems, the group contends. Read more from Alex Ruoff.
Farm Survey Criticism Overblown, USDA Boss Says: U.S. government crop estimates last year are turning out to be more accurate than the expectations of traders and farmers, showing that criticism of official surveys was "a kind of paranoia," Agriculture Secretary Sonny Perdue said. Speaking at the American Farm Bureau's annual convention, Perdue referred to concerns expressed by some farmers last year over U.S. Department of Agriculture crop reporting and surveys undertaken by the National Agricultural Statistics Service, or NASS. Read more from James Attwood.
Caravan of 3,000 Tests Mexico's Pact With Trump: A caravan of as many as 3,000 migrants is testing Mexico's pledge to Trump to halt undocumented arrivals to the U.S. For the first time since Mexico began its full-scale crackdown against migrants, a caravan is clashing with Mexican security forces at the country's southern border. After being turned away at a bridge crossing, hundreds of members waded across a shallow river yesterday from the Guatemalan side into Mexico. Later in the day, migrants could be seen throwing objects at Mexican National Guard troops who were repelling them, according to media footage. One video showed women and children caught up in the clash. Lorena Rios has more.
To contact the reporter on this story: Zachary Sherwood in Washington at zsherwood@bgov.com
To contact the editors responsible for this story: Giuseppe Macri at gmacri@bgov.com; Loren Duggan at lduggan@bgov.com