What to Know in Washington: Trump Lawyers to Preview Defense (1)
Donald Trump's lawyers kick off their formal defense in the Senate impeachment trial today, taking their turn at center stage to argue the president shouldn't be removed from office.
The White House is grappling with how to reclaim the spotlight over the weekend — which Trump has called "Death Valley in T.V." — after Democrats meticulously laid out their case against Trump uninterrupted during prime time over three days to millions of viewers.
"It's going to be coming attractions," Trump lawyer Jay Sekulow told reporters yesterday when asked what to expect in the Saturday session. "Next week is when you will see the full presentation."
The Senate will begin its session at 10 a.m., and Trump's lawyers plan to spend about three hours on their argument, Sekulow said. They plan to save the bulk of their case for Monday, a person on the president's legal team said, including arguments by celebrity lawyer and Harvard Law School professor Alan Dershowitz.
It's widely expected that Trump will be acquitted by the Republican-controlled Senate, given the two-thirds majority required for conviction. But his lawyers, led by White House counsel Pat Cipollone, still face the task of winning over the public. Failing to do so could have significant implications when Trump stands for re-election in November.
A new Washington Post-ABC News poll found that 47% of adults say the Senate should remove Trump from office while 49% say it shouldn't. The same survey showed that roughly two-thirds of adults want to hear from additional witnesses — such as former National Security Adviser John Bolton and Trump's acting chief of staff, Mick Mulvaney — a move the White House has resisted and Senate Republicans have rejected. Read more from Jordan Fabian.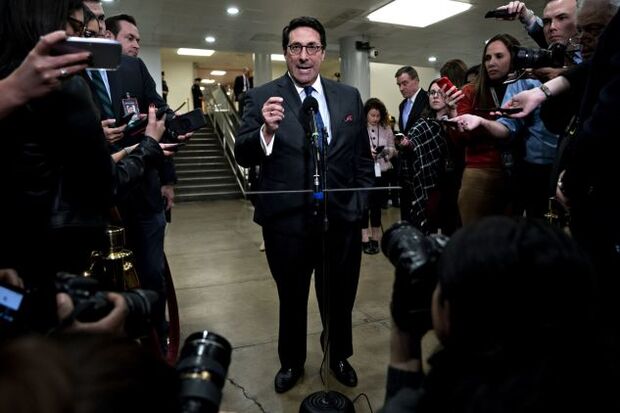 Democrats Make Trial Case: House Democrats used their full 24 hours in an effort this week to convince senators that Trump should be removed from office for abusing his power and obstructing Congress. Their arguments were thoroughly planned and robustly sourced — yet difficult to digest in sessions that began in the afternoon and lasted late into the night. Steven T. Dennis, Laura Litvan and Billy House highlight the main points that Democrats have argued in their presentation.
Attention Dips: As House Democrats argued their case, Americans were increasingly tuning out. TV ratings of the proceedings slipped on Thursday afternoon, marking the second straight day of declines. ABC, NBC and CBS collectively drew about 3.8 million viewers, according to Nielsen data shared by Fox, down more than 20% from the trial's first day on Tuesday. Fox News, CNN and MSNBC attracted about 4 million viewers together, a 32% plunge from Tuesday, Gerry Smith and Nick Turner report.
Trump Doesn't Deny Asking for Envoy's Ouster: Trump didn't dispute that he may have called for the ouster of Marie Yovanovitch as the U.S. ambassador to Ukraine in a 2018 recording obtained by ABC News, saying he had "a right to hire and fire ambassadors."
"I am not a fan of that ambassador, just so you understand," Trump said in an interview with Fox News that was broadcast on Friday night. "From what I understand — and I heard this a long time ago — she wouldn't put my picture up. She was an Obama appointee, I believe, and she wouldn't put my picture up." The president did deny that he had instructed Lev Parnas, an associate of his personal lawyer Rudy Giuliani, to execute Yovanovitch's removal, saying he "wouldn't have been saying that." Instead, Trump said, he was likely speaking to Giuliani or "somebody" else when he apparently said to "get rid of her." Read more from Justin Sink and Billy House.
Elections & Politics
Sanders Says Trump Trial Creates 'Disadvantage': Sen. Bernie Sanders (I-Vt.) yesterday lamented that being stuck in Washington for Trump's impeachment trial is putting him "at a disadvantage" to former Vice President Joe Biden in Iowa. In an interview with "The CBS Evening News With Norah O'Donnell," Sanders said it was "disappointing" his "constitutional responsibility" to sit through the Senate trial is keeping him off the campaign trail in the final days before the Iowa caucuses on Feb. 3. "I mean, he and others, not just Biden, are able to go out, talk to people," he said in the interview. "That's really important." Read more from Ryan Teague Beckwith.
Bloomberg Offers Few Details to Back Up Trillions in Spending: Ask Democratic presidential candidate Michael Bloomberg how he'll pay for his plans to create jobs, provide health insurance and repair roads and bridges, and you get the same answer: Wait until you see my tax plan. Bloomberg has released almost 20 proposals since joining the race on Nov. 24: $1.2 trillion for infrastructure. $70 billion of federal spending in low-income neighborhoods to aid black homeownership. Another trillion and a half for health care. He hasn't detailed where the money for the ambitious proposals will come from.
If Bloomberg comes out of Super Tuesday among the Democratic race's top tier, there will be increasing pressure on him to explain how he's going to pay for his policies, said Don Fowler, a former Democratic National Committee chairman who hasn't endorsed a 2020 candidate. "There will be a great hue and cry for him to add substance to his proposals and do it very quickly," Fowler said. Read more from Mark Niquette. Bloomberg is the majority owner of Bloomberg Government's parent company.
Warren Reassures Supporters Campaign Can Last: Sen. Elizabeth Warren's (D-Mass.) campaign sought to reassure supporters that she has the resources to sustain her candidacy after Super Tuesday despite recent drops in her polling in early-voting states. She touted her broad organization and vowed to use it to support down-ballot Democrats around the country whose backing could help her win the primary. Almost two weeks ahead of the Iowa caucuses, Warren is stuck in a tight race for the top in most early state polls. In national polls, she trails Biden and Sanders for third place. In Iowa and New Hampshire, she is essentially tied with former South Bend, Ind., mayor Pete Buttigieg for third place after once being the favorite. Read more from Misyrlena Egkolfopoulou.
What Else to Know
Coronavirus Spreads to Four Continents: Chinese authorities deployed military doctors and locked down more cities to curb the spread of the new coronavirus as reports emerged of hospitals at the center of the outbreak struggling to cope with growing numbers of sick people. New cases were reported in the U.S., Europe, Australia and Malaysia, with the virus now on four continents. In China, the National Health Commission said today there are 1,287 confirmed cases, including 444 new ones, and that 41 people have died. It reported 237 severe cases.
The dramatic rise in the death count in China signals the virus isn't yet under control despite aggressive steps by authorities there to limit movement for millions of people who live in cities near the center of the outbreak. The restrictions come during the Lunar New Year, the country's biggest celebration during which billions of trips are typically taken for vacation and visiting of family. Read more from Mark Schoifet and Blake Schmidt.
Trump Expands Aluminum, Steel Tariffs: The Trump administration expanded its trademark steel and aluminum tariffs to cover certain imported nails, staples, electrical wires and some downstream parts that go into automobiles and tractors, among other products. The decision comes almost two years after the administration implemented tariffs on imports of foreign raw steel and aluminum that Trump said threatened the viability of the domestic industries and therefore threatened U.S. national security. Some imports of derivative aluminum products would be subject to an additional 10% duty, while some derivative steel products would be slapped with a 25% tariff, he said. Read more from Joe Deaux.
State Department Calls for Release of Kashmir Leaders: The U.S. government urged India to release political leaders detained without charge in its portion of Kashmir and to grant American diplomats regular access to the restive region. "I was pleased to see some incremental steps, including the partial return of internet service in Kashmir," Alice Wells, the State Department's Acting Assistant Secretary for South and Central Asian Affairs, told reporters in Washington yesterday. "We see this as a useful step." Read more from Archana Chaudhary.
White House, Green Groups on Same Side in Case: The Trump administration and environmental groups are heading to court—on the same side—to defend an Obama-era expansion of a national monument. Attorneys for the Interior Department and conservationists filed separate notices of appeal Friday at the U.S. Court of Appeals for the District of Columbia Circuit, seeking to overturn a November ruling that said the Obama administration had overstepped when it enlarged the Cascade-Siskiyou National Monument in southwest Oregon. Read more from Ellen M. Gilmer.
FAA 'Pleased' With Progress on 737 Max: The Federal Aviation Administration said Boeing is making progress in its work to fix the 737 Max, stirring hopes that the grounded plane is closer to flying again. The FAA is "pleased" with the company's progress in recent weeks "toward achieving key milestones," the agency said Friday after Administrator Steve Dickson spoke with U.S. airlines. Read more from Alan Levin.
With assistance from Brandon Lee
To contact the reporter on this story: Zachary Sherwood in Washington at zsherwood@bgov.com
To contact the editors responsible for this story: Giuseppe Macri at gmacri@bgov.com; Loren Duggan at lduggan@bgov.com