What to Know in Washington: Trump Lawyers Enter Final Day (1)
President Donald Trump's lawyers begin their final day of arguments today having only barely noted the bombshell revelation from former National Security Adviser John Bolton that threatens to upset White House plans for a quick end to the Senate impeachment trial.
Trump's defense team will wrap up their case on today, followed by hours of questions from senators. Then will come what promises to be a dramatic debate and a moment of reckoning for a handful of Republican moderates over whether to call Bolton or other witnesses.
While Trump and his allies delivered broadsides against Bolton on Twitter and to reporters yesterday, his lawyers mostly stuck to making a subdued presentation of legal arguments against the charges in the House articles of impeachment that he abused his power and obstructed Congress.
It was left to celebrity lawyer and Harvard law professor Alan Dershowitz, who was given a prime-time slot at the end of the defense presentation, to fleetingly address what has become a looming issue in the trial.
"Nothing in the Bolton revelations, even if true, would rise to the level of an abuse of power or an impeachable offense," Dershowitz said.
According to a New York Times report, Bolton wrote in a yet-to-be-published book that Trump directly linked the release of security aid to Ukraine to its government investigating a political rival. The report divided Senate Republicans and could reset the course of the trial. Senate Majority Leader Mitch McConnell (R-Ky.) has been steering his GOP majority toward a vote as soon as Friday that is all but certain to result in Trump's acquittal. Read more from Steven T. Dennis and Laura Litvan.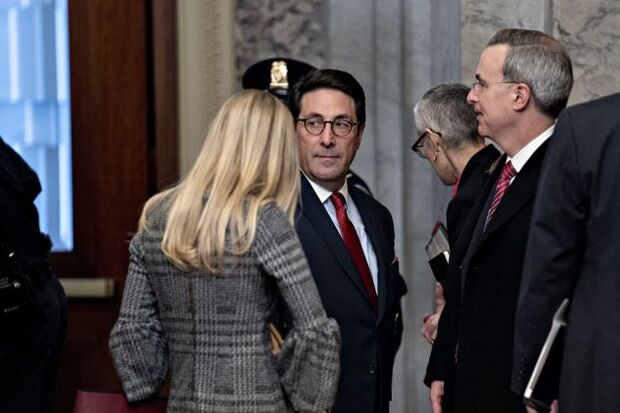 Elections & Politics
New BGOV Election Podcast — Downballot Counts: Could Democrats win control of the Senate or might the Republicans reclaim the House? Bloomberg Government politics editor Kyle Trygstad and senior elections reporter Greg Giroux give us an inside look at the pivotal congressional races that will decide who controls Washington after the 2020 election in our new podcast, Downballot Counts. The first episode drops tomorrow — subscribe now to Downballot Counts wherever you get your podcasts.
Trump Heads to Jersey Shore for Party-Switcher: Trump is headed to the Jersey Shore today to host a political rally for Jeff Van Drew, the congressman who switched parties to join House Republicans in protest of the impeachment vote. The president's visit to Wildwood is intended to bolster the freshman lawmaker, who won his seat as part of the Democratic wave of 2018 but subsequently declared his "undying support" for the president during an Oval Office meeting. Trump has repeatedly touted Van Drew's defection to argue that the Democratic-led impeachment inquiry is illegitimate, and told the lawmaker he would endorse his re-election bid. Read more from Justin Sink.
Warren's Year of Plans Face Judgment Day: Sen. Elizabeth Warren (D-Mass.) prides herself on having a plan for everything, yet that isn't translating to a strong showing in the polls a week before the nation's first nominating contest. Throughout the primary campaign, she embraced her wonky image and tried to set herself apart from her Democratic rivals by rolling out dozens of policy plans focusing on voters' biggest concerns. She offered road maps for restructuring the entire American economy, from health care to education to the tax system. Yet Warren heads into the Iowa caucuses trailing both Sen. Bernie Sanders (I-Vt.) and Joe Biden, locked in a close battle for third with Pete Buttigieg. Read more from Misyrlena Egkolfopoulou.
Collins to Challenge Loeffler: Rep. Doug Collins (R-Ga.) is expected to announce he will challenge Sen. Kelly Loeffler (R-Ga.) for her seat, the Atlanta Journal-Constitution reported, citing several people familiar. Loeffler was appointed by Georgia Gov. Brian Kemp (R) to fill the seat left vacant by Sen. Johnny Isakson (R), who stepped down in December. Collins and Loeffler will run in a November special election to fill the remainder of the six-year term Isakson won in 2016.
Happening on the Hill
Door Still Open for Energy Bills After Impeachment: Senators immersed in Trump's impeachment trial still hold out hope for several clean energy, conservation, and energy efficiency measures this year, despite floor time lost to the trial and election-year campaigning. McConnell began discussions with committee chairmen last month to ready legislative packages, focusing on bills that have already been reported out of committee and could be moved as soon as the impeachment trial is over. An energy package is among them, according to Senate Republican Conference Chairman John Barrasso (R-Wyo.).
More than 70 bills were advanced out of the Energy and Natural Resources Committee in 2019, including measures to boost wind energy and and new incentives for battery storage to accommodate more power from clean energy. Chairman Lisa Murkowski (R-Alaska) plans to narrow those to a list of measures that moved through her panel with solid bipartisan backing to improve their odds of getting on the floor. Read more from Dean Scott.
White House Threatens AUMF Measure Veto: The Trump administration expressed opposition to war-related measures being considered by the House this week, Ben Livesey reports. In two separate Statements of Administration Policy, the White House Office of Management and Budget said H.R. 5543 — which would bar the use of U.S. funds for military action in or against Iran unless Congress declares war or specifically authorizes it — could "undermine the ability of the president to protect American citizens." The White House also opposes H.R. 2456, which would repeal the 2002 Authorization for the Use of Military Force that allowed military action in Iraq. The House this week will consider the measures as two separate amendments to H.R. 550. For more, read the BGOV Bill Summary by Naoreen Chowdhury.
Rare Disease Drugs Catch Congress' Eye: Drug companies developing medications for extremely rare diseases could lose their longer exclusivity period if they later turn a profit under changes to the drug approval process Congress is set to debate. Congress has been debating ways to lower drug and health-care costs for years, and changes to the Orphan Drug Act are next on the list. To that end, the House Energy and Commerce Health Subcommittee will debate the Fairness in Orphan Drug Exclusivity Act tomorrow. Read more from Jacquie Lee.
False Climate News on YouTube: House Climate Chairwoman Kathy Castor (D-Fla.) urged Google yesterday to halt "the spread of dangerous climate misinformation" on YouTube. In a letter to chief executive Sundar Pichai, Castor cited a report by online advocacy group Avaaz that YouTube has been driving millions of viewers each day to videos about climate change denial. "I urge you to ensure that YouTube is not incentivizing climate misinformation content on its platform, or effectively giving free advertising to those who seek to protect polluters and their profits at the expense of the American people," Castor said, Lydia Mulvany reports.
Senator Seeks Info on Bezos Hack: Sen. Bob Menendez (D-N.J.) sent a letter to Secretary of State Mike Pompeo requesting more information on alleged hacking of Amazon CEO Jeff Bezos' phone and the involvement of the Saudi Arabia government. Menendez asked for details on the hack and measures the State Department is taking to protect data, and requested a response by Feb. 5
What Else to Know
Hong Kong Curbs Travel From China as Virus Deaths Exceed 100: Governments, companies and international health organizations rushed to contain a SARS-like coronavirus that has claimed more than 100 lives, with Hong Kong the latest to announce travel restrictions on people moving in and out of the mainland. Hong Kong will close some border checkpoints and restrict flights and train services from the mainland, Chief Executive Carrie Lam said today. The Chinese government is also suspending visas for visitors to the territory, she said.
As global anxiety over the outbreak grows, World Health Organization Director-General Tedros Adhanom Ghebreyesus visited Beijing to meet with government officials. In a meeting with Foreign Minister Wang Yi, he commended China on the public health measures it has taken. "We can see the speed and scale with which you are really hitting the virus hard," Tedros said. "This is something we appreciate and also respect you for what you are doing." Here's the latest.
Johnson Walks Huawei Tightrope, Sets Up Clash With Trump: Three days before Brexit becomes reality after years of infighting, the government in London is trying to reconcile an increasingly truculent U.S. with the demands of the domestic market in the debate over whether Huawei should be involved in upgrading telecom networks. The U.S. has campaigned for a ban on the Chinese giant citing security concerns. Today, Prime Minister Boris Johnson's government is set to allow the company to build fifth-generation wireless networks. Huawei is certain to be banned from core parts of the network after Digital and Culture Secretary Nicky Morgan earlier this month vowed to keep the company out of "critical national infrastructure." The U.K. could also impose stricter rules to limit telecom companies' reliance on any one vendor to curb Huawei's market influence. Read more from Alex Morales and Thomas Seal.
Pentagon to Test Bombs to Glide at Five Times the Speed of Sound: The Pentagon plans a "very aggressive" expansion of its hypersonic weapons efforts this year, with at least four initial flight tests of prototypes for glide bombs that can fly five times the speed of sound and maneuver en route, officials said. A new Hypersonics Transition Office that Congress funded this year will also bankroll a university consortium to conduct advanced research into the weapons and develop a workforce for the new technology, the officials said. Read more from Tony Capaccio.
Fed Officials Subtly Shift Inflation Strategy: The Federal Reserve won't wrap up a year-long review of its policy framework for months, but some officials are already shifting their approach to hitting the central bank's inflation goal. The number of policy makers forecasting above-target inflation in three years' time jumped to seven in December projections. That looks like a signal they're deliberately aiming to generate price pressures in excess of their 2% objective. There's also been a noticeable change in the way that some policy hawks, who've typically had less tolerance for inflation, now talk about it — declaring in recent weeks that they'll be more relaxed about giving inflation time to reach and even exceed the target. Read more from Christopher Condon.
IRS Chief Nudges Tax Pros to Get Involved in Agency Overhaul: IRS Commissioner Charles Rettig has a simple message for tax practitioners: "We want your help." Rettig, during remarks at a tax conference hosted by the USC Gould School of Law in Los Angeles, urged tax pros to consider working with the IRS and to offer advice about what the agency should do in response to the Taxpayer First Act. That 2019 law, intended to improve agency operations and customer service, requires the agency to submit to Congress a plan for a potential reorganization. "Please reach out to us, provide whatever knowledge, experience, assistance you can," Rettig told a packed audience. "Do not sit on the sidelines during this one." Read more from Yuri Nagano.
To contact the reporters on this story: Zachary Sherwood in Washington at zsherwood@bgov.com; Brandon Lee in Washington at blee@bgov.com
To contact the editors responsible for this story: Giuseppe Macri at gmacri@bgov.com; Loren Duggan at lduggan@bgov.com