What to Know in Washington: Trump Invokes Law-and-Order
President Donald Trump has seized on destructive nationwide protests against police brutality to portray himself as an icon of law and order, eschewing the soothing role past presidents have adopted in similar moments as he seeks to turn the election-year conversation from his widely panned handling of the coronavirus outbreak.
The president yesterday blamed the protests on Antifa, a loosely organized leftist movement that is a frequent target of conservative critics, and said he would declare the group to be terrorists. His political advisers believe the move pressures his re-election challenger, former Vice President Joe Biden, to either agree with the president — splitting with the demonstrators — or side with people that some White House officials regard as rioters.
But in choosing to seize on the political and racial divisions inflamed by the death of an unarmed black man in Minneapolis police custody last week, the president risks alienating those U.S. voters looking for a leader who will console and unify. The coronavirus outbreak that Trump has sought to relegate to a back burner, meanwhile, continues to kill about 1,000 Americans daily.
By painting himself as a purveyor of law-and-order confronting political enemies he's depicted as incompetent or crazed radicals, the president seeks to recreate the 2016 formula that put him in the White House, when the enthusiasm of Trump's "forgotten Americans" overwhelmed a dispirited and divided center and left.
But even some in Trump's camp worry this may be one crisis too many for a president who has seemed to thrive on them. Even as the protests rage, voters are also enduring a coronavirus death toll that's exceeded 100,000 and a U.S. economy in tatters.
And people willing to take to the streets in the middle of a pandemic will surely show up to vote in November, one person close to Trump's campaign fretted. Read more from Justin Sink.
Trump's recent comments on the fallout of the protests have hurt more than helped, said the mayor of two cities rocked by violent protests this weekend, as well as New York's governor. "The president has a responsibility to help calm the nation," D.C. Mayor Muriel Bowser said on NBC's "Meet the Press." "He can start by not sending divisive tweets that are meant to hearken to the segregationist past of our country." Read more from Ros Krasny.
Trump will meet today with Attorney General William Barr at the White House, before convening a teleconference with governors, law enforcement and national security officials, the White House said late yesterday.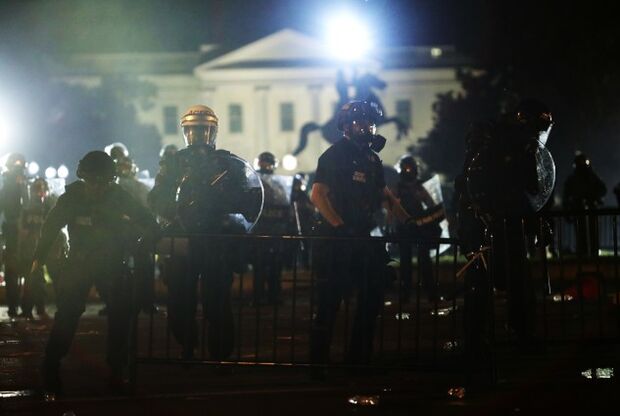 Protests Hammer U.S. Cities Still Recovering From Lockdown: The reopening of America was always going to be fraught, with competing fears of new virus outbreaks and economic meltdown. Now cities across the nation are reeling from unrest that could worsen both.
Violence erupted in dozens of cities following the death of George Floyd, a black Minneapolis man who died after a white police officer pressed a knee into his neck for more than eight minutes. Some demonstrators broke off to rampage through shopping districts, including Rodeo Drive in Beverly Hills and Michigan Avenue in Chicago, and set fire to police cars and municipal buildings.
Cities hammered by major budget hits from the pandemic can hardly afford the extra costs of police overtime, security measures and damages from the protests. Even before the demonstrations, the Fed and Trump administration have been under mounting pressure to do more for states and municipalities. Read more from Bloomberg News.
Protests Complicate Virus Response: Gov. Andrew Cuomo (D) urged protesters Saturday to "wear a mask" as the coronavirus crisis collided with violent demonstrations in New York. Both Cuomo and New York City Mayor Bill de Blasio called on protesters to refrain from violence and said they're concerned about the risks of the virus combining in the close quarters of protests, which de Blasio called "inherently dangerous."
The city's reopening, the last in the state, is due to begin June 8. De Blasio said the violence wouldn't delay the city's plan to restart its construction, manufacturing, wholesale and curbside retail businesses. But the costs of policing the city during days of protests must be added to a budget already under stress from the lockdown's economic costs. Read more from Ian Fisher and Yueqi Yang.
Bowser said yesterday she was concerned the protests could spark another increase in coronavirus cases in a city that started the first phase of its reopening on May 29. "We saw a mass gathering, basically — we've been working hard for the last eight, 10 weeks on not having any mass gatherings," Bowser said.
Meanwhile, Chicago may postpone its partial easing of the Covid-19 shutdowns this week after violent protests over the death of Floyd left devastating wreckage, Mayor Lori Lightfoot said yesterday. The city was set to start reopening on Wednesday, then add more city services and some parks on June 8, but Lightfoot said she's consulting with the commissioner of public health, police superintendent and others to make a determination on the plan.
The Path to Reopening
Virus Fears, Unopened Mail Await IRS Employees: Thousands of IRS workers in Kentucky, Utah, and Texas are returning to their offices today to begin sifting through a backlog of millions of unprocessed mail and returns that built up during the coronavirus pandemic. The mandatory recall will potentially affect about 11,000 employees who will resume jobs that can't be performed from home. The move will help taxpayers eager to resolve issues that have been in limbo because of the pandemic. But while IRS leadership has sworn it is taking steps to assure workers are safe, some of those returning are wary that those promises will hold up. Read more from Allyson Versprille.
Whistleblower Suits Predicted Over Virus Relief Aid: Money meant to save hospitals and health systems from collapse during the coronavirus pandemic is likely to ensnare some providers in high stakes litigation. The Department of Justice is already cracking down on small businesses that fraudulently obtained and misused federal loans provided by the CARES Act. Attorneys say health-care providers are next in line to be scrutinized. Read more from Lydia Wheeler.
Watchdog Warns of Fraud With Unemployment Aid: A watchdog warned the Labor Department that lax requirements for claiming expanded unemployment benefits make such programs "highly vulnerable" to fraud. Those making claims have to self-certify that they have lost income because of a coronavirus-related reason, which could include being infected or having their workplace shut down to slow the spread. With such a certification they are immediately eligible for a weekly $600 benefit that Congress passed in March, the department's Inspector General's office said in a memorandum. Read more from Laura Davison.
Court Rejects Churches on Virus Restrictions: The Supreme Court on Friday rejected calls by churches in California and Illinois to block restrictions on their worship services amid the coronavirus outbreak, issuing orders that revealed a deep divide among the justices on the balance between religious liberties and protection of public health. Chief Justice John Roberts joined the court's liberals in a 5-4 majority in the California case, refusing to exempt a San Diego church from crowd limits imposed by the state. Read more from Greg Stohr.
Moderna Launches Vaccine Trial: Moderna, one of the leading pharmaceutical companies developing a Covid-19 vaccine, said it's started a mid-stage trial and given doses to the first patients. The 600-person, phase 2 study will give healthy participants one of two doses of the candidate, or a placebo, Moderna said in a statement. They will be examined for potential side effects as well as whether it creates an immune-system response that could protect against the coronavirus. Read more.
Meanwhile, a front-running coronavirus vaccine being developed in China is expected to be available as soon as year's end, according to a report in the official Wechat account of the state's Assets Supervision and Administration Commission. The candidate, developed by the Beijing Institute of Biological Products and China National Biotec Group, has completed phase II testing, the report claims. Read more.
Sanofi Suspends Hydroxychloroquine Trials: French drugmaker Sanofi opted to temporarily suspend the recruitment of new patients with Covid-19 for trials with hydroxychloroquine until it's provided reassurance on safety, the company said in a statement Friday. It also put on hold the release of hydroxychloroquine supplies for off-label use in Covid-19 until safety concerns are cleared up by the World Health Organization, according to the statement. Read more.
The U.S. is sending Brazil 2 million doses of hydroxychloroquine, and 1,000 ventilators, the White House said. The drug will be used by Brazil's nurses, doctors, and health-care professionals to fight Covid-19 and to treat Brazilians who become infected. The Food and Drug Administration said the drug should be used in a hospital setting.
Trump's China Responses Leaves Room to De-Escalate
Trump's long-touted response to China for its crackdown on Hong Kong included a litany of criticism but stopped short of fully escalating tensions between the two nations. Though his speech on Friday was heated in rhetoric, it lacked specifics around measures that would directly impact Beijing. He announced that the U.S. would begin the process of stripping some of Hong Kong's special trade status without detailing how fast any changes would take effect and how many exemptions may apply.
The president also promised sanctions against Chinese and Hong Kong officials "directly or indirectly involved" in undermining Hong Kong's autonomy but didn't identify individuals. The administration hasn't yet decided under what authority it would implement such an action, according to a person familiar with a matter. Read more from Jenny Leonard, Josh Wingrove, and Justin Sink.
Elections & Politics
Trump Leads Biden in the States He Won in 2016: Trump leads Biden 51% to 44% in the so-called "red states" he won in 2016, according to an ABC News/Washington Post survey released yesterday. Biden had a wide, 65% to 32% lead in the states won by Democrat Hillary Clinton in 2016. The results highlighted the difference between a raw national poll — in which Biden led Trump by 10 points, 53% to 43% among registered voters — and the Electoral College, which will decide the victor in November. Read more from Ros Krasny.
Meanwhile, Biden urged people protesting the death of George Floyd not to allow those demonstrations to devolve into violence and chaos, saying rioting and looting will "drive people away from the just cause that protest is meant to advance." Biden condemned the violence, stating, "Protesting such brutality is right and necessary. It's an utterly American response. But burning down communities and needless destruction is not." Later, Biden announced he'd hold a virtual roundtable with U.S. mayors today. Read more from Ros Krasny.
Clyburn Sees Dim Chance for Klobuchar: House Majority Whip Jim Clyburn (D-S.C.) said the demonstrations may have doomed Sen. Amy Klobuchar's chances of being Biden's running mate. He said Klobuchar's past as head prosecutor in Hennepin County, where Minneapolis is located, could be a liability. "We are all victims sometimes of timing," Clyburn said on Friday. "This is very tough timing for Amy Klobuchar." Read more from Ryan Teague Beckwith.
Trump Schedules June in-Person Fundraisers: Trump plans to resume his in-person fundraising this month, ending a moratorium of more than two months caused by the pandemic, a party official said last Friday. On June 11, Trump will attend an event in Dallas in a private home with about 25 attendees. The price for admission is $580,600 per couple, a Republican National Committee official said. On June 13, Trump will attend an event at the Trump National Golf Club in Bedminster, N.J. Read more from Bill Allison and Mario Parker.
Facebook Employees Criticize Zuckerberg's Inaction: Senior Facebook employees took to Twitter over the weekend to express their dismay at CEO Mark Zuckerberg's decision not to take action on incendiary comments posted to the social network by Trump. After the president tweeted a message with the words "when the looting starts, the shooting starts" in response to protests over the death of Floyd in Minneapolis, Twitter for the first time obscured one of his tweets, marking it with a warning that it breached service rules by glorifying violence. Facebook's response to the same content, in a post from Zuckerberg on Friday, was to say, "We think people need to know if the government is planning to deploy force." Read more from Vlad Savov and Sarah Frier.
Republicans Turn Up Heat on Twitter: After Trump signed an executive order aimed at striking a blow against social media platforms, several Republican Senators piled on, looking for additional ways to reign in Twitter and other sites conservatives often accuse of being biased against their views. On Friday, Sen. Ted Cruz (R-Texas) asked the Justice Department and the Treasury to investigate "possible criminal violations" by Twitter for hosting the accounts of top Iranian government officials. Cruz argues that Twitter accounts held by Supreme Leader Ayatollah Ali Khamenei, and Javad Zarif, the foreign minister, violate U.S. sanctions against Iran. Read more from Eric Newcomer.
What Else to Know Today
Gun Cases Could Prompt Court to Bolster Second Amendment: The U.S. Supreme Court could act as soon as today on an array of calls to consider expanding gun rights, including appeals that seek a nationwide right to carry a handgun in public. The justices are considering a list of 10 appeals that would bolster constitutional firearm protections — something that, to the frustration of gun-rights advocates, the court has repeatedly refused to do for the last decade. With new Justice Brett Kavanaugh calling for the court to schedule a new Second Amendment case soon, the balance may be poised to tip. Read more from Greg Stohr.
Trump Vetoes Student Loan Rule Rebuke: Trump vetoed a resolution Friday that would block a Department of Education rule aimed at restricting student loan forgiveness, according to a statement issued by the White House. The bill "sought to reimpose an Obama-era regulation that defined educational fraud so broadly that it threatened to paralyze the nation's system of higher education," Trump said in a statement, Andrew Kreighbaum reports.
FCC Chief Takes on Agencies: In his quest to expand U.S. mobile broadband capacity, Federal Communications Commission Chairman Ajit Pai hasn't been afraid to anger colleagues in government. He's taken on the Pentagon, the National Oceanic and Atmospheric Administration as well as the departments of Transportation and Energy. Those agencies have warned that his plans to reallocate spectrum could endanger national security, harm weather forecasts, loosen control of the electrical grid and degrade vehicle safety. Read more from Todd Shields.
Flynn Transcripts Confirm Sanctions Talks: Newly declassified transcripts out Friday confirm that Trump's former national security adviser, Michael Flynn, had discussions with Russia's ambassador to the U.S. Sergey Kislyak about sanctions before Trump's inauguration. The transcripts from late 2016 through early 2017 by Republican senators show Flynn urged Kislyak to keep the temperature down between the two nations and to limit Russia's response to measures that former President Barack Obama took in December 2016 due to Russian cyber attacks. Steven T. Dennis and Chris Strohm have more.
Meanwhile, the federal judge who's presiding over Flynn's criminal case has landed in the rarest of positions for a presumed neutral party—ordered to defend himself by today from accusations that he overstepped. Read more from Greg Farrell.
G-7 Delayed, Expanded Meeting Planned in Fall: Trump said he's planning an expanded Group of Seven leaders meeting in autumn, potentially even after the November election, delaying efforts to hold the event in June at Camp David. Read more from Justin Sink.
SpaceX Astronauts Reach Space Station: Two American astronauts boarded the International Space Station from a SpaceX capsule, marking the first time humans have traveled to orbit on a commercially developed craft and forging a new era for NASA and visionary billionaire Elon Musk. Dana Hull and Julie Johnsson have more on the milestone voyage.
To contact the reporters on this story: Zachary Sherwood in Washington at zsherwood@bgov.com; Brandon Lee in Washington at blee@bgov.com
To contact the editors responsible for this story: Giuseppe Macri at gmacri@bgov.com; Loren Duggan at lduggan@bgov.com; Michaela Ross at mross@bgov.com