What to Know in Washington: Trump Indictment Energizes Campaign
Bloomberg Government subscribers get the stories like this first. Act now and gain unlimited access to everything you need to know. Learn more.
Donald Trump faces an uphill struggle in whipping up outrage among voters much beyond his loyal base following his felony indictment in New York.
Before hundreds of supporters at his Mar-a-Lago resort in Palm Beach on Tuesday night, Trump assailed the 34-count indictment as politically motivated and sought to link the case to grievances he's long deployed to great effect to hold sway over his supporters.
"The only crime that I've committed is to fearlessly defend our nation from those who seek to destroy it," he said. "They can't beat us at the ballot box, so they try and beat us through the law."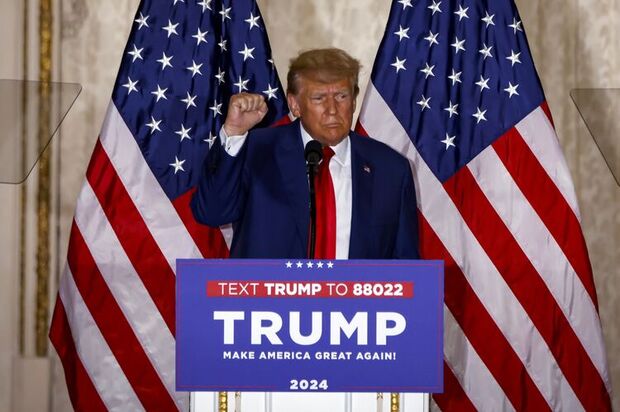 The indictment promises to pay short-term political dividends for Trump. Some allies had raised concern that his lackluster 2024 campaign launch had opened the door for potential challengers such as Florida Governor Ron DeSantis.
But rather than attack him for his alleged criminality, his Republican opponents are rushing to his defense, illustrating the complexity inherent in dethroning him.
He has seen his lead grow in polls of GOP primary voters and his campaign said Tuesday it had raised more than $10 million since news broke of the charges.
Even Sen. Mitt Romney (R-Utah), who twice voted to impeach Trump, questioned Bragg's case. "The prosecutor's overreach sets a dangerous precedent for criminalizing political opponents and damages the public's faith in our justice system," he said in a statement.
Sen. Cindy Hyde-Smith (R-Miss.) became the sixth sitting senator to endorse Trump on Tuesday, calling the prosecution a "political stunt."
Longer-term, Trump's political future is fraught. Even without additional criminal charges, he remains deeply unpopular among the broader population of US voters.
He also faces investigations over his attempt to overturn his 2020 reelection defeat, his role in the Jan. 6 Capitol insurrection, and his handling of classified documents upon leaving office.
Sarah Longwell, an anti-Trump Republican consultant, said that for now, Bragg had given Trump's campaign new life.
"He was floundering because his grievance was all backward-looking," she said. "Now, he's got a fresh grievance." Ryan Teague Beckwith highlights how the indictments could bolster Trump's campaign.
The New York judge overseeing the criminal case against Trump over hush-money payments to a porn star urged the parties to refrain from making public statements that could incite violence or unrest.
At roughly the same time Trump plead not guilty to criminal charges Tuesday afternoon in a Manhattan courtroom, he notched a win in a federal appeals court in California against the adult film star at the heart of the New York indictment.
Election Results & Previews
A flip of the Wisconsin Supreme Court gives Democrats an opening to use legal challenges to try to undo decades of Republican policies—with abortion access and election law high on their wish list.
Chicago elected Brandon Johnson in a runoff for mayor. The progressive Democrat and Cook County commissioner beat rival Paul Vallas, a former head of Chicago Public Schools. Johnson plans a $4 per employee tax on large companies that have at least half of their operation in the city.
Swing Seats Decimated in Polarized US, Cook Report Says
Congressional districts are more partisan than ever because of redistricting and changes in the electorate, according to new data from the Cook Political Report with Amy Walter, Emily Wilkins reports.
The group's updated Cook Partisan Voting Index, released Wednesday morning, reveals there are only 82 swing seats, defined as a district where either party performed no more than five points better than they did nationwide. The current number of swing seats is a drop from 1997 when there were 159.
The increase in partisan districts comes as lawmakers struggle with compromising on must-pass legislation, turning items like funding the government and raising the debt limit into drawn out, partisan fights.
Senior editor David Wasserman said in a statement that the data "illustrates how polarization and shifting boundaries have cut swing seats in half, profoundly altering House members' electoral incentives."
China's Posture in US Crosshairs
Taiwan hailed President Tsai Ing-wen's unprecedented meeting with Speaker Kevin McCarthy (R-Calif.) on US soil as a "rare opportunity," even as the move risks provoking renewed military tension around the island.
President Joe Biden's trade chief said the US is working with allies to counter unfair competition from China, seeking to create new agreements that bolster American supply chains and address longstanding vulnerabilities.
Biden spoke with Emmanuel Macron about the French president's travel to China, the White House said in a statement.
Japan's decision to join the US and Netherlands in restricting exports of chipmaking gear to China is giving the allies powerful new weapons to deploy in the escalating technology war.
The future of precision missiles, as well as drones, driverless cars, super-precise synchronized clocks, and navigation of the Moon and Mars, depends on a specialized science called geodesy, a field Americans dominated a generation ago — but have almost entirely abandoned.
And it's a science China has embraced. About 20 Americans graduated with a master's degree or Ph.D. in geodesy in the last decade; in some adversarial nations such as China, that number is roughly 1,500.
The US geodesy brain drain is forcing federal agencies to scramble to train mathematicians and causing academics to wonder who will teach classes when the remaining US geodesists retire.
And the aging of America's geodesists raises the possibility of the Pentagon-created Global Positioning System being surpassed by its competitors, including China's BeiDou and the European Union's Galileo. It also means future advances in driverless cars, drones, precision agriculture, and super-fast Wall Street transactions could come from other countries.

Jack Fitzpatrick discusses his latest story on the GPS space race and China with David Schultz in this week's On the Merits podcast. Listen here.
Other News We're Reading Today
Illness-related lawmaker absences and nominee controversies have derailed Democratic plans to speed up consideration of judicial nominations this year with their outright Senate majority.
Biden will travel to Belfast in Northern Ireland from April 11 to 12, according to the White House. He will then travel to Ireland until April 14.
BIDEN'S SCHEDULE TODAY: Biden and Vice President Kamala Harris have lunch at the White House at noon. At 2 p.m., White House Press Secretary Karine Jean-Pierre gives a briefing.
As senators move forward to craft a potential housing tax package, the jockeying for which proposals will make it in—and how to pay for them—is beginning.
A new coalition of GOP governors vows to buck the Biden administration's approach to ESG policymaking with a state-level crackdown on ideological investment decisions and company practices, but the legislative fate of their attacks has varied across the country.
With assistance from Emily Wilkins
To contact the reporters on this story: Brandon Lee in Washington at blee@bgov.com; Michaela Ross in Washington at mross@bgov.com
To contact the editors responsible for this story: Giuseppe Macri at gmacri@bgov.com; Kayla Sharpe at ksharpe@bloombergindustry.com
Stay informed with more news like this – from the largest team of reporters on Capitol Hill – subscribe to Bloomberg Government today. Learn more.