What to Know in Washington: Trump Hits Road to Press Reopening
President Donald Trump is setting off on a trip aimed at delivering a message to the American people: It's time to get back to normal after the pandemic.
Trump hits the road today for Dallas, where he'll hold his first in-person fundraiser in months. He's expected to spend the rest of the weekend at his New Jersey golf club — and deliver a commencement speech at West Point on Saturday — in his first overnight travel since the nation began social distancing in March.
Trump leaves Washington struggling to recover from a bruising stretch that saw his approval rating plummet over his handling of the coronavirus crisis and, more recently, his response to widespread protests touched off by the death in police custody of George Floyd, a black man in Minneapolis.
The trip is intended to underscore Trump's commitment to reopening the nation as soon as possible in a bid to get the economy back on track. But it's unlikely to ease Americans' concerns about the pandemic as a new spike in cases is emerging around the country as states ease restrictions. Public health officials are warning the outbreak is far from over.
"His path to re-election is to convince voters that the economy is starting back and he can bring it all the way back," said Charlie Black, a top Republican lobbyist. "So, his moving around the country reinforces the message that it is safe to get back to business and work."
Trump leaves behind a White House literally and metaphorically besieged. The complex was encircled last week with more than a mile of fencing to keep protesters away, while Trump has fallen well behind his re-election challenger, former Vice President Joe Biden, in both national polls and surveys of key battleground states
Trump will nod to the unrest with a visit during his first stop in Dallas, at a church where he'll participate in a roundtable with religious leaders, law enforcement officials, and small business owners. He intends to announce a plan for the nation's "holistic revitalization and recovery" and will tout previous actions aimed at helping black Americans, the White House said.
After that event concludes, Trump will turn his attention to a fundraiser at the home of one of his supporters. Around 25 people are expected at the event with couples each donating $580,600 to attend, according to the Republican National Committee. Read more from Justin Sink.
The Coronavirus Pandemic
Second Virus Wave Seen Emerging: A second wave of coronavirus cases is emerging in the U.S., raising alarms as new infections push the overall count past 2 million Americans.
Texas yesterday reported 2,504 new cases of Covid-19, the highest single-day total since the pandemic emerged. A month into its own reopening, Florida this week found 8,553 new confirmed cases, the most of any seven-day period. California's hospitalizations are at their highest in a month and have risen nine of the past 10 days.
A fresh onslaught of the novel coronavirus is bringing challenges for residents and the economy in pockets across the nation. The localized surges concern experts, even as they're masked by the country's overall case count, which early this week rose by just under 1%, the smallest increase since March. Read more from Emma Court and David R. Baker.
Powell Sees Long Road Ahead for Jobs Market: Trump says the U.S. economy will be back and better than ever next year. Federal Reserve Chairman Jerome Powell begs to differ. In an almost hour-long virtual press conference yesterday after the Fed left interest rates pinned near zero, Powell repeatedly played down the surprise, welcome news of a pick-up in jobs growth in May that Trump hailed last week as the "greatest comeback in American history."
Instead the Fed chairman spotlighted the many millions of Americans still out of work and suggested it would take years for a return to anything like the strong labor market that the U.S. enjoyed before the coronavirus pandemic. "We have to be honest that it's a long road," Powell said. "It's — depending on how you count it — well more than 20 million people displaced in the labor market." Read more from Rich Miller.
The weekly jobless-claims data will serve as a reminder that industry pains remain widespread, even if it's gradually abating. About 1.6 million Americans filed for unemployment help last week, according to the median estimate of economists. While that would mark the 10th straight decline from the record 6.87 million in late March, it's still over seven times the pre-pandemic average. Read more from Katia Dmitrieva.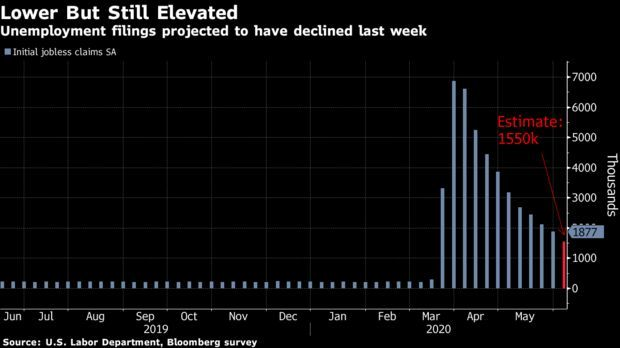 EPA Orders Amazon, EBay to Stop Shipping Unproven Products: The Trump administration is ordering two of the largest e-commerce marketplaces in the U.S. — Amazon and EBay — to stop selling unproven or unsafe disinfectants, including products falsely marketed as killing Covid-19. The Environmental Protection Agency late yesterday issued orders to the two companies directing them to stop selling or distributing 70 products, including sprays, lanyards and other gear sometimes touted as "preventing epidemics." Read more from Jennifer A. Dlouhy.
Lawmakers Debate New Safeguards for Workers: House Democrats used a hearing on "essential workers" to push for passage of labor-focused proposals, including a bill to pay increased benefits to front-line workers who contract the coronavirus, while Republicans called for continued efforts to open up schools and businesses. Essential workers such as nurses and grocery store clerks who aren't able to work from home are being overlooked in the rush to reopen the country, House Oversight and Reform Chairwoman Carolyn Maloney (D-N.Y.) said. "We do not all face the risks of the crisis equally."
Committee Democrats pressed the Senate to take up a House-passed bill that would force the Occupational Safety and Health Administration to issue rules mandating employers take actions to protect workers from Covid-19 exposure in the workplace. They also called on the House to pass a proposal from Maloney that would pay benefits to essential employees suffering from the disease. That legislation was referred to the House Judiciary Committee. Read more from Bruce Rolfsen.
Medical Innovation Bill's Authors Cite Current Crisis: A bipartisan duo in the House are pitching congressional leaders on including new provisions to bolster medical research and disease surveillance into the next pandemic-response bill. Rep. Diana DeGette (D-Colo.) said she and Fred Upton (R-Mich) are pushing to get some provisions related to sharing health data—and patient rights to that data—as well as improving virus surveillance tools cleared in larger legislation that could get signed into law this year, Alex Ruoff reports.
Virus Trial Tweaks Should Stay, FDA's Hahn Says: The remote monitors and telehealth check-ins made necessary by the pandemic may become permanent fixtures of new clinical trials going forward, FDA Commissioner Stephen Hahn said. The pandemic has delayed or halted clinical trials unrelated to the coronavirus, including one study testing a Novartis cholesterol drug. It's also required doctors to rely more on telehealth to treat people. Hahn said the experiences should inform how the FDA updates a clinical trial system agency leaders have previously described as "clunky" and broken. Read more from Jeannie Baumann.
Health Fraud Probes Said Faster Due to Pandemic: Federal investigators are leaning heavily on nontraditional methods to hasten criminal probes of health-care fraud tied to the coronavirus outbreak, a senior Justice Department official said. Joseph Beemsterboer, senior deputy chief of DOJ's Criminal Division Fraud Section, said the urgency of tackling Covid-19-related fraud is shortening probes to a span of months rather than years. Read more from Jacob Rund.
Moving Industry Rebounds as Pentagon Eases Travel Lockdown: The military moving industry is seeing some glimmers of hope as the Pentagon begins easing pandemic travel restrictions after a nearly three-month lockdown. The shipments of troops' personal belongings has rebounded to about 80% of historical norms for this time of year and could reach 100% within weeks, after dropping to 30% or less in March when the Pentagon ordered a halt to most global moves, according to associations representing the industry. Read more from Travis J. Tritten.
Happening on the Hill
Parties Split on Police Overhaul: Democrats and Republicans sharpened their divide over whether police abuses and killings are caused by a few "bad actors" bolstered by irresponsible police unions, or reflect a system that creates racist outcomes without accountability. Democrats are pushing a measure that would condition eligibility for several federal grants on meeting new use of force standards, ending choke-holds, and banning no-knock warrants for drug cases. But Republicans dismissed the Democrats' bill as partisan. The gulf will make it exceedingly difficult to secure passage and Trump's signature. Read more from Shaun Courtney.
Facebook Asked to Curb Trump's 'Dangerous' Posts: House Democrats asked Facebook CEO Mark Zuckerberg to take action against Trump's use of the social media platform. The lawmakers argue Trump "has taken to social media to push increasingly incendiary, violent, and abhorrent messages," and point to Twitter and Snapchat's moves to limit Trump's posts. "Despite pleas from the civil rights community and your own employees, Facebook has refused to demonstrate the same resolve as its competitors," Homeland Security Chairman Bennie Thompson (D-Miss.) and others wrote in a letter, Megan Howard reports.
Lawmakers Propose Billions to Aid Chip Industry: Lawmakers proposed an estimated $25 billion in funding and tax credits to help strengthen domestic semiconductor production and to fight against rising technological competition from China. The effort would support companies building plants in the U.S. and purchasing chipmaking equipment, and sponsoring research and development into "cutting edge semiconductor" production, according to the office of House Foreign Affairs Committee ranking member Michael McCaul (R-Texas). Read more from Ian King, Jenny Leonard, and Laura Litvan.
Bill to Restrict Funds to Confucius Institutes Passes: A bipartisan Senate bill passed by a voice vote yesterday would restrict the Education Department from awarding any funds to colleges that don't add academic freedom protections at Confucius Institutes. Such institutes are backed by the Chinese government and offer Chinese language and other academic courses. Lawmakers have accused Beijing of restricting teaching and research at the schools. Andrew Kreighbaum has more.
FTC Should Probe Zynn, Hawley Says: The Federal Trade Commission should investigate video sharing app Zynn's business practices and privacy protection policies, a Republican lawmaker said. Similar to TikTok, Zynn allows its users to upload and share short video clips. But Zynn pays users to watch and share its video content, Sen. Josh Hawley (R-Mo.) wrote yesterday in a letter to FTC commissioners. Users could get paid large payments by referring others to use the app, he said, Julia Weng reports.
Democrats Want Halt on Potential Arms Sales: Rep. Ilhan Omar (D-Minn.) led a letter signed by over a dozen colleagues calling on the White House to brief lawmakers on justifications for recently announced potential arms sales to countries including the Philippines, Egypt, India, Hungary and the United Arab Emirates. In a letter to Defense Secretary Mark Esper and Secretary of State Michael Pompeo, the lawmakers also pushed for a hold on all arms sales until they are able to review them, Kim Chipman reports.
Elections & Politics
Trump's Slipping Polls Make Holding Senate Daunting: An already close battle for control of the Senate is growing more daunting for Republicans. Fallout from the coronavirus pandemic and mass protests against police brutality has driven down Trump's poll numbers and threatens to bring down GOP incumbents with him, as Democrats look to expand a political map already tilted in their favor. Trump and Majority Leader Mitch McConnell (R-Ky.) met privately yesterday to discuss the Senate races, according to two people familiar with the matter who spoke on condition of anonymity. McConnell confirmed to reporters that he met with the president but gave no details.
The GOP is defending 23 Senate seats to just 12 for Democrats, with Democrats needing a net gain of at least three seats in November to take control of a chamber now divided 53-47 in Republicans' favor. Read more from Laura Litvan and Steven T. Dennis.
Trump Says He'll Resume Rallies in Tulsa on June 19: Trump said he plans to resume his campaign rallies beginning in Tulsa, Okla., June 19, followed by more events in unspecified cities in Florida, Arizona, and North Carolina. His campaign halted his signature rallies in March over the pandemic. Trump said earlier this week he would resume the rallies as soon as next week. His choice of a date and location for the rally is freighted with racial undertones, particularly in the wake of the death of George Floyd.
His rally would fall on the same day as Juneteenth, a commemoration of the end of slavery that is largely celebrated within the U.S. black community. And the locality, Tulsa, is also fraught: It's the site of one of the worst massacres of black people by white rioters in the U.S., the 1921 attack on Greenwood, then known as Black Wall Street. Justin Sink and Misyrlena Egkolfopoulou have more.
Georgia Primary Troubles Portend November Chaos: Human error and equipment failures that marred recent primaries in Georgia and other states are raising concerns that a technical meltdown risks a chaotic general election and the undermining of voter confidence in the integrity of November's general election. In contests since the pandemic erupted, tens of thousands of voters in Wisconsin, Pennsylvania, Georgia and Nevada failed to receive absentee ballots in the mail on time. Meanwhile, those who tried to vote in person were left confused by a reduced number of polling locations and exasperated by long lines to cast their ballots.
The problems could affect both Biden and Trump supporters, if traditionally Democratic cities face long lines to vote, which could suppress turnout, and if reliably Republican rural areas experience problems with mail-in ballots due to underfunded postal services. A tight race between Trump and Biden, or a poorly run election in a single swing state could also lead to litigation and a delay in announcing the winner of the presidential race. Read more from Ryan Teague Beckwith and Kartikay Mehrotra.
Ossoff Wins Georgia Primary: Jon Ossoff won the Georgia Democratic primary for the Senate seat currently held by first-term Republican David Perdue, according to AP. Ossoff, a documentary filmmaker, raised almost $30 million for a House special election campaign in 2017 that fell short. The race is rated "lean Republican" by the Cook Political Report, Bradley Davis reports.
What Else to Know Today
Nominations: Trump has tapped Anthony Tata, a retired Army brigadier general and occasional Fox News commentator, to be the next undersecretary of policy for the Defense Department. Tata would replace John Rood at DOD if confirmed by the Senate. Rood was ousted in February after playing a minor but important role in Trump's impeachment saga. Jennifer Jacobs and Daniel Flatley have more.
Trump also announced his intent to appoint David E. Richardson to be join the Department of Homeland Security as assistant secretary for Countering Weapons of Mass Destruction.
Pompeo Defends Police in Staff Message: Pompeo said in an email to staff that he shares the outrage over George Floyd's death while rejecting what he called "vile propaganda" by China, Iran, and other adversaries. Nick Wadhams has more.
Amazon to Pause Use of Facial Recognition Software: Amazon said it will implement a one-year moratorium on police use of its facial recognition software, a major course change for a company that has been one of the most strident defenders of the controversial technology, Matt Day reports.
Appeals Court Judges Question Pentagon's $10 Billion Cloud Bid: A federal appeals court appeared open to requiring the Pentagon to revisit its disputed $10 billion cloud-computing contract, after Oracle alleged in a lawsuit that the bidding requirements unfairly shut out qualified contenders, Naomi Nix and Susan Decker report.
To contact the reporters on this story: Zachary Sherwood in Washington at zsherwood@bgov.com; Brandon Lee in Washington at blee@bgov.com
To contact the editors responsible for this story: Giuseppe Macri at gmacri@bgov.com; Loren Duggan at lduggan@bgov.com; Michaela Ross at mross@bgov.com