What to Know in Washington: Trump Headed Back to Washington
Former president tests appeal ahead of 2024
Pence speech today to preview coming rivalry
Donald Trump is coming back to Washington as Republican rivals maneuver for a possible primary challenge and lawmakers probe his culpability for the Jan. 6 insurrection.
The former president will deliver a keynote speech Tuesday at the America First Agenda Summit, a conservative conference. His remarks come on the heels of a House committee hearing that portrayed him standing by indifferently, even vindictively, for hours as a mob of his supporters battled police and chased lawmakers through the halls of the Capitol.
Trump isn't expected to announce a third run for president in his Washington speech, according to advisers. But the notoriously mercurial ex-leader could change his mind on the way into town from the airport.
In the aftermath of his defeat and the chaos that unfolded at the Capitol on Jan. 6, Trump slipped out of Washington in disgrace the morning of President Joe Biden's inauguration. His return — at a time when Biden is notching the lowest approval rating of his presidency and contending with foreign crises and domestic anger over inflation and culture-war issues — has fanned speculation about what's considered an all-but-inevitable campaign announcement.
A day before he speaks, his former vice president, Mike Pence, will deliver remarks of his own, highlighting the rivalry that has developed between the two men after Trump lambasted Pence for refusing to participate in his scheme to overturn his re-election defeat. Josh Wingrove and Mario Parker set the stage for Trump's return.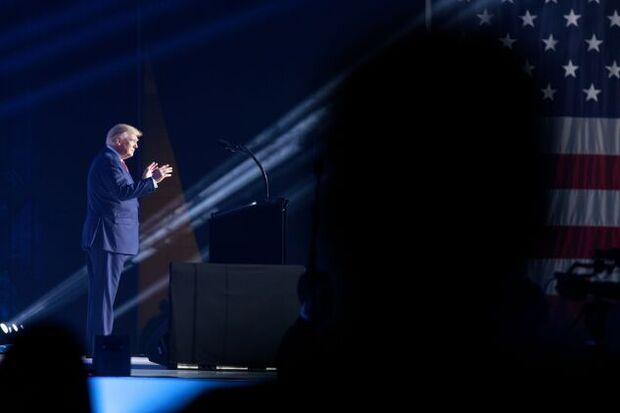 Pence is getting a one-day head start on rallying the Republican base in Washington before Trump returns. The timing of the speeches — Pence on Monday, Trump on Tuesday — is shaping up as a contest between the two men. Both have increasingly hinted at 2024 White House runs, potentially setting them on a collision course on the primary trail and in debates. Mark Niquette previews the likely showdown.
Happening on the Hill
CONGRESS' SCHEDULE:
The House returns tomorrow for its last work week before an August recess.
Senators are back at 3 p.m. for a procedural vote on a bill to boost semiconductor manufacturing.
The Congressional Progressive Caucus called for Senator Majority Leader Chuck Schumer to bring legislation to rein in technology giants to a floor vote before the August recess. The lawmakers said in a letter to Schumer (D-N.Y.) that a 16-month investigation led by the House Judiciary Antitrust Subcommittee discovered that "these platforms routinely abuse their gatekeeper power to hurt rivals and destroy competition—thereby harming consumers, the free press, innovation, and the American economy."
The legislation "has the full support of the Biden Administration," the lawmakers said in the letter. Read more from Alicia Diaz.
House Armed Services Chair Adam Smith said US support for Ukraine remains assured after leading a bipartisan delegation that met President Volodymyr Zelenskiy in Kyiv. The five lawmakers—Smith (D-Wash.), three other Democrats, and a Republican—also visited Bucha and Irpin, where they saw "evidence of the Russian atrocities" from the earlier days of the war, they said. "We will continue to seek ways to support President Zelenskiy and the Ukrainian people as effectively as possible," they said. Read more from Bloomberg.
The war in Ukraine may be entering a new stage as long-range rocket systems supplied by the US disrupt Russia's grinding advance in the eastern Donbas region, and open the door for a possible counteroffensive. Read more from Marc Champion and Alberto Nardelli.
Elections, Politics & Probes
The bipartisan committee investigating the Jan. 6 insurrection at the Capitol intends to "get to the bottom" of missing or destroyed US Secret Service texts from the days surrounding the attack, Rep. Liz Cheney (R-Wyo.) said Sunday. The committee is seeking text messages from 24 Secret Service employees related to Jan. 5 and the day of the Capitol attack. Cheney, the Republican vice chair of the panel, told CNN she was "deeply troubled" by the missing or deleted messages, Victoria Cavaliere and Ryan Teague Beckwith report.
As hearings into Jan. 6 pause for an August break, the focus turns to the Justice Department, which must decide whether to prosecute Trump. Though a House committee investigating the assault has laid out an array of potential crimes committed by the former president, experts say the easiest charges to prove may come from his attempt to submit lists of fake electors. Read more from Chris Strohm.
Steve Bannon's lawyers chose not to call defense witnesses, submit evidence or let the jury hear directly from the ex-Trump adviser in his contempt of Congress trial. It was a gamble that didn't pay off. A Washington jury deliberated only a few hours—having lunch during that time—before finding Bannon guilty of two counts of contempt for defying the Jan. 6 panel subpoenas seeking documents and testimony. Read more from Erik Larson.
Tim Ryan is the kind of politician who could win in Ohio. A local boy, Rep. Ryan (D-Ohio) grew up in a working-class family of Italian and Irish descent. But he's also a Democrat, a burden in a state Trump won handily in the previous two presidential elections. To stand a chance here at flipping a Senate seat held by a retiring Republican, the 49-year-old congressman is distancing himself from his party ahead of November's election, including by dodging appearances with Biden. Emma Kinery and Mark Niquette have more.
A 43-year-old man accused of attempting to stab Rep. Lee Zeldin (R-N.Y.), the GOP nominee for governor of New York, was charged in federal court on Saturday with assaulting a member of Congress using a dangerous weapon. David G. Jakubonis, of Fairport, N.Y., faces up to 10 years in prison if convicted of wielding a sharp object at Zeldin during a campaign event near Rochester on Thursday night, the Department of Justice said in a press release. Zeldin wasn't injured. Read more from Victoria Cavaliere.
Around the Administration
PRESIDENT'S SCHEDULE:
Biden will deliver remarks virtually to the National Organization of Black Law Enforcement Executives Conference at 12:30 p.m.
Press Secretary Karine Jean-Pierre and Covid-19 Response Coordinator Ashish Jha hold a briefing at 3:10 p.m.
The Biden administration is considering whether to declare the monkeypox outbreak a public health emergency as cases in the US soared to more than 2,800 Friday, a White House official said. "Certainly it's a conversation that's ongoing," Ashish Jha, the White House's Covid response coordinator said on Friday as cases in the US reached 2,800. "We're looking at that, looking at what are the ways in which the response could be enhanced by declaring a public health emergency." Madison Muller and Jeannie Baumann have more.
Biden is improving from his Covid-19 infection, with encouraging signs that he's overcoming the virus, his doctor said. "His symptoms continue to improve significantly," White House physician Kevin O'Connor said in a daily update on Sunday. "His predominant symptom now is sore throat. This is most likely a result of lymphoid activation as his body clears the virus, and is thus encouraging." Biden is being treated with Pfizer's Paxlovid. Read more from Jenny Leonard.
Treasury Secretary Janet Yellen expressed confidence in the Federal Reserve's fight against inflation and said she doesn't see any sign that the US economy is in a broad recession. "We are likely to see some slowing of job creation," Yellen told NBC on Sunday. "I don't think that that's a recession. A recession is broad-based weakness in the economy. We're not seeing that now." Still, inflation remains "way too high," Yellen said, while renewing the administration's argument that it's also high in other countries. Tony Czuczka has more.
To contact the reporters on this story: Michaela Ross in Washington at mross@bgov.com; Brandon Lee in Washington at blee@bgov.com
To contact the editors responsible for this story: Giuseppe Macri at gmacri@bgov.com; Loren Duggan at lduggan@bgov.com