What to Know in Washington: Trump, GOP Struggle on Stimulus Plan
Senate Republicans and the Trump administration are struggling to reach a consensus on the contours of another stimulus plan, putting at risk the White House goal of enacting a package by the end of next week.
Treasury Secretary Steven Mnuchin and White Chief of Staff Mark Meadows are returning to the Capitol today after an initial round of talks with Senate Republicans ended without a clear outline or any lessening of GOP resistance to President Donald Trump's desire for a payroll tax holiday.
Mnuchin and Meadows also met yesterday with Speaker Nancy Pelosi (D-Calif.) and Senate Minority Leader Chuck Schumer (D-N.Y.). But the two Democrats said there can be no real negotiations on virus relief legislation that can pass the House and Senate until Republicans can agree on their own plan.
Meadows conceded that there was some distance to go before trying to bridge the gap between the roughly $1 trillion plan Republicans are trying to craft and the $3.5 trillion that Democrats have on the table. "We are in substantial ways apart right now," Meadows said after meeting with Pelosi and Schumer. "I think they're waiting for legislative text that I don't see them getting for a little bit of time."
Trump was optimistic a deal will eventually emerge. "We're making a lot of progress," he said at a White House briefing yesterday. "I also know that both sides want to get it done."
The White House and Congress have only a few weeks to come up with another stimulus before lawmakers take a scheduled August break and the $2.9 trillion flood of federal money passed by Congress earlier in the year begins to dry up. The resurgence of the coronavirus across the county threatens to keep the economy hobbled through the November election that will determine control of the White House and Congress. Read more from Laura Litvan and Erik Wasson.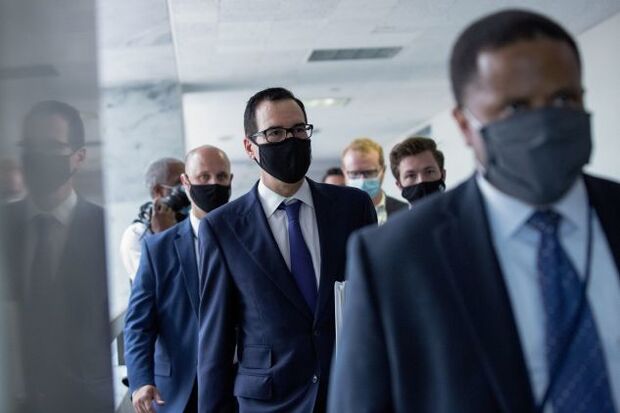 Hotel Industry Seeks Aid: The $240 billion hotel industry is ramping up its advocacy to secure additional aid in the next relief package, as it faces long-term economic suffering sparked by Covid-19. The American Hotel & Lodging Association sent a letter to congressional leaders on Monday seeking to create a specialized loan assistance fund at the Federal Reserve, ease access for hotels to a small business loan program, and put in place liability protections for businesses, among other provisions. Read more from Megan R. Wilson.
Homework Gap Said to Require $7 Billion to Close: Congress must provide billions of dollars in new money for home internet access and computers to reach many students online as several major cities rebuff White House pressure to reopen schools this fall, the National Urban League and other advocates say. Lawmakers should provide $6.8 billion through the federal E-rate program in the next coronavirus package to close the "homework gap," the Urban League, Unidos, the National Indian Education Association, and the Alliance for Excellent Education reported today. Andrew Kreighbaum has more.
Pediatricians Say $200 Billion Necessary for K-12: The American Academy of Pediatricians and 30 other national health groups told leaders in Congress in a letter yesterday that Congress should provide $200 billion in the next package for K-12 schools, "regardless of their timeline for reopening." Schools delaying the return of in-person instruction because of high rates of cases need more federal investments, not fewer, the groups said, Andrew Kreighbaum reports.
DOL Tries to Clear Up Confusion on Jobless Aid: The Labor Department issued new guidance on the complex unemployment insurance program for independent contractors, marking the agency's latest effort to increase oversight of how states are making eligibility determinations to this crucial form of virus relief. The guidance DOL's Employment and Training Administration published late yesterday updated its instructions to state workforce agencies by addressing a series of questions states have asked about Pandemic Unemployment Assistance. Congress created the program in March to extend benefits to gig-economy workers, freelancers, and others who wouldn't traditionally qualify for unemployment insurance. Read more from Ben Penn.
Also Happening on the Hill
Pentagon Policy Bill Passed: The Pentagon would have to begin rooting out racism as part of a sweeping defense policy bill that would require new names for military bases honoring Confederate officers, bar the display of the Confederate flag, and ban the use of names and photos in promotion and selection pitches.
The House, echoing a U.S. society shaken by the pandemic and civil unrest over racism and racial inequities, passed the $741 billion fiscal 2021 national defense authorization bill yesterday. It sets up a likely clash with Trump, who has dug in to retain the current base names and the Confederate flag, and threatened to veto the bill. Top Pentagon leaders said the changes should be considered.
The House passed the measure by a vote of 295-125. The legislation would set spending priorities for weapons, ranks for the new Space Force, and restrictions on use of TikTok, the besieged Chinese social media application. The legislation (H.R. 6395) would also authorize raises and added pay for U.S. troops in harm's way, elevating it to must-pass legislation. Read more from Roxana Tiron.
Borrowers with private student loans would get as much as $10,000 in debt relief under an amendment to the defense authorization bill. The amendment would require the Department of the Treasury to take over payments on student loans up to a $10,000 cap. The CARES Act suspended loan payments on federal student loans for six months through Sept. 30 but left out private borrowers, Andrew Kreighbaum reports.
Virus Panel Seeks Paid-Leave Data: The House Select Subcommittee on the Coronavirus Crisis called on the Labor Department to hand over information about pandemic paid-leave policy out of concerns that the department's "broad interpretation" of the law has "ignored" Congress's intent, according to a letter from Rep. Jim Clyburn (D-S.C.), who chairs the panel. The department's rule implementing the law may have led businesses to improperly exclude millions of Americans from receiving leave benefits for which they were eligible, the letter says. Read more from Jaclyn Diaz.
Increased Action Sought on Ocean Plastics: Senators yesterday emphasized bipartisan, international support for tackling the world's ocean plastic pollution, even though the U.S. isn't a part of an international treaty devoted to the issue. "There's a lot we do agree upon and getting plastics out of the ocean should be something we can come together on," said Sen. Lindsey Graham (R-S.C.), who leads the Senate Appropriations State and Foreign Operations panel. Read more from Alexandra Yetter.
Warren Signals Crackdown on Banks: Sen. Elizabeth Warren (D-Mass.) and other Democrats signaled yesterday that if they regain control of the Senate, the lax oversight the financial industry has enjoyed during Trump's administration is coming to an end. Warren was among the current and former politicians who participated in a virtual conference to mark the 10th anniversary of the Dodd-Frank Act. She said Trump and Republican politicians have failed in their attempts to gut the law. Read more from Skylar Woodhouse.
Distribution Mars $3 Billion Food Box Effort: A program intended to assist struggling farmers and hungry Americans is plagued by regional inequities and distribution problems, Democrats and nonprofits say. "The effort is clearly not working for everyone," said Rep. Marcia Fudge (D-Ohio), Agriculture Subcommittee on Nutrition, Oversight, and Department Operations chair. "We've seen reports of companies awarded contracts with little-to-no experience in the timely sourcing and distribution of food, including nearly $40 million to a Texas wedding planner."
House Agriculture Committee members pored over the implementation of the Farmers to Families Food Box Program at a hearing yesterday, questioning how the funds have been used and which companies and nonprofits have benefited. Read more from Megan U. Boyanton.
Ocasio-Cortez Wants Apology From Yoho: Rep. Alexandria Ocasio-Cortez (D-N.Y.) says no other member of Congress — or any female — should be treated the way a conservative Florida congressman "accosted" her on Monday at the Capitol. She wants Rep. Ted Yoho (R-Fla.) "to apologize on the floor of the House," she said in an interview with Bloomberg News. Yoho declined to give his version of their encounter while emerging from Minority Leader Kevin McCarthy's (R-Calif.) office last night. He said he didn't want to talk about it. Read more from Billy House.
Elections & Politics
Democratic Platform Sticks to Biden's Line: The Democrats' official platform will likely call for universal health care, major investments in clean energy and a recasting of the criminal justice system, but will steer away from many of the main policy proposals advanced by the party's progressive wing, according to a draft of the document. The 80-page draft, obtained by Bloomberg News last night, largely hews to Joe Biden's policy stances and mirrors many of the recommendations proposed by the joint task forces formed by allies of Biden and Sen. Bernie Sanders (I-Vt.).
After Sanders dropped out of the race, he and Biden formed policy groups in six areas to bridge policy gaps between the more progressive Vermont senator and the more moderate former vice president. Yet the task forces and the draft platform do not call for some of the progressives' most sought-after policies such as the Green New Deal or Medicare for All. Read more from Tyler Pager.
Democrats Call for 2024 Party Reforms: A group of Democrats want the party to make changes that could lead to a new presidential primary calendar and the elimination of caucuses after a messy Iowa contest this year. They're proposing the creation of a Build the Party commission that would study what went wrong in Iowa and elsewhere in the 2020 primaries. The task force would likely assess the early primary schedule, potentially pushing Iowa and New Hampshire out of their first-in-the-nation spots. Read more from Jennifer Epstein.
Trump Tries to Deflect Liabilities to Biden: Trump has a message for voters who are concerned about his handling of the coronavirus pandemic, policing in the U.S. and China trade policy: Biden would make everything worse.
Trump and his allies have attacked Biden on television, social media and even from the White House Rose Garden as a left-wing radical who would ruin the country. But as Trump's approval ratings plunge over his handling of the virus, the economy and race relations, his team is trying to pin Biden as a failure on those same issues. Biden will leave the economy in ruins, won't improve life for African-Americans and doesn't have the mental capacity to be president, Trump says. Read more from Jordan Fabian and Mario Parker.
What Else to Know Today
Trump Restarts Briefings, Endorses Masks: Trump restarted his coronavirus briefings yesterday by warning about a surge in cases, but seeking to reassure the public that his White House has the crisis under control. He took a notably more reserved tone than in prior briefings, warning that the situation will likely get worse. "We will defeat the virus," Trump said yesterday before adding: "It'll probably, unfortunately, get worse before it gets better." Justin Sink has more.
Trump also told Americans to wear a mask. "Whether you like the mask or not, they have an impact," Trump said at the White House. "We're asking everybody when you are not able to socially distance, wear a mask." Masks became highly politicized after Trump resisted wearing one in public, until posting on Monday that "it is patriotic" to wear one. Jordan Fabian and Olivia Raimonde have more.
U.S. Struggles to Get Speedy Testing Right: With coronavirus cases surging across the U.S., the country is again facing an issue that plagued it in the pandemic's early days: Overwhelming demand at labs has led to longer and longer wait times for test results. Hospitals are still finding themselves short on supplies and even major labs, like Quest Diagnostics, are so bogged down that the turnaround times can exceed a week. Read more from Aysha Diallo, Olivia Raimonde and Emma Court.
DHS to Continue Making Arrests, Wolf Says: Federal law enforcement agents are "expressly allowed" to and will continue to make arrests in Portland, Ore. in response to threats to federal property, Homeland Security acting Secretary Chad Wolf said during a press conference yesterday. The DHS mission includes protecting federal property, and its authority includes investigations off of U.S. property, Wolf said. He said he's willing to remove the law enforcement surge from Portland if "violence stops," Shaun Courtney reports.
Business owners in downtown Portland delayed reopening their shops and even considered closing them permanently since the Trump administration's intervention worsened unrest in the city. "The presence of federal troops has led to a near-universal upset and a worsening of conditions on the streets," said Andrew Hoan, chief executive of Portland Business Alliance, the area's chamber of commerce, which represents almost 1,900 businesses. Read more from Olga Kharif and Sarah Holder.
A supplier of tear gas to the police and the military is experiencing a surge in demand for a launcher it makes for home use as consumers anxious about civil unrest arm themselves. Sales have been fueled by anxieties over the coronavirus pandemic and the waves of protests across the country that followed the May 25 death in police custody of George Floyd, an unarmed Black man in Minneapolis. Read more from Charlie McGee.
Chamber Sues Over Worker Visa Rules: The U.S. Chamber of Commerce sued the Homeland Security Department seeking to toss out immigration restrictions, including those placed on H-1B visas issued to highly skilled workers who have expertise in specialty fields. The suit, filed in federal court in San Francisco, says Trump exceeded his authority last month when he halted access to several employment-based visas, affecting hundreds of thousands of people seeking to work in the U.S. Read more from Joel Rosenblatt.
U.S. Shuts Down China's Houston Consulate: China vowed retaliation after the U.S. forced the closure of its Houston consulate, in one of the biggest blows to diplomatic ties between the two countries in decades. The U.S. government gave China three days to close its consulate in America's fourth-most populous city in an "unprecedented escalation," Chinese Foreign Ministry spokesman Wang Wenbin told a regular briefing today in Beijing. China planned to "react with firm countermeasures" if the Trump administration didn't "revoke this erroneous decision," Wang said. Read more.
Court Reopening Plans Face Pushback: Some courts are pumping the brakes on reopening efforts as Covid-19 cases and deaths rise throughout much of the U.S., while others face pushback from lawyers over resuming in-person operations. Federal courts in Arizona, Jackson, Miss., and Charlottesville, Va., are among those that recently delayed efforts to start in-person operations, citing local coronavirus increases. Read more from Madison Alder.
Vought Swearing-In: Trump will swear in Russell Vought as director of the Office of Management and Budget today at 12:30 p.m., according to the White House schedule. The Senate confirmed Vought Monday on a 51-45 vote.
To contact the reporters on this story: Zachary Sherwood in Washington at zsherwood@bgov.com; Brandon Lee in Washington at blee@bgov.com
To contact the editors responsible for this story: Giuseppe Macri at gmacri@bgov.com; Loren Duggan at lduggan@bgov.com; Michaela Ross at mross@bgov.com