What to Know in Washington: Trump Fundraises Before Arraignment
Bloomberg Government subscribers get the stories like this first. Act now and gain unlimited access to everything you need to know. Learn more.
Donald Trump will fly to New York today, one day before his historic arraignment in a Manhattan courtroom. The former president said in a Truth Social post he plans to leave Mar-a-Lago at noon.
Trump's presidential campaign says it raised more than $4 million in the 24 hours after reports that he had been indicted by a grand jury on charges related to a hush-money payment.
News of the indictment came Thursday — the day before the end of a quarterly reporting period for campaign contributions, when federal candidates often escalate their fundraising efforts to demonstrate the strength of their support.
Those numbers can't be confirmed until the campaign files its first quarter report by April 15.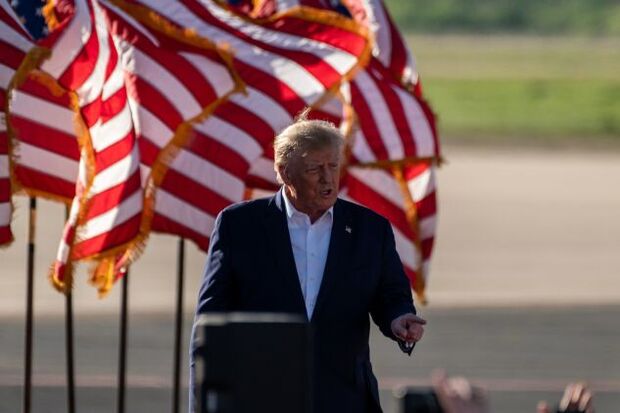 "This is the battle I willingly signed up for when I decided to take on the entire Washington Machine as a political outsider 8 years ago, and be YOUR voice," Trump said in a Friday fundraising email, which dubiously promised that donations would have "1,500% impact."
Trump is scheduled to appear in court Tuesday. His fundraising appeal, quoting a New York Times article, reveled in the details of his arraignment: "He will be fingerprinted. He will be photographed. He may even be handcuffed." Gregory Korte has more.
Trump's indictment followed a head-spinning two weeks during which the former president predicted his own arrest but, almost as quickly, suggested that he'd beat the rap.
The New York judge overseeing Trump's historic criminal case has had his share of high-profile trials, but the courtroom drama he'll face with the former president will put him in a whole different league.
Trump's legal team is considering asking to move his criminal case from Manhattan to the more conservative New York borough of Staten Island out of concern that he won't be able to get a fair trial, according to a person familiar with the matter.
Trump's indictment over a $130,000 hush money payment to porn star Stormy Daniels has provoked fresh skepticism over whether Manhattan District Alvin Bragg chose the right case to prosecute the former president.
ALSO IN POLITICS & ELECTIONS:
Harris and Africa: Vice President Kamala Harris's trip to Africa, at turns eliciting deep reflection from the historic US vice president, offered a chance for her to reconnect with Black Americans whose support is crucial for her and President Joe Biden's looming reelection bid. Read more
Fox News on Trial: Fox News will have to face trial in a $1.6 billion defamation suit claiming it falsely accused Dominion Voting Systems of rigging the 2020 presidential election after a federal judge Friday said evidence was "CRYSTAL clear" that none of the outlet's statements relating to Dominion and the election were true. Read more
Hutchinson Joins '24 Race: Former Arkansas Governor

Asa Hutchinson

, a Republican critic of Trump, said he's entering the 2024 presidential race. Read more
Lawmakers Meet With Taiwan's Tsai, CEOs Amid China Tensions
A bipartisan group of US lawmakers is taking their concerns about China to California this week where they plan to meet with top technology and entertainment executives, as well as with Taiwan President Tsai Ing-wen.
The trip, led by Rep. Mike Gallagher (R-Wis.) who chairs a new House panel focused on China, is aimed at understanding how the Chinese Communist Party influences different parts of American society, according to a person familiar with the committee's plans.
The group will also meet with tech executives, including Apple's CEO Tim Cook, as well as film and entertainment industry representatives, such as Disney's CEO Bob Iger.
A stop will include a meeting with Tsai, who will be returning from a trip to Central America. Tsai is also expected to meet Speaker Kevin McCarthy (R-Calif.) in his home state. She met last week with House Minority Leader Hakeem Jeffries (D-N.Y.) in his home state of New York, according to people familiar with the event. Read more
Bloomberg Law's Skye Witley and Bloomberg Government's Emily Wilkins are taking questions today at 1 p.m. EST about a looming nationwide ban on TikTok, as the Chinese-owned video platform faces mounting scrutiny over Beijing's access to and influence over American users. Send in your questions about the legislative effort in this Reddit AMA .
ALSO IN FOREIGN AFFAIRS
Blinken Calls Lavrov: US Secretary of State Antony Blinken made a rare call on Sunday to Russian counterpart Sergei Lavrov, calling for the immediate release of a Wall Street Journal reporter arrested last week and detained on spying charges. Read more.
$2.6B for Ukraine: The US is planning to release a package of military assistance to Ukraine valued at $2.6 billion, according to an official who asked not to be identified in advance of an announcement likely to come on Monday. Read more
EV Credits Roil Manchin as US Faces OPEC+ Cuts
Senator Joe Manchin (D-W.Va.) stepped up his fight with the Biden administration over its implementation of the president's signature climate bill in a way Manchin says over-emphasizes clean energy technology, turns away from fossil-fuel production and spends too much.
"They just want to throw caution to the wind and put more money out and throw more money from the Treasury and credits that basically are not going to accelerate how quickly that we can be totally self-reliant," Manchin (D-W.Va.) said on "Fox News Sunday."
In separate comments on CNN's "State of the Union," Manchin, a key architect in the law passed last year, wouldn't rule out taking legal action to stop the administration's interpretation of the legislation. Read more
Chinese Renewables: China's leading renewables firms are joining the rush to open factories in the US after Washington passed its landmark climate bill that supports local clean energy manufacturing. Read more
South Korea Responds: South Korea said the US guidance on the Inflation Reduction Act has resolved uncertainties for the country's battery makers as Biden seeks to ween the world off Chinese EV supplies. Read more
Simmering EU Tensions: The US and EU are negotiating a limited critical minerals deal that may put a salve on simmering tensions spurred by the Inflation Reduction Act, but Washington's protectionist agenda is still causing anxiety in Brussels, where the US needs help pressuring China. Read more
Meanwhile, OPEC+'s surprise move over the weekend to cut 1 million barrels a day of oil production is poised to raise US fuel prices just as Biden is expected to launch his re-election campaign. He has a limited range of options with which to respond. Read more
Initial White House Response: The White House yesterday said the plan to make cuts was ill-advised, while promising to focus on gasoline prices for Americans. Read more
Also on Lawmakers' Radars
BIDEN'S SCHEDULE:
Biden at 2:05 p.m. CDT tours a Cummins Power Generation Facility in Fridley, Minnesota. Cummins plans to invest over $1 billion across its US engine manufacturing network in Indiana, North Carolina and New York. Read more
At 2:35 p.m. CDT, the president discusses his economic agenda and push for private sector investments, especially in clean energy and manufacturing.
At 8:10 p.m. EST, Biden arrives at the White House.
Biden has narrowed his search for a Federal Reserve vice chair to a handful of candidates, as the White House moves to fill the post after triaging the collapse of Silicon Valley Bank, according to people familiar with his deliberations. Biden's decision is expected in the coming weeks and a small number of potential nominees are in the running, the people said, speaking on condition of anonymity.
Environment Lawyer Nomination Push: Biden's efforts to diversify the federal bench haven't included someone with significant environmental law experience. But climate advocates would like to see it happen. Read moream
Sen. John Fetterman (D-Pa.) was released from a hospital near Washington where he underwent six weeks of treatment for severe depression, his office said Friday evening.
Expectations are high that the IRS will beef up enforcement with its new $80 billion in funds from the Inflation Reduction Act, but it will take time for that to come to fruition.
Lawmakers unhappy with how the US is carrying out a landmark law to curb surprise medical bills are renewing pressure on the Biden administration to change course.
Federal regulators are expected to sue Amazon over allegations that the e-commerce giant illegally collected data on children, according to two people familiar with the case.
To contact the reporter on this story: Michaela Ross in Washington at mross@bgov.com
To contact the editor responsible for this story: Brandon Lee at blee@bgov.com
Stay informed with more news like this – from the largest team of reporters on Capitol Hill – subscribe to Bloomberg Government today. Learn more.