What to Know in Washington: Trump Faces Resistance on Stone Move
President Donald Trump commuted the sentence of Roger Stone, sentenced to more than three years in prison for witness tampering and lying to Congress, in a move that will keep his former campaign adviser from serving time behind bars.
The decision, announced in a White House press release on Friday night, came after Trump repeatedly criticized the judge, prosecutors, and even the jury involved in Stone's trial as politically motivated.
Stone was "a victim of the Russia Hoax that the Left and its allies in the media perpetuated for years in an attempt to undermine the Trump presidency," press secretary Kayleigh McEnany said in the release, which was issued as Trump was returning from Florida. In his first public remarks since Friday's announcement, Trump said on Twitter that Stone was "targeted by an illegal Witch Hunt."
The commutation means that while Stone's conviction will stand and he'll have a criminal record, he won't have to go to prison. But it allows him to proceed with his appeal of the conviction and gives Trump the path of granting a full pardon later. Jennifer Jacobs, Justin Sink, Erik Larson and David Yaffe-Bellany have more.
Still, Stone's legal journey is far from over. His conviction from November is still intact. A pardon would have required Stone to abandon the appeal he filed in April after District Judge Amy Berman Jackson denied his request for a new trial. Stone, 67, said he's eager to clear his name and overturn a conviction he says is the result of a politically biased judge and jury, claims frequently echoed by Trump. Read more from Erik Larson.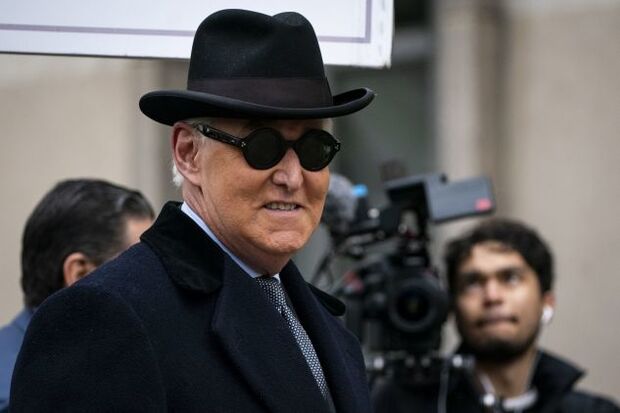 Pelosi Plans Bill to Limit Pardons: Speaker Nancy Pelosi (D-Calif.) said that she plans to support a bill limiting the ability of presidents to pardon and commute people's sentences. Trump's commutation of Stone's sentence "is an act of staggering corruption," Pelosi said in a statement. "Congress will take action to prevent this type of brazen wrongdoing."
"Legislation is needed to ensure that no president can pardon or commute the sentence of an individual who is engaged in a cover-up campaign to shield that President from criminal prosecution," Pelosi said. A bill limiting the president's powers of pardon and commutation would have no chance of becoming law as long as Republicans control the Senate and Trump remains in the White House. Read more from Erik Wasson.
Romney, Toomey Criticize Decision: Sen. Mitt Romney (R-Utah) was the first major Republican elected official to criticize Trump's move, joined later by Sen. Pat Toomey (R-Pa.). "Unprecedented, historic corruption: an American president commutes the sentence of a person convicted by a jury of lying to shield that very president," Romney said Saturday morning on Twitter.
Toomey's criticism was more mild, calling the commutation a "mistake" in an emailed statement, and arguing that the decision should have been left to the court system. "He was duly convicted of lying to Congress, witness tampering, and obstructing a congressional investigation conducted by a Republican-led committee," Toomey wrote. "Commuting Roger Stone's sentence is a mistake."
Trump slammed the pair as "RINOs," while Stone said yesterday that Romney "knows nothing" about his case and was jealous because Trump was elected president and he, the 2012 GOP presidential nominee, wasn't. Read more from Erik Wasson.
Mueller Says Stone Is Still a Felon: Former Special Counsel Robert Mueller on Saturday defended the investigation into Russian election interference and said Roger Stone "remains a convicted felon, and rightly so." Mueller, in rare public remarks in a Washington Post opinion article posted Saturday evening, said the the work of the special counsel's office—including its report, indictments and convictions—should speak for itself. Bill Haubert and Ros Krasny have more.
Graham Plans to Invite Mueller to Testify: Senate Judiciary Chairman Lindsey Graham (R-S.C.) is preparing to invite Mueller to testify before his panel about the probe, according to a spokesperson for the panel's Republican majority. Graham tweeted earlier that he would grant a prior request by Democrats on the panel — made in 2019 — for Mueller to appear.
He's been hinting at such a move for some time as a way to grill Mueller about the origins of the Russia investigation and what many Republicans see as bias against Trump by the nation's law enforcement agencies. Two days earlier Graham described the Mueller investigation as "biased and corrupt." Graham finally acted after Mueller's publication Saturday in the Washington Post, in which he defended his efforts against "broad claims that our investigation was illegitimate and our motives were improper." Read more from Ryan Beene.
What to Watch This Week
Appropriations Markups: The House Appropriations Committee is scheduled to mark up the fiscal 2021 Energy and Water Development and Labor-HHS-Education appropriations bills today. House appropriators plowed through all their subcommittee markups and five of their 12 full committee markups last week, but the outlook for funding the government remains murky because of the Senate's inaction, lawmakers say.
House Democrats' goal has likely been reduced to holding floor votes on their bill by late July or early August, Rep. Rosa DeLauro (D-Conn.) said last week. After that, it's unclear when lawmakers could hold bicameral discussions, she said, Jack FItzpatrick reports. "The goal is for us to get through subcommittee, full committee, and deliberation on the floor by the beginning of August, end of July," DeLauro said in a hallway interview. "And we've got the Senate, which in my understanding isn't really doing — I don't think they've done anything on this stuff."
Senate appropriators haven't released any of their bills as Republicans and Democrats disagree over whether it's appropriate to offer amendments on coronavirus aid and police violence.
Hearing Highlights:
Also Happening on the Hill:
Tuesday's Primaries: House elections tomorrow will set November contests in Maine, Texas, and Alabama. The Maine primary and the Alabama and Texas primary runoffs were rescheduled from earlier in the year because of the coronavirus pandemic.
In the fight for the Senate, Jeff Sessions' bid to reclaim his Alabama seat for Republicans amounts to a grudge match with his former boss, Trump. Trump cast Sessions aside as U.S. attorney general two years ago in anger over his recusal from the Russia investigation. He may get a final bit of revenge by backing former Auburn University football coach Tommy Tuberville, who's favored in tomorrow's Republican primary runoff. Steven T. Dennis has more on Sessions' race.
NYC Trump Tax Case Gets Thursday Hearing: Trump will get a chance this week to try new arguments against Manhattan District Attorney Cyrus Vance's subpoena of his tax returns and other financial records after the U.S. Supreme Court rejected the president's claim of immunity in the matter. The high court last Thursday said presidents do not have broad protections against state criminal investigations. The case was sent back to U.S. District Judge Victor Marrero in Manhattan, who set a July 16 hearing date. Read more from Bob Van Voris.
The Coronavirus Pandemic
DeVos Downplays Risk of Opening Schools: Education Secretary Betsy DeVos downplayed the risk of reopening schools in the fall, a high priority of Trump's, and repeated a threat to cut funding to schools that don't completely restart in-person learning as educators wrestle with the threat of Covid-19. DeVos told Fox News yesterday that "nothing in the data" suggests children being in school is "in any way dangerous"—an assertion that was challenged by a public health official on the same program. Erik Wasson and Ryan Beene have more.
Trump's call to investigate the nonprofit status of universities could run into legal problems, including guardrails Congress placed on the IRS after a scandal over the agency's scrutiny of nonprofit status of conservative political groups. Congressional restrictions—in addition to other legal issues—could make Trump's directive illegal and in violation of the First Amendment, tax and non-profit groups say.
"The tax code's clear that educational institutions generally qualify for tax-exempt status," said Mark Mazur, director of the Tax Policy Center and former assistant secretary of tax policy within the Treasury Department under then-President Barack Obama. "It's not, 'except the ones I don't like.'" Read more from Sam McQuillan, Colin Wilhelm and Andrew Kreighbaum.
Fauci Accused of Not Weighing 'Whole National Interest': One of Trump's coronavirus task force members said yesterday that infectious disease specialist Anthony Fauci doesn't necessarily "have the whole national interest in mind" in suggesting responses to the pandemic. Fauci, who's also on the task force, "looks at it from a very narrow public health point of view," Admiral Brett Giroir, assistant secretary at the Health and Human Services Department, said on NBC's "Meet the Press." "He admits that."
The comments reflected tension in the administration between the goal of tamping down transmission of Covid-19 as much as possible and Trump's desire to boost the economy, now in recession, before the November election. Giroir spoke as the U.S. continues to post record daily cases, especially in Sun Belt states. Florida yesterday reported more than 15,000 new cases, the highest for any state — including New York when it was the epicenter of the pandemic in the spring. Read more from Ros Krasny.
Aversion to Masks Holding Back Economy: The aversion of many Americans to wearing a thin piece of cloth on their faces is holding back an already-shaky economic rebound. In Texas, the second most-populous state and a Covid-19 hotspot, Gov. Greg Abbott (R) on July 2 ordered mask-wearing in a reversal of his earlier opposition to enforcement. He said on local television this week that face coverings will prevent "having our economy shut down again."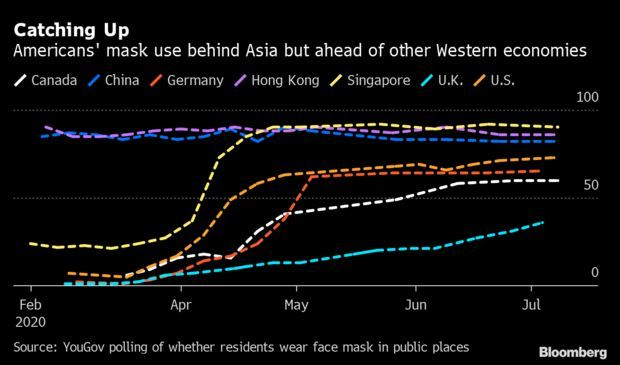 Federal Reserve Bank of Dallas President Robert Kaplan said on Friday that U.S. growth would be faster if all Americans wore masks. Goldman Sachs estimated a national mask mandate could prevent the nation from losing almost 5% of its gross domestic product. Yet millions of Americans, especially Republicans, have been reluctant to embrace masks. A Gallup poll last month showed that 98% of Democrats said they wore a mask outside home over the past week, compared with 66% of Republicans. Read more from Maeve Sheehey.
PPP Data Errors Raise Questions About Stimulus: A Bloomberg News analysis shows that the data for Paycheck Protection Program loans totaling more than $521 billion released on July 6 are riddled with anomalies. Read more from Mark Niquette, Matt Townsend and Hannah Levitt.
Elections & Politics
Women Congress Candidates Smash Record: A record number of women are running for Congress this year, boosted in part by a surge of Republican women seeking office in a party struggling to regain lost ground with female voters. The influx adds to the advances female candidates, mostly Democrats, made in the 2018 midterm election that helped reshape the makeup of Congress. It also has echoes in the presidential race, based upon voting patterns from two years ago and Joe Biden's lead in polls over Trump among female voters. Read more from Skylar Woodhouse.
Biden Leads Trump by Five Points in Texas Poll: Democratic nominee Joe Biden has taken a five-point lead over Trump among voters in Texas, according to new polling. A Dallas Morning News/University of Texas at Tyler poll released yesterday had Biden attracting 46% of registered voters compared to 41% for Trump. The poll of roughly 1,900 Texans was taken June 29-July 7 and had a margin of error of plus or minus 2.2%, Ryan Beene reports.
Candidates Tap Into Facebook Tools: Trump uses Facebook like a Swiss Army knife — to raise money, amplify his message, and mobilize voters. His rival, Biden, uses the increasingly controversial social platform primarily to stick his hand out for donations. As he did in 2016, Trump is taking advantage of the social media giant's granular knowledge of its users' interests to target specific ads to specific people, and is doing so much more often than Biden. This "micro-targeting" allows Trump to tap into Facebook's unique ability to rally his base of voters, who he needs to motivate as he trails Biden in most election polls. Read more from Bill Allison and Misyrlena Egkolfopoulou.
What Else to Know Today
Supreme Court Balance Holds: Trump got much of what he wanted in the two U.S. Supreme Court justices he's appointed. It just wasn't enough in a term that showed how hard it is to tip the court's balance. Justices Neil Gorsuch and Brett Kavanaugh have embellished their conservative credentials in their second term together, which ended last Thursday with a split decision on subpoenas for Trump's financial records. With a handful of exceptions, the pair pulled the court to the right in ideologically divisive cases, in a move only partly offset by Chief Justice John Roberts' tack to the left. Read more from Greg Stohr.
LGBTQ Health Providers Target Discrimination Rule: A new HHS rule strips gay and transgender people of protections from discrimination in health care and should be blocked, health-care providers in Washington and Los Angeles and others told the U.S. District Court for the District of Columbia. Read more from Mary Anne Pazanowski.
Trump Vows Immigration Executive Order: Trump said Friday he would seek sweeping changes to U.S. immigration policy with an executive order, signaling that he might create a "road to citizenship" for certain migrants brought to the U.S. illegally as children and shift the criteria for new arrivals to a "merit-based" system. Read more from Justin Sink.
China to Sanction Rubio, Cruz: China announced sanctions against U.S. officials including Sens. Marco Rubio (R-Fla.) and Ted Cruz (R-Texas), in a largely symbolic retaliation over legislation intended to punish Beijing for its treatment of ethnic minorities in the Xinjiang region. Read more.
UN Approves Some Aid to Syrian Region: The United Nations Security Council approved a resolution authorizing the renewal of one checkpoint for delivery of relief to Syria after attempts this month to keep two cross-border entry points open were blocked by Russia and China. The UN resolution, drafted by Germany and Belgium, authorizes the delivery of humanitarian aid from Turkey into the rebel-held northwestern region of Syria for 12 months. David Wainer has more.
Washington NFL Team to Drop 'Redskins' Name: Washington won't be the "Redskins" after today, according to multiple reports, as the NFL team associated with the nation's capital will bow to mounting public pressure including from its biggest sponsors and drop the name. Sports Business Journal first reported the announcement plans, which were later confirmed by the Washington Post, WSJ and USA Today. SBJ and the Post both reported a new name wouldn't be unveiled today because the team's preferred replacement is involved in a trademark fight. Read more from Derek Wallbank.
To contact the reporters on this story: Zachary Sherwood in Washington at zsherwood@bgov.com; Brandon Lee in Washington at blee@bgov.com
To contact the editors responsible for this story: Michaela Ross at mross@bgov.com; Giuseppe Macri at gmacri@bgov.com; Loren Duggan at lduggan@bgov.com