What to Know in Washington: Trump Faces Reckoning After Tulsa
Bloomberg Government subscribers get the stories like this first. Act now and gain unlimited access to everything you need to know. Learn more.
President Donald Trump had looked to his first rally in three months as a reset for his campaign. Instead, the sparsely attended event in Tulsa, Okla. is stirring fresh questions about both his strategy and the direction of his re-election bid.
The most evident shortfall from Saturday's rally was attendance, far smaller than the overflow crowd that the president and campaign officials had promised. Yet, more significantly, in his return to the rally stage Trump struggled to escape the coronavirus pandemic and protests over police brutality, crises that are making it harder for him to focus his arguments on his Democratic opponent Joe Biden.
With the president trailing Biden in national polls and reeling from having failed to deliver his Tulsa rally as promised, the Trump campaign will face new pressure to deliver the boost needed to get his bid for a second term back on track. Trump plans to travel to two battleground states this week for speeches — Arizona tomorrow and Wisconsin on Thursday — but his campaign hasn't yet announced another large-scale rally.
"Every campaign always has the challenge of how many announcements can you make, how many reboots can you have, official starts, unofficial starts and this campaign is no different," said Charlie Gerow, a Republican strategist. "The Trump campaign maybe oversold" the Tulsa rally, he said. "These things are about expectations, and they set them high."
The coronavirus pandemic has ruined Trump's best argument for another term — the strength of the U.S. economy, now plunged into recession by lockdowns imposed to curb the outbreak. The Tulsa event had been planned, at least in part, to lift the president's own morale after broad criticism for his response to the pandemic and the nationwide protests, according to officials familiar with the campaign.
The closest scrutiny may fall on Trump's campaign manager Brad Parscale, who tweeted in the run-up to Tulsa that there were more than 1 million ticket requests for the rally. Trump repeated that metric in a Fox News interview, saying it signaled "a hunger for the rallies." But a spokesman for Tulsa's fire department said fewer than 6,200 people were in the arena as of 7:30 p.m. on Saturday, far fewer than the arena's 19,000-seat capacity.
The campaign blamed protesters, claiming they had blocked Trump supporters from passing through security checkpoints. That claim could not be verified, and Tulsa police described the demonstrations as largely peaceful. Read more from Mario Parker.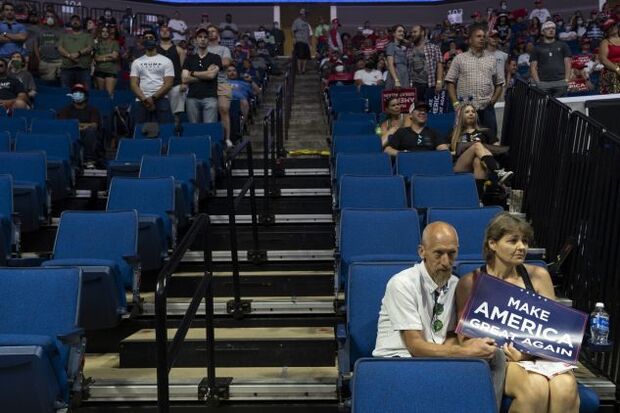 Coronavirus & the Economy
Trump Says 'Kung Flu' in Rally Short on Masks: Trump called the coronavirus "Kung flu" during the rally in Oklahoma, employing a racist slur while claiming increased diagnostic testing has driven up U.S. case totals. The outbreak, which has killed at least 119,000 Americans, was a significant talking point at Trump's first rally in three months in Tulsa's BOK Center. Mario Parker and Josh Wingrove have more.
Virus Task Force Will No Longer Brief Public: Trump's Coronavirus Task Force hasn't been seen in the White House briefing room in weeks. On Friday, Trump's press secretary made its shelving official. Kayleigh McEnany said Friday that the task force will no longer brief the public, now that the U.S. is moving ahead with reopening its economy. McEnany said she will relay any further information about the pandemic. Read more from Josh Wingrove and Mario Parker.
Trump Administration Flips on PPP Disclosures: The Trump administration, following a backlash, said it would release details, including company names, addresses, demographic data and other information about companies that received loans of $150,000 or more from a coronavirus relief program for small businesses. Treasury Secretary Steven Mnuchin earlier said the firms that got billions of dollars in taxpayer-funded aid wouldn't be disclosed, sparking fury from Democrats and others. Read more from Mark Niquette.
U.S. Sports Reopening Plans Run Up Against Spike in Virus Cases: Sports are slowly returning to a changed world. But it's unclear, however, if and when the richest U.S. sporting events will resume. Like all of U.S. society, sports leaders are weighing the hard choices between reopening and helping stem the spread of the coronavirus — with Trump and some of his advisers offering conflicting advice. The latest figures show cases jumped 1.4% Friday, much faster than the average daily increase over the past week. Read more from Brandon Kochkodin.
U.S.-Produced Drugs a 'Massive Undertaking': The Trump administration's effort to manufacture more medical products in the U.S. will take several federal agencies, years of jumping through regulatory hoops, and hundreds of millions of dollars, lawyers, lobbyists, and policy analysts say. Health-care providers have struggled to get the drugs or equipment they need during the pandemic because so many of those drugs are made overseas. Researchers and lawmakers have decried that foreign reliance for years, but the public outcry over equipment shortages during the Covid-19 pandemic may finally lead to lasting change, industry analysts say. Read more from Shira Stein and Jacquie Lee.
More Elections & Politics
Engel Confronts Stiff Challenge: Rep. Alexandria Ocasio-Cortez (D-N.Y.) and Sen. Elizabeth Warren (D-Mass.) are leading the charge by Democratic progressives to topple an establishment veteran in New York's primary tomorrow, a race that's become the latest front in the battle over the party's future and direction. The outcome of the contest between 16-term Rep. Eliot Engel (D-N.Y.) and political newcomer Jamaal Bowman will ripple well beyond New York's 16th Congressional District, which includes parts of the Bronx and Westchester County.
Having come up short in the party's presidential nomination contest and in other congressional races around the country, the progressives are looking to prove that the upset victory of Ocasio-Cortez in a neighboring district two years ago was the beginning of a movement. Read more from Billy House.
Trump Doubled Biden Spending in May: Trump spent more than twice as much as Joe Biden on his presidential campaign in May, according to filings released over the weekend by the Federal Election Commission. Biden spent $11.7 million and Trump spent $24.5 million. Overall, Biden and his allies outraised Trump for the first time in May, taking in $80.8 million compared with $74 million for Trump's campaign, the Republican National Committee, Trump Victory and Trump Make America Great Again. Read more from Bill Allison.
Biden Builds His Presidential Transition Team: Joe Biden has tapped former Sen. Ted Kaufman, a longtime adviser and friend, to lead his transition team as the Democratic nominee enters a more formal phase of planning for a possible presidential administration. The Biden transition effort is still in its early stages but is likely to intensify in the coming weeks. The team includes former Obama administration officials and former Biden aides, as well as an economic policy adviser to Sen. Elizabeth Warren (D-Mass.). Read more from Jennifer Epstein.
Biden Campaign Ramps Up Criticism of Facebook: As Democrats brace for a renewed onslaught of foreign and domestic disinformation in the leadup to the election, Biden's campaign is leaning on Facebook to take a stronger stance. In an interview, campaign deputy counsel Patrick Moore blasted the social-media company, reflecting the Democratic Party's renewed push for accountability by the tech giants, who they see as responsible for shielding the election from the kind of disinformation that sowed chaos in 2016. Alyza Sebenius and Misyrlena Egkolfopoulou have more.
Biden Picks Virginia State Director: Joe Biden's campaign has hired a longtime Virginia political operative to lead its efforts there as the Democratic presidential nominee begins building out teams in key states. Chris Bolling, a former director of the Democratic Party of Virginia, will be Biden's Virginia director, according to former Gov. Terry McAuliffe at the state party's virtual convention, according to a video obtained by Bloomberg News, Jennifer Epstein and Tyler Pager report.
Trump Plans July Fourth Celebration: The White House announced that it will reprise the Washington, D.C., July Fourth celebration Trump remade last year to feature himself, setting aside concern about the coronavirus outbreak. The 2020 event will be staged on the South Lawn of the White House, rather than at the Lincoln Memorial as last year. It wasn't immediately clear if the location change was due to concerns about the virus. Read more from Alex Wayne.
Trump Fires U.S. Prosecutor After Standoff
Geoffrey S. Berman, the chief federal prosecutor in New York state, resigned after a remarkable standoff with Attorney General William Barr and contradictory remarks from Trump. Berman, who signaled he would fight to keep his position to protect sensitive investigations being run by his office in Manhattan, said Saturday that he would step down after Barr switched course on who would take over for him on an interim basis.
Berman will be replaced by Deputy U.S. Attorney Audrey Strauss, a trusted U.S. prosecutor in the office who had already been overseeing Trump-tied probes, Barr said. On Friday night, the attorney general said the interim role would be filled by Craig Carpenito, currently U.S. attorney for New Jersey, but he backed off on that and appointed Strauss. Read more from Erik Larson, Joe Schneider, and Christian Berthelsen.
House Judiciary Chairman Jerrold Nadler (D-N.Y.) said yesterday that there's little point pursuing the impeachment of Barr, as some are urging, because a "corrupt" Senate will simply ignore the charges. Impeaching Barr is "a waste of time at this point because we know that we have a corrupt Republican majority in the Senate which will not consider an impeachment no matter what the evidence," he said. Read more from Daniel Flatley.
Happening on the Hill
Democrats' Policing Policy Bill Set for Vote: The House will vote Thursday on legislation from Democrats that would make it easier to sue police for alleged rights violations, criminalize chokeholds and lynching, and bar transfers of military equipment to police departments. The measure was introduced in response to more than a week of nationwide protests after George Floyd died in Minneapolis while restrained by police, and Breonna Taylor and David McAtee in Louisville were shot and killed by police in separate incidents.
Trump this weekend urged Republicans to oppose the House bill, maintaining in a Twitter post that the measure would "destroy our police." Rep. Karen Bass (D-Calif.), the House bill's author and chair of the Congressional Black Caucus, shot back that Trump doesn't understand the measure he's criticizing.
Bloomberg Government legislative analysts take a deep dive on the measure in the BGOV Bill Summary.
Watchdog May Probe Pentagon on Biological Threats: The government's top watchdog would investigate the Defense Department's capability to respond to chemical and biological threats within the U.S. and worldwide, under a draft bill to authorize U.S. defense policy at the House Armed Services Committee. DOD, playing a key role in fighting Covid-19, would also have to prepare to respond to a the specter of weapons of mass destruction, biological, and chemical threats much faster than it did with the coronavirus. House Armed Services subcommittees will mark up the legislation starting today. Read more from Roxana Tiron.
Boeing Whistleblower Faults 'Reckless' FAA Review: Boeing and the Federal Aviation Administration flouted federal regulations and ignored systemic safety concerns in the original certification of the 737 Max jetliner, a company whistleblower told the Senate Commerce Committee. In a letter on June 5, Curtis Ewbank, a flight-deck engineer who worked on the Max, called on the federal regulator to modernize oversight and create an independent channel for engineers to raise safety issues. Read more from Julie Johnsson and Ryan Beene.
Cicilline Ready to Subpoena Tech CEOs: The House Judiciary Committee will subpoena the CEOs of four technology companies to testify in the committee's antitrust investigation if they refuse to appear voluntarily, said the congressman leading the inquiry. Rep. David Cicilline (D-R.I.) said in an interview on Bloomberg TV Friday that he expects the chief executives of Amazon, Facebook, Google and Apple to agree to testify without being forced to unless they have "something to hide." David McLaughlin, Naomi Nix, and Emily Chang have more.
What Else to Know Today
World Leaders Face Dilemma to Deal With Trump or Wait for Biden: America's allies and rivals face a tough choice as Trump trails in polls ahead of November's presidential election: Wait to see if he loses to presumptive Biden, or cut deals now to avoid negotiating with an emboldened second-term Trump. Read more from Marc Champion and Nick Wadhams.
Trump to Order Restrictions on H-1Bs: Trump's plan to restrict employment-based visas could affect an estimated 240,000 people seeking to work in the U.S. across industries from technology to finance and hospitality. Trump said on Fox News on Saturday that he will announce new restrictions on various work visas by today. The plan won't affect certain workers who are already in the U.S., he added. Read more from Yueqi Yang.
Gorsuch Shows Difficulty of Vetting a Justice: For conservatives, opinions last week from Supreme Court Justice Neil Gorsuch and Chief Justice John Roberts triggered flashbacks to a half century's worth of disappointment, joining a long list of Republican-appointees who allegedly drifted to the left, Madison Alder reports.
Bolton Says Trump Put Re-Election Ahead of National Security: Trump put his re-election ahead of U.S. national security, John Bolton said in an interview with ABC News, calling the president disinterested in intelligence briefings and ignorant of global affairs and the impact of his decisions, Daniel Flatley and Alex Wayne report.
U.S. Rejects More Flights by Chinese Carriers: U.S. officials rejected additional flights proposed by Chinese airlines but said they would reconsider if the Beijing government adjusts its policies affecting U.S. passenger carriers. Read more from Ryan Beene.
Barr Says U.S. Firms 'Part of Problem' in China: Barr yesterday said some U.S. businesses are helping China in the race for economic and tech dominance by putting their own earnings above U.S. interests. Read more from Tony Czuczka.
China Votes to Join Global Arms Sales Pact: China's top legislative body voted to join a global treaty on arms sales in a move that supports Beijing's efforts to contrast itself with Trump's "America First" policies. Read more from Sharon Chen and Jing Li.
Trump Says Germany Troop Cuts Due to Pipeline: Trump says he is reducing the number of U.S. troops in Germany because Berlin doesn't spend enough on defense while supporting a natural gas pipeline project with Russia. Read more from Mario Parker and Josh Wingrove.
Trump Would Consider Meeting With Venezuela's Maduro: Trump said in an interview with Axios that he was open to meeting Nicolas Maduro, though said so far he has turned down the chance to talk with the Venezuelan leader. "I would maybe think about that," Trump said. "I always say, you lose very little with meetings. But at this moment, I've turned them down." Read more from Derek Wallbank.
To contact the reporters on this story: Zachary Sherwood in Washington at zsherwood@bgov.com; Brandon Lee in Washington at blee@bgov.com
To contact the editors responsible for this story: Giuseppe Macri at gmacri@bgov.com; Loren Duggan at lduggan@bgov.com; Michaela Ross at mross@bgov.com
Stay informed with more news like this – from the largest team of reporters on Capitol Hill – subscribe to Bloomberg Government today. Learn more.