What to Know in Washington: Trump Faces More Pressure to Concede
President Donald Trump is facing rising pressure from prominent Republicans to begin a transition to President-Elect Joe Biden — or even concede defeat — as Trump's long-shot legal challenges failed to gain traction.
Several key allies for Trump appeared to lose patience over the weekend. Sens. Lisa Murkowski (R-Alaska) and Kevin Cramer (R-N.D.) — one of Trump's staunchest allies — yesterday called for the transition to Biden to begin. Sen. Pat Toomey (R-Pa.) congratulated Biden on his victory after Trump suffered another legal defeat in Pennsylvania.
The comments show a growing chorus within the party acknowledging that Biden won the election — or is all but certain to — and that delaying the transition of power risks impeding critical programs like the U.S. response to the coronavirus pandemic. Still, only a minority of Republicans have spoken out, and several have taken a hedged stance that Trump should begin the transition even as the legal fight continues.
But even the court challenges are losing support. Longtime Trump adviser Chris Christie said Sunday the president's legal team had become a "national embarrassment" after pushing conspiracy theories about voter fraud in a series of bizarre media appearances.
Larry Hogan, the Republican governor of Maryland who's an outspoken Trump critic, told the president to "stop golfing and concede."
The president's time is running out, as states including Michigan and Pennsylvania prepare to certify their election results as soon as today, sealing Biden's victory. Read more from Josh Wingrove and Steven T. Dennis.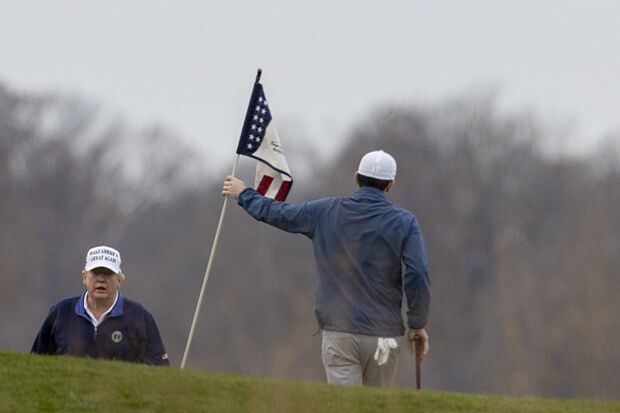 The Biden Administration
Biden intends to name his longtime adviser Antony Blinken as State Department secretary, according to three people familiar with the matter, setting out to assemble his cabinet even before Trump concedes.
In addition, Jake Sullivan, formerly one of Hillary Clinton's closest aides, is likely to be named Biden's national security adviser, and Linda Thomas-Greenfield will be nominated to serve as Biden's ambassador to the United Nations. An announcement is expected tomorrow, the people said, Tyler Pager, Jennifer Epstein and Saleha Mohsin report.
Biden plans to announce his first cabinet picks tomorrow, incoming White House Chief of Staff Ron Klain said yesterday. Klain, speaking on ABC's "This Week," didn't specify which positions Biden plans to fill first, or the people who will be nominated. Biden has said he already decided on a Treasury Department secretary. "You'll find it is someone who I think is, will be accepted by all elements of the Democratic Party," Biden told reporters last Thursday. Read more from Epstein and Steven T. Dennis.
Biden Bump for Infrastructure Imperiled: Union leaders and transportation advocates have looked to Biden and his former Senate colleague Mitch McConnell (R-Ky.) for possible action next year on a major infrastructure package. Yet, as Trump and allies including McConnell refuse to recognize Biden as the election winner, hopes are fading for an early bipartisan breakthrough on a significant infusion of funding for bridges, highways and airports. Read more from Keith Laing.
World Leaders Re-Endorse Paris Pact Amid Biden Win: World leaders urged countries not to lose sight of climate goals in the coronavirus pandemic, re-endorsing the aims of the Paris agreement amid Biden's vow to rejoin the accord. Participants on the second day of a virtual Group of 20 summit discussed climate issues as the end of Trump's presidency approaches. The U.S. formally exited the Paris accord, which pledges limits on fossil-fuel pollution, earlier this month. Read more from John Follian and Kait Bolongaro.
California Dreams of Love From Biden: Vice President-elect Kamala Harris isn't the only Californian likely to head to Washington in January. Several of her fellow Golden Staters, who have a wide range of expertise shaped in the progressive left, could have a hand in forming policy under the Biden administration. It's a shift for the state that spent millions of dollars suing the Trump administration over energy, immigration, and education while enduring comments about raking forests and the denial of disaster aid. California Air Resources Board Chairwoman Mary Nichols is retiring this year and her name has been circulating as the next possible Environmental Protection Agency administrator. Read more from Emily C. Dooley, Joyce E. Cutler, Laura Mahoney, and Tiffany Stecker.
Trump's Election Fight
Trump Drops Sidney Powell from Legal Team: Trump's campaign has disavowed attorney Sidney Powell, who as part of its post-election legal team has pushed some of the most extreme conspiracy theories around the vote. The unprecedented disavowal by Trump suggests that a high profile lawyer who was steeped in the president's claims about a vast Democratic conspiracy against him had gone too far. Read more from Josh Wingrove.
Trump Campaign Loses Pennsylvania Suit: Trump's campaign filed notice that it was appealing the dismissal of a federal lawsuit that aimed to block Pennsylvania from certifying its election results unless the state invalidated tens of thousands of mail-in ballots. The campaign's filing yesterday, with the U.S. Court of Appeals for the Third Circuit in Philadelphia, had been expected. Trump attorney Rudy Giuliani has said the case should be decided by the U.S. Supreme Court, which has a 6-3 conservative majority. The move is unlikely to stop Pennsylvania from certifying Biden's victory in the state as soon as today. Read more from Erik Larson.
Republicans Ask Michigan Board to Delay Certification: Republicans in Michigan on Saturday asked the state's election board to delay certification of votes in the presidential election by two weeks, a day after two state GOP lawmakers said they haven't yet seen any reason that the outcome, a win for Biden, would change. Republican National Committee Chairwoman Ronna McDaniel and Laura Cox, chairman of Michigan's Republican Party, demanded a "full transparent audit" in Wayne County, where Detroit is located. Erik Larson, Jordan Fabian, and Mario Parker have more.
Trump Tweets During G-20: As leaders from across the globe began a virtual summit discussing issues from the coronavirus pandemic to climate change, Trump's thoughts were with the tussle over the U.S. election. The president kept his head down, staring at something on his desk out of sight during a nine-minute speech Saturday by Saudi King Salman bin Abdulaziz, who welcomed countries taking part in a meeting of the Group of 20 nations. Then, within moments of the monarch ending his address, Trump tweeted to comment on an encounter with Republican leaders of the Michigan state legislature.
The optics underscored Trump's disinterest in such forums. After a flurry of tweets, he delivered his own remarks before leaving the virtual session and heading to his golf course. Read more from John Follain, Arne Delfs, Ilya Arkhipov, and Josh Wingrove.
The Outgoing White House
Pompeo Meets Taliban, Afghan Officials: Secretary of State Michael Pompeo met with officials from the Taliban and Afghan government in Qatar on Saturday as the U.S. seeks to keep peace negotiations on track amid renewed violence and a surprise move by the White House to accelerate the pullout of U.S. troops. Trump's administration will "sit on the side and help where we can," Pompeo said at a meeting with Sayed Sadat Mansoor Naderi, the Afghan minister for peace and member of the team for peace negotiations. Nick Wadhams has more.
Netanyahu Visited Saudi Arabia: Israeli Prime Minister Benjamin Netanyahu secretly flew to Saudi Arabia to meet with Saudi Crown Prince Mohammed bin Salman and Pompeo, the Haaretz newspaper and other Israeli media reported, citing unidentified people in Israel. Netanyahu was accompanied on the trip by Yossi Cohen, the head of Israel's Mossad intelligence agency, public broadcaster Kan News reported. Read more from Alisa Odenheimer.
U.S. to Withdraw From Open Skies Treaty: The U.S. has withdrawn from the Open Skies Treaty due to non-compliance by Russia, Pompeo said yesterday, making good on a planned move by the outgoing Trump administration. "Today, pursuant to earlier notice provided, the United States withdrawal from the Treaty on Open Skies is now effective," Pompeo tweeted. "America is more secure because of it, as Russia remains in non-compliance with its obligations."
U.S., Taiwan Sign Pact on Annual Economic Talks: The U.S. and Taiwan signed a pact Friday to establish annual economic talks for five years despite objections by China to Washington's support for Taipei. The memorandum of understanding was signed after an inaugural round of economic talks in Washington on Friday. Future discussions will alternate between the U.S. and Taipei, Brent Christensen, director of the American Institute in Taiwan, said in Taipei over the weekend. Read more from Miaojung Lin and Samson Ellis.
U.S. Moves to Ban Tech Exports to Chinese Firms: The Trump administration is close to issuing a list of 89 Chinese aerospace and other companies that would be unable to access U.S. technology exports due to their military ties, Reuters reported, a move that could escalate tensions as the Biden administration prepares to take over. Read more from Niluksi Koswanage, Bruce Einhorn and Will Davies.
U.S. Seeks Extension of Military Deal With Philippines: The U.S. administration wants a further extension of a key military deal with the Philippines, O'Brien said in a press briefing today. Read more from Jennifer Jacobs and Andreo Calonzo.
Maritime Watchdog to Probe Bottlenecks: The U.S. maritime watchdog Friday announced an investigation into ocean carriers operating out of some of the nation's biggest ports and whether their practices around container availability violate the law. Read more from Ana Monteiro.
On Lawmakers' Radars
Veterans Funding a Roadblock to Spending Bill: Congressional efforts to pass a $1.4 trillion spending bill funding the federal government before a Dec. 11 shutdown deadline could be in flux amid new demands from the White House. Treasury Secretary Steven Mnuchin on Friday demanded cuts to domestic spending as part of the bill, which could jeopardize the ability of Congress to complete the measure, people familiar with the situation said. Mnuchin raised objections to a proposal by Senate Republicans and House Democrats to exempt $12.5 billion in Veterans Affairs funding from the $1.4 trillion budget cap established in a 2019 debt ceiling deal Mnuchin struck with Congress, the people said.
The funding is required for expanded health care for veterans under the VA Mission Act. If the money isn't exempted from the budget cap, Congress would need to find $7 billion in cuts to other domestic spending this year, something Democrats oppose. If the dispute hardens into an impasse, it could stymie the ability of Congress to pass an encompassing, full-year funding bill next month, the people said. Read more from Erik Wasson.
Latino Groups Eye Harris's Vacant Senate Seat: Harris's ascent to the vice presidency has touched off a furious battle in California to fill her Senate seat, with calls escalating for Gov. Gavin Newsom (D) to appoint the state's first Latino U.S. senator. California's population is nearly 40% Latino and advocacy groups see the Senate vacancy as an opportunity to better represent the state's diversity in the Capitol building. California "is long overdue" to have a Latino voice in Senate, said Nathalie Rayes, CEO of the Latino Victory Fund. Read more from Jeffrey Taylor.
Primary Care Centers See Long-Term Funding Delay: The U.S.'s community health centers are bracing for another delay in long-term funding as Congress remains split over legislation to combat surprise medical billing. A five-year funding extension for the almost 1,400 federal community health centers and shorter extensions for a slate of other federal health programs have been held up, as talks bogged down over surprise billing legislation that would include those provisions. The centers largely offer primary care and serve one-fifth of the nation's uninsured. Read more from Alex Ruoff.
Georgia Senate Republicans Self-Isolating: Both Republicans involved in run-off elections in Georgia to decide Senate control are now self-isolating at home after one, Sen. Kelly Loeffler, might have tested positive for the coronavirus. Loeffler's latest Covid-19 test, done Saturday night, came back negative, her campaign said yesterday. She'll continue to isolate and will be tested again. Sen. David Perdue will remain home for now until Loeffler receives confirmation of her results, Perdue's spokeswoman Casey Black said yesterday. Loeffler and Perdue are in head-to-head matchups against Democrats Raphael Warnock and Jon Ossoff Jan. 5. Read more from Max Zimmerman.
The Coronavirus Pandemic
Fed to Return Lending-Backstop Funds to Treasury: The Federal Reserve said Friday it would comply with a Treasury Department request to return unused funds meant to backstop five emergency lending programs, moving to tamp down a public rift that arose a day earlier. "We will work out arrangements with you for returning the unused portions of the funds allocated to the Cares Act facilities in connection with their year-end termination," Fed Chairman Jerome Powell said in a letter to Mnuchin posted on the central bank's website. Read more from Christopher Condon.
Covid-19 Hospitalizations Jump 36% in Eight Days: Covid-19 hospitalizations accelerated in the U.S., with coronavirus cases now accounting for almost a quarter of patients in South Dakota and New Mexico, government data show. The U.S., which recorded 177,552 new infections on Saturday, is now averaging almost 110,000 more daily cases than a month ago. The country had 84,401 Covid-19 inpatients as of Nov. 19, a 36% increase in eight days. Read more from Jason Gale.
Trump Silent as G-20 Vows Vaccine-Sharing: The leaders of the world's richest countries are promising to ensure equality in the race to vaccinate people against the coronavirus, even as Trump remains quiet on sharing U.S.-made vaccines with other nations. The president told his counterparts Saturday at a virtual Group of 20 nations summit that any American who wants the vaccine will be able to get it, and singled out U.S.-based producers Pfizer, whose shot has been developed with a German company, and Moderna, according to officials who asked not to be named discussing the talks.
Trump praised American leadership, claiming credit for what he said was an efficient battle against Covid-19 and success in boosting the nation's economy. But he said nothing about granting access to American vaccines to the rest of the world, contrasting with arguments from other leaders of the need for fair distribution of vaccines, in particular, to developing nations. Read more from Ilya Arkhipov, John Follain and Josh Wingrove.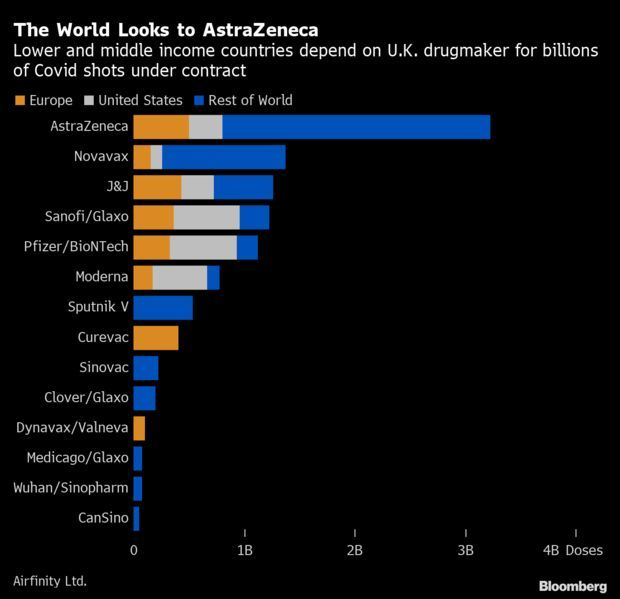 Vaccine Train Won't be Derailed, Warp Speed Leader Says: Efforts to speedily develop and distribute a coronavirus vaccine in the U.S. won't be derailed by the change in administration, said the head of Operation Warp Speed, the federal government's program to accelerate Covid-19 vaccine development. "All decisions are made, the train is running. Whether one administration or the other doesn't, frankly, make a difference," Moncef Slaoui said on NBC. Yet information on the program hasn't been shared with the incoming Biden administration, he said, consistent with Trump's refusal to acknowledge his election loss, Elizabeth Dexheimer reports.
Regeneron Drug Gets FDA's Emergency Approval: Regeneron Pharmaceuticals's antibody cocktail received an emergency-use authorization from U.S. drug regulators for treatment of early Covid-19 symptoms, adding to an expanding arsenal of therapies available to physicians amid the coronavirus' surge. Regeneron's treatment was given to Trump after he contracted Covid-19. While Trump received a number of drugs to combat the virus, he said after he was discharged from the hospital he expected fast authorization of Regeneron's therapy. Robert Langreth and Angelica LaVito have more.
Air Travelers Surpass 1 Million in Holiday-Season Uptick: More than 1 million people flew through U.S. domestic airports on Friday, the second-highest daily total since the pandemic hit last spring, even as officials warn against travel around Thanksgiving. Airline passengers still lag substantially behind normal figures, but Transportation Security Administration data show at least some people are bucking suggestions they stay home in light of the rapid growth in Covid-19 infections. Read more from Alan Levin.
To contact the reporters on this story: Zachary Sherwood in Washington at zsherwood@bgov.com; Brandon Lee in Washington at blee@bgov.com
To contact the editors responsible for this story: Giuseppe Macri at gmacri@bgov.com; Loren Duggan at lduggan@bgov.com; Michaela Ross at mross@bgov.com