What to Know in Washington: Trump Eyes Revival Amid Virus Damage
Donald Trump's re-nomination for president this week was supposed to be the celebration of what he considers a storybook political career.
With a booming U.S. economy at his back, the president would bask in the adulation of thousands of supporters at the Republican National Convention in Charlotte, N.C., as he contemplated a glide path to re-election.
But that wasn't how things looked at a meeting in late May, when Trump was presented with poll numbers showing Democratic rival Joe Biden had the edge, according to people familiar with the meeting. Wisconsin, Michigan and Pennsylvania—the "blue wall" that Trump toppled to win in 2016—had Biden looking strong. The former vice president was even up in Florida, as close to a must-win as there is on the map for Trump.
A politician known for bluster and bravado, Trump showed a glimmer of recognition of his own political mortality, assessing his fortunes with an expletive.
Between the dream and the reality came coronavirus, which has come to define Trump for many voters better than any political strategist ever could. Instead of the raucous party he expected, Trump will appear before a crowd of only a few hundred socially distant Republican delegates gathering later today to formally nominate him. The diminished event is practically its own metaphor for the toll the pandemic has taken on the U.S., where more than 176,000 Americans have died of Covid-19 since February, and on Trump's political standing.
"Without the plague from China, this thing was over," the president lamented in a speech on Friday to the Council for National Policy, a conservative group. "We were sailing."
For the past three years, Trump relied on the strength of the U.S. economy to paper over any unease that Americans might have felt about the tumult in his presidency. Over the past three months, the White House has performed little more than damage control in the face of the virus.
The outlook was so bad at one point that Trump told Brad Parscale, his former campaign manager, that he would sue him, according to people familiar with the matter. Consulting firms connected to Parscale have made millions of dollars from Trump's campaigns, and the president asked his son Eric and son-in-law Jared Kushner to review those expenditures, according to one of the people. They found no wrongdoing.
Trump personally asked Parscale's replacement, Bill Stepien, to keep Parscale in a key role in the campaign after he was demoted, two people familiar with the situation said. One person said Trump was being sarcastic when he threatened to sue Parscale. Others didn't think so.
After the meeting in May, the recriminations that mark a faltering political campaign began to seep in. Trump changed convention venues before eventually abandoning his hopes for a large, in-person event. A Tulsa rally in June meant to be his resurrection became instead a humbling reality check when the arena wound up half-empty.
One person close to the campaign said that in July, coronavirus was the real fight, and it didn't seem at the time like Trump and his top political and policy advisers had a plan to win it. Read more from Justin Sink and Jennifer Jacobs.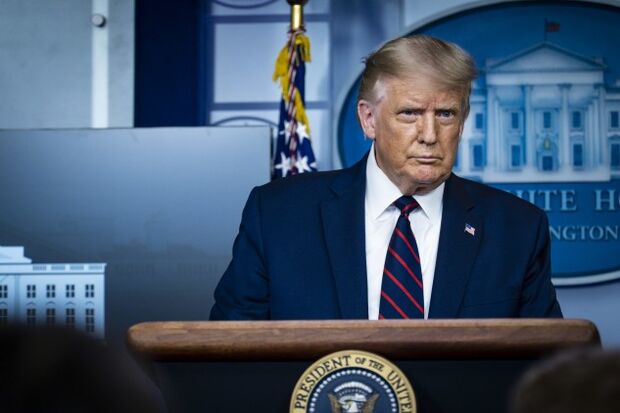 What to Watch Today
Republican National Convention: The four-day Republican National Convention begins today, culminating with Trump accepting the nomination for a second term from the White House. The GOP says the convention will contrast with the Democrats' largely taped gathering last week by featuring more live events with audiences from Washington and around the country. White House counselor Kellyanne Conway said it would feature "people whose lives have been impacted and measurably and consequently changed due to the efforts and policies of President Trump."
Trump plans to speak every night—a departure from the norm where the candidate typically only spoke on the last night to accept his party's nomination. Today's theme is "Land of Promise." Emma Kinery provides a look at the evening's main events, starting at 8:30 p.m. Washington time, and where to see them. Read more.
Congress: The House and Senate are not in session today. Both chambers are scheduled to meet for pro forma sessions tomorrow.
The House Oversight and Reform Committee holds a hearing today with U.S. Postmaster General Louis DeJoy and Postal Service Board of Governors Chairman Robert M. Duncan, where Democrats are set to press the witnesses on operational changes at USPS made under DeJoy's leadership that have led to delays in service.
White House: The President travels to Flavor First Growers and Packers in Mills River, N.C., to deliver comments on Farmers to Families Food Box Program distribution.
Fight Over Mail Voting
House Passes $25 Billion Postal Service Bill: The House Saturday passed a bill aimed at rolling back service cuts at the U.S. Postal Service which Democrats say could harm the ability of Americans to vote by mail in November's elections. The "Delivering for America" measure, which would allocate a further $25 billion to the Postal Service, had limited Republican support. It passed 257 to 150, with 26 GOP members voting yes.
The effort comes as the number of Americans using the mail to cast their ballots in November is expected to surge in the face of the coronavirus pandemic—but as Trump's Postmaster General, DeJoy, has swept into office with a series of cutbacks that have affected mail service. Passage of the bill is unlikely to have any impact on postal service operations. Senate Majority Leader Mitch McConnell (R-Ky.) has indicated the Senate wouldn't be taking up the House bill, and the White House threatened to veto it. Read more from Erik Wasson.
The Postal Service said in a statement yesterday it's concerned that some requirements of the House-passed bill will constrain its ability to make operational changes to improve efficiency and reduce costs. Read more from Melissa Cheok.
Meanwhile, White House Chief of Staff Mark Meadows returned to the Capitol on Saturday in a bid to pressure Democrats into accepting a slimmed-down pandemic relief bill after weeks of deadlock. Meadows said aid for small businesses and other economic provisions should have been added to Democrats' postal service bill, and said he met with rank and file Democrats and Republicans to talk about possible paths to a compromise. Read more from Erik Wasson.
Yesterday, a tweet from the president on mail drop boxes was slapped with a public interest notice from Twitter, which said engagements with the post will be limited. In the tweet, Trump said that mail drop boxes "are not Covid sanitized." Twitter said Trump's tweet made "misleading health claims that could potentially dissuade people from participation in voting." Users won't be able to like, reply or retweet the post, Greg Chang reports.
Trump Lawsuit Over Ballot Drop Boxes on Hold: A lawsuit by Trump's campaign seeking to block Pennsylvania counties from using drop boxes to collect mail-in ballots was put on hold yesterday by a federal judge who said state courts should have a chance to decide the matter first. Read more from Erik Larson.
Lifeline Imperiled for Rural GOP Voters: The furor over the U.S. Postal Service imperils a vital lifeline for the Republican rural base and threatens to undermine Republican lawmakers' re-election efforts, potentially even Trump's campaign in key battleground states. Rural residents are especially dependent on the mail in getting medication and retail purchases, with private carriers like UPS and FedEx likeliest to contract out the last leg of delivery to the USPS in sparsely populated areas. More rural residents also are elderly or lack broadband service, making it harder to do bills online. Read more from Mike Dorning and Nancy Ognanovich.
Postal Uproar Casts Glare on All-Male Board: DeJoy's 10-week tenure as head of the 500,000-employee USPS has been fraught almost from the start. He was installed by an all-male, mostly white board of governors dominated by Trump's appointees. DeJoy presided over a series of controversial moves—moving to cut overtime hours while removing blue mailboxes and trimming down mail-sorting capacity as part of a reorganization plan. Read more from Jeff Green and Todd Shields.
Research & Treatment Efforts
FDA Expands Access to Covid Treatment With Plasma: Trump said at a press conference yesterday a coronavirus treatment involving blood plasma donated by people who have recovered from Covid-19 will be expanded to more sick Americans, widening access to a promising therapy before researchers fully understand how well it works. The Food and Drug Administration confirmed yesterday that it had cleared what's known as convalescent plasma for use in certain patients. The move would make it easier to receive the treatment, which Trump has promoted even though studies to prove its benefits haven't been completed. Read more from Jordan Fabian, Kevin Cirilli and Michelle Fay Cortez.
The announcement comes a day after Trump suggested that employees at the FDA have been attempting to sabotage his re-election by slowing down coronavirus research, without offering any evidence. Trump on Twitter said members of "the deep state" at the FDA are making it hard for drugmakers to "get people" to test the vaccines and therapeutics, and "obviously" want to delay progress until after Nov. 3. He tagged FDA Commissioner Stephen Hahn in the tweet. Drew Armstrong and Anna Edney have more.
The Trump administration is mulling the possibility of issuing an emergency use authorization before the presidential election for a coronavirus vaccine being developed by AstraZeneca and Oxford University, the Financial Times reported, citing three people briefed on the plan, Greg Chang reports.
GOP's Doctors Push for Vaccine, Dismiss Single Payer: Republican doctors in Congress are playing a larger role in their party's health-care agenda and plan to use their backgrounds to promote a coronavirus vaccine while opposing efforts to expand public insurance programs. The GOP Doctors Caucus faces a difficult challenge in the coming months. Multiple failed Republican attempts to repeal the Affordable Care Act after Trump took office helped Democrats win back the House in 2018. Now the group, in the face of shuttered businesses and millions of job losses, want to make promoting a vaccine a priority. Read more from Alex Ruoff.
IMHE Predicts 310,000 Deaths by December: Covid-19 deaths in the U.S. could pass 300,000 by Dec. 1, according to the latest projections from the University of Washington's Institute for Health Metrics and Evaluation. In two other scenarios, universal mask wearing could cut down deaths to around 241,000, while eased restrictions could push the toll as high as 421,000. Read more.
FDA May Update Remdesivir Approval: The FDA may update its emergency use authorization for Gilead's remdesivir drug to include patients hospitalized with moderate Covid-19 cases, despite mixed trial results, the company's top research executive said Friday, Reuters reports. The agency in May approved remdesivir on an emergency basis for patients hospitalized with severe virus cases. Company data Friday showed a five-day course of remdesivir modestly helped less severely ill Covid-19 patients, but a 10-day course did not show a benefit, Reuters reports.
Trump Boost for Private Schools Blocked: The Trump administration's move to steer more coronavirus relief to private schools from a $13 billion education fund was blocked by a federal judge Friday. In a defeat for Education Secretary Betsy DeVos, U.S. District Judge Barbara Rothstein in Seattle said the Trump administration's changes to CARES Act (Public Law 116-136) emergency funds in July illegally pulled from poor public schools to give to private schools with more resources. Read more from Clare Roth and Malathi Nayak.
Aid Reached More Small Firms in Last Weeks: The Trump administration has released new details on the biggest coronavirus-relief initiative that show more than 98% of loans approved after July 6 were for less than $150,000, suggesting the program was reaching smaller businesses before shuttering this month. The Paycheck Protection Program had been criticized for not being quick enough in serving independent contractors, smaller firms and minority-owned companies. Read more from Mark Niquette and Jason Grotto.
NFL Investigating Spate of Positive Covid-19 Tests: The National Football League is investigating a series of positive Covid-19 test results processed by one laboratory that handles samples from multiple teams. The league didn't identify the teams impacted by the positive tests on Saturday but said in a statement that it's working with lab owner BioReference to sort out the matter. Read more from Joe Carroll.
Also in Elections & Politics
Biden Campaign Pulls In $70 Million: The Biden campaign and the Democratic National Committee raised $70 million over its week-long convention, according to the campaign on Friday. The massive haul follows Biden's campaign bringing in $48 million in the two days last week after Biden picked Sen. Kamala Harris (D-Calif.) to be his running mate. Biden's recent fundraising prowess has allowed Democrats to all but erase the massive cash-on-hand advantage Trump had when Biden became the presumptive nominee in April, Tyler Pager reports.
Biden said he welcomes comparisons with Trump on their mental fitness, saying it's a "legitimate question" given their ages, and that if elected, he is open to the possibility of seeking a second term. Read more from Gregory Korte and Tyler Pager.
Biden Says He'd Shut Down Economy If Recommended: Biden said he would listen to government scientists on the coronavirus—even if it means shutting down the U.S. economy. "I would be prepared to do whatever it takes to save lives because we cannot get the country moving until we control the virus," he said Friday. "I would shut it down. I would listen to the scientists." Read more from Gregory Korte.
Wages Soar in Swing State: Perhaps no investment project in the U.S. has been more polarizing in recent years than Foxconn's construction of a manufacturing complex in Wisconsin. Between the multibillion-dollar tax breaks and Foxconn's quick scaling-back of investment plans, critics have relentlessly blasted the deal as corporate welfare. But for all its flaws, the project now appears to be playing a role in a very different story line that's begun to emerge: Worker wages in that corner of Wisconsin are rising faster than in any other part of the country. Read more from Alex Tanzi.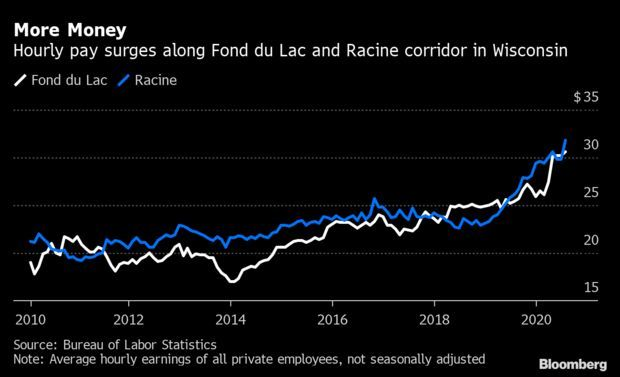 Most GOP Voters Say Virus Response Is Good: The vast majority of Republican voters approve of the state of the American economy and how the government handled the coronavirus, saying that the level of deaths has been "acceptable," a new poll shows. Heading into their party's convention today, 75% of Republicans say the U.S. is in better shape than four years ago, with 82% crediting Trump for that, according to a CBS News/YouGov survey. Read more from Katia Dmitrieva.
Kanye West Off Ballots in More States: Voters in three more states won't see rap legend Kanye West on their ballots for president this year. Election officials in Ohio, Illinois and West Virginia ruled Friday that the rapper, who announced in July he was running for president as an independent, didn't qualify to appear on their ballots. The rulings came a day after election officials in Wisconsin and Montana also decided that West wasn't eligible. Read more from Mark Niquette.
What Else to Know
Trump Aide Conway to Leave White House: White House counselor Kellyanne Conway, one of Trump's longest-serving aides and the first woman to manage a winning presidential campaign, is leaving the administration at the end of the month, she announced in a statement, citing family considerations. "In time, I will announce future plans," she said. "For now, and for my beloved children, it will be less drama, more mama." Her husband, George Conway, said on Twitter that he was leaving the Lincoln Project, a political group committed to defeating Trump's re-election in November. Jordan Fabian and Josh Wingrove have more.
Date Set for Trump Tax Subpoena Fight: A federal appeals court set a hearing for Sept. 1 to consider Trump's emergency request to put on hold a court ruling that cleared the way for the Manhattan District Attorney to enforce a subpoena for his tax returns and other financial documents. The New York appellate court announced the hearing date Friday, while also rejecting Trump's request to stay the lower court ruling immediately as he appeals to block the release of records from his accounting firm, Mazars. Read more from Erik Larson.
White House Said to Reverse on Pebble Mine: The Trump administration is planning to block the controversial Pebble Mine in southwestern Alaska that's recently sparked opposition from certain influential Republicans, according to a person familiar with the matter. The project, which has known deposits of gold, copper and other metals, is located in an area that drains into Bristol Bay, which is home to the most productive wild salmon fishery in the world. Read more from Ari Natter and Reade Pickert.
TikTok Plans to File Suit Against Trump: TikTok plans to file a lawsuit against the White House today to challenge its executive order prohibiting transactions with the video app in the U.S., it said. TikTok said it "strongly disagreed" with the concerns raised by Trump as he ordered on Aug. 6 to ban the app from the U.S. within 45 days. He subsequently gave it a 90-day deadline to divest all of its U.S. operations. TikTok suffered a "a lack of due process" when the president signed the order, a spokesperson said in a statement. Read more from Yueqi Yang and Kurt Wagner.
White House Seeks to Reassure Apple on WeChat: The Trump administration is privately seeking to reassure U.S. companies including Apple that they can still do business with the WeChat app in China, according to multiple people familiar with the matter, two weeks after the president ordered a U.S. prohibition on the Chinese-owned messaging service. In recent days, senior administration officials have been reaching out to some companies, realizing a ban may be devastating for U.S. technology, retail, and telecommunications sectors, people familiar said. Read more from Jennifer Jacobs, Saleha Mohsin and Jenny Leonard.
Boeing Boosts 737 Max Safety With Spacecraft Tech: Boeing is preparing to bolster the long-term safety of its troubled 737 Max with technology borrowed from space vehicles and urban drones that can provide data to help back up its sensors. The system, known as synthetic air data, takes existing information on the aircraft, runs it through a computer program and produces readings that mimic what costly additional sensors provide. Read more from Alan Levin.
China-Focused Venture Fundraising Stymied: The Trump administration's increased scrutiny of college endowments and pension funds backing Chinese firms is creating more roadblocks for venture funds looking for the next big tech winner. Just six U.S.-dollar funds with exposure to China have sought to raise capital this year, down from 21 last year, according to researcher Preqin. Of those, only one has managed to complete a preliminary closing, compared with 10 last year. Read more from Lulu Yilun Chen.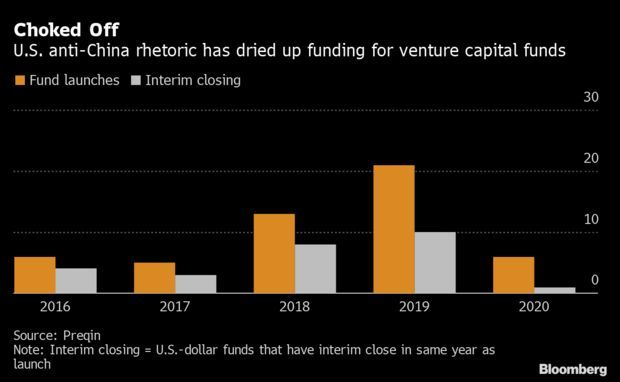 To contact the reporter on this story: Brandon Lee in Washington at blee@bgov.com
To contact the editors responsible for this story: Giuseppe Macri at gmacri@bgov.com; Michaela Ross at mross@bgov.com; Zachary Sherwood at zsherwood@bgov.com