What to Know in Washington: Trump Dismisses Russia Bounty Report
Bloomberg Government subscribers get the stories like this first. Act now and gain unlimited access to everything you need to know. Learn more.
President Donald Trump said in a tweet that U.S. intelligence officials told him a report that the Russian government paid bounties for American and allied troops to be killed in Afghanistan wasn't credible, and therefore didn't brief him about it.
The White House earlier had denied reports that Trump was briefed by intelligence officials about — but had done nothing to respond to — the Russian bounties.
Trump tweeted last night over a key ally, Sen. Lindsey Graham (R-S.C.), who said it was "imperative Congress get to the bottom of" the allegations about Russia.
"I expect the Trump administration to take such allegations seriously and inform Congress immediately as to the reliability of these news reports," the South Carolina Republican said. Graham accompanied Trump yesterday to the president's northern Virginia golf club.
The alleged Russian bounties have swiftly emerged as yet another political crisis for a president already struggling to defend his response to the coronavirus outbreak that's resurgent across the South, as well as continuing nationwide protests against police brutality. News reports on the bounties, and whether Trump knew about them, have drawn fresh attention to the president's efforts to build warmer relations with the Kremlin.
Trump said earlier this month in a Fox News Radio interview that he'd like Russian President Vladimir Putin to attend the Group of Seven meeting the U.S. will host later this year. Russia was thrown out of what was then the G-8 after annexing Crimea from Ukraine in 2014.
The Washington Post reported earlier yesterday that the bounties are believed to have resulted in the deaths of several U.S. service members in Afghanistan, citing intelligence gleaned from interrogations of captured militants. Read more from Jennifer Epstein and Ben Brody.
Lawmakers Press for Answers: Leaders of both parties pressed yesterday for answers from the White House about the reports. Democrats called for hearings to be held. Rep. Liz Cheney (R-Wyo.), the third-ranking Republican in the House, in a tweet earlier Sunday called for an explanation of "who did know and when," and asked if the topic had been raised in the PDB, or the president's daily brief. Rep. Dan Crenshaw (R-Texas) retweeted Cheney, adding, "we need answers."
Speaker Nancy Pelosi (D-Calif.) said yesterday she wasn't aware of the intelligence about the Russian bounty on U.S. forces in Afghanistan, but "we have called for a report to the Congress on this."
"This is as bad as it gets, and yet the president will not confront the Russians on this score, denies being briefed. Whether he is or not, his administration knows," Pelosi said on ABC's "This Week." Read more from Ros Krasny and Ben Brody.
Russia Rejects Report: Russia dismissed U.S. intelligence findings as "fake news." The intelligence assessments are part of the domestic political battle in the U.S. ahead of November presidential elections, said Zamir Kabulov, Putin's envoy to Afghanistan. "It's hard to explain otherwise the appearance of such stupidities," Kabulov told Bloomberg by phone today. Kabulov said he is due to speak soon via video-conference with U.S. special envoy to Afghanistan, Zalmay Khalilzad. "We won't discuss this 'fake news,'" he said. Read more from Henry Meyer and Ilya Arkhipov.
The Coronavirus Pandemic
Trump Dismisses Virus, Polls, Recession: The America that Trump describes is a place where the coronavirus outbreak is only surging due to increased testing, the economy is on the verge of roaring back to life and polls showing him losing re-election in a landslide are all fiction. In his telling, many Americans protesting police brutality are terrorists, anarchists, and looters, and concerns of systemic racism are overblown. He claims that his is the most accomplished presidency in history, outshining all his predecessors except perhaps Abraham Lincoln on achievements for Black people. Read more from Josh Wingrove.
Americans are downbeat as coronavirus cases spike in many states and the economy is mired in recession, a new CBS poll shows. Only 5% said things in America are going "very well," against 40% who said they're going "very badly," according to the survey, taken June 23-26. Another 19% said things were "somewhat well" and 36% said "somewhat badly." Most Americans said that, as they look back a few months, the Trump administration wasn't ready to deal with the coronavirus outbreak when it started in early 2020, according to a CBS News poll. Some 72% judged the administration "unprepared" against 28% who said it was "prepared." Read more from Ros Krasny.
Pence's Arizona, Florida Events Scrapped: Vice President Mike Pence delayed campaign events scheduled for Arizona and Florida as coronavirus cases jump in those states, said a senior Trump campaign official. Pence, the leader of the White House coronavirus task force, still plans to travel to both states to meet with governors and health care officials, a White House official said. Read more from Jordan Fabian.
Virus Surge Said Likely to Continue for Weeks: A surge in cases that has seen record numbers of new U.S. cases in recent days is likely to continue for weeks after states moved too soon to reopen their economies, two of the leading U.S. public health experts said yesterday. The warnings by Tom Frieden, director of the Centers for Disease Control from 2009 to 2017, and Scott Gottlieb, former commissioner of the FDA, came as a poll showed confidence in how the U.S. is dealing with Covid-19 has fallen. Read more from Shawn Donnan.
Fatality Picture Obscured by Lagging Indicator: The Trump administration is highlighting an apparent disconnect between surging Covid-19 cases and falling mortality as proof that the pandemic is under control. "Fatalities are declining all across the country," Vice President Mike Pence said at a Coronavirus Task Force briefing Friday. He called the rise in cases in people under 35 "very encouraging news," saying they aren't as likely to die from Covid-19. However, the mismatch seems to be more an anomaly caused by quirks in how deaths data is collected and reported than a sign that the virus is becoming less lethal or easier to treat.
Nationally, the death toll is rising by 600 to 700 a day, even as record numbers of new cases were diagnosed this week. That's far below the height of the crisis when more than 2,500 deaths were reported some days. Medical experts say it is too soon to know for certain that deaths are still declining. Robert Langreth, Emma Court and Michelle Cortez have more.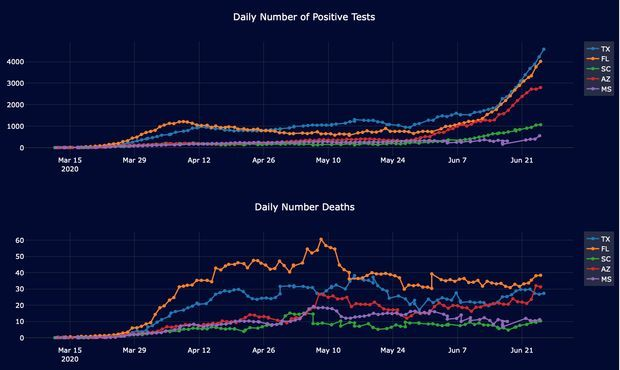 TSA Struggles to Balance Virus With Security: With airlines slowly restoring flights and more people navigating checkpoints, the federal agency responsible for the safety of the traveling public says it's going to great lengths to make its screening process safer during the coronavirus pandemic. It's spacing flyers apart in queues, reducing the number of "touch points" at the start of screening, putting up plastic barriers at bag-drop points, wiping down bins, and requiring screeners to wear masks. But TSA is at heart a security agency, and there's no substitute in its screenings for some person-to-person contact—even though that's how the novel coronavirus spreads. Courtney Rozen and Shaun Courtney take a look at the challenges the agency faces.
Protests & Race Relations
Trump Signs Order Promising to Protect Statues: Trump signed an executive order that he says is meant to protect monuments and statues from "anarchists and left-wing extremists." "My administration will not allow violent mobs incited by a radical fringe to become the arbiters of the aspects of our history that can be celebrated in public spaces," Trump said in the order, which was released by the White House on Friday night.
The order calls on the Justice Department to make a priority of those cases and instructs federal agencies to possibly withhold funds from cities and states that didn't protect memorials from "destruction of vandalism," John Harney reports.
Trump Saturday called for the arrest of demonstrators allegedly involved in an attempt to tear down a statue of Andrew Jackson by tweeting images of their wanted posters. Trump posted photos of 15 people the U.S. Park Police said it is attempting to identify "who are responsible for vandalizing property" in a park in front of the White House. Read more from Jordan Fabian.
Trump told Illinois Gov. J. B. Pritzker (D) and Chicago Mayor Lori Lightfoot (D) that he is "horrified" by ongoing violence in the U.S.'s third-largest city. Trump in a letter released by the White House offers to have members of his Cabinet meet with Pritzker and Lightfoot, both outspoken critics of Trump, to "help devise a plan to make Chicago safe, since a successful formula has escaped" both leaders and their predecessors, Ben Livesey reports.
Thompson Wants FBI Briefing on Protests: House Homeland Security Chairman Bennie Thompson (D-Miss.) is asking FBI Director Christopher Wray for a briefing on extremist involvement and infiltration into recent protests, Elizabeth Elkin reports. Thompson also said he is dismayed that Wray has not agreed to testify before the panel on worldwide threats.
"The FBI's repeated failure to produce requested documents and provide briefings to the Committee and your apparent refusal to testify in a reasonable timeframe raise questions about whether the FBI is withholding information from Congress and the public regarding extremist threats against the nation," Thompson said in a letter.
Candace Owens Sows Division Among Black Trump Supporters: The White House's embrace of a prominent Black advocate for Trump who's made inflammatory remarks about George Floyd has caused turmoil among other Black Americans close to the president, threatening their support for his re-election. The dispute began this month, shortly after Floyd's death at the hands of Minneapolis police. Candace Owens, a Black author and pundit known for her aggressive support for Trump and provocative views on race, called Floyd a "violent criminal" and a "horrible human being" in a video she posted to Twitter. Mario Parker has more.
Trump Tweets Video of Fan Yelling 'White Power': Trump deleted a post that he shared yesterday of a confrontation between anti-Trump protesters and his supporters, including a man who yelled "white power" at demonstrators. "Thank you to the great people of The Villages," Trump said yesterday in retweeting the video, referring to the retirement community in Florida where the original tweet said the clash had taken place. The video shows demonstrators yelling "where's your white hood" at a man and woman in a golf cart with Trump decals. "You got it," the man replies, pumping his fist. "White power." Jordan Fabian has more.
Mississippi Voters Will Choose New State Flag: Mississippi voters will choose a new state flag in November, now that state lawmakers have agreed to stop flying a vestige of the Jim Crow era. Gov. Tate Reeves (R) said he'll sign the measure creating a commission to redesign the state flag, the only one in the country to still include a Confederate symbol. The Mississippi House passed the new-flag mandate 91-23 yesterday, and the Senate followed with a 37-14 vote. Read more from Jennifer Kay.
Anti-Redlining Revamp Put Off: The FDIC won't join a fellow banking regulator in overhauling anti-redlining rules as long as the Covid-19 pandemic continues, the agency's chairman Jelena McWilliams said on Friday. Any potential revisions to Community Reinvestment Act rules are better suited for "peacetime," when "things are calm, the economy's doing well," McWilliams said. Read more from Lydia Beyoud.
Elections & Politics
Environmentalists Spend Big to Oust McSally: Arizona's economy, culture and history are inextricably linked to natural resources, from an abundance of public and tribal lands to a constant dearth of water. Environmental groups like the League of Conservation Voters are counting on Grand Canyon State voters to recognize those factors in one of this year's marquee Senate races between GOP Sen. Martha McSally and Democrat Mark Kelly—even though there's been relative silence from both sides on environment issues.
LCV's super PAC has spent $1.5 million on ads in Arizona, the most it's invested in any Senate race. It rolled out its first spot "600,000" on June 23. Its super PAC and affiliated entities invested nearly $3.8 million to defeat McSally in 2018, when she narrowly lost an open-seat Senate race to then-fellow Rep. Kyrsten Sinema (D). Soon after, Gov. Doug Ducey (R) chose McSally to replace Jon Kyl, who served temporarily as a replacement for John McCain after his August 2018 death. "We defeated her once and we'll do it again," said Emily Samsel, national press secretary at LCV. Read more from Kellie Lunney.
Harris's Police Reform Push Becomes Running Mate Tryout: Sen. Kamala Harris's push for police reform in the Senate is shaping up as an audition for the job of Joe Biden's vice president, as she makes herself a highly public voice for change after years as a no-nonsense prosecutor. By promoting a bill to ban police chokeholds and make other changes — and by publicly clashing with a senior Senate Republican over the legislation — Harris (D-Calif.) has put herself front and center in the debate over congressional efforts to change police behavior.
The reform debate burnishes the former San Francisco district attorney and California attorney general as a social-justice activist. It also protects the Biden campaign from potential criticism of her efforts while in those jobs to slow innocence bids and punish parents whose children were truants, among other contentious actions. Read more from Jeffrey Taylor.
Trump, Biden Say Staffs Are Mostly Women: A majority of both Joe Biden and Donald Trump's campaign staffs are women, and people of color make up over one-third of the Democratic presidential nominee's team, according to new data released by both candidates' teams on Saturday. The Biden campaign had been pressed for information on the diversity of its staff by journalists and allies on the left, especially as concerns about racial justice have overtaken much of the national conversation in the past month. Read more from Jennifer Epstein.
DNC Taps Digital Services Firm: The Democratic National Committee signed a small data contract with the digital firm Hawkfish LLC, a person familiar with the agreement said on Friday. Former New York City Mayor Michael Bloomberg (D) is an investor in Hawkfish and used it in his Democratic presidential campaign. When Bloomberg ended his campaign in March, he donated the $18 million left in his campaign account to the DNC. Read more from Jennifer Epstein and Mark Niquette. Bloomberg is the majority owner of Bloomberg Government's parent company.
Stone Gets Less Reprieve to Report to Prison: Trump's longtime ally Roger Stone got a two-week delay to the start of his 40-month prison sentence, far shorter than the two-month extension he requested. U.S. District Judge Amy Berman Jackson on Friday ordered Stone to surrender to the Bureau of Prisons by July 14 and said he must stay confined at home until then. He was previously scheduled to report to prison next week. Read more from David Yaffe-Bellany.
What Else to Know Today
House Democrats Will Call for 100% Clean Cars: House Democrats tomorrow will issue an ambitious plan to combat climate change, a move intended to reassure their base of supporters but that's sure to inflame opponents on the right. The proposal will be released at an event at the Capitol with Pelosi and several other Democratic lawmakers. In a statement announcing Tuesday's unveiling, the committee offered no details on the plan but called it "a comprehensive congressional action plan to solve the climate crisis." A spokesman for committee Democrats didn't respond to a request for comment on specifics.
The more than 500-page plan, from the Select Committee on the Climate Crisis convened by Pelosi and led by Rep. Kathy Castor (D-Fla.), seeks to achieve net-zero emissions by 2050 and calls for achieving 100% clean vehicles by 2035, according to people familiar with the details. It also demands an extension of a lucrative tax credit that's successfully boosted the use of solar power, the people said. Read more from Ari Natter.
Senate Scuttles EPA's No. 2 Pick: Senate Republicans' move Friday to scuttle the confirmation of Trump's pick to be the EPA's second-highest ranking official, Doug Benevento, isn't likely to have a significant impact on the agency's day-to-day operations, legal scholars argue. Benevento is currently the Environmental Protection Agency's associate deputy administrator. He was tapped to become the deputy administrator in February, Stephen Lee and Jennifer Dlouhy report.
Azar Suggests Voters Go on Faith on Obamacare Replacement: The Trump administration doesn't expect to release a detailed health care plan until the Supreme Court rules on the legality of the Affordable Care Act, said Health and Human Services Secretary Alex Azar. That would leave voters in November's election in the dark about how their health care, typically ranked as among the most important issues, might be upended in 2021 and beyond. "We'll work with Congress on a plan if the ACA is struck down," Azar said on NBC's "Meet the Press." "We'll see what the Supreme Court rules." Read more form Ros Krasny.
Apple's App Store Rules Scrutinized: About a year into a federal investigation into Apple, Justice Department lawyers are scrutinizing rules that require many app makers to use the company's payment system, according to people familiar with the matter. Read more from Mark Gurman and David McLaughlin.
Red Tape as Weapon in U.S.-China Feud: The U.S. and China are moving beyond bellicose trade threats to exchanging regulatory punches that threaten a wide range of industries including technology, energy and air travel. The two countries have blacklisted each other's companies, barred flights and expelled journalists. The unfolding skirmish is starting to make companies nervous the trading landscape could shift out from under them. Read more from Jennifer A. Dlouhy and Todd Shields.
China will impose a visa ban on U.S. citizens who interfere with sweeping national security legislation planned for Hong Kong, a move that comes shortly after the Trump administration imposed them on some officials in Beijing. Read more.
State Money to Religious Schools Hinges on Supreme Court Ruling: The Supreme Court could shape the future of state school choice initiatives, potentially opening public funding to religious institutions in states offering school vouchers, in a decision as soon as this week. At stake: a 2018 state supreme court decision that struck down a tax credit scholarship program, finding it violated a provision of the state constitution because the program allowed for the indirect use of public money at religious schools. Three Montana families sued in the case, Kendra Espinoza, et al. vs. Montana Department of Revenue, et al., U.S., 18 1195, and want the Supreme Court to restore the program. Read more from Andrew Kreighbaum.
To contact the reporters on this story: Zachary Sherwood in Washington at zsherwood@bgov.com; Brandon Lee in Washington at blee@bgov.com
To contact the editors responsible for this story: Giuseppe Macri at gmacri@bgov.com; Loren Duggan at lduggan@bgov.com; Michaela Ross at mross@bgov.com
Stay informed with more news like this – from the largest team of reporters on Capitol Hill – subscribe to Bloomberg Government today. Learn more.